The after-effects of long hours at your desk means that creak in your neck is an almost common occurrence, due to bad sitting posture and hours of squinting at an awkwardly positioned screen. Some of us try to fix things, by elevating the computer monitor and unless you know what to buy, there are enough of us who do so with precariously positioned books.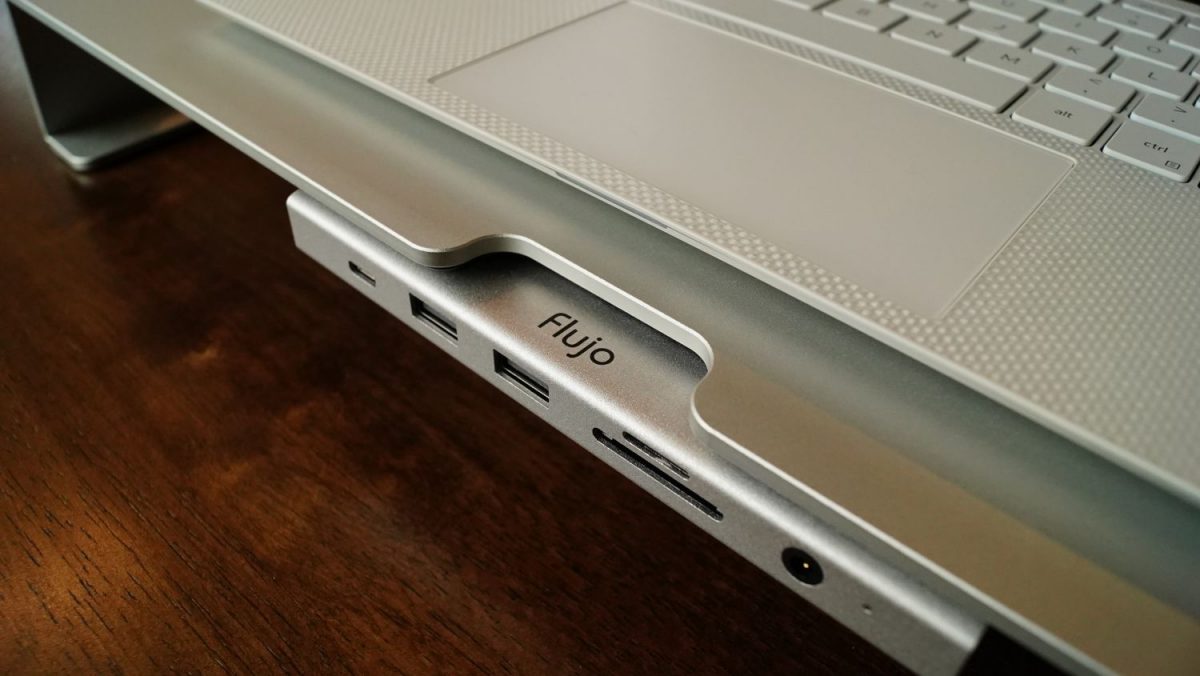 If you're tired of struggling just to find a comfortable viewing height for yourself and want something more stable, the Flujo PowerEdge Monitor Stand will be the perfect adjustment solution. It also comes with a 10-in-1 USB-C Docking Station, doubling as a convenient workspace organiser too.
Flujo is a Singaporean company known for their multi-function adaptors which come as a true lifesaver for laptop users who find themselves with laptops made with only USB-C ports (looking at you Mac). The company may be freshies in the tech game, having only been established in 2016, but they are known to have produced innovative and high-quality products throughout these four years.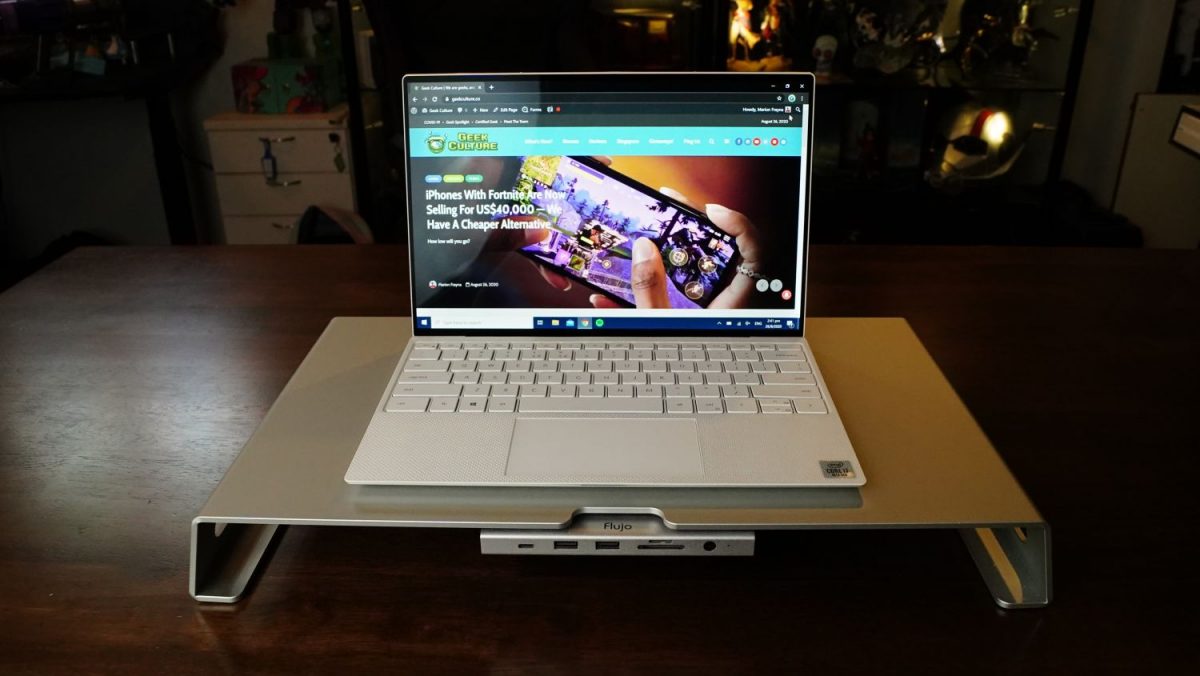 Right out of the box, the PowerEdge is a sleek aluminium assemble with a matte finish. The subtle silver sheen gives it a futuristic touch and it looks like it could have come right out of an Apple product lineup. The matte finish also means that the stand is fingerprint proof, something that those who suffer from sweaty palms will be thankful for.
A big concern would be the scratch marks left behind by the metal base, especially for those with wooden tables like the Omnidesk Pro Wildwood series but the PowerEdge resolves this by providing a rubberised base for the dual sides of its stands.
For those who like to constantly re-organise their desks, the PowerEdge is also lightweight, weighing only 1.94kg. It also has two grooves on either side to allow for an easy grip during your redecorating. Despite its slight build, the stand is also sturdy enough to bear the weight of a BenQ EW3280U 4K HDR Monitor and Prism+ X340 Curved Ultrawide Monitor.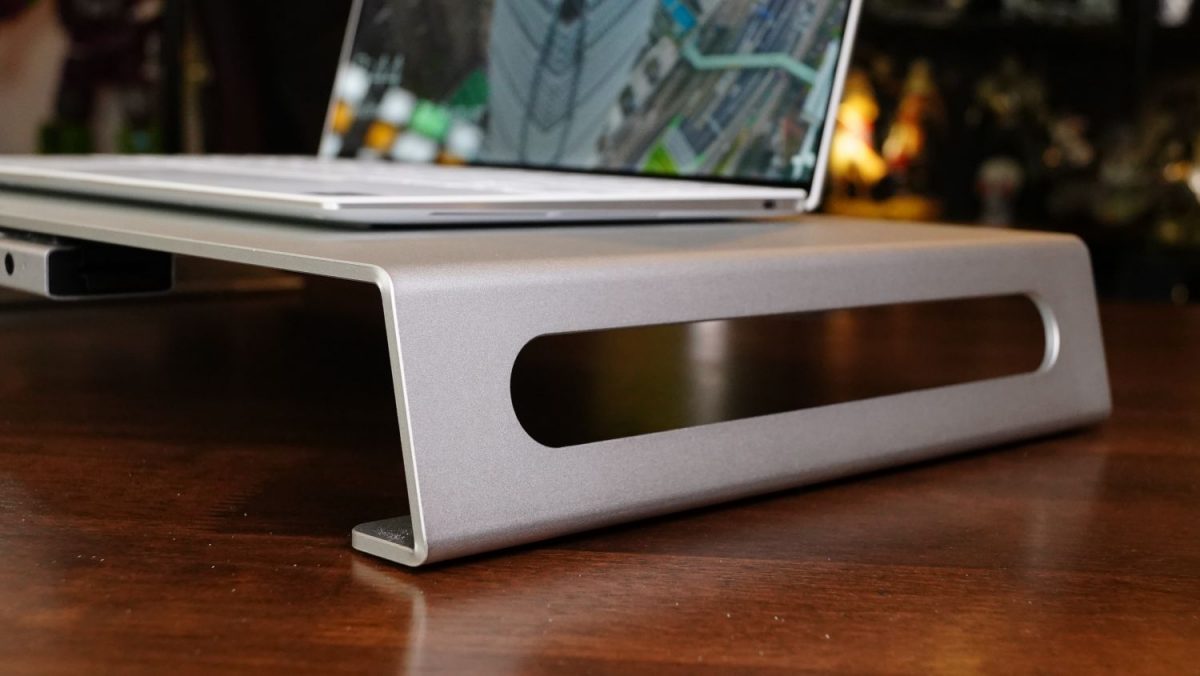 Moreover, its small form ensures that the stand won't be taking up more space than necessary on your limited desktop. It doubles as a neck saving elevation for your monitor and as an extra compartment for you to tuck your keyboard and mouse underneath when they are not in use.
What really sets the PowerEdge apart from other monitor stands is the 10-in-1 USB-C Docking Station. This extra feature is a true lifesaver as it conveniently assembles all the important ports together in one place. With more and more USB-C type products emerging in the market, it is nice to see that someone has taken the initiative to bridge the gap between these devices and their lack of ports for external connections.
The docking station is a palm-size rectangular piece with the same matte silver aluminium finish of the stand itself. The dock barely weighs a thing and won't add bulk to your stand. In fact, it easily slides into place between two hooks located conveniently at the front of the stand.
The dock features two USB-A ports, a SD card reader, a TF card reader, a 3.5mm Audio jack and a USB-C port in the front. Flipping it over, you will see four other ports. They are, the Gigabit Ethernet port, the 4K HDMI port, the VGA port and another 60W USB-C port.
What makes the USB-C port at the back different from the front is that the one behind is meant for you to connect to the host such as your laptop. Hence, do note that if you want the dock to function properly, you have to connect your monitor/laptop to the USB-C port and not the USB-C port in the front. The USB-C port in the front is more for connecting external devices to your PC.
By simply connecting the dock to your host, you will be all set to go. Imagine the amount of time you can save as you no longer have to scramble around trying to find your SD card readers or tiny USB-C adapters daily.
You can practically connect and use anything from the dock ranging from your USB-A Mouse to your Wacom Tablet and wired earpieces. The stand also comes with a USB-C to USB-C cable, meant for connecting to your host device as need be. The increased connectivity also comes with less terror of wire tangle as the elevated stand will allow you to keep your wires in place underneath it.
A concern would be the fact that the PowerEdge is a little narrow and may not be able to balance wider and larger monitors on it. The surface also gets scratched easily so you'll have to watch out when moving monitors on and off it. It also seems to be something more geared towards Mac users in general, with their main concern being resolving the problem that the USB-C type devices bring about so PC users may not get the most out of the dock itself.
Given its features, the pricing of the PowerEdge is rather reasonable at S$180, but for those simply looking for a stand as its main functions, the price may feel a little steep. If you decide to share the deal with your friend, both of you can get two stands together at S$340. What's more, for the first 80 people who purchase the stand, you can get it at a sweet discounted price of S$158.
That being said, the Flujo PowerEdge Monitor Stand does what it says and does it well. The sturdy yet sleek stand will be a great addition to help tidy up your desk space. Its ergonomic design both keeps your neck and spine healthy with an improved viewing angle and allows you to stow away your keyboard and mouse for neater desktop space. The elevated height also allows for better ventilation, ensuring that your devices won't overheat due to the lack of air circulation.
The Flujo PowerEdge Monitor Stand is not yet available for purchase, but they do have a crowdfunding campaign that will be commencing on 1 September 2020, so head over to their page to find out how to stay in the loop. Also if you do purchase the stand, you can also maintain a peace of mind as the PowerEdge will come with a 3 Months Warranty in case anything goes wrong.
GEEK REVIEW SCORE
Summary
The Flujo PowerEdge Monitor Stand is a stylish accessory which will help to clean up your workspace. For Apple users, this will definitely be a great solution to the daily struggle with your USB-C port devices as you will have increased connectivity atop of a neater desktop.
Aesthetics -

8.5/10

Build Quality -

8/10

Performance -

8/10

Value -

7.5/10

Geek Satisfaction -

8/10
---

Drop a Facebook comment below!