Quick, name the cute, adorable plastic figurines that come with beady-eyed caricatures of your favourite pop culture characters.
Yeah, that's not that one we're talking about here. Watch out, Funko Pop!, as the Q Poskets are here. Created by Japanese toy company Banpresto, these adorable figurines are the next in line to challenge the reigning pop culture figurine juggernaut. Unlike the rather distorted designs of Funkos, Q Posket figurines are incredibly striking with their accurate character details, vivid colours, and dynamic poses.
Q Posket's current lineup consists of licensed characters from Disney, Yuri on Ice, Sailor Moon, Lupin the Third, One Piece, Suicide Squad and Justice League. The collection continues to expand, as more figurines and designs are released almost monthly.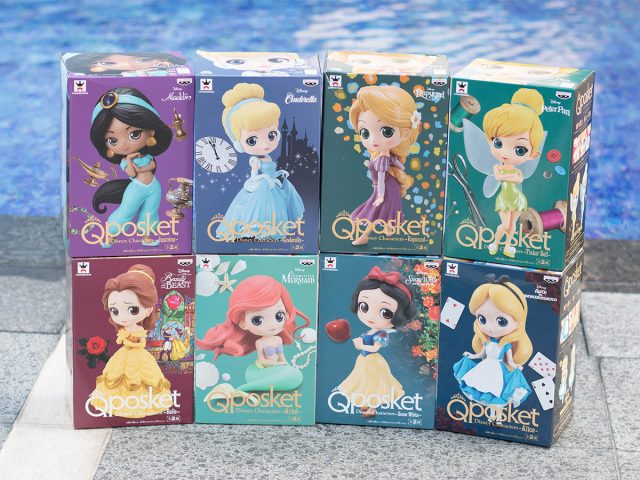 Unlike the one size (majority) of Funkos, there are two sizes of Q Posket figurines – the standard full-sized ones that measure up to 14 cm in height, and the 'petit' range of figures come in sets of three. These measure up to 7 cm tall.
And collectors, please take note – the standard ones are also available in variants, with different colour schemes. Each figurine is made from PVC and ABS plastic. The Q Poskets featured in this review are 8 full-sized figures from the Disney collection – Alice, Snow White, Ariel, Belle, Tinkerbell, Rapunzel, Cinderella, and Jasmine.
The one immediately noticeable feature that all the Q Posket figures share is their massive eyes, which are expressive and have unique eyelashes and eyebrows for each character. These are especially appropriate for the Disney series, as many Disney characters, especially the princesses, are depicted with unrealistically large eyes in their animated form.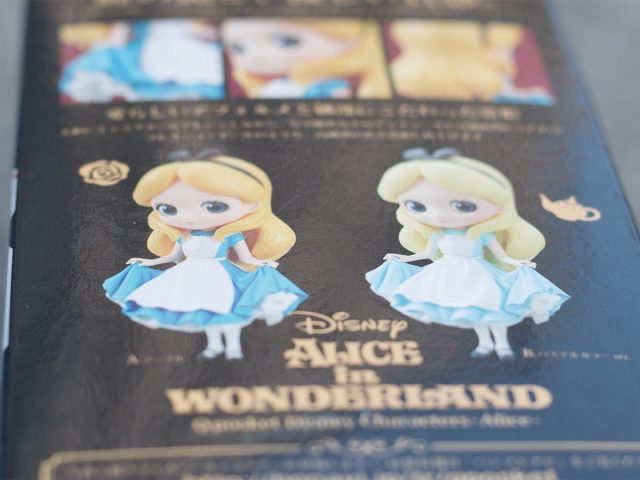 As stated, each figurine comes in two colours – normal and pastel. Normal figures have bolder, more saturated colours with a glossy finish, while the pastel version features lighter, more muted colours with a matte finish. Either way, the colours are vibrant and accurate, perfectly recreating the iconic looks of the characters, right down to the eye colour. The figures of different colours come in different packaging (black for normal, white for pastel), which makes identifying them much easier.
The figures look exactly identical to their images on the box cover. All the figures shown in this article are the normal versions, apart from Ariel, which is the pastel-coloured variant.
Yes, unlike regular toys, the Q Poskets don't come ready to be displayed. Think of them as tiny figurines that need some assembly, due to the complex nature of their poses. Packaging, as expected from a Japanese producer, is done with immaculate care. Pieces are separately packaged in plastic, and the head is wrapped in an additional layer of bubble wrap.
Most figures come in 3 components (the head, body, and stand), while some also have additional support pieces. Some of the smaller figures are also packaged along with a surrounding layer of folded cardboard in the box, to prevent it from moving around too much.
Most of the figures are easy to assemble, with the pieces fitting seamlessly into one another. Some of them are slightly more confusing though, as they came with small supporting pieces and no instructions, but none were too difficult to figure out.
Without further ado, let's dive deeper and take a closer look at each of the 8 Disney Q Posket figures!
---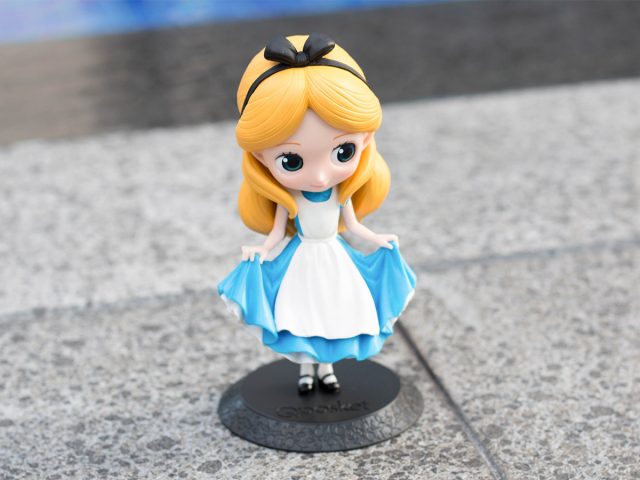 Alice is seen delicately grasping her skirt, and there is great detail in the ripples and folds of her dress. The figure can be easily assembled with only 3 components, and the pieces fit together nicely. Her outfit is exactly like in the movie with the layered blue dress, white apron, black flats, and hair bow, and her shy smile gives this figurine a sweet and childlike appearance.
---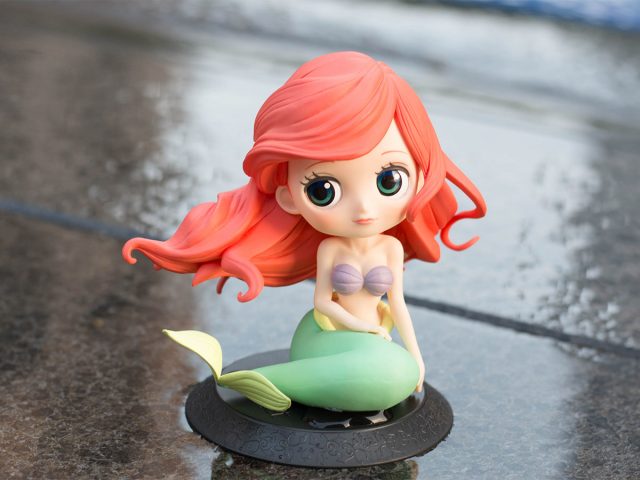 This figurine of Ariel is in the pastel version, as such colours are not as saturated and glossy as its normal counterpart. Instead of resting naturally, her hair is lifted towards the right as if it is blowing in a gentle breeze, or floating up in underwater waves. This makes it look like Ariel is captured in a moment of time deep in her thoughts, and gives the figure a sense of liveliness.
Ariel's thick head of red hair makes her head slightly heavier than some of the others, so her figure also comes with a clear plastic stand which connects to the back of the base and supports her hair. This is a thoughtful addition, but does not seem very necessary as the figure can stay upright just fine on its own without the extra support.
---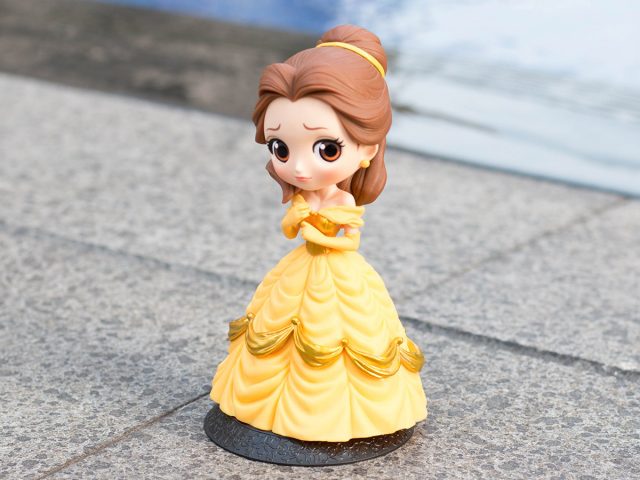 Belle is seen wearing her signature yellow dress, and there is amazing detail in the intricate folds of her skirt. You might expect a flat base underneath that full skirt, but even the underside is detailed, with her feet peeking out from the multitude of skirt layers.
Her figure is the only one which does not have pegs to attach it to the stand. This made moving it around troublesome, but that should not be an issue if the figure is left displayed on a shelf.
She has a nervous facial expression, which is in character as Belle was out of her comfort zone before meeting the Beast for a dance in this elaborate dress. She would have much rather been in her simple dresses reading books at home!
---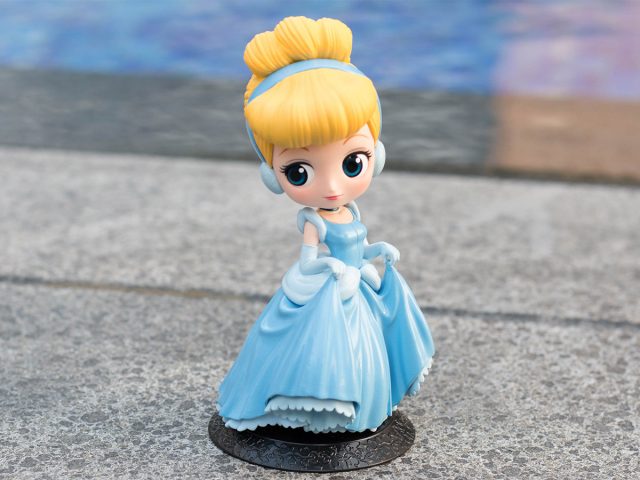 Cinderella elegantly holds her voluptuous skirt with her gloved hands revealing all the layers of her skirt. She comes complete with her black choker and blue headband. However, what are meant to be earrings at the sides of her head are a tad too large, and almost make it look like she is wearing earmuffs.
---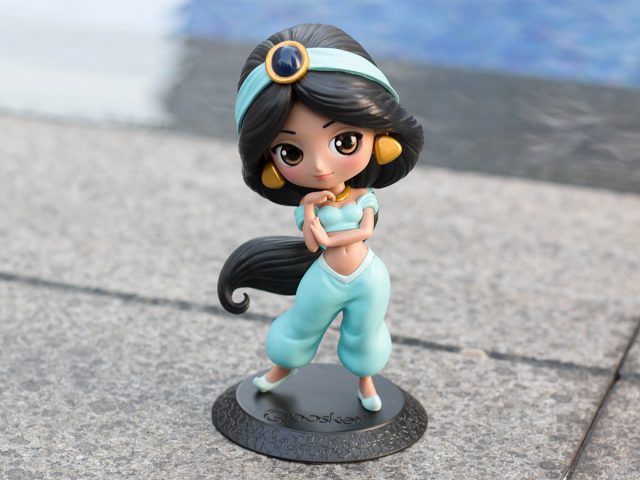 Jasmine's figurine is in a confident and intriguing pose with her right hand propping up her chin. Unfortunately, when unboxing her, the last section of her hair fell off, leaving Jasmine with a bit of a shorter haircut. This piece definitely was not meant to come off as all the hair and head sections come intact together.
As we were repositioning her figure for photos, the hair section continued to slip off easily. Not a problem that a bit of glue can't fix, but still an unfortunate defect for this particular Jasmine figurine which one can only hope does not extend to others. Where is the plastic sand when you need one?
Other than that, Jasmine is featured with sweet rosy cheeks, her signature puffy pants and, should the hair stay intact, a nice flick at the end of her lush ponytail behind her. She looks more than ready to see a whole new world on a magic carpet ride.
---
Rapunzel's long hair is the highlight of her figure, as it is intricately braided down to her feet and accentuated with flowers. Even the colours of the flowers are the same as in the movie – pink, white, purple, and orange. You can even see a single smaller braid running through the length of the larger braid, really showing the amount of care taken to craft the figure.
Unlike the others, Rapunzel's figurine does not come in 3 components. Her head comes already attached to her body as her right arm is entwined with her hair, so all that's needed for assembly is attaching her to the base.
Consistent with the movie, she remains barefoot after escaping the tower and is standing in a confident pose. She grasps her hair with her right hand and turns to face us, skirt swinging upwards to the left to show the movement in the pose. All that's missing is her trusty frying pan!
---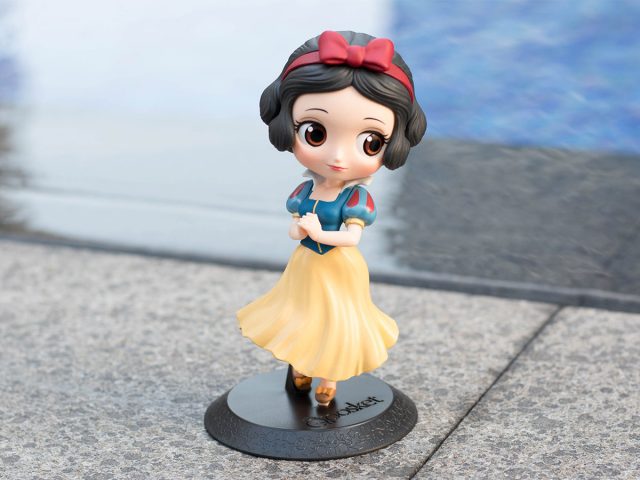 Snow White's dress is perfectly accurate, with attention to detail in her brown ribboned shoes and yellow fringes on her sleeves. As each stand is custom made for each character, it allows for more animated poses such as Snow White's with the special support for her right heel. Her right leg is behind her left as if she is twirling around to face us, which is also conveyed through her flared skirt.
---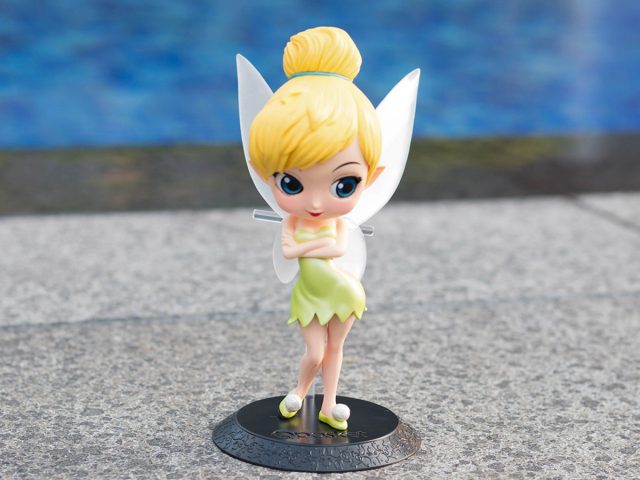 Faith, trust, and pixie dust not included, but Tinkerbell's Q Posket does come with her fairy wings and sassy attitude. Her wings were packaged separately and could be inserted into slots in her back smoothly. Her base comes with a clear plastic T-shaped stand, as well as a small separate black piece to support her angled right foot.
Once again, although thoughtful, the additional support stand was unnecessary as the wings were securely fastened to her back and barely made contact with the stand at all. The figure would look better from the front without the ends of the stand sticking out behind her. The support piece for her right foot was also rather fiddly and difficult to attach.
Her pose with her arms crossed and hips cocked to the left really express her rebellious and cheeky personality, as it looks like she is up to certain mischief.
---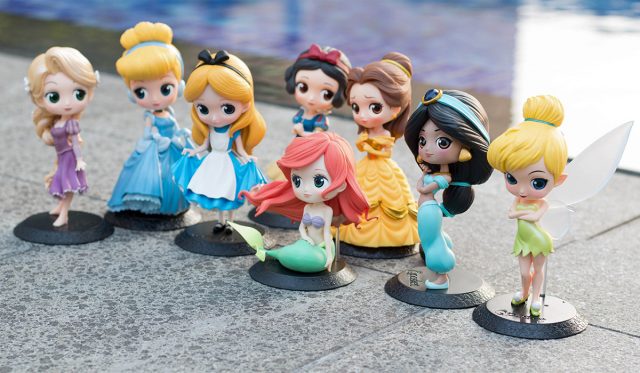 Q Posket has most certainly delivered on the quality and attention to detail on their products. These Disney characters and full of life and colour, each expressing their various personalities in their pose. The figures are affordable and value for money, considering the careful craftsmanship and custom parts made for each of them.
Naturally, the small number of licensed characters currently available means collectors can amass their army of toys. The intricate nature of their designs also mean that these figurines aren't meant for excessive playtime.
But come on – how many of us actually play with our Funkos?
The whole range of the Q Posket Disney Character series can be found on our Geek Store, both in Normal and Pastel versions. 
GEEK REVIEW SCORE
Summary
With fantastic attention to detail, these Q Poskets represent the classic Disney characters in a faithful and adorable manner, and would make a great addition to the collection of any Disney fan.
Aesthetics -

8.5/10

Build Quality -

8/10

Value -

8/10

Geek Satisfaction -

8/10
---

Drop a Facebook comment below!