It's the third year since the introduction of Disney Infinity, and with the introduction of 3.0, it looks like Disney has finally hit the nail on the head – this is the experience we've been waiting for. Infinity in Disney Infinity? We're finally getting there.
For the uninitiated, Disney Infinity is a sandbox game the requires the purchase of physical figurines to unlock them in-game. Some of these figures come in Play Sets – pre-made action-adventures with a storyline – while you can create your own games or download those made by fans.
The basics of the game stay the same – the new figures follow the same angular art style that fits right with your older figures. The Infinity Base is required for play – but you can use those you have from older versions though there will be cross compatibility issues if you're switching console brands between Xbox and PlayStation (PS and Wii is fine).
Infinity faces competition from the waning Skylanders, but with Lego Dimensions on the horizon it has to pick up its game fast. But the 3.0 tag is there for a reason – there's a whole evolution in how the game is played, and it starts with these two words: Star Wars.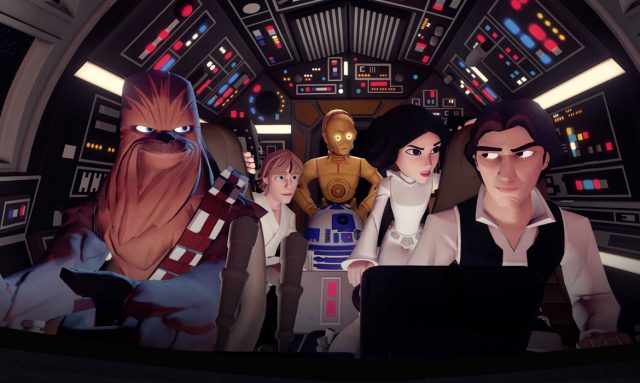 A NEW HOPE
Disney Infinity 3.0 has launched with a PlayStation exclusive, the Star Wars bundle. In it you get the Twilight Of The Republic Play Set – with Anakin Skywalker and Ahsoka Tano figures – and Rise Against The Empire – which comes with Luke Skywalker and Princess Leia. There's a timed-exclusive figure with it too, good old Boba Fett so if you're one of those Fett fanatics this is the set to get.
And if the Star Wars Play Sets, you get to experience just how improved 3.0 is. For starters, gone are the days of samey, boring-looking levels we saw for the Avengers or, to a lesser degree, in the Guardians Of The Galaxy Play Set. There's a whole slew of planets to visit, each with its own theme, and the enhanced draw distance means that it no longer feels like you're a toy playing in a box – the Star Wars games feel expansive and it feels like like you're playing a full game, and not just a game within a game.
Combat also feels more responsive and varied – while kids can still button mash, there are timed combos that really bring out the flair. New skill trees also help to customise your characters in new ways – and old characters from 2.0 and 1.0 are also getting updated trees.
Vehicle control is also much better now, in a less-drunk kind of way. It's still arcade racing so you can expect some crazy physics, but on the whole driving a landspeeder over sand will no longer have you giving up and walking.
There's also space combat which is fun for the most part – piloting the Millennium Falcon is such great joy. Still, Disney Infinity doesn't have a full flight sim by any shot – you travel along pre-determined paths, putting it in line with the experience from Star Wars: The Old Republic, and there's also a chance of getting disoriented. Nonetheless, it adds a dimension to the depth of gameplay we already have.
INFINITY STRIKES BACK
Core to the Disney Infinity platform is the Toy Box – where the core systems remain. With it you can create your own adventures or even experience those made by others. It's the "Minecraft"-y portion of Disney Infinity, and finally, finally, it feels easy enough to use.
Maybe this comes from a bit more experience of trying to figure it out in earlier editions, but the new tutorials really help ease you into building new worlds – if you so desire. Even if you don't there are adventures within the Toy Box mode itself to keep you busy, whether it's unlocking challenges or going on a treasure hunt to find gifts. Not enough to do? There's always levels created by other users for you to test.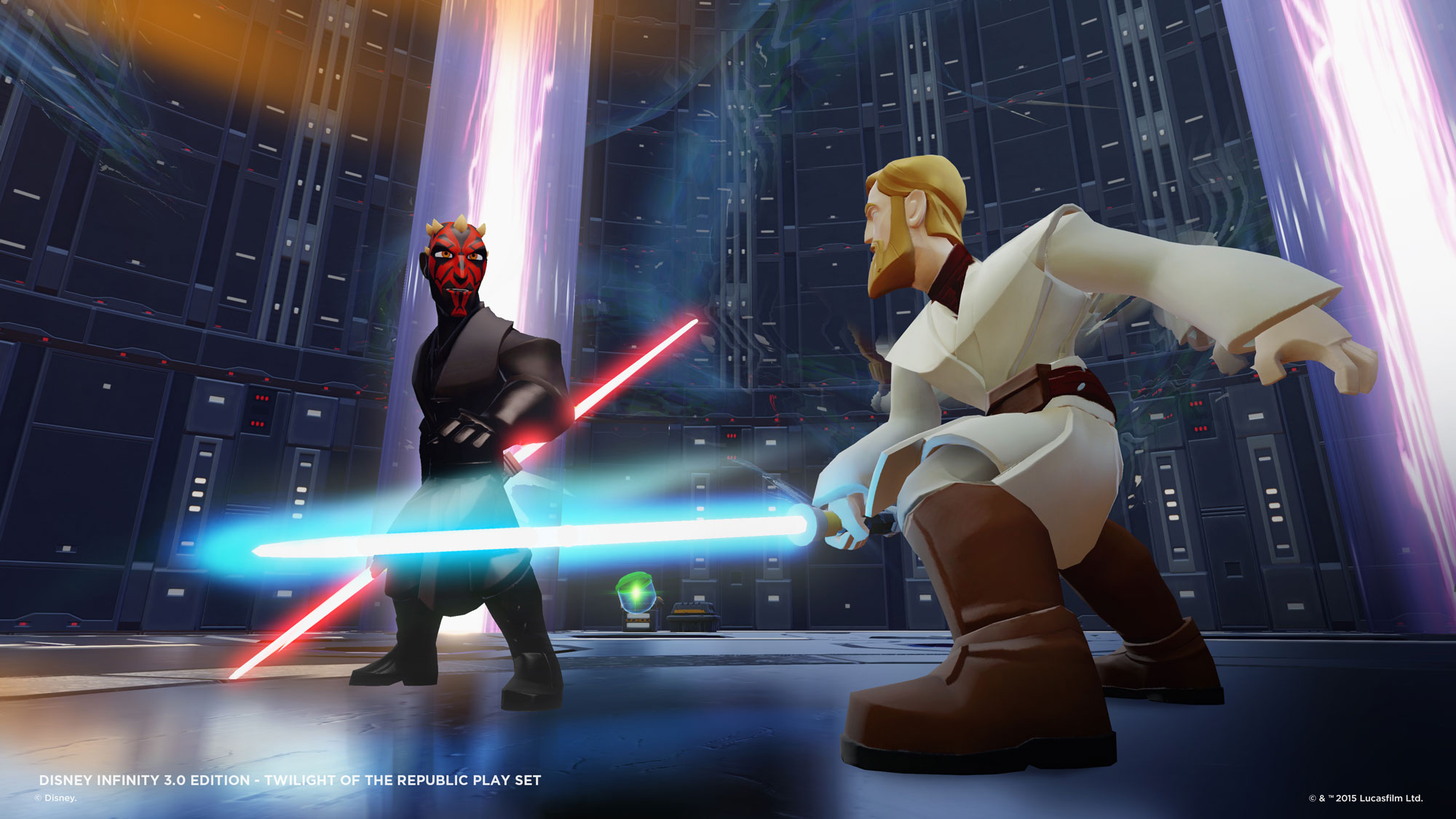 And while experiencing moments from Star Wars is awesome, the Toy Box is where the game really shines. This is of course where you can mix and match heroes from various universes and have them battle together, whether it's Baymax with Mulan or Mickey Mouse with Darth Maul. Imagination – and patience – becomes the limiting factor here, especially when creating new worlds. It's still not as easy to bash away as Minecraft, but you do get to use all the various Disney trappings, from fairytale castles to Death Star parts to create a world of your own.
And … there's even a farming simulator where you can put your own sidekicks to work and level them up. These sidekicks follow you into battle when in Toy Box mode, and you can equip them with weapons (or use them as one), making it like a little chibi combat party of sorts.
RETURN OF D' INFINITY
And really, with Star Wars, Marvel and Disney all available on one platform, it's like all aspects of our childhoods have gathered to form one massive superteam. But even without the Star Wars portions of the game, the improvements in Disney Infinity are noticeable and well worth dipping your toes in again even if you were disappointed in the previous two editions.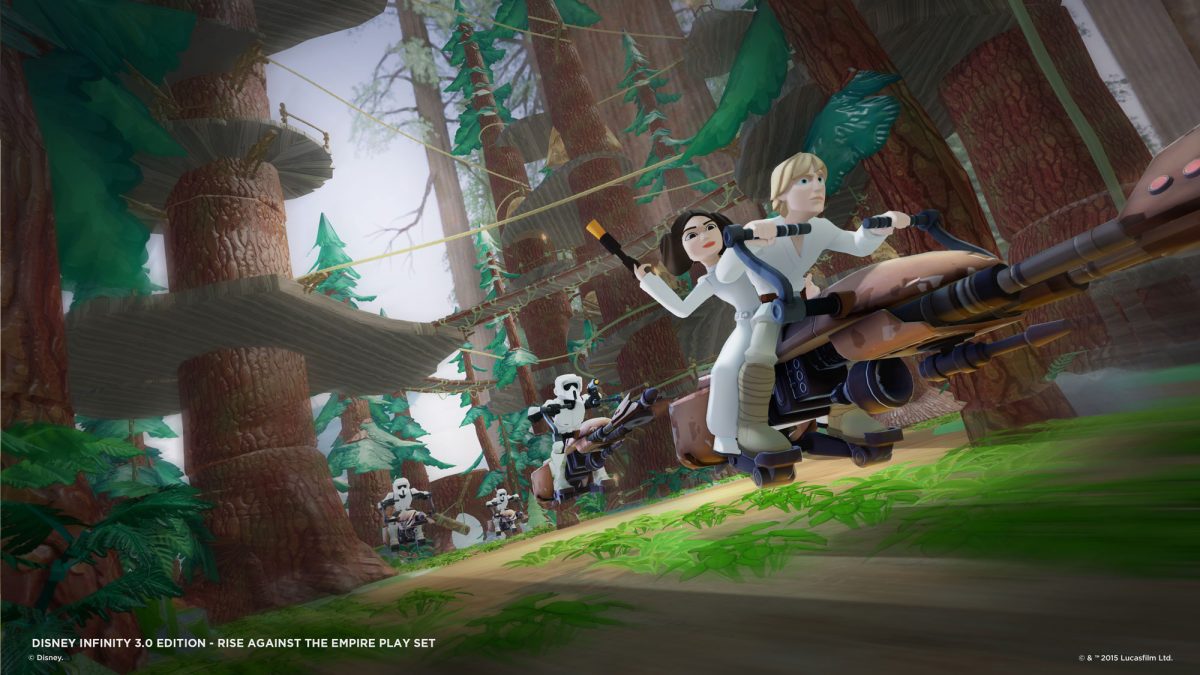 Disney Infinity 3.0 isn't perfect by any shot – loads times could be a little faster, and you'll need the old versions if you want to play the old playsets (which they should have at least provided a DLC option). And if you do want to play more adventures and more characters, there's this issue of paying for them, on top of where exactly to store all the figures you'll be collecting over the years. But there's no point looking back, the new playsets offer such a better experience, and together with a much improved Toy Box and building function, this looks like fun for the whole family.
It's hard to see what shockers Disney has up their sleeves when it's time for 4.0, but right now they already have an impressive slate of characters to match what is finally a great game. And for the parents, a whole new excuse to buy more Disney, Marvel and Star Wars figures – for the kids of course.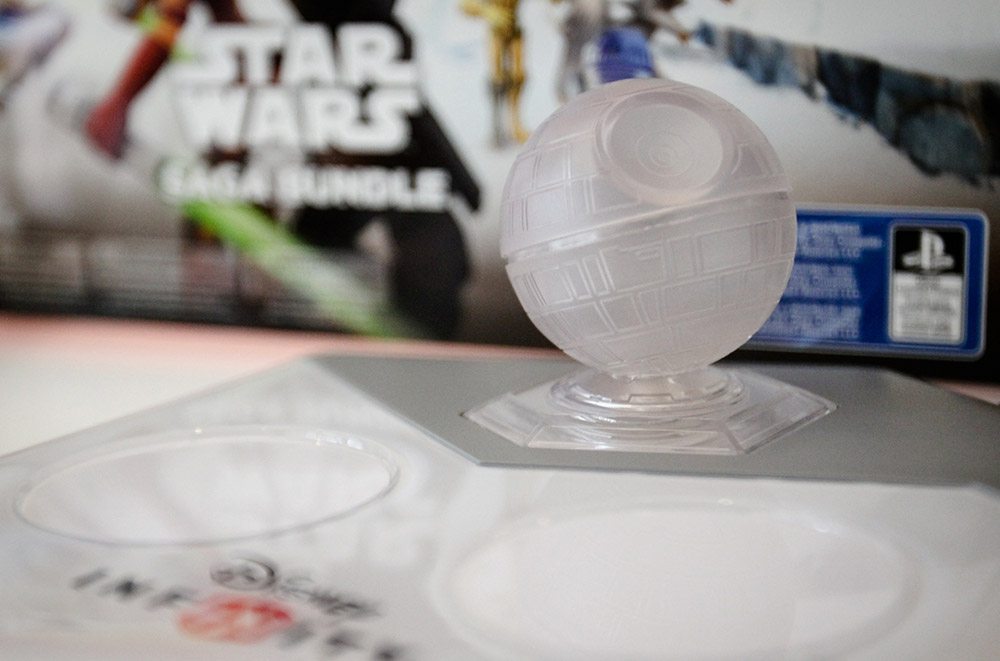 GEEK REVIEW SCORE
Summary
Disney Infinity is fun for the whole family, and is much improved over previous editions. But completionists watch out – getting every figure isn't going to be cheap.
Gameplay -

8/10

Story -

8/10

Presentation -

9/10

Value -

7/10
Geek of all trades, master of none, Direcow has done all kinds of
weird stuff in the name of geekdom, from guest starring in a webcomic,
starting a tiny geek blog, and auditioning for a Comic-Con
documentary. He has a room in his house that only houses comics, which
he needs to tidy up very soon.
---

Drop a Facebook comment below!