Think audio and Singapore and the first thing that pops to mind is Singapore PC audio giant, Creative, with the Soundblaster PC cards, colourful Zen Stone MP3 players, as well as the Chinese dictionaries many of us used in school during exams.
In the last few years, Creative has been overshadowed by bigger names in the audio equipment industry, but that doesn't mean they intend to stay irrelevant for long. The Singapore-based company has been hard at work developing and revolutionizing the audio tech market, and two years ago started turning heads with its Super X-Fi (SXFI) audio holographic technology, which claims to be able to recreate a Dolby Atmos-like, surround-sound holographic environment with your headphones or in-ear monitors.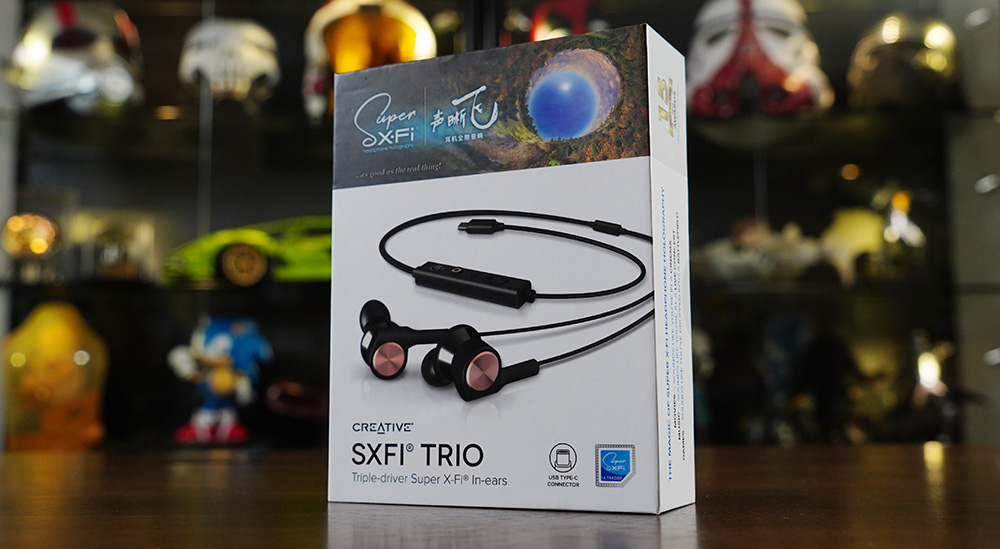 Creative's newest USB-C in-ear headphones, the Creative SXFI Trio is a combination of the company's hybrid Aurvana Trio triple-drivers and a smaller version of the SXFI Amp it released last year. A section of the SXFI Trio comes wrapped in Kevlar to help reinforce your cable and keep it safe.
Aesthetically, it is a very good looking pair of earphones, with the SXFI Trio looking very similar to the Aurvana Trio. Its triple driver system is housed within a flattened cone body and features a reflective gold metal plating at the back, along with an angled nozzle for the ear tips (which Creative provides 5 different sets to ensure you get the perfect fit). We particularly like the black and gold aesthetic the SXFI Trio has going for it, as it makes the earphones not only functional, but also a great accessory to complement your outfit when heading out.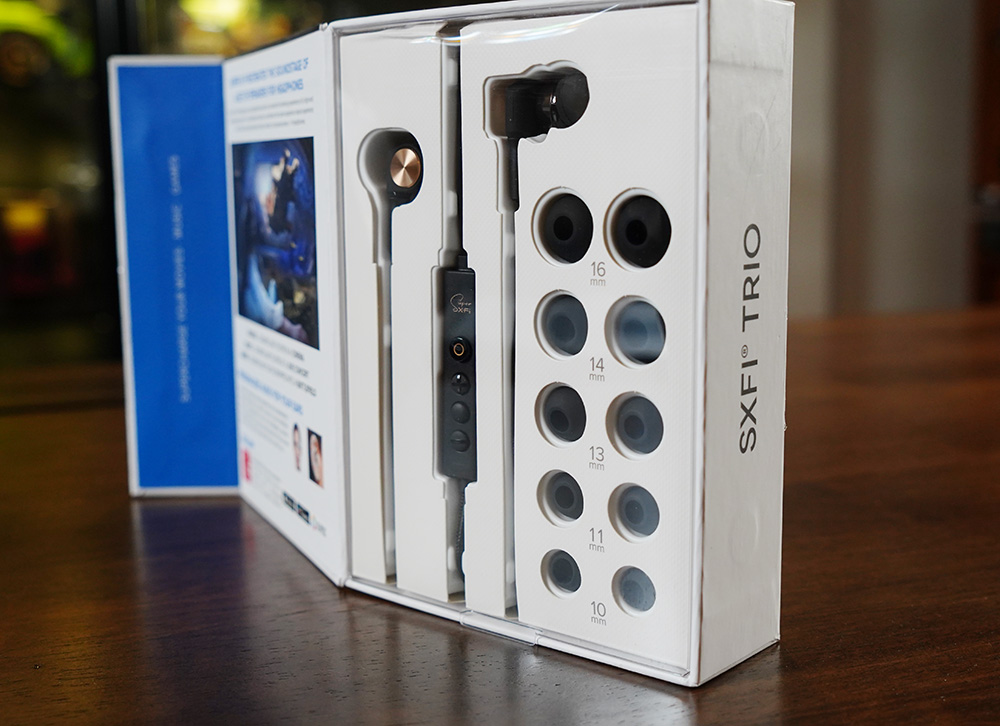 A small downside to the SXFI Trio is that its cables are non-removable, which means that if a part of the earphones break down, the whole unit will have to be sent for repairs. Also, the USB-C connector means iPhone users will not be able to use the earphones unless they have an adaptor, but at least there are still many other devices the SXFI Trio can be used on such as Android devices and the new iPad Pros.
With regards to the comfort and fit of the SXFI Trio, Creative's proprietary AuraSeal Noise Isolation ear tips really helped to provide a good seal to ensure the earphones both fit snugly into your ear and provide better-than-average noise isolation capabilities. A quick shake test proved that the earphones fit extremely snugly, as it did not come loose at all even with us violently shaking our head around to try and dislodge it. With the AuraSeal Noise Isolation ear tips, though we could still hear noises around us, it is significantly muffled, with the music in the earphones taking centre stage instead.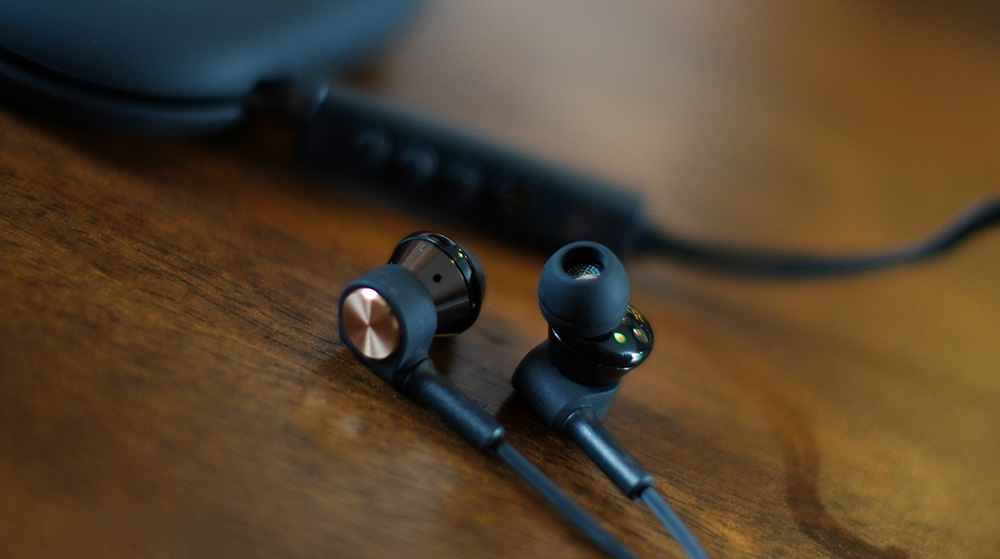 The SXFI Trio, as its name suggests, uses three drivers: two Balanced Armature drivers and one Bio-Cellulose Dynamic driver. Each driver has a dedicated purpose, with the two Armature drivers working to deliver both the highs and mids, while the Bio-Cellulose Dynamic driver is in charge of delivering rich, deep bass through the earphones.
Having three dedicated drivers to deliver your highs, mids, and bass is always better than having a single driver delivering all three on your earphone, and it shows with the SXFI Trio. The earphones deliver deep, well-rounded, and controlled bass which doesn't sound too strong nor muddled, such as when playing Billie Eilish's Bad Guy, which the SXFI Trio had no problem delivering the deep, pounding bass on thanks to the dynamic driver.
The highs are also well-detailed, forward and punchy enough without having it be in your face. Though when using, it seems the earphones have a V sound signature, which means the mids sound a little more recessed as compared to the highs and lows in a song. It's by no means a killer flaw on the SXFI Trio but you will just happen to notice the bass and trebles on the earphones more as compared to the vocals in a song. With its sound signature, it also means the earphones will be perfect for listening to music such as EDM and hip hop, or music genres that have more highs and lows in general.
Another key feature of the SXFI Trio is the SXFI amp is supposedly capable of providing listeners with an experience similar to "high-end multi-speaker systems". In other words, it is capable of providing a surround sound experience similar to high-end speaker systems or open-back headphones with a simple click of a button.
Unlike last year's Creative SXFI Amp which is a separate AMP you need to purchase, the SXFI Trio comes with it already attached and so all you need to do to get it up and working is to simply click the "on/off" button underneath the LED light. You'll know it's working when you see the LED turn from orange to green, plus your music will sound significantly different. Though whether it is a good thing or not is entirely subjective.
For us, though we found the mids to be more pronounced with the SXFI mode on, with a larger soundstage, it is due to the airy nature the AMP gives the music, which also adds a distracting reverb to the vocals, making it sound much more echo-y than it needs to be. Though if you are a fan of a wider soundstage with a larger, grander center imaging, then you will definitely be a fan of Creative's SXFI technology.
Creative also has an app that helps map the contours of your ears to ensure the AMP delivers the best possible music for your ears. Much like with the Creative SXFI Air Headphones, you will simply need to take photos of the outside of your ears and face using the app and the app will use its complex algorithms and mapping techniques to create your own personalised SXFI profile. If you are a fan of Creative's SXFI technology then this will help to elevate your surround sound experience to the next level.
Ultimately, the Creative SXFI Trio works great in delivering a pleasant listening experience thanks to its triple driver system that works well in making sure all spectrums of music is satisfactorily represented. Unfortunately, the SXFI Amp might be a hit or miss for some, with it helping to create a wider soundstage that we found carried a little too much vocal echo and was too airy for our taste.
If you have the chance to try out the SXFI Amp and are a fan of the surround sound experience it gives, then we highly recommend the Creative SXFI Trio which will cost you S$199. Though if you prefer the earphones without the SXFI Amp on, then you can consider getting the Creative Aurvana Trio which is almost like the SXFI Trio minus the SXFI Amp.
GEEK REVIEW SCORE
Summary
Great for users who are looking for a pair of in-ear headphones that is capable of delivering great bass and trebles while also providing the option of a surround sound listening experience.
Aesthetics -

8/10

Build Quality -

7/10

Performance -

7/10

Value -

7.5/10

Geek Satisfaction -

7.5/10
---

Drop a Facebook comment below!