When it comes to soundbars, consumers tend to think massive systems that run the length of a flatscreen TV, meant to support movies and music, placed in the living room. Oh, and don't forget slightly pricey investments. Singapore's Creative, who pioneered audio for computers, is on a slightly different track, with a soundbar that fits on your computer table and is one of a few brands committed to making affordable, reliable yet outstanding speakers.
In recent years, they have proven themselves with their soundbar line-up, whether it's the Sound BlasterX Katana, dedicated to gamers looking for a sleek RGB set-up, or the premium SXFI Carrier Soundbar that blew both our minds and ears away…
Their impressive Stage V2 Soundbar had almost everything anyone needed in a soundbar – affordability, design, and sound – though it was missing one aspect – Dolby Atmos, the surround sound technology designed to bring aural pleasure to greater heights from the cinema to your home.
Essentially, Dolby Atmos audio adds more layers and details to sounds from a movie or concert, creating an even more immersive and precise audio experience, and that's where the new Stage 360 comes in.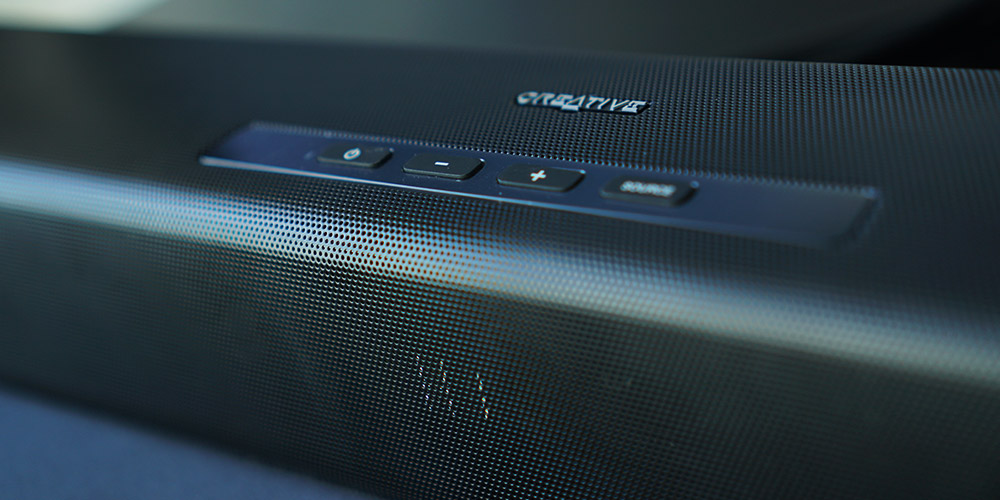 Of course, this isn't the first time that Dolby Atmos has been introduced to Creative's products, though in the case of the SXFI Carrier, it came with quite a hefty price tag and size, which might not be suitable for gamers who're looking for a soundbar. The Stage 360 however, is the ideal solution to bridge that gap and even though it's twice the price of Stage V2, the S$329 price tag places it firmly on the affordable side.
Out of the box, the Stage 360 looks almost identical to the Stage V2, rocking a sleek black minimal design and paired with a subwoofer that's almost half the size of a typical desktop system. Surprisingly, it is slightly smaller than its predecessor, measuring 565 x 75 x 88 mm for the main speaker, followed by 422 x 115 x 250 mm for the subwoofer.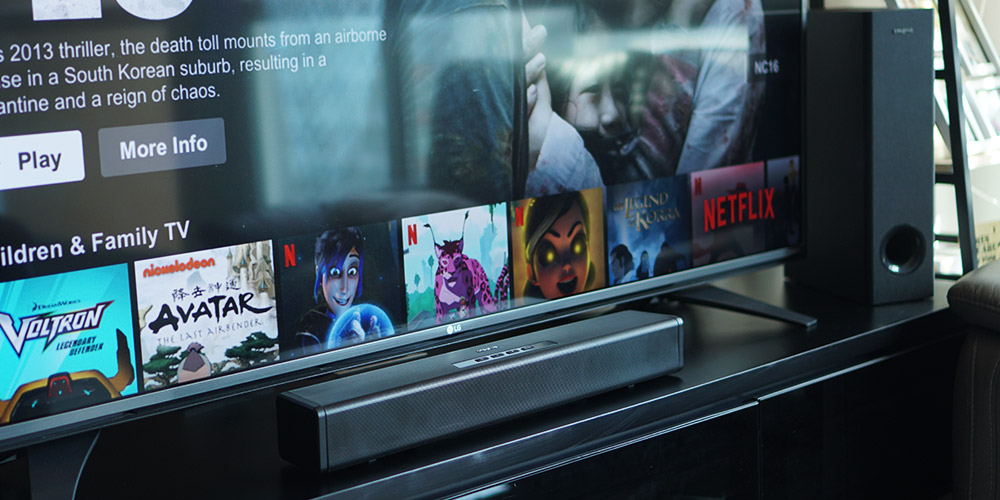 What is noticeably missing are the mounts for those who are keen on putting it up against the wall alongside their TV. For gamers though, the soundbar will fit right in your set-up with the subwoofer finding its ideal space below your desk.
On to sound, Stage 360 doesn't disappoint and delivers quite a heavy punch. With a volume range of 0 to 32, the power of the soundbar might be subtle at first, especially when you're at a lower volume, however, once you go beyond 15, that's when you feel its intensity kicking in. Make no mistake that the soundbar can fill your entire room and offer quite an aural experience for its value-worth price point. Besides loudness, it offers a rich and balanced sound with quite a lot of bass thanks to its subwoofer.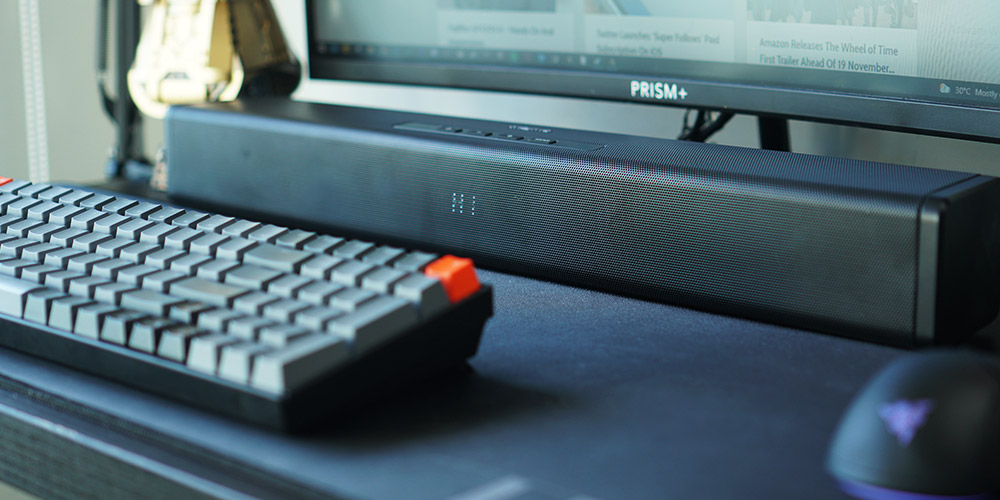 We kicked the sound up a notch by going all the way to level 25 and it was LOUD, especially for a gamer's set up, and you'll definitely feel your desk reverberate. You can personally try going all the way to 32, but don't hold us responsible for any complaints you receive from your neighbours! Besides Dolby Atmos, the soundbar features custom-tuned racetrack drivers and a peak power output of up to 240W. With more power, comes better and louder sound.
To give the Dolby Atmos a test, we gave Disney+'s latest What If…? animated series a shot and it provided quite an audio experience, with the welcoming tracks during the opening introduction by The Watcher filling the room, as if the cosmic being was standing right beside you.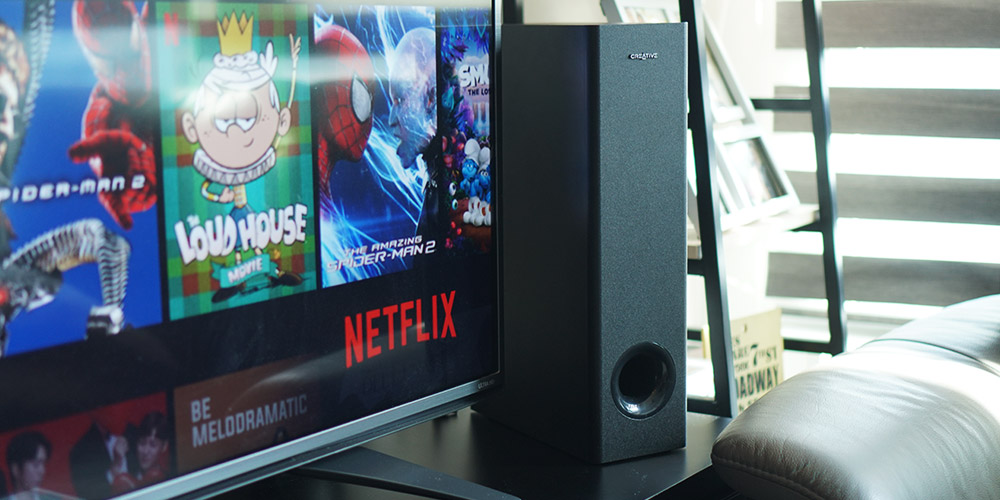 Throughout the episodes, you can really hear the different layers and depth of the soundscape and while it likely won't be able to beat having seven speakers placed around your room, the soundbar and the technology delivers on its promise of a good range of sounds that helps you hear much more than usual.
So what might stop you from adopting this system? Well, not all films, shows or games offer Dolby Atmos, and you'll need to spot its little logo to know that it has the feature.
For PC users who want the Dolby Atmos set-up, you'll have to install the Dolby Access app to enable it first. While Dolby Atmos on headphones requires a one-time payment, setting up other devices such as the Creative Stage 360 is completely free
So if you're planning on playing a selection of Dolby Atmos supported games, including CyberPunk 2077, Call of Duty: Warzone, or Forza Horizon 4, it would be helpful to install the app for pure gaming aural goodness. Whether it's a chopper flying across the bloodied skies of Warzone, or whizzing bullets in Night City, Dolby Atmos has this magic in effectively providing such a realistic experience that you're able to tell where each chaos is coming from. (Check out the list of games that support Dolby Atmos here.)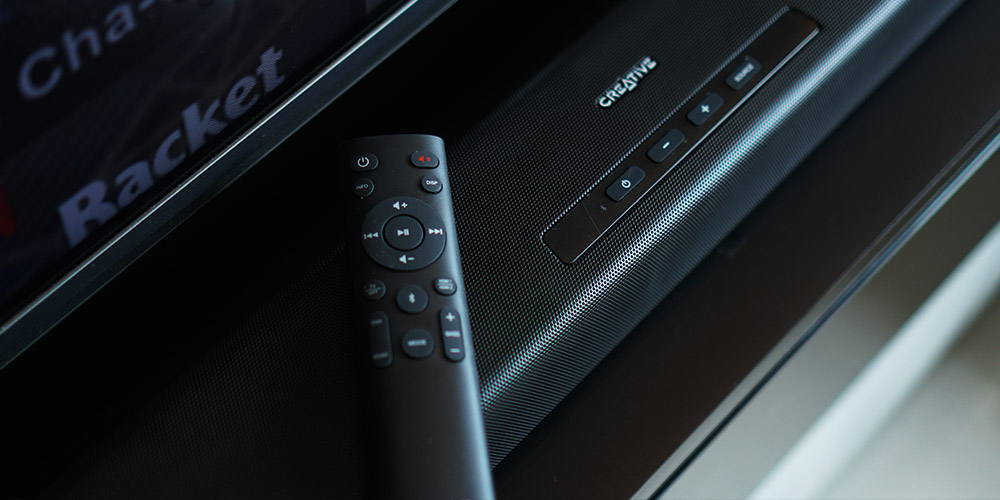 One other thing you'll need to take note of is Stage 360's energy-saving feature which automatically switches off the soundbar when it's not in use for some time. For gamers, that might be quite a hassle, however, Creative has provided an option for you to turn that feature off.
All you need to do is to press and hold the 'Source' button on the soundbar for 8 seconds and you'll notice 'EOFF' on the LED display, which means the energy-saving feature is off. To turn it on, repeat the steps and you'll see 'E-ON' as an indicator that it's on.
In terms of connectivity, Stage 360 has both wired and wireless options. While retaining its Bluetooth 5.0 wireless connectivity from the Stage V2, the soundbar has a few differences in terms of wired options.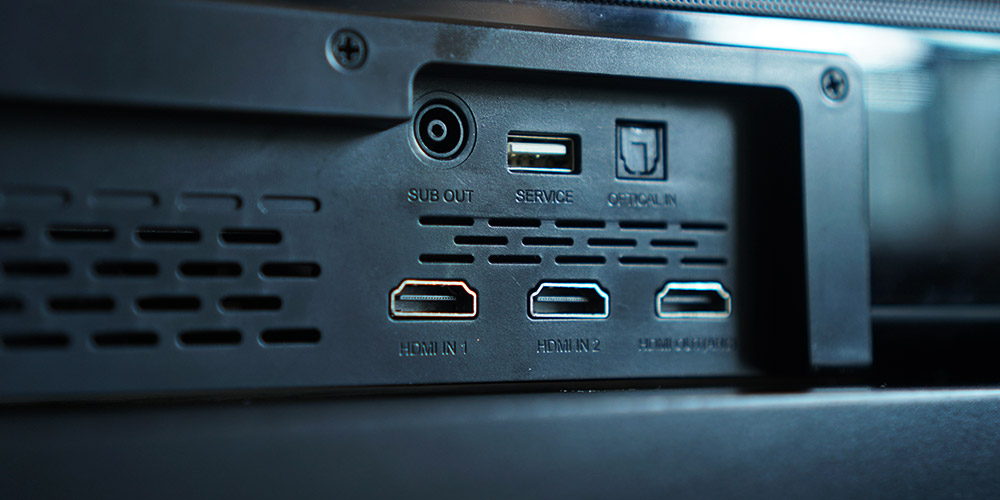 It offers the same HDMI ARC and optical-in ports, but it no longer has its USB port connectivity. In exchange, it now offers two HDMI 2.0 ports that you can connect to your desktops and all your gaming consoles. For full Dolby Atmos sound, know that HDMI connectivity is required.
To top it all off, there's also an IR remote that allows you to switch sources, and adjust playback volume. It also provides a few additional functions that let you cycle through three audio modes – 'Music', 'Night' and 'Movie'. There isn't an obvious difference but 'Music' seems to have a little more bass compared to 'Night', and 'Movie' is a little more balanced in between the other two.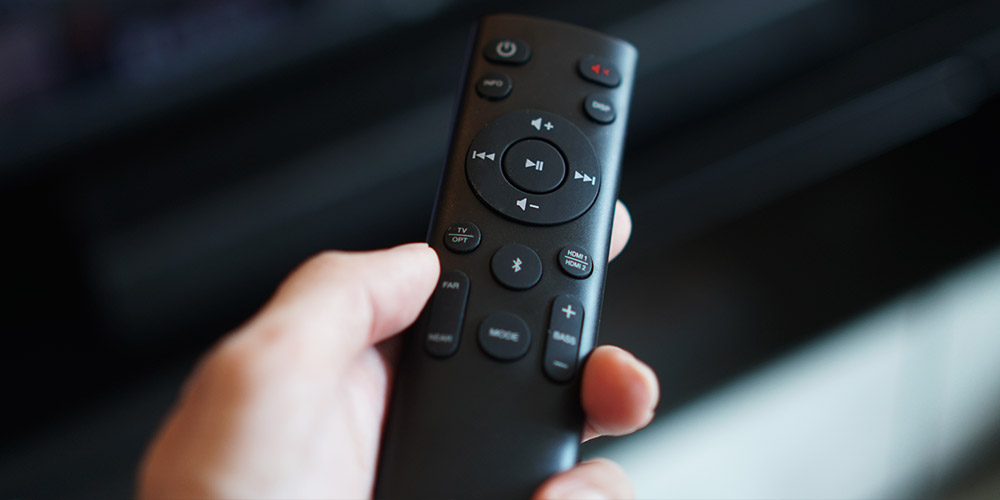 Creative also added an option on the IR remote that lets you switch between near-field and far-field listening – so whether you're using it in the living room or desktop, they've got you covered. Besides that, there's also a bass control option that adds even more "oomph" into what's already packing.
Creative has outdone themselves again and at this point, we're no longer surprised. The Creative Stage 360 can be the perfect upgrade you're looking for if you own one of their previous Stage line-ups or it can be the ideal all-in-one Dolby Atmos soundbar that packs quite the punch and performance for its price tag.
The Creative Stage 360 is available now on Creative.com at S$329.
GEEK REVIEW SCORE
Summary
The Creative Stage 360 is the ultimate all-in-one value for money soundbar that can introduce you to the world of Dolby Atmos sound.
Aesthetics -

8/10

Build Quality -

8.5/10

Performance -

9/10

Value -

9/10

Geek Satisfaction -

9/10
---

Drop a Facebook comment below!