UMAS fellow geeks. Remember these four letters as this is the new acronym/standard for your PC gaming audio system in 2017 and beyond. That's right, you (kinda) heard it here first, and it stands for "Under Monitor Audio System".
Back in 2015, Singapore's Razer probably had the first UMAS soundbar to hit the market. Creative's latest Sound BlasterX Katana isn't quite the first PC soundbar on the market, but it's the first that actually fits well below the monitor.
Instead of massive soundbars that travel the length of your 55-inch TVs, these UMAS are short enough to sit on your PC desk, but powerful enough to rival their living room counterparts. Using a mix of tweeters and directional speakers, as well as software tuning, these speakers are able to virtually recreate 7.1 audio channels in any space, big or small.
Having spent a good amount of time blasting music, movies and games with the Katana over the Christmas and New Year holidays, Creative's latest baby has completely won me over, with its astonishing good looks, small form factor, and most importantly, unbeatable audio performance.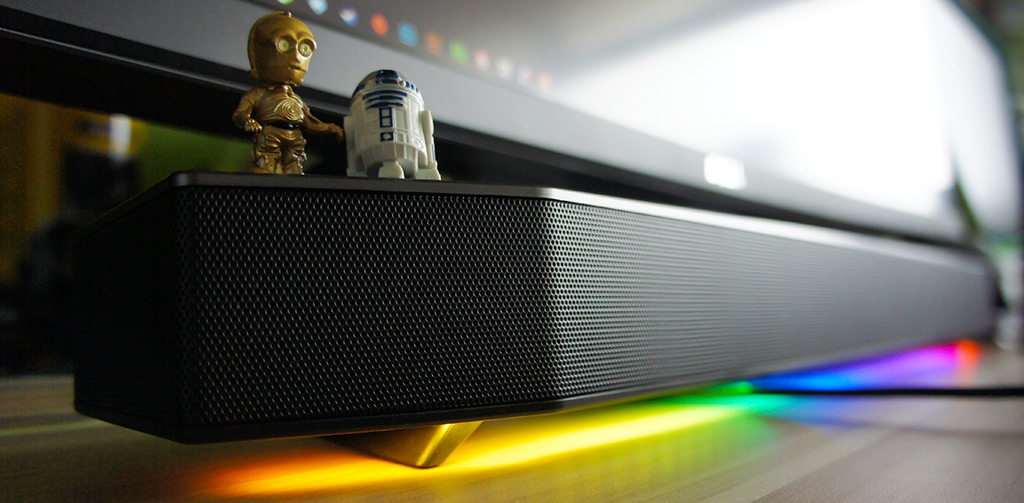 Stunning Good Looks
The Katana is absolutely gorgeous, with a minimalist and sleek design, packaged within an anodised gray brushed metal-finish casing. Measuring in at just under 60cm in width and around 5cm in height, it fits snugly under any PC monitor setup. The Katana is held up by two removable legs, which elevates the unit to a height perfect for the wire of your keyboard and mouse to run under. My home set-up is a 34-inch ultra wide Dell monitor with a single centre stand, and this base stand also slots in nicely into the elevated gap between the legs of the Katana. This overall design provides a deeply satisfying aesthetic and clearly, the Creative designers and engineers have done their homework.
There are five small round buttons on the top side of the soundbar. Starting from the left, there's the power button (which you also hold down for 3 secs for Bluetooth pairing), Volume down and up buttons, the Source button (to cycle between PC, Bluetooth, AUX, Optical and USB connectivity), and lastly the SBX button (cycling between audio and light presets).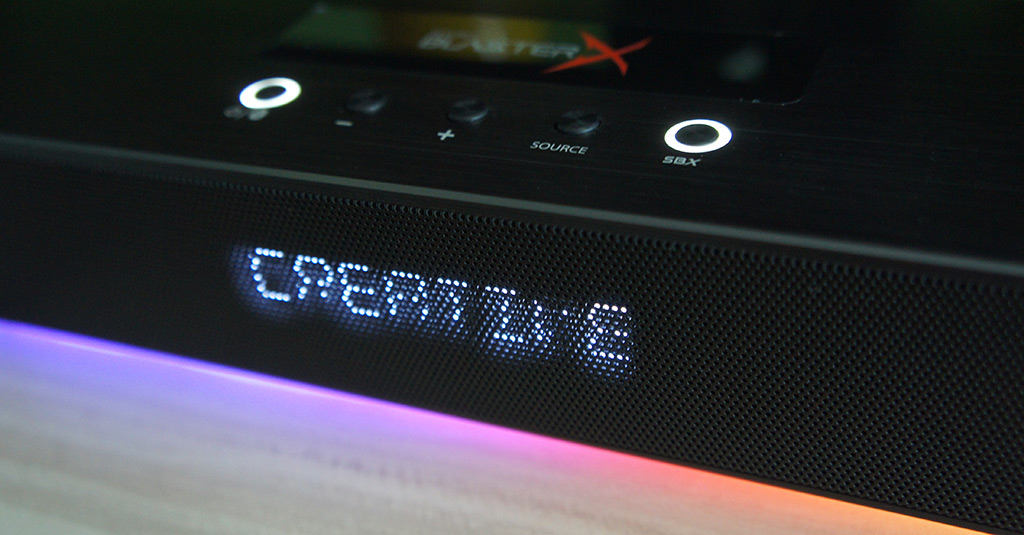 I'm a sucker for LEDs, so having the Katana come equipped with a fully customizable 16.8 million RGB LED ambient-reactive light system (try saying that 10 times quickly) is a very nice touch. Aptly named the "Aurora Reactive Lighting", it is the first gaming and entertainment sound system to have such a feature. There are multitudes of coloured effects to choose from, such as wave, pulsate, colour morphing, and allows for many levels of personalization via the accompanied software.
Even the LED status display is subtly placed behind the front speaker grill, so it vanishes seamlessly after a few seconds.
The 30W RMS Subwoofer unit has a sturdy build, and slim form factor, which will fit nicely below your workstation, without taking up too much leg room.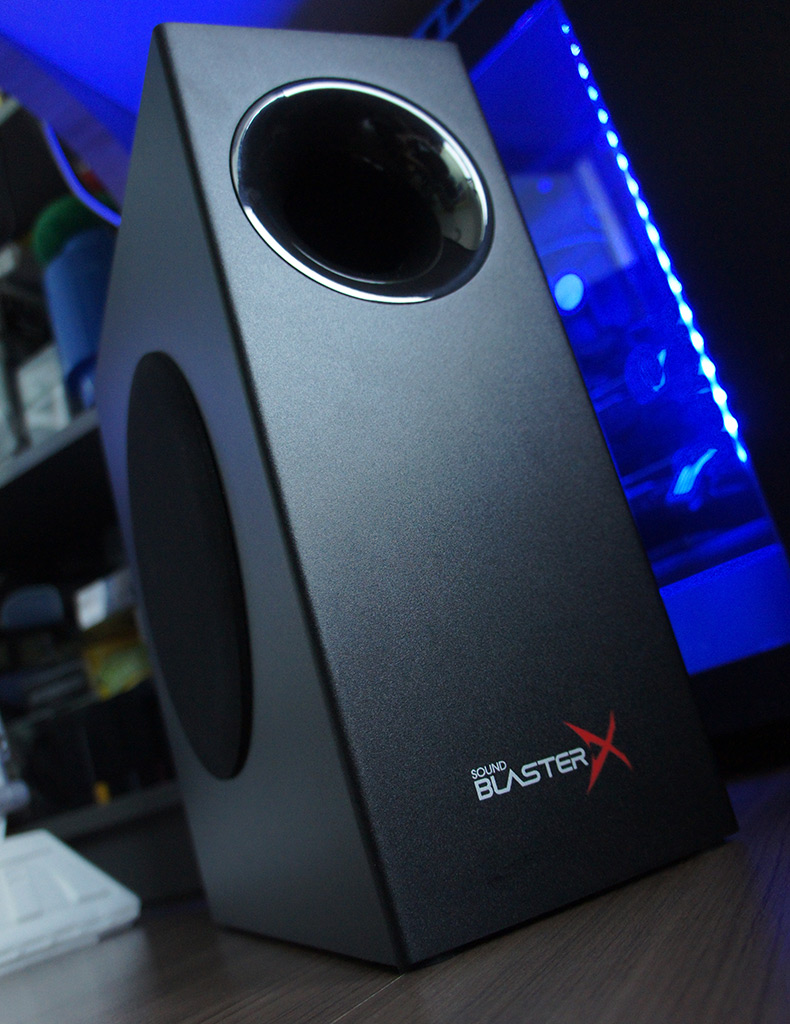 Creative even bundles an IR remote with the system, which would come in handy if you've set up the system in your living room with your TV. Even if you're using it with your PC, and feeling a little lazy, it can come as a handy alternative to using the on-screen software, or reaching out to press the physical buttons on top of the soundbar. The remote's design isn't anything to shout about and looks rather simplistic in design, but the provision for Bluetooth, Source, a well as music and volume controls, gets the job done.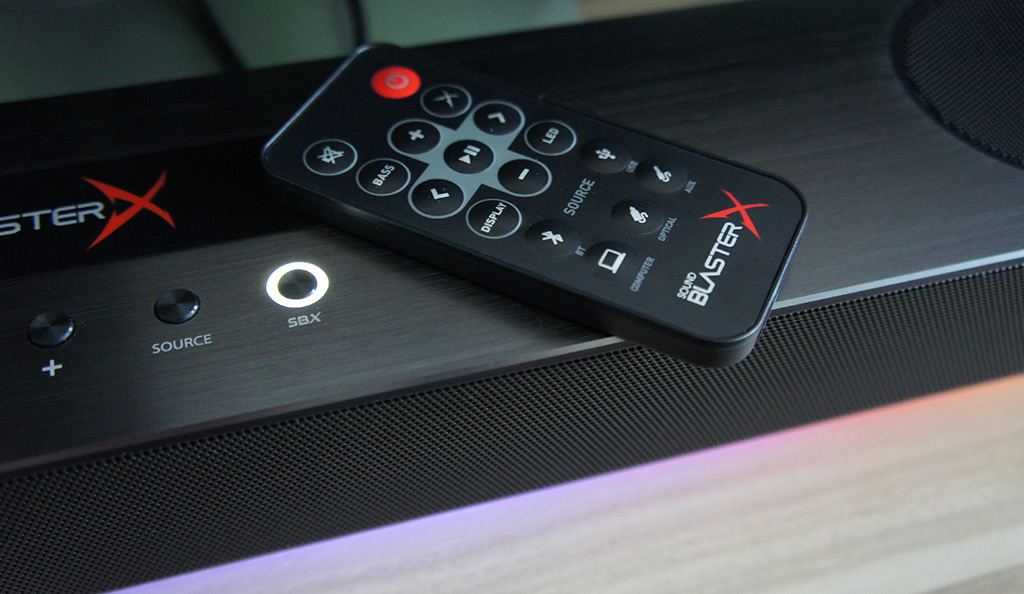 Audio Fidelity
Creative has long been recognised as a Singapore company, and anyone who knows them would know that they made their mark in audio. The Katana is made by the same engineering team who brought you the award-winning Gigaworks series of speakers, so I fired up the Katana with great expectations, and I wasn't disappointed.
During my game tests with several shooter titles, the positioning of the 7.1 virtual surround audio was immensely accurate. Gamers can easily detect distinct adversaries coming in from the right, left, rear and front. Do you want sounds of bullets whizzing by? Check. Are you expecting to detect enemies creeping up from behind? Check.
Can't wait to be engulfed in explosions? Check. Many other speakers have bold claims with their 5.7/7.1 virtual surround capabilities, but none of them has come close to the outstanding reproduction displayed on the Katana.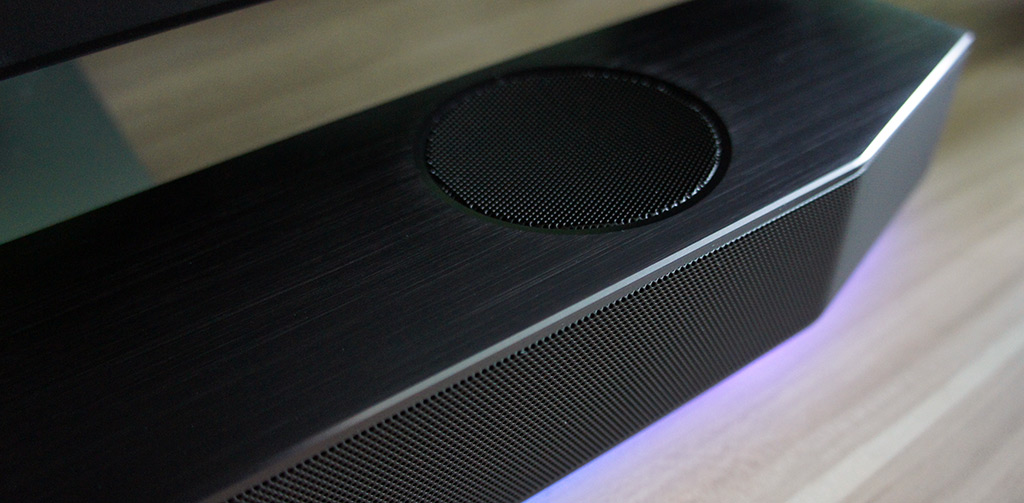 A word of warning though, these speakers can get loud, and I do mean really loud. Which is a good thing if it's placed in your living room, but no HDB / small apartment room is equipped to handle this baby. There is a satisfying soundscape emitting from the one speaker that carries no compromise on audio quality, or carries any hint of distortion. I even played my favourite tunes on the concert setting, cranked up the volume, closed my eyes, and had trouble telling where the acoustics were coming from!
The volume indicator actually maxes out at 50, but I never managed to crank it above 20, for fear of disturbing the neighbours. That didn't stop me for blasting it at a constant 18 during my gaming/music/movie sessions though, as it already provided a loud and immersive enough of an experience.
All this is made possible thanks to Katana's onboard 24-bit high-resolution audio processor, combined with a sophisticated tri-amplified 5-driver design. The single soundbar contains 2 tweeters and 2 up-firing mid-bass drivers, along with the standalone long-throw subwoofer. Each driver is individually powered by a DSP-controlled amplifier, which is responsible for the unrivalled audio reproduction.
It sounds simple to any tech-head but if that's too much technical jargon for you to handle, this diagram should help put things in perspective.
The "Passive Design" on the left depicts a single amplifier for driving high, mid and low frequencies. The "Tri-Amplified Design" on the right depicts the Katana, which utilizes three distinct amplifiers, with each dedicated to high, mid and low frequencies.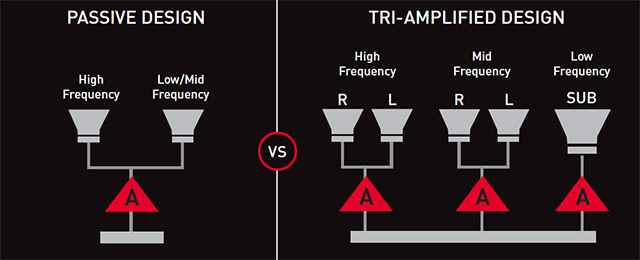 So are three Amps better than one? If it's for simple 2.1 audio, don't bother. But if you want 7.1 surround without physically setting individual speakers around the room, the virtual provision is the way to go. Frankly, you can only tell the difference for yourself once you've immersed in the crystal clear, precise and well-balanced soundscape pumped out by the Katana.
If you've played with Creative's awesome line of Roar and iRoar speakers, this is the Godzilla-like implementation for the home.
Even when connected to a game console in the living room, this beast matches what the console brings to the table. I paired it up with my PlayStation 4 console, and hooked it up via optical audio, for 5.1 Dolby Digital. This is where the Katana meets its first hiccup – it does not support DTS, which several PS4 titles support, such as Uncharted 4 and Dark Souls III.
Having played through multiple sessions of The Last Guardian and Call of Duty: Infinite Warfare, I can no longer look at my existing Philips soundbar the same way again. Step aside Philips, Creative is making its way into the living room too, and blasting everyone else into silence.
Physically though, the Katana looks mighty puny when placed below a 65-inch TV. While there's no doubt that it more than makes up for it with its audio prowess and lighting effects, the Katana is clearly meant for PC use. It would be nice to have a setting to optimise the virtual surround positioning for larger rooms though, such as when placed in a living room environment where the user is typically seated significantly further away from the sound system. Perhaps this could be addressed in a future firmware update.
Connectivity
For connectivity options, the Katana has your bases covered. The standard ports are all present, from the headphone jack (support for virtual 7.1 surround), to an Aux In and Mic In. When connecting to the PC, all you need is a single Micro USB cable that comes bundled with the unit. For connecting to a game console or TV, there's the trusty fibre optical port (Dolby Digital 5.1 decoder). Sorry PS4 Slim owners, you're out of luck for this one, since Sony decided to omit the fibre optic port on the new PS4. It's a pity Creative didn't include a HDMI port for this iteration of the Katana, as it would leave devices with only a HDMI connection out in the cold.

It also functions well as a standalone speaker, should you have a flash drive or portable HDD filled with MP3s. Better yet, you can even connect any mobile device to it, via Bluetooth 4.2, for latency-free music wireless streaming.
A Breeze to Setup
The installation of the Katana is also very simple and I had it up and running within 5 minutes.
Connect the power adapter to the back of the soundbar.
Connect the subwoofer to the back of the soundbar.
And with a micro USB cable, hook up the soundbar to any USB port on the computer.
On a Windows 10 system, the audio output instantly switches over to Katana's onboard Sound BlasterX audio processor. Say goodbye to your substandard, built-in motherboard audio, and say hello to crisp 24-bit audio bliss!
Level Up with the Software
What really sets the Katana apart from other speaker systems is that it comes with a companion Windows software (sorry Mac OS users, but there's no love for you guys), Sound Blaster Connect, which is downloadable from Creative's website. It is entirely optional to install it, but I would strongly recommend it, as it gives users greater controls over the full feature set of the Katana.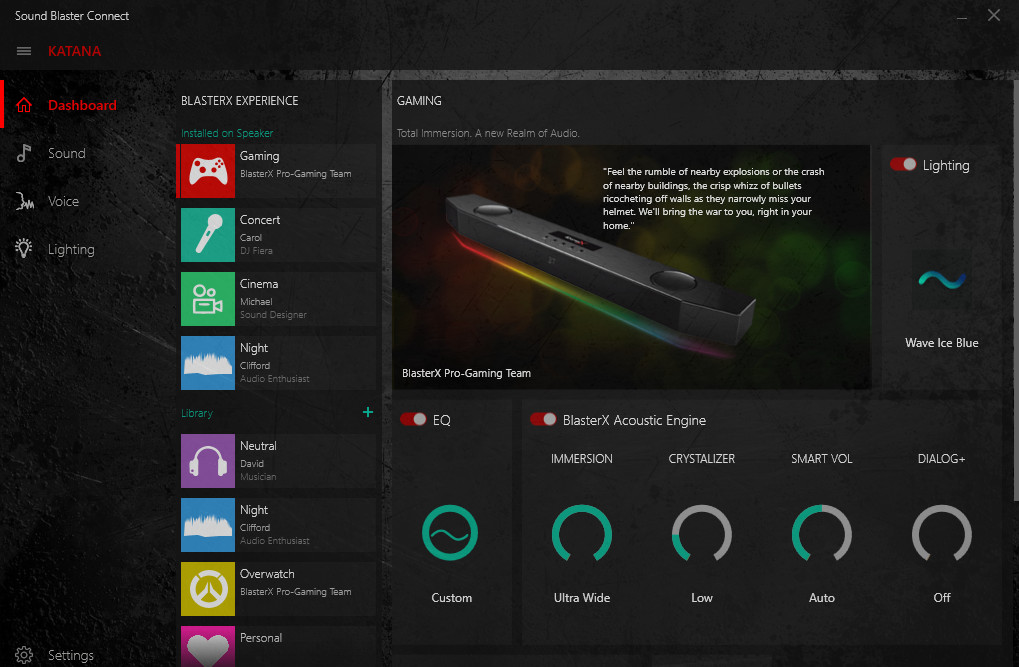 On the main dashboard, you'll be treated to a library of audio presets, with the flexibility to create your own personal ones, and even naming them to whatever you wish. Brown Chicken, Brown Cow anyone?
Once you're done, you can even install these new presets onto the soundbar, and replace any of the 4 pre-defined ones. When you unplug the Katana from your PC and move it over to your living room with your TV, the soundbar will retain the 4 new customized presets you have created.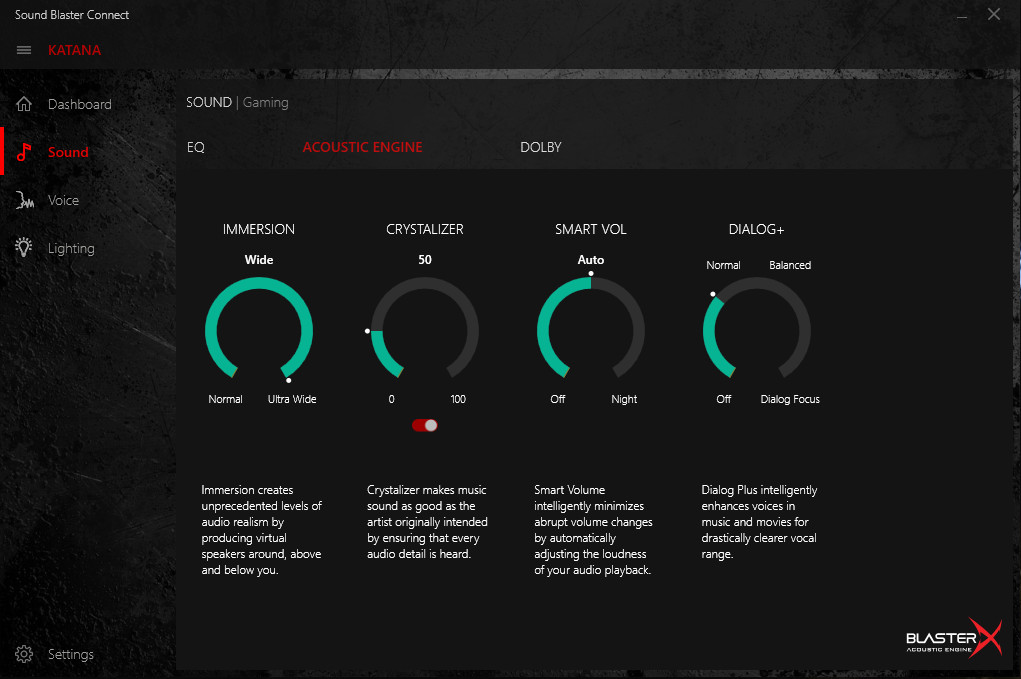 For the audiophiles, there are more than enough dials to tinker with, via the BlasterX Acoustic Engine, where you can tweak the audio realism, music crystalizer, dialog enhancements, clearer cues, bass and treble.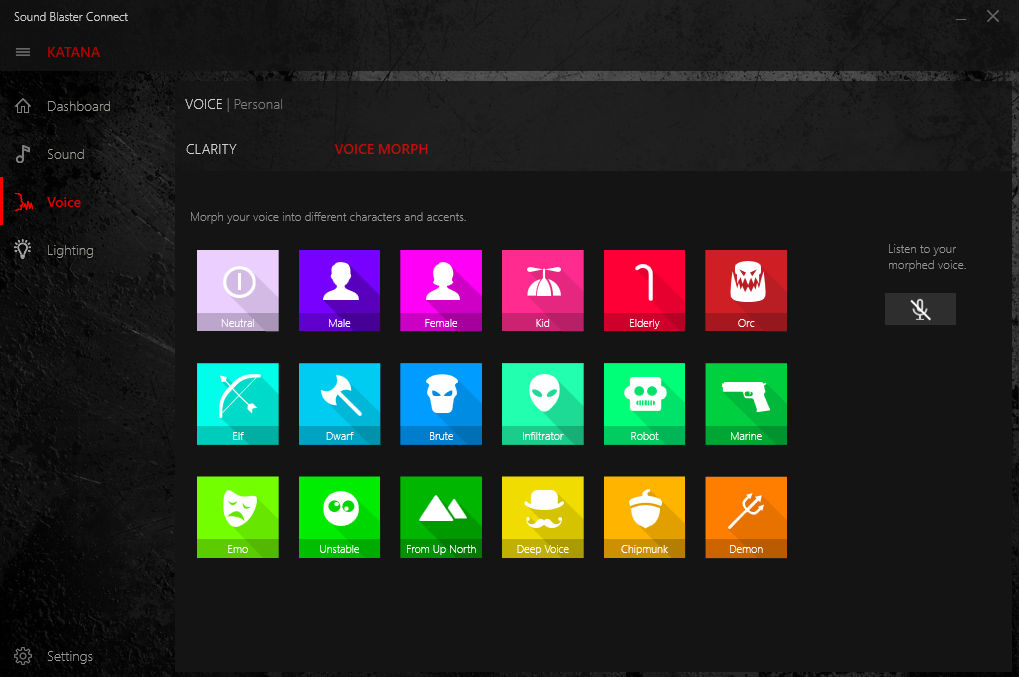 For those into playing online games, Creative has gone a step further with "Voice Morph". This feature morphs your voice, to something from the opposite sex, or making you sound like a Chipmunk. Think of it as fun, or for masking your true identity. My personal favourite is the Orc, which was spot on, and would make for some really funny multiplayer gaming sessions.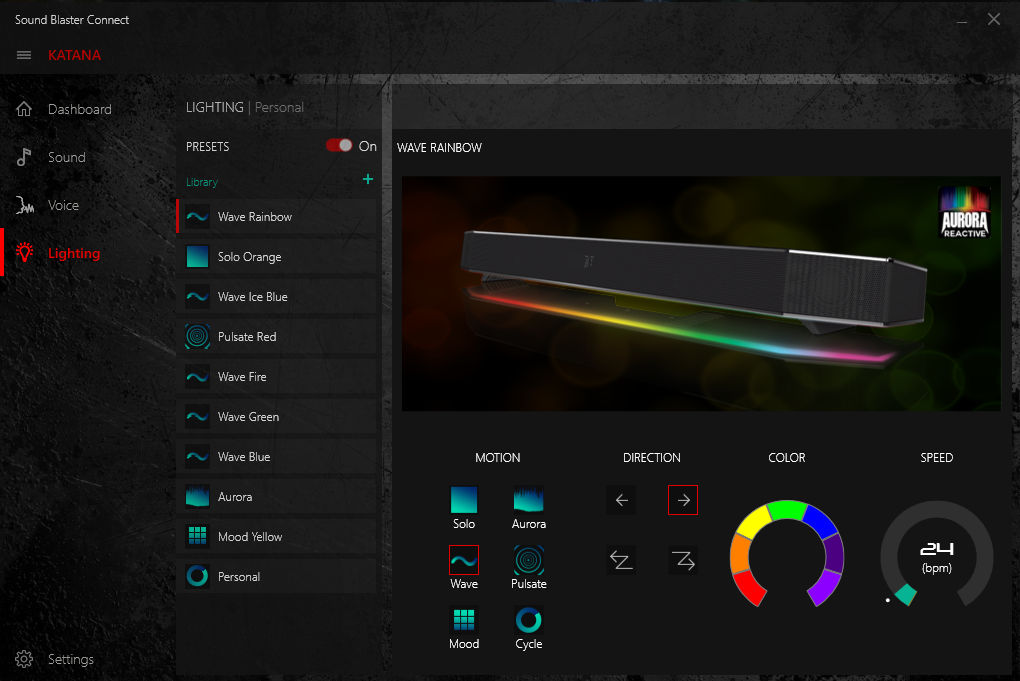 As if all the audio adjustments aren't enough, the lighting customizations are just as comprehensive. There are motion options for Static, Aurora, Wave, Pulsate, Mood, Cycle, across 7 quadrants of lights. Even the speed and direction of the lights are adjustable, with limitless presets. You know, just like for your mechanical gaming keyboards.
I couldn't resist having some fun with this feature, and re-created K.I.T.T's scanner lights (yes, from Knight Rider. Wugh wugh!)
According to Creative, the Katana's firmware is easily upgradable within the Sound Blaster Connect app and the company will be constantly working on updates, to improve on its performance. There are some plans to possibly add an audio visualiser for the Aurora Reactive lights, so that it would pulsate in tune with your gaming/music/movie sessions.
But truth be told, these tweaks are more for hardcore audiophiles to play with. They are great to have, but I bet many of us won't dare to, or even know how to, touch them.
Katana vs Leviathan
Before the Katana, I have been using the only other soundbar system for PCs, the Razer Leviathan, and its age is showing. This is not Razer's fault, but more of having a new product perform better. Design wise, the Leviathan is a little on the tall side, measuring in at about 11cm tall, which ends up blocking the bottom bit of my Dell monitor.
Audio-wise, the Leviathan tends to lose its clarity a little once the volume is cranked up, and with just 3 basic and fixed presets for gaming, music and movies, it doesn't quite make for all that much variance in the audio experience.
For those of you who aren't too familiar with the Razer Leviathan, here's a quick comparison table between the two soundbar systems that should help put things into perspective.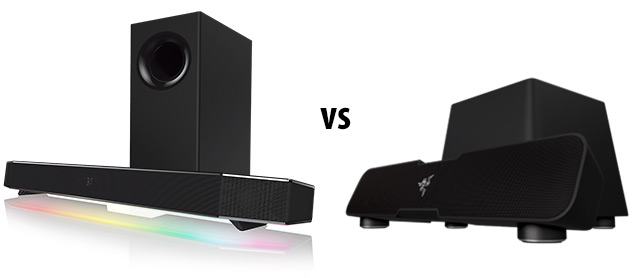 | Feature | Sound BlasterX Katana | Razer Leviathan |
| --- | --- | --- |
| Soundbar Chassis | Aluminium | Plastic |
| Soundbar Height | 5cm | 11cm |
| Soundbar Power | 45W RMS | 30W RMS |
| Subwoofer Power | 30W RMS | 30W RMS |
| Adjustable Soundbar Height | No | Yes (via 3 sets of feet for tilt angles 0⁰,15⁰,18⁰) |
| Audio Equalizer Mode Presets | 5, fully customisable (unlimited presets on PC) | 3, fixed (gaming, music, movies) |
| Connectivity Methods | USB Audio, USB FlashDrive, Optical In, Mic In, Aux In, Headphone Jack, Bluetooth 4.2 | Optical In, Headphone Jack, Bluetooth 4.0 |
| Amplifier(s) | Tri-Amplified Design | Passive Single Amplified Design |
| Virtual Surround Support | up to 7.1 | up to 5.1 |
| USB Audio / Optical Audio Resolution | 24-bit, 96kHz | N.A. (depending on source) |
| Built-in Audio Processor | Yes | No |
| Dolby Digital Decoder | Yes | Yes |
| Firmware Upgradeable | Yes | No |
| Software Customisation | Yes | No |
| Lighting Effects | Yes | No |
| Price | US$299.99 (S$419) | US$199.99 (S$329.90) |
At S$419 (US$299.99), the Katana doesn't come cheap, but it more than makes up for the difference with its exceptional set of features and capabilities. Creative has definitely set the new standard for UMAS with this flagship speaker, and I can't wait to see what Razer will do next.
The Sound BlasterX Katana is now available for sale via Creative's online store and includes free shipping worldwide.
GEEK REVIEW SCORE
Overall
9/10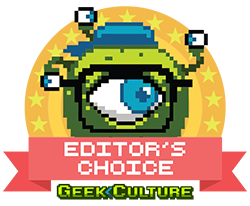 Aesthetics -

9/10

Build Quality -

9/10

Performance -

9.5/10

Value -

8/10

Geek Satisfaction -

9.5/10