In many ways, Disney/Pixar's Car franchise is the least Pixar series by the famed animation studio.
It lacks the heart of Toy Story, the bonds of Finding Nemo/Dory, the action of The Incredibles and the maturity of Inside Out. The tale of a young race car finding his groove in the first movie, and defeating a crime syndicate in the sequel, just didn't resonate with audiences.
Still, given the merchandising the company gets from selling toy cars, there was no way that another sequel wasn't in the works.
But in what could be a major u-turn, Pixar has got it right the third time, as Cars 3 is everything that a Pixar movie is and should be.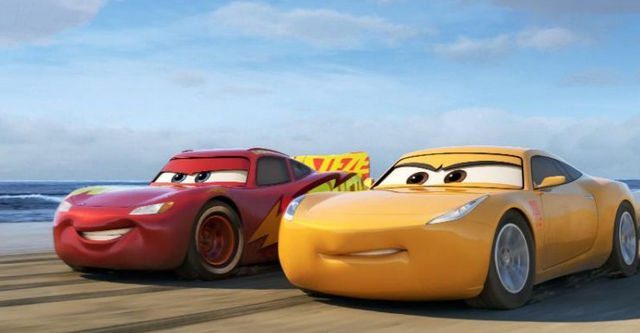 It rightfully ignores the events of the second movie (hurrah), and offers many throwbacks to the first film. In fact, both Cars and Cars 3 can be regarded as bookends, as the first was about a hotshot race car that learn a thing or two from a racing veteran, and this movie is about life after burning rubber for a hotshot race car.
Say what you want about Owen Wilson, but his take on Lightning McQueen, the lead in the series, has grown across all three movies. In this one film, we get a sense of what McQueen was, his need to relive those glory days, and his anger at being replaced on the tracks. Afterall, no race car can take pole position forever, including the beloved number 95 aka McQueen.
But without the original Cars to show audiences life in Radiator Springs, Cars 3 would not have worked either. The events in Cars 3 depend on the original, and much of it circles around Doc Hudson, McQueen's mentor, voiced by the late Paul Newman. His relationship with McQueen is the focus of the film and it's amazing how the filmmakers managed to give it so much play and weight, especially considering that Newman died nine years ago. Cars 3 used unused recordings from the first movie to inject the film with some flashbacks that showed us more about the life of Cars than Cars 2 ever did.
So if McQueen is in the mentor role, who then becomes his protege? Well, Cruz Ramirez (Cristela Alonzo) starts out not as a race car, but as a trainer hired to get McQueen up to er… speed, if he were to ever take on Jackson Storm (Armie Hammer), the fastest in a line of souped up cars.
In what could very well be the final lap for the series, Cars 3 focused on the idea of mentorship and bringing value to something you love, even if it is from a different point of view. While it is nowhere near as powerful as the Toy Story series, it's great to the film focus on what made Pixar great.
---

Drop a Facebook comment below!