Dominic Toretto, Xander Cage and Richard B. Riddick. The characters from The Fast and the Furious, XXX and The Chronicles of Riddick film series gave Vin Diesel reasons to strut around in tight-fit tank tops and speak in an impossibly deep voice, but as audiences realise, he has little to say and isn't quite the charismatic film star we want to see. 
And in his latest vanity project, the 52-year-old beefcake once again gets to flaunt his impressive physique and deliver more lines, than a mere "I am Groot". Sadly, this in no way makes the character more interesting.
Diesel plays Ray Garrison, a gung-ho marine who returns home to his wife after a victorious mission. Alas, the couple is ambushed in their beautiful mansion and are subsequently killed. There would be no movie if they remain dead – so we see Ray waking up as a superhuman who is enhanced by nanotechnology (let's not bother going into specifics how this works), and more importantly, is now an invincible killing machine employed by a shady organisation.
With revenge on his mind, Bloodshot (that's the cool superhero name given to him) wants nothing more than to hunt down the bad guys who murdered him and his wife.
The story reeks of a 90s action movie where the protagonist is wrongly killed, but thanks to some illogical turn of events that disguises itself as technology, comes back to life to wreak havoc. But no, this is not RoboCop nor Universal Soldier, because those movies define an entire generation of films. Back then, such concepts worked but in this day and age of superhero comics and billion-dollar spectacles, this first movie from Valiant comics is rather tepid, and there is a sense of datedness that may bore audiences.  
Things could have been worse for this feature directorial debut by David S. F. Wilson though. The movie starts off relatively unexciting (unless you are a hardcore Diesel fan, you will probably find the action sequences uninspiring), but when the story reveals the reason behind Blooshot's existence, things get slightly more interesting. Things are revealed layer by layer, and although this isn't exactly groundbreaking storytelling, it is enough to make viewers sit up and pay attention.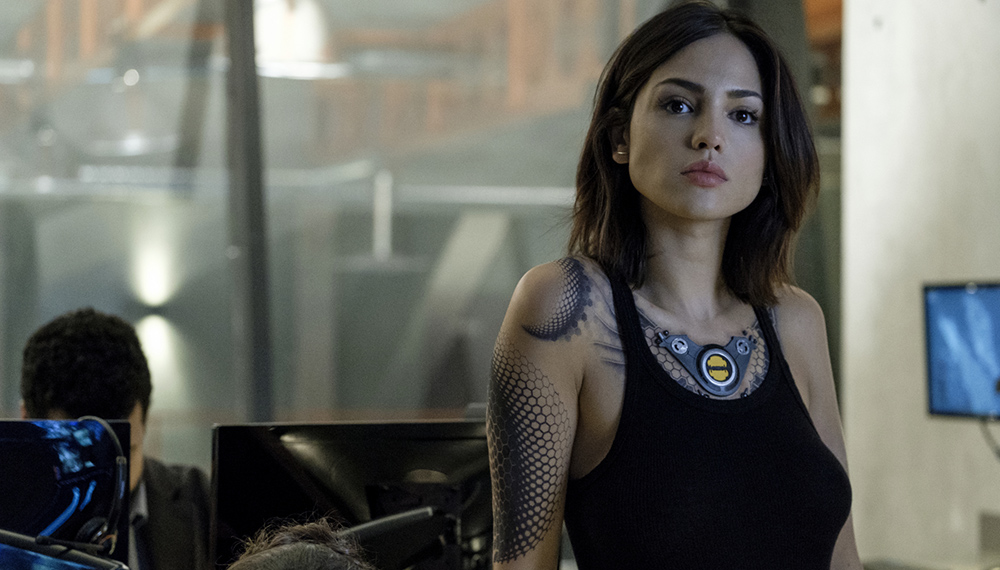 Diesel's portrayal of Bloodshot isn't any different from his previous performances. Let's just say if you are a fan of his tough dude persona, you'd think that he has done a fine job here. The underrated Guy Pearce is impressive Bloodshot's supposed saviour but is nothing more than a slimy businessman. Elsewhere, Mexican actress Eiza González provides eye candy as an ally, while Sam Heughan and Toby Kebbell are forgettable in their roles as the bad guy's henchmen. Lamorne Morris plays a tech genius and fast talks his way through the 109-minute movie, providing comic relief to Diesel's monotonous seriousness but towards the end, you might want to punch him.
The mashup of science fiction, action and superhero genres allowed the filmmakers to dabble with special effects, in particular Bloodshot's regeneration after he gets brutally shot by the bad guys. While it is novel to see nano-sized microorganisms crawl together to form a human face, it is unlikely to go down movie history as an iconic scene like in Terminator 2's famous sequence, where liquid metal blobs coming together to form the T-1000 Terminator.
If you are a die-hard comic book fan, you may know that this movie is based on the Valiant Comics character of the same name. There were plans to make this the first film in a series set within a Valiant Comics shared cinematic universe, but things have reportedly fallen through due to distributing conflicts. This might actually be a good thing for Diesel, so he can be on the lookout for other movie characters that allow him to pull more serious punches while wearing tank tops.
GEEK REVIEW SCORE
Summary
Dom Toretto will only return next year because of the coronavirus outbreak, so Vin Diesel's hardcore fans would have to make do with this average action flick.
Story -

6.5/10

Direction -

6/10

Characterisation -

6.5/10

Geek Satisfaction -

6.5/10
---

Drop a Facebook comment below!