If you were a director knee-deep in the superhero blockbuster scene that sparked from Robert Downey Jr.'s portrayal of Iron Man, you'd be thinking to yourself "How in god almighty will I top the likes of Marvel's devil-may-care film-making attitude, financial backing & bravado?"
Simple: you don't. You just look for another angle. And that's what Alejandro G. Iñárritu of Babel and Biutiful fame did: create a cocoon of a tale that hatches into a story opus butterfly with wingspans of finesse that impresses. All involving a man in a humanoid bird-themed costume played by the first serious Batman actor (a whole new level of meta, by the by).
Flying High
Michael Keaton plays a washed-up superhero actor named Riggan (of the title show Birdman, already on its third film before he retired) trying to make it big on Broadway with his adaptation of a Raymond Carver story. Here, Riggan has to deal with the Birdman voice in his head telling him to go back to his faux-superhero roots, his troubled daughter (Emma Stone) who got out of rehab, a jerk of an actor played with such haphazard standoffishness by Edward Norton, and the play itself.
It's not so much the tour de force of Michael Keaton as a washed-up superhero actor trying to make it big on broadway that keeps us entertained and empathize towards. It's not so much the supposedly single long take technique (wonders of cinema-editing tech, eh?) that gives this Iñárritu-directed fare its continuous flow that soars like its namesake hero. As if you wonder whether the sole journey of Riggan is one of fame or one of self-indulgent madness. One that you'll keep laughing at, of course: this isn't a downer of a flick like the director's past efforts.
Rather, it's the combination of all these things that make Birdman a fascinating watch. A black comedy, a character study, a mindf*** between reality & fantasy; all rolled into one cohesive and mesmerizing tale.
More Side Characters Than Sidekicks
The rest of the cast also brings life to the tale: the aforementioned Stone brings up her cute and cynical persona, while Norton's Broadway babyface questions the allegiance of Riggan; whether he will sell out for another Birdman film or press on with his opus.
Riggan's own Birdman persona also drops by as a raspy-voiced roadblock: a conscience that tells him to put on the metaphorical superhero suit and eff it all, which in turn becomes a battle of wits and temptation. Let's also not forget the director of photography Emmanuel Lubezski, the other important cast member whose keen eye contribute to the one-take flow of the tale without any distractions whatsoever. This is the man who also took the same role for Gravity and The Tree of Life, so it's really no surprise that the already-high standards from him have been raised.
There's also the in-and-out theatrics of the humorous Andrea Riseborough (Riggan's lover), empathic Amy Ryan (Riggan's ex-wife), and frantic Zach Galifianakis (Riggan's producer); all of them add a lot of color to the already-saturated personalities of the film.
Those commercials you see on the MRT telecasts about Birdman's accolades are justified. This is one of those films that takes its character study subject matter and balances it evenly, works in the superhero angle in a realistic light (mostly), and introduces a familiar-yet-fresh kind of cinematography that matches its boiling point and in-motion narrative.
To say more would be a disservice to viewers looking for a melding of high art, glamorous set pieces, and tales of people reacting to what they've been thrown into. As far as early 2015 films go, this one soars high and rightly so.
GEEK REVIEW SCORE
Summary
Yep, a film that's called Birdman is anything but a turkey; truly a wonderful cinematic age we live in.
Overall
10/10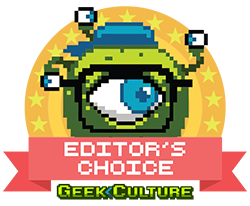 Story -

10/10

Presentation -

10/10

Direction -

10/10

Characterisation -

10/10

Geek Satisfaction -

10/10
Jonathan is an avid self-proclaimed connoisseur of films, video games, music & comics. Prefers screwdrivers over martinis. Fears oblivion.
---

Drop a Facebook comment below!