Every so often, a new name tries to break into the already well-established laptop market, but it's an uphill battle. Just ask local start-up Aftershock, who took several years to gain traction in the local market.
With powerful industry giants like Asus and Acer running the show, the prospect of doing so is intimidating in itself. After all, how would a young, inexperienced brand stand up against the greatest experts of their craft, all-knowing in their ways to lord over all competition?
Here's the thing – people often forget that great companies started out small. They fail, they analyse, they experiment, they rise to power. From a nobody with humble roots to a world leader in their respective fields, these are the ones who have undergone the trials of failure and hardship, only to emerge victorious.
It's far too easy to brush off a newcomer as an unsuccessful case study, although the fact remains that every journey has its own beginnings.
For AVITA, that opportunity came in the form of its first flagship laptop series, the AVITA LIBER, a new addition to the mid-range category that aims to offer the optimal work-play experience for users.
Let's be clear – this is not a flagship device in any capacity. It's not a gaming powerhouse, nor is it a top-of-the-line ultrabook. Priced competitively, it's meant to gain entry into the market. In some ways, it does deliver a satisfactory performance, though in other aspects, not so much.
Where aesthetics are concerned, the former proclamation certainly rings true. A highly competitive landscape means there's an increasing need to come up with more unique, individualistic traits, which in the case of AVITA, is resolved through the introduction of a vibrant eight-colour suite that runs the gamut from Champagne Gold to Urban Ruby.
It all boils down to a matter of personal preference; the Matte Black option used for this review exudes a touch of class, and its simplistic colour scheme goes easy on one's eye, making it the to-go aesthetic choice for those who'd prefer a minimalistic approach. For others favouring a brighter get-up, there are always the louder colours available.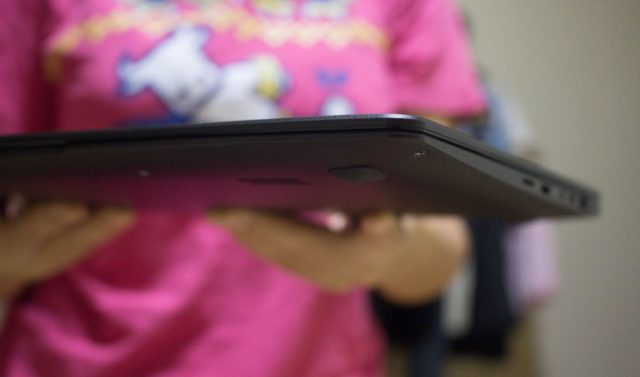 Part of the LIBER's stylish workhorse persona can be attributed to its slim cut. Decked out in a sleek, metallic body, the 13.3-inch laptop weighs in at only 1.37kg, much like any ultrabook or a MacBook Pro. The lightweight feature makes it easy to bring the laptop around, even with one arm, which is useful for users who frequently have to do work on the go.
The downside to it, however, is the affected performance and speed that comes with the use of a M-processor, especially where big programme files are concerned. While it's able to able to run Adobe Photoshop without much of a hitch, lag starts to set in when two or more programmes are operating simultaneously.
For this review, both Adobe Photoshop and Adobe Lightroom were used and eventual results indeed revealed a dip in processing speed, with the much-dreaded buffering icon appearing for quite some time. This probably means that users of higher-end software, such as Adobe Premiere Pro or MAYA, may experience some issues with the loading speed, which could potentially cause programme crashes as well.
Having said that, the notebook puts up a decent performance outside of the content creation field, and is capable of handling itself in other areas, such as video streaming and displaying visual content.
A common issue with using laptops is their susceptibility to overheating, and the LIBER is no exception. In particular, the base gets warm fast during charging, or when one has to work with huge files. Sometimes, watching videos for a prolonged period can also cause overheating, depending on the number of applications or web windows running in the background. The tell sign comes in the form of a loud laptop fan, with whirling blades operating in noisy rhythm.
Needless to say, that means the lightweight laptop will be unable to support gaming, making it a purely work-based notebook. Even at the lowest quality setting with a set FPS limit in Overwatch, gameplay is horribly jerky at best; when tested out with indie games like Transistor, its performance showed a fair improvement, though far from being spectacular. With a gaming capability below that of a MacBook, the LIBER is not for those seeking for a balanced work-play laptop.
Battery-wise, it's fares fairly well. Advertised to last for 10 hours, the workhorse replenishes its juice relatively quickly, charging up from approximately 5% to 60% in a little over 1.5 hours, which is undoubtedly a plus point.
When put to the test, the battery turned out to be less stellar, though that could easily be attributed to the many programs running in the background. After about 4-5 hours of running Photoshop and Lightroom in the background while going about the regular work routine, I found myself reaching for the adapter once again. To the laptop's credit, however, these two are fairly draining, high-processing applications, so the situation could've been worse.
One feature that's often taken for granted is comfort, but AVITA does well to pay attention to it. The charcoal-black keyboard is a delight to type on, with white-printed keycaps nice to the touch, and sinking easily without much depressing force. This also means the rhythmic clicking of keys is muffled, making it more of a droll background noise than a distracting sound.
Where the keyboard is the optimal level of comfort, its mouse pad is not. Sitting snuggly below the rows of keycaps, it sports an unusually wide and long body that's quite prone to accidental touches. Double-clicking functions erratically sometimes, and holding onto it to say, drag something across the screen, can be a chore. Perhaps AVITA should stick to using the normal touchpad instead, and get rid of this redundant one for their next model. Alternatively, a mouse can be used to avoid all the hassle.
Like how ear jacks should be a requisite for phones, USB ports are an integral part of a laptop. Fortunately for users, the LIBER has that front covered, with three USB ports – one USB-C, two USB 3.0 –, a mini HDMI output, and a microSD card reader reader in tow. Unfortunately for photography enthusiasts, however, there's no SD card reader, which means editing is going to be a little tad troublesome.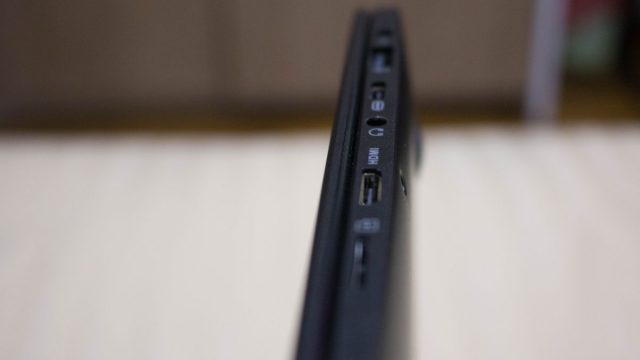 Retailing at S$699, the LIBER is extremely affordable. With a host of features available, the low price point should set it apart from the many other brands in the market – except that's not really the case. Dominated by the likes of Dell Inspiron 13 5000 and the Lenovo ThinkPad Edge E570, the best of mid-range category leaves no spot for those who cannot stand up to the competition. As it is, AVITA's first flagship laptop barely meets the mark.
While the AVITA LIBER is indubitably a commendable first-time for the company, it has many areas that can be very much improved on. Coupled with the sheer strength of the usual powerhouses in the market, the LIBER is but a forgettable entry.
| | |
| --- | --- |
| Series | AVITA LIBER (13.3-inch / 14-inch) |
| Operating System | Windows 10 Home |
| CPU | Intel® Pentium® Processor to Intel® Core™ i7 Processor |
| Display | 13.3" / 14" FHD (1920×1080) IPS |
| Memory | 4GB / 8GB DDR3 1600MHz |
| Graphics | Intel® HD Graphics |
| Storage | 128GB SSD / 256GB SSD / 512GB SSD |
| Integrated Camera | 720p HD |
| Audio | 1W x 2 Stereo Speaker, Internal Dual Array Digital Mic |
| Keyboard | Island-type Keyboard |
| Wireless | IEEE 802.11 b/g/n/ac |
| Bluetooth | Bluetooth v4.0 |
| I/O Ports | USB 3.0 x 2, USB 3.0 Type-C (Display out & Charging) x 1, MicroSD card slot x 1, 3.5mm Headphone/Mic-in Combo Jack x 1, Mini HDMI x 1 |
| Dimensions | 13.3" – 315(W) x 212(H) x 15(D) mm / 14" 333(W) x 222(H) x 16(D) mm |
| Weight | 13.3" – 1.37kg / 14" – 1.49kg |
| Adaptor | 40W AC Adapter |
| Battery | Li-ion Battery, 36Wh |
| Battery Life | Up to 10 hours |
| Color | Cloud Silver, Champagne Gold, Matt Black, Pearl White, Princess Pink, Angel Blue, Space Grey and Urban Ruby will be launched at the first phase. More colour options will be available soon. |
| Accessories | AC Adapter, Mini HDMI to HDMI Adapter |
| Suggested Retail Price | Starting from S$699 to S$1,699 |
GEEK REVIEW SCORE
Summary
An affordable price is all the LIBER has going, which makes it a viable choice for those looking for a work-based notebook. Outside of that, however, there's nothing especially remarkable about it, just a new addition waiting to be left abandoned amidst a highly-competitive landscape.
Aesthetics -

8/10

Build Quality -

6.5/10

Performance -

6/10

Value -

7.5/10

Geek Satisfaction -

6/10
---

Drop a Facebook comment below!