Bringing Your A(sus) Game
Something huge has arrived on our review table, and quite frankly, we're not quite sure we want to move it.
And that's because in the case of the ASUS ROG G752 gaming laptop, we're not quite sure if it's logical to do so. Measuring 41.6cm(width) by 32.2cm (depth) by 3.9cm (height), this monstrosity weighs a whooping 3.8kg with its 6-cell battery. Armed with a new color scheme as compared to last year's model, the new chassis features a brushed titanium paint job with copper colored accents. Compared to the usual and familiar red and black ROG scheme, this is an instant classic.
The first thing you will notice about the G752 are the huge rear exhaust vents, which look very much like the rear of sports car, or even a fighter jet. You will also notice a LED stripe at the exhaust, which reminds us of Knight Rider. For those of you old enough to remember K.I.T.T. that is.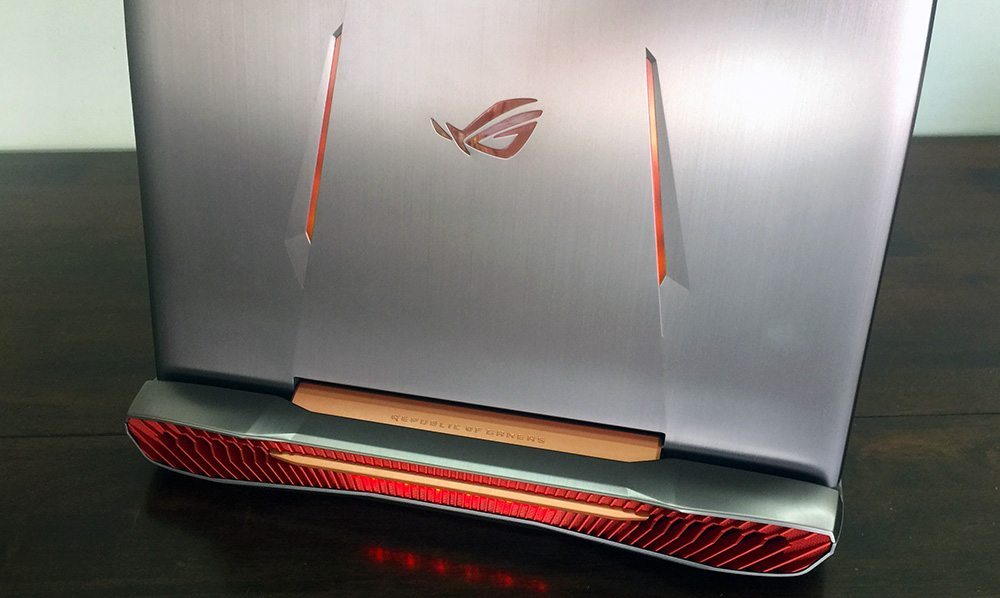 In our opinion, it looks pretty badass. On the underside of the laptop, there is a transparent plastic piece that shows off the massive copper heat pipes cooling the graphics card, as well as the CPU. All in all, it's a nice aesthetic touch that blends function and features.
Armed with a GTX980M graphics card, it provides pretty decent frame rates for most games. Combined with the G-Sync panel, it provides buttery smooth gameplay.
What is G-Sync?
Graphics cards are able to churn out images, measured as frames per second (FPS), and most displays are capped at 60 FPS. For gamers to be able to enjoy this visual display, the display and graphics card must be in sync. Otherwise, this results in a phenomenon called screen tearing, where the graphics card attempts to synchronize with the display, but is actually limited by the refresh rate of the display.
What G-Sync does is to tell the display to synchronize its refresh rate to the graphics card's refresh rate, which allows for the graphics card and display to be synchronized, allowing for smoother images.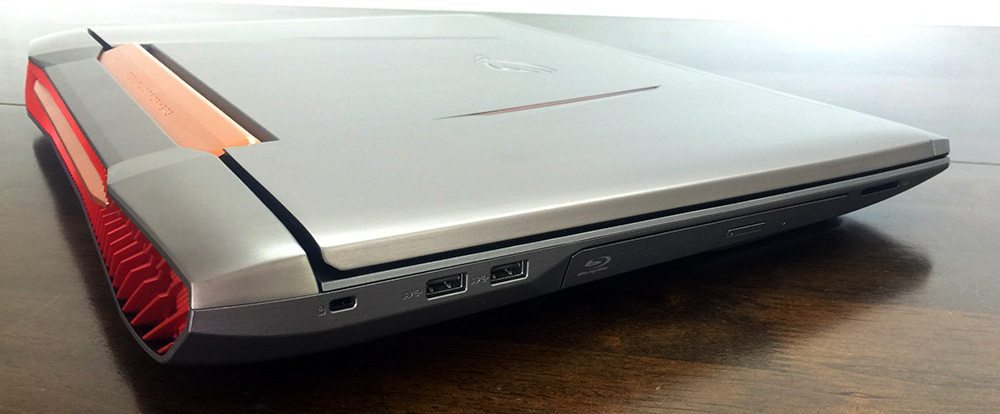 The Test
First, we ran the Prime 95 bland test, which would artificially push the system to the maximum load, by making it perform calculations by stressing the CPU and RAM to 100% capacity. During this test, the temperature of the machine rose to a high of 77o C, which is slightly warmer than its desktop counterparts, but still quite decent for a laptop.
During the test, noise from the fan noise was still quite low, even though the machine was running at near full speed.
Next up, we ran Unigine's Haven Benchmarks at the high presets. The GTX980M card averaged about 73 FPS, with minimums of 8.9 FPS, and maximums 79.4 FPS, which is very impressive for a laptop graphics card.
The temperature of the card hovered between 75o Cto 80o C, which is quite impressive, and likely a testament that those huge vents at the rear, which are clearly not just for show. Next, we ran DOTA 2 with maximum graphics settings, and the GTX 980M handled it without a sweat, often maxing out at 110 FPS.
Future Upgrades
Under the hard-drive bay, we found that ASUS has allowed users to easily upgrade their hard-drive and RAM, and there is even an option of adding 2 more PCI-E SSD. This can be done by just removing one small screw, and prying the hatch open. Upgrading can be done in less than 5 minutes, and this is a provision in which we love to see other manufacturers adopt.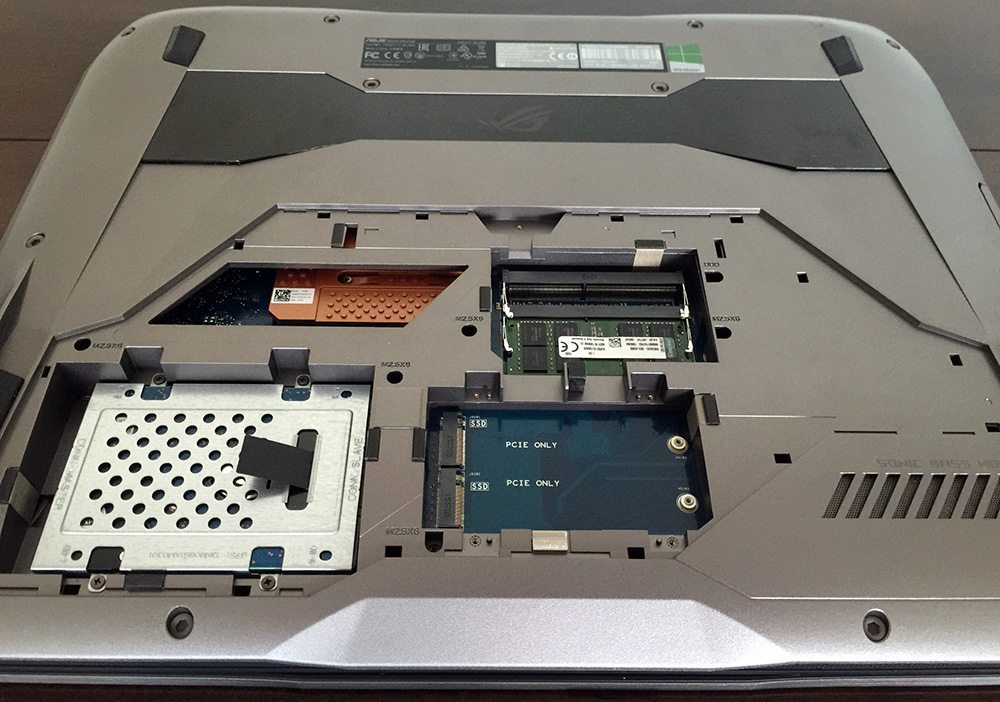 Things To Note
The thing we felt could be done better has to do with the much-to-be desired speakers. The present ones are rather underpowered and lacking in bass. They also suffer from the cardinal sin most laptop manufacturers make, which is having them as bottom facing speakers. This affects the sound quality, as audio is directed into the table, or whichever surface the laptop is on. This causes the sound to be muffed. The speakers can be positioned more towards the user, and here's hoping that a more powerful set of speakers be incorporated in future revisions.
As for the battery life, the machine clocked operations of just over two hours, which is nothing to shout out about. But then again, no one thinks about battery life when picking up a gaming laptop.
And if you are thinking about picking this up, we recommend upgrading to an SSD, which would make boot-ups, loading and installation times much faster.
Conclusion
If you're a student living in a hostel, and need a powerful gaming desktop but have no space for it, this is a worthy substitute. LAN party junkies should also look this way. Anyone focused on portability will need to look elsewhere, but then again, gaming laptops are not known for being lightweight. With SSD prices falling, I would urge users to opt for a larger SSD as a basic 128GB SSD these days just wouldn't be enough for most gamers.
The G-Sync IPS panel is definitely a great touch, and the GTX980m performs to expectations. At S$2,898 for the base model, this ROG machine is definitely priced at a premium over other similarly spec-ed models. But what you do get is a better cooling system, a system that is less noisy and most importantly, easy to upgrade.
The ASUS ROG752 is available now at all major retailers, with the base model priced from S$2,898 and the premium model priced at S$3,598.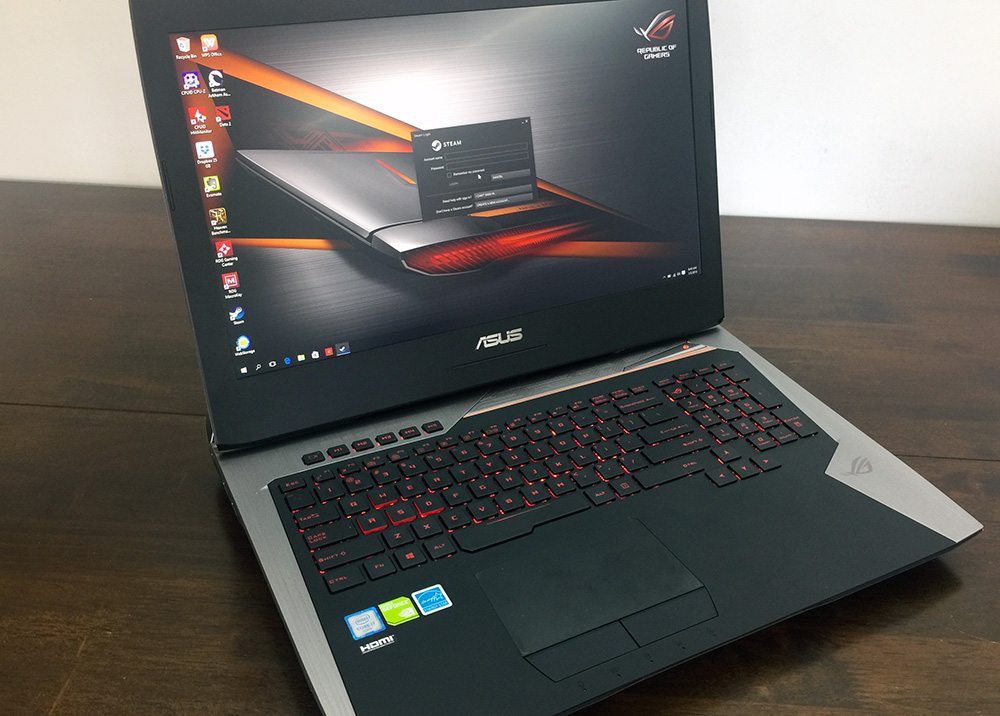 System Specifications of Review set:
17.3-inch Full HD (1920 x 1080 pixels) IPS LED panel with G-Sync
Intel Core I7 6700HQ Processor 2.6Ghz (6M Cache up to 3.5Ghz Turbo)
16 GB DDR4 2133Mhz Ram (upgradable to 64GB)
Nvidia GTX980M with 4GB VRAM
Custom Red LED backlit full-size keyboard with 30 Key Rollover
HGST brand 1TB 7200RPM HDD
6x Blu-Ray Drive
4 x USB 3.0 ports
1 x USB 3.1 Type C port
1 x Microphone Jack
1 x Headphone Jack
1 x RJ45 LAN port
1 x VGA port
1 x HDMI Port
---

Drop a Facebook comment below!