Sony went toe-to-toe with all the smartphone giants at this year's Mobile World Congress, unveiling their latest Xperia XZ2 and its compact sibling. Their bold, modern redesigns and impressive hardware updates make these phones a potential hit for Sony, and a serious competitor in the market.
Up till now, Sony seemed resistant to change, sticking to their blocky, bezel-heavy designs for their XZ1 released last year. We're glad to see that they are evolving with the trends and coming up with an 'Ambient Flow' design language, which is really just Sony's term to describe their aim to break up the straight lines and sharp edges of previous devices.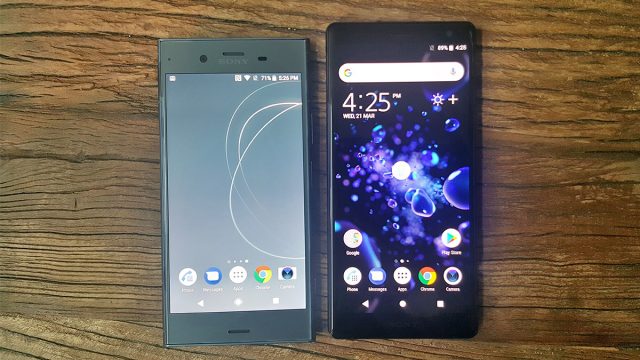 The XZ2 now looks a lot more like its competitors, with curved Gorilla glass encasing the front and back, and minimal bezel surrounding the screen allowing for a larger 5.7", 18:9 ratio, full HD+ display.
We're used to seeing High Dynamic Range (HDR) imaging being employed in phone cameras, but Sony has incorporated HDR into the screen of the XZ2 as well, letting you stream videos with vibrant colours and contrast.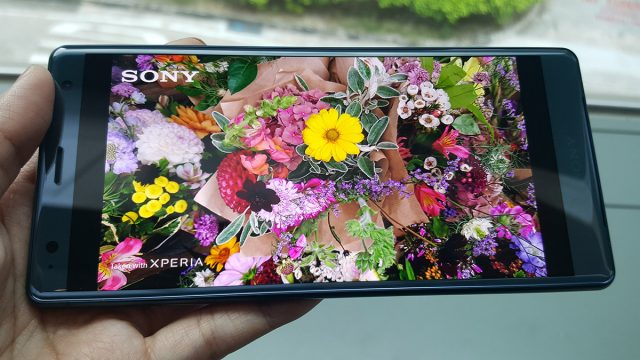 The back of the XZ2 is curved with a smooth, glossy finish. While it does fit comfortably in your palm, the bulge in the casing doesn't quite allow the phone to be laid flat on a surface. It comes in four colour variants – Liquid Silver, Liquid Black, Deep Green, and Ash Pink.
The device has 3 buttons on the right side for volume, power, and camera, and the SIM card slot on the left. It's rare these days to see a phone with a dedicated camera button, and Sony has retained this feature to show the emphasis they place on the use of the camera.
Apart from taking photos, pressing the camera button lets you quickly launch the camera from anywhere, even the lock screen, but unfortunately the button cannot be reassigned to perform any other functions.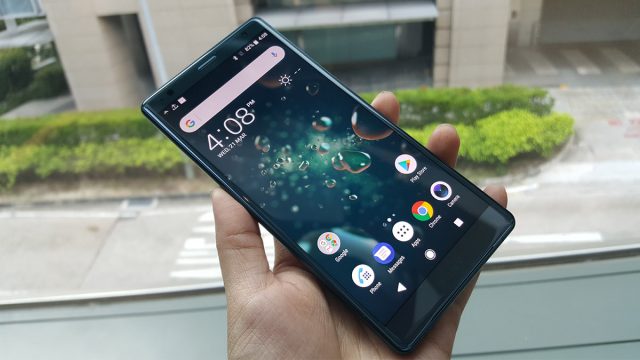 This might come as a surprise, but the XZ2 model in the images above is in fact in the colour Deep Green, although it certainly looks more blueish than green to us.
Questionable colour naming aside, the XZ2 sports a 19 MP rear camera which produces impressive photos taken in low-light, and breaks ground as it claims to be the world's first smartphone capable of recording 4K resolution HDR videos.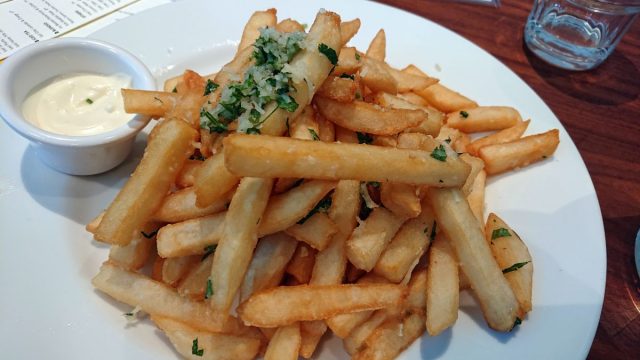 And all the hype about Samsung's slow motion camera in their Galaxy S9 and S9+? Turns out Xperia was there first, and is now upping the ante by supporting the recording of slow motion video with 960 fps at 1080p full HD resolution (the S9 only does 720p). However, this works well only when filming in well-lit conditions, as dim lighting causes the camera image to flicker and appear grainy.
The 5MP front camera can be used along with the rear camera in the 3D Creator application which allows you to capture full 3D scans of your face. You can now take selfies in 3D, and create a 3D avatar of your face, although these might not be as shareable and amusing as the Samsung AR emojis.
In making the XZ2, Sony Xperia has knocked on the doors of their console-producing cousins over at Playstation to borrow technology used in the DualShock 4 controllers. They've added a Dynamic Vibration System which analyses audio data and causes the phone to vibrate in response to sounds in games, movies, and music, just like the haptic feedback you'd feel on a PS4 controller.
The vibrations feel pretty strong as we tested it out on the game Angry Birds, with the phone buzzing in response to the crashing blocks and every tug of the slingshot, bringing the game to life in your hand.
Hardware-wise, the XZ2 boasts the latest Qualcomm Snapdragon 845 Mobile Platform CPU just like the Samsung S9 and upcoming LG G7 and Xiaomi Mi 7. It runs on Android 8.0 and sports a 3180 mAh battery, so the XZ2 packs quite a punch.
XZ2 Compact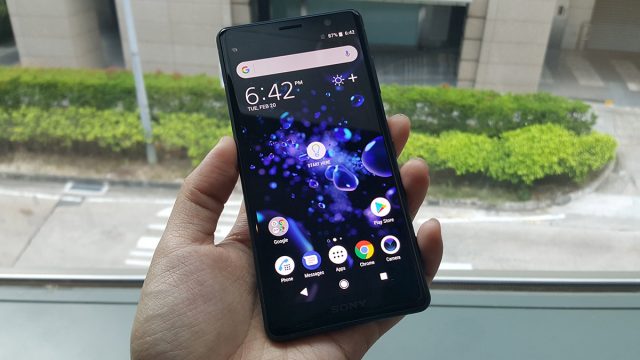 People always say bigger is better, but Sony begs to differ. Just like the previous XZ1, the XZ2 also has a Compact version that takes all the same great features of the XZ2 and compresses them into a neat little 135 mm by 65 mm package. This is roughly the size of an iPhone 6 or a Samsung Galaxy S3, and it fits neatly in your hand and comfortably in your pocket.
It has a matte finish that feels smooth to the touch on a casing made of anti-scratch hard-grade polycarbonate. The device has curved edges in line with Sony's Ambient Flow design philosophy, and Corning Gorilla Glass protecting a 5" HDR Full HD+ display. The Compact has the same 18:9 ratio display as the XZ2, but since it's packed into a smaller screen, it offers even sharper images due to the higher pixel density.
Bad news for fans of the headphone jack, as Sony has decided to ditch the 3.5mm headphones jack on both devices, opting for the one USB-C port for headphones and charging.
On the other hand, hardware hasn't been sacrificed for the reduction in size, as the Compact has most of the features of its big brother, including the same camera specs, 3D Creator, full HD slow motion capture, and a Qualcomm Snapdragon 845 Mobile Platform CPU.
Left – XZ2 Compact; Right – XZ2
The main differences between the XZ2 and its Compact version is their size, battery, and weight. The Compact is 30 grams lighter and has a smaller battery capacity of 2870 mAh. It comes in the same colour variants but in more pastel shades – Black, White Silver, Moss Green, and Coral Pink.
Considering its size, it is a powerhouse of a smartphone, and seems like a great option for those looking for compact portability without losing out on excellent functionality.
---
Sony has outdone themselves with the Xperia XZ2 and XZ2 Compact, packing unique features and the latest processor into revamped, sleek designs. Pricing information for the devices in Singapore is not yet available, but the phones are expected to be launched some time in April 2018. In the meantime, those keen on getting the phones can register their interest to be among the first to receive news of availability.
More information can be found on Sony's website for the Xperia XZ2 and XZ2 Compact.
Series
Xperia XZ2
Xperia XZ2 Compact
Operating System
Android 8 (Oreo)
Android 8 (Oreo)
CPU
Octa-Core Qualcomm® Snapdragon™ 845 Mobile Platform
Octa-Core Qualcomm® Snapdragon™ 845 Mobile Platform
Display
5.7″ / 424ppi / 18:9 / Full HD+
5.0″ / 483ppi / 18:9 / HDR
Memory
4GB RAM, 64GB UFS + microSD (up to 400GB)
4GB RAM, 64GB UFS + microSD (up to 400GB)
Size
153mm (width) / 72mm (height) / 11.1mm (depth)
135mm (width) / 65mm (height) / 12.1mm (depth)
Weight
198g
168g
Camera
Front: 5MP, 1/ 5" Exmor RS™,
23mm wide angle lens
Rear: 19MP Motion Eye™, 1/ 2.3" Exmor RS™, 960 fps Super slow motion, 25 mm wide angle lens
Front: 5MP, 1/ 5" Exmor RS™,
23mm wide angle lens
Rear: 19MP Motion Eye™, 1/ 2.3" Exmor RS™, 960 fps Super slow motion, 25 mm wide angle lens
Battery
3180mAh
2870mAH
Colour

Liquid Black, Liquid Silver, Deep Green, Ash Pink

Black, White Silver, Moss Green, Coral Pink

Retail Price
 TBC
TBC
---

Drop a Facebook comment below!