Let us face it. Smartphones today are like your cars, watches, television sets and printers, in that they have become so technologically advanced, that it is no longer necessary to keep changing or upgrading them every year, to chase some imaginary tech nirvana.
Just as how you would buy a watch, TV or laptop and use it for a few years before making an upgrade, smartphone owners have started to realise that the need for that annual upgrade has been waning.
We've had an early unboxing of Samsung's upcoming flagship device, the Galaxy S9+. It's got a dual-camera and a larger display as compared to the S9, and both will be released on 16 March 2018. Which one are you getting? Read more here: http://geekcu.lt/2Cm63dI

Posted by Geek Culture on Wednesday, March 7, 2018
It is not that smartphone features are perfect, or can no longer impress, much like a doorbell or wireless mouse, but that it has become apparent that even the big companies, such as Samsung and Apple, no longer have the means to keep churning out new devices every year with features so incredible, that consumers have no choice but to want an upgrade.
But before you think that these caveats are leading to a conclusion that Samsung's Galaxy S9 and S9+ are duds, make no mistake – these are great phones. In fact, you probably will not find a better smartphone out there, Android or otherwise.
Despite the better hardware and added features though, Samsung's latest flagship is only marginally better than last year's Samsung Galaxy S8+, which itself was only a modest improvement over the Galaxy S7 from the year before. When you compare it against September's Galaxy Note 8, the differences in upgrades are even less apparent. The only issue here is that each of these devices were already great devices when they were launched, and 12 months nearly isn't enough time to expect a massive upgrade in features.
The little features that Samsung has thrown in, to entice users to make a switch for that new feature set, are no longer that important or that drastic, that it will require consumers to plonk down huge amounts of cash for it.
Take for example a simple thing like the design. Samsung has remained consistent with its design for the last several versions of its Galaxy S series, and the S9 and S9+ do not deviate from it.
The regular Galaxy S9 sports a 5.8-inch display, versus the 6.2-inch of the larger Galaxy S9+. Both have infinite displays, that basically mean have a larger screen to body ratio. Both offer quad HD+ Super AMOLED screens, with 2960 x 1440 resolution.
The only difference here is the pixels per inch, which comes in at 570 ppi (pixels per inch) for the Galaxy S9, and 529 ppi for the Galaxy S9+. Guess what? The specifications for the S9 series matches those of the Galaxy S8 series, exactly.
Layout wise, you have the Power button sitting on the right edge of the phone, while the Volume and Bixby button sit on the left. In the rear, Samsung has the dual lens camera system, and a biometric sensor located right below it. This differs slightly from the Galaxy Note 8 and Galaxy S8, which had the biometric sensor located alongside the camera.
That old layout meant that users would inadvertently swipe their fingers across the camera lenses, so a top and bottom layout make more sense. Sort of. Everyone is still waiting for an on-screen biometric sensor placed on the phone's display itself. Galaxy Note 9 maybe?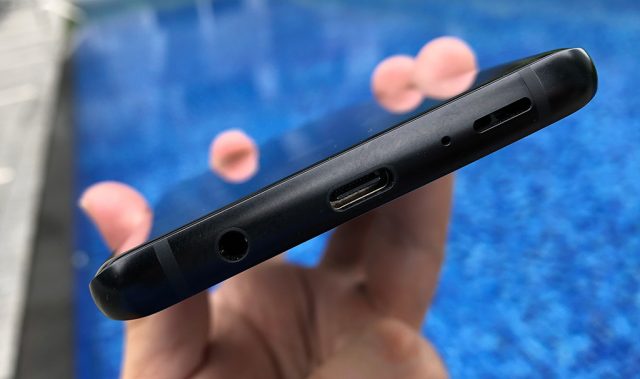 The good news here? Despite everything that has been happening in the mobile phone industry, Samsung has opted to keep the 3.5mm jack on the phone itself.
Since Samsung cannot possibly improve on the display by much, it focused on the other upgrades, such as the Exynos 9810 octa-core (4 x 2.8 GHz Mongoose M3 and 4 x 1.7 GHz Cortex-A55) processor used in the local sets (Some foreign markets get the phones powered by the Qualcomm Snapdragon 845 chipset).
So what makes the Galaxy S9+ stand out against the Galaxy S9? Well, the difference here is more consistent than what Huawei did with the Mate 10 and Mate 10 Pro, which offered different upgrades to different phones, thereby creating some confusion as there was no clear premium device. There's 6GB of RAM on the Galaxy S9+, which was used for this review, versus the 4GB of RAM on the Galaxy S9.
When it comes to the battery, the Galaxy S9+ comes with a 3500 mAh battery, which the smaller, sister device packs a 3000 mAh battery.
The biggest difference is with the rear camera since both have the same 8MP auto-focus front camera lens with a f/1.7 aperture. In many ways, last year's Galaxy Note 8 already gave consumers the very best smartphone camera out there, which is currently unmatched by the competition.
Both will use the same Super Speed Dual Pixel 12MP auto-focus sensor with optical image stabilisation (OIS), that comes with a f/1.5 or f2.4 variable aperture, though the larger S9+ gets an additional have a second 12MP telephoto camera with an f2.4 aperture.
Wait, what is a variable aperture?
An aperture is the part of the camera lens that allows light to pass through, to enter the sensor. A larger aperture, denoted by a small f-stop or number, allows in more light. The f/1.6 on last year's LG V30 was the one to beat, and Samsung has done it with a f/1.5. But a fixed, larger aperture isn't always the best option, so Samsung has designed the first variable aperture in a smartphone.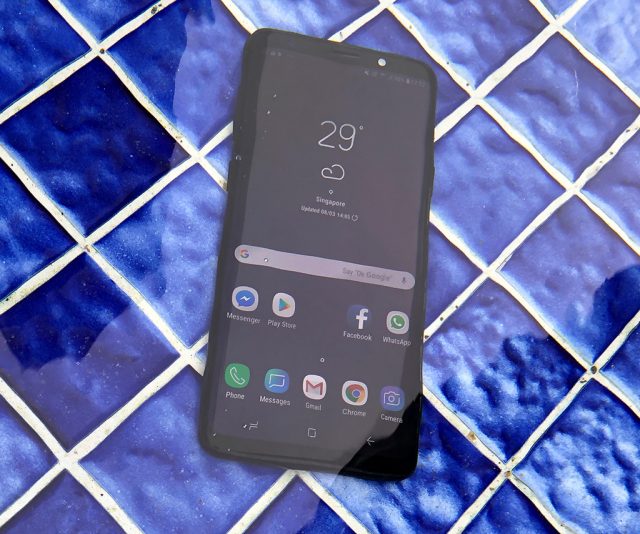 By default, the aperture is set to f/2.4.Once the camera detects a lack of proper light sources, and we're talking about dark indoor lighting with no ceiling light, or very low light, the phone will open up its aperture to f/1.5, to allow more light in. This is done automatically and yes, it does produce a shot with better brightness and colours. If you want, you can also toggle the aperture size in the Pro mode on the Galaxy S9 series of phones.
Compared to shots taken with the Galaxy Note 8, there is a difference in photo quality for the night and low light shots, but very little in regular daylight shots, since the differences are barely discernible.
So now that we've established that shots taken by the Galaxy S9+ outperforms the camera on the Galaxy Note 8, the question becomes, is there a reason to upgrade a phone that is barely six months?
Probably not. So, wait, is that it? Why? Were you expecting Samsung to launch a phone with three camera sensors?
If a device that offers you Android and Samsung Pay, is water resistant, has a slim chassis and an almost bezel-free display isn't impressive, don't fret as Samsung has other tricks up its sleeve.
Samsung is taking a page from Apple, which, as we all know, is something that it has done in the past before and has introduced a new feature known as the AR Emoji feature. When you turn on the selfie camera, you select the AR Emoji feature, take a selfie and the camera will create a caricature of you, based on a scan off your face. Once this caricature has been created, you can choose to tweak it, by changing your hairstyle, clothes or even hair and skin colour.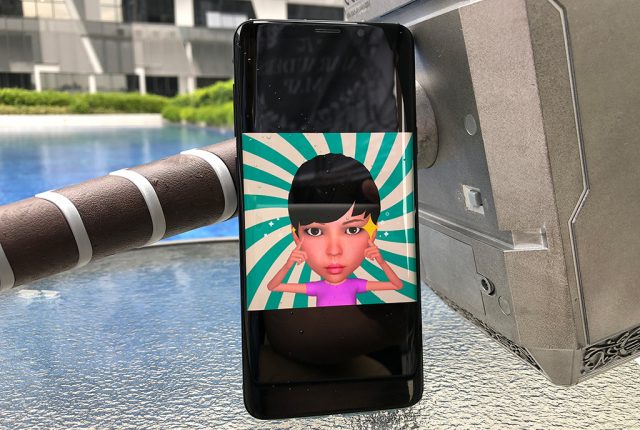 You can even change the size of your eyes, to make them normal looking or be one of those characters were incredibly large eyes.
Now my daughters love this feature, as they love creating cartoon versions of themselves. Once you turn it on, that AR emoji remains in the camera. When you stare at the screen with an emoji selected, that virtual emoji will take on the expression of whatever you have when you're staring in the front camera.
But unlike Apple's iPhone X, you cannot use the emoji here to record audio, with the video of your emoji taking on your expressions. What you can do, is to use preset gifs made using your caricature, to reply to others via the various messaging systems.
It's a fun thing to play with, even if the feature is more fun than useful. But while it is exclusive to the S9 series, there is nothing stopping you from borrowing your friends Galaxy S9 or S9+, create the emoji there and have your friend send you all the emojis to your phone, allowing you to store them in your phone, and use them as needed.
That's nice way to just skip the whole phone upgrade process, but still enjoy the feature.
The other is a super slow-motion video recording that radically slows down time as footage is being recorded. Ever want to see your child do a flip, a kick or a headstand? You can now watch it in an almost freeze frame like quality. When shot at up to 960 frames per second, it is as if time slows down. The catch is that the phones can only catch 0.2 seconds of slow motion at a time, and only at 720p video resolution.
While this translates to about six seconds of playback video, it takes some practice to know when to trigger the slow-motion capture. When done automatically, you are leaving the 0.2-second moment to be determined by the motion detection feature on the phone, but that does not work if your subject is in motion.
Manually doing so makes more sense, but it takes practice to know when to activate it. when played back) and at only 720p resolution. Like Live Photos on the iPhone, or hyperlapse or time-lapse features, it's an addition that doesn't have a specific, everyday use.
Does Samsung have a winner here? Definitely. But do you need a winning phone this year? That's the question that Samsung will need to try to tell you yes, but its conviction in that is getting harder to discern.
GEEK REVIEW SCORE
Summary
If you are hanging on to Samsung's 2018 flagship devices, save the money for next year's Samsung X, or 10, or what they want to call it. The Galaxy S9 continues the rich legacy of Samsung devices, and is a notch above the rest (without actually having an actual notch of its own).
Overall
9.4/10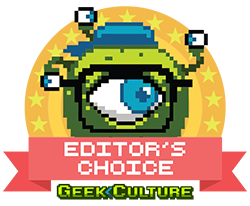 Aesthetics -

10/10

Build Quality -

9/10

Performance -

10/10

Value -

8/10

Geek Satisfaction -

10/10
---

Drop a Facebook comment below!