Mobile World Congress is happening this week and several handset makers are taking the opportunity to hawk their latest smartphones at the annual event in Barcelona, but the show has already ended even before it has begun, as Samsung has unveiled its latest Galaxy S9 series of flagship devices, leaving others brands wanting more.
We've had an early unboxing of Samsung's upcoming flagship device, the Galaxy S9+. It's got a dual-camera and a larger display as compared to the S9, and both will be released on 16 March 2018. Which one are you getting? Read more here: http://geekcu.lt/2Cm63dI

Posted by Geek Culture on Wednesday, March 7, 2018
Last year, Samsung managed to raise the bar with the Samsung Galaxy S8, which was widely regarded to be the chaebol's perfect answer to Apple's iPhone. Despite it being the 10th anniversary of Apple's iconic phone, the new iPhone X failed to put a dent in Samsung's meteoric rise, and in an effort to steal the thunder from everyone else, Samsung has pushed up its annual March announcement, to a late February one.
Following the Galaxy S9 series' earlier debut at MWC, Geek Culture had the opportunity to take them out for a short spin. Yes, them. As with previous Galaxy S devices, there is the smaller Galaxy S9, and the larger Galaxy S9+.
A common comment about the Galaxy S8 was that it looked rather similar to the Galaxy S7, so guess what the Galaxy S9 looks like? Its identical appearance to its predecessor is not surprising though, as early leaks of the design made their way online last month.
The statement rings true; a closer look during the hands-on session reveals the phone's all-too-familiar sleek, slim cut, as well as an accompanying large glass display screen that sports a curved design.
Building upon the existing Samsung's signature Infinity Display technology, the 18:9:5 screen format is retained. This time, the Galaxy S9 is available with a 5.8-inch screen, while the Galaxy S9+ sports a 6.2-inch screen. The visual experience is further enhanced with smaller top and bottom chins, allowing for less obstruction.
On the sides, the buttons are slightly off-positioned, possibly due to the increment in height and narrowness. Similar to the S8, there's one on the right and two on the left, where the shortcut Bixby button sits snugly below the volume control. And rejoice everyone – Samsung has opted to retain the 3.5mm audio jack. Yay!
Overall, the newest members of the Samsung Galaxy S family is nice and smooth to the touch, boasting a grip that fits comfortably in one's hands. Colour-wise, it comes in three variants for Singapore: Midnight Black, Coral Blue, and the all-new Lilac Purple.
Following feedback about the rear fingerprint sensor in the Galaxy S8, Samsung has shifted it. Alas, it is still in the rear, and not in the front, but the biometric sensor is now positioned a few millimetres below the phone's rear camera – a spot that has a more natural reach, compared to beside the len. Another additional feature of note would be the AKG-tuned speakers, in which the cinematic quality of Dolby Atmos would bring about a richer audio experience.
It's loud, too – and rightly so, considering how it's touted to be the loudest ever in the history of Galaxy devices. When a finger is rested above the speakers, a strong, thumping vibration can be felt, especially if the bass is at work.
The Camera. Reimagined. Again.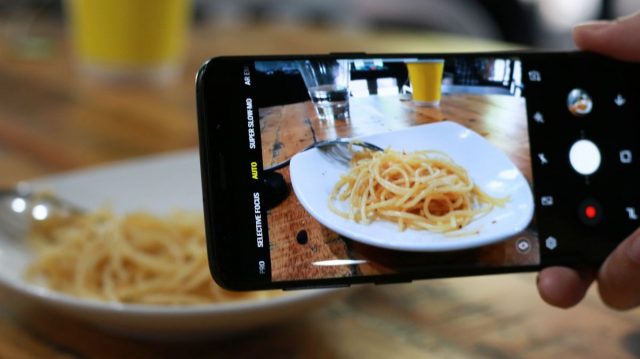 In today's era of mobile photography, a great camera is a definite prerequisite for the best phones on the market. Sometimes, it can become the ultimate determining factor for cream-of-the-crop material, and the Galaxy S9 series aims to achieve that – or beyond, even.
Like it's competitor, the cameras across the Galaxy S9 family of devices are no longer identical, so the best features are reserved for the top end device. While it's still too early to tell if Samsung will continue to succeed with the camera, the specs certainly don't lie. Among the mumbo-jumbo of photography jargon, perhaps the most impressive and important of the lot is the Dual Aperture feature.
Here's how it works: the phone comes equipped with a super fast f/1.5 lens, and an additional f/2.4 one. Depending on lighting conditions, a switch between both can be made – manually in the Pro Mode, or automatically in the background (pay attention to the lens in the above gif!).
With that, users are able to take low-light shots with great background blur (f/2.4), while dimly-lit photos will appear brighter and be less prone to blur (f/1.5).
(left: f/1.5, right: f/2.4)
In the comparison shot above, the stark difference in lighting can be seen quite evidently. There's also little to no compromise of the quality for both, which is a great plus.
(left: iPhone, right: S9)
When placed side-by-side with the iPhone X, the disparity in details is noticeably less obvious, but still rather impressive, especially where background blur is concerned.
Should one camera be insufficient, there's always the Galaxy S9+, which bears a second rear camera. Apart from optical stabilisation and 2x zoom lens, the Live Focus function is present as well. As all of these are only available on the S9+, it'd do good for interested parties to bring this into consideration when choosing between the two models.
The Matrix – Bullet Time: Phone Edition
What is it with handset makers taking their inspiration from The Matrix? Remember the popular Bullet Time scene in the movie? Apparently, the Galaxy S9's new Super Slo-Mo function is able to recreate a similar effect, though comparing a phone's capabilities to that of a professional video camera would undoubtedly be a folly.
Still, the S9 does a damn good job at pulling off slow-mo video capture. Picture your video coming across as the sloth from Zootopia.
Let's put things in perspective – with a capture rate of 960 frames per second, it's four times more frames than what the S8 can take. Videos made from it are also a pleasure to watch, especially if the timing is perfectly right.
Take a look at the delicious and extremely rewarding slowing down of moving visuals below.
While the effect can be done automatically, it's recommended that users shoot in manual mode instead, where full control over the point of action can be exercised.
In a show of personalisation, background music will be automatically added to the video, and the whole reel can then be set as the lock screen, after being trimmed to 15 seconds.
AR Emoji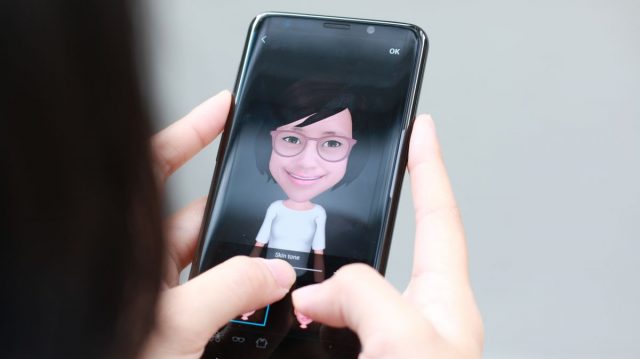 With the Galaxy S9, Samsung has hopped on board the animated stickers bandwagon to join the likes of Snapchat's bitmoji – but in a more work-efficient manner.
Where there's the manual labour of crafting stickers for the latter, everything is done swiftly in the former. Snap a selfie, and the phone will take care of the rest. All users have to do is personalise their on-screen avatars, which apart from an exaggerated mouth, are replicated to fairly accurate levels.
Leveraging on the phone's facial recognition feature, AR Emoji is also able to reflect one's live behaviour and track facial muscles, from lip synching to physical expressions and motions. It does have room for improvement though, since the movements get choppy after some time, and the tracking technology isn't quite as intuitive.
The Galaxy S9 is huge on personalisation, and it's no exception in this case. These caricatures can be animated and be sent across a message platform of choice as animated gifs, much like Telegram and Line stickers. It's all fun and games, really.
---
Samsung has set the bar high in 2018, and the Galaxy S9 looks set to outperform its predecessor. But the price though. The Samsung Galaxy S9 and S9+ will be released to public on March 16, 2018 from S$1,198 and S$1,498 respectively. Pre-orders and Registration of Interest are made available via the online Samsung store, Lazada Store, major IT stores, and telecom operators starting March 1.
If anything, however, the camera capabilities do seem to be a good investment for both the casual and more serious photography buffs alike.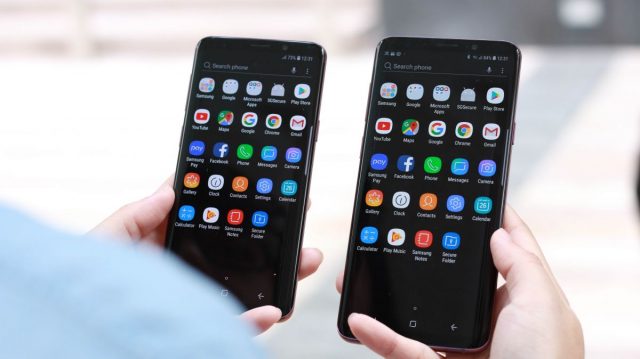 For those looking to trade-in your own device, the Korean tech giant has made it easier to do so with the newly-announced Samsung Trade-Up Programme – at the comfort of one's house, to boot. The introduction of this system means customers who have purchased either phone models would be able to trade-in their old eligible device in three simple steps:
Download the Samsung Trade Up (SG) app on the old device.
Do a quick assessment using the app to valuate said device.
Have it collected at their doorstep and receive the trade-in value (up to S$610) via bank transfer.
Efficient, handy, and the perfect start to owning the phone.
More information can be found on the official Samsung website.
Series
Galaxy S9
Galaxy S9+
Operating System
Android 8 (Oreo)
Android 8 (Oreo)
CPU
Octa-core (2.7GHz Quad + 1.7GHz Quad)
Octa-core (2.8GHz Quad + 1.7GHz Quad)
Octa-core (2.7GHz Quad + 1.7GHz Quad)
Octa-core (2.8GHz Quad + 1.7GHz Quad)
Display
5.8″ / 570ppi / 18:5:9
Quad HD, Curved Super AMOLED
6.2″ / 529ppi / 18:5:9
Quad HD, Curved Super AMOLED
Memory
64GB-256GB Storage / 4GB RAM
Expandable up to 400 GB
64GB-256GB Storage / 6GB RAM
Expandable up to 400 GB
SIM Card Interface
SIM 1: nano SIM card
SIM 2: nano SIM card/microSD
SIM 1: nano SIM card
SIM 2: nano SIM card/microSD
Size
147.mm (width) / 68.7mm (height) / 8.5 mm (depth)
158.1mm (width) / 73.8mm (height) / 8.5mm (depth)
Weight
163g
189g
Camera
Front: 8MP AF (F1.7)
Rear: Super Speed Dual Pixel 12MP AF sensor with OIS (F1.5 / F2.4)
Front: 8MP AF (F1.7)
Rear: Dual Camera with Dual OIS
Wide-angle: Super Speed Dual Pixel 12MP AF sensor (F1.5 / F2.4)
Telephoto: 12MP AF (F2.4)
Battery
3000mAh
3,500mAH
Colour

Midnight Black, Coral Blue, Lilac Purple

Midnight Black, Coral Blue, Lilac Purple

Retail Price
 From S$1,198
S$1,498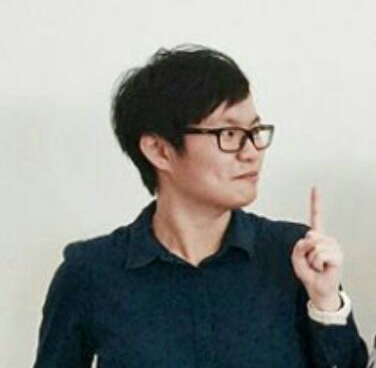 Si Jia is a casual geek at heart – or as casual as someone with Sephiroth's theme on her Spotify playlist can get. A fan of movies, games, and Japanese culture, Si Jia's greatest weakness is the Steam Summer Sale. Or any Steam sale, really.
---

Drop a Facebook comment below!
---