When the Samsung Galaxy Fold landed last year, the dual screen Android smartphone came off as more of a novelty rather than a fully-fledged commercial device. While it had a lot going on for it, anyone who used it probably would not have been able to shake off the feeling that there was still a lot to be desired, even for something that is already so technologically advanced.
Well, the Korean tech giant is not giving up and doubling down with the Samsung Galaxy Z Fold 2 (and, by extension, the recent Samsung Galaxy Z Flip), to establish foldable smartphones as a viable proposition for consumers heading into the future.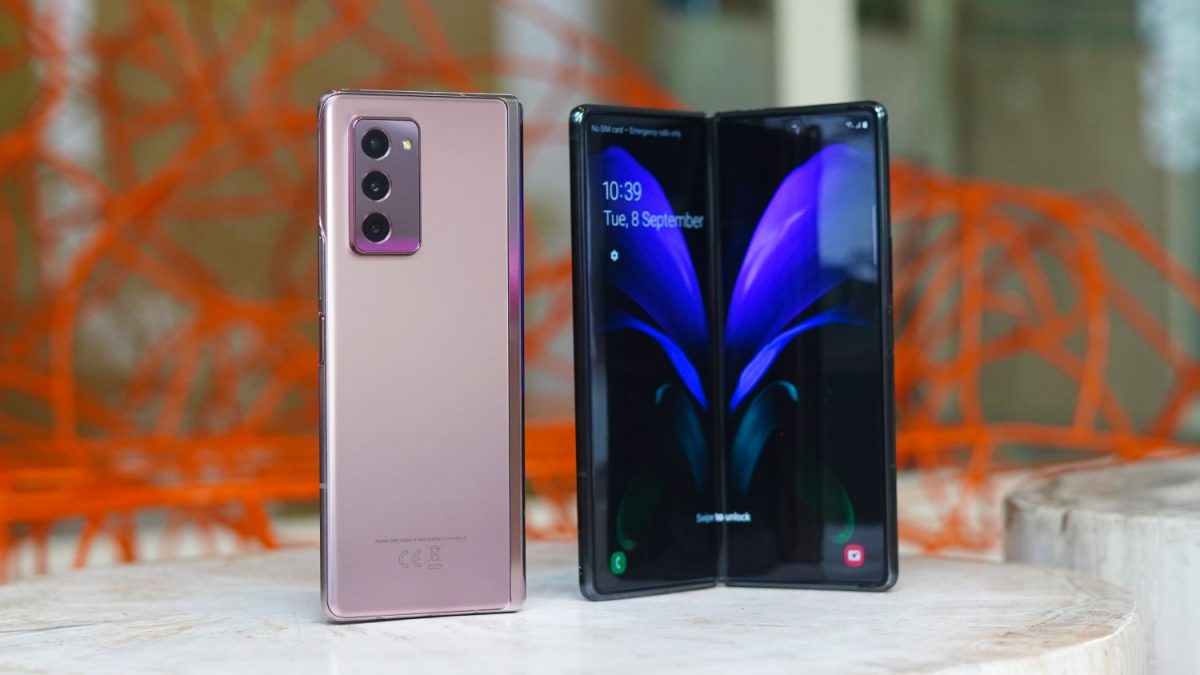 Geek Culture managed to take Samsung's newest foldable device out for a spin, and we can safely say that the Galaxy Z Fold 2 is just about everything one could have wished for on its predecessor, and then some. Of course, S$2,888 is still a tad much of an asking price for a smartphone, but considering how the original Galaxy Fold cost a whopping S$200 more at launch, this model is cheaper, given that it also has more features and overall improvements.
Given the issues with the original, it's obvious that Samsung has been hard at work collecting feedback from the community and its QA team, and it reflects on the Samsung Galaxy Z Fold 2 quite well. Both its main and cover displays have essentially received a revamp, especially for the latter. Where the original Fold's cover display used just a measly fraction of the potential screen real estate, the one on the Fold 2 fully expands into a full 6.2-inches.
One main complaint with the previous model was that it was a little difficult to see just about anything on the tiny 4.6-inch cover display, and this time Samsung has done it justice by fully utilising the space provided by the cover. Yes, apps and the general UI still look a little cramped after scaling, but it feels so much better and easier to navigate through it compared to the first Fold.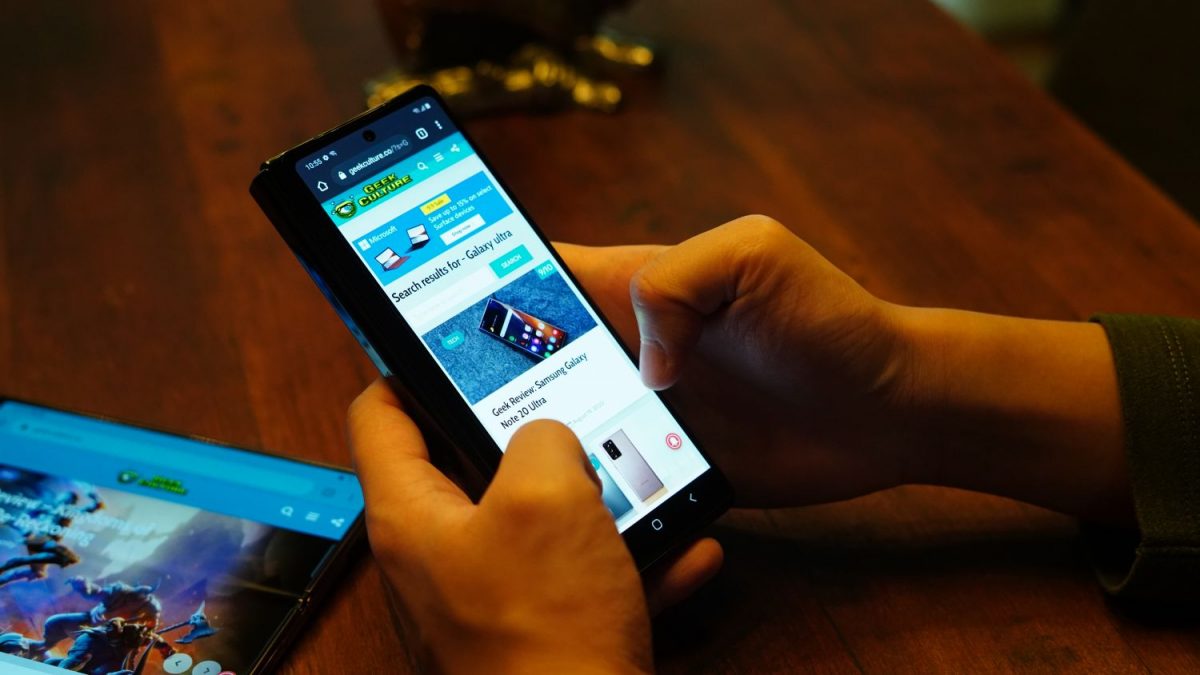 Additionally, the cover display serves as a preview screen for the subject while shooting videos or photos, and lets the subject communicate with the photographer better simply due to being able to see themselves just before the shot is taken. We imagine this will be a good time-saver for those who like to snap a ton of photos in a day.
The main display also received quite the glow-up, with the chunky frontal camera on the original Fold completely being removed in place of a singular frontal camera on a cutout to the corner. Those who used the original Fold would see this as a breath of fresh air, as it lets one fully enjoy the visuals on just about any content without any worry of it being blocked out by a nasty camera bezel. Granted, the presence of the camera cutout might put some off, but given just how the first Fold's camera bezel literally sat on a small part of the screen, this can easily be overlooked.
And speaking of bezels, the one on the Fold 2 has been reduced even more to get the most out of the main 7.6-inch display, and makes the bezel on the original Fold look chunky in comparison. As a result, you end up with a massive main display that makes the Galaxy Z Fold 2 carry out one of its main functions as a pseudo-tablet very well without literally any distractions in the way.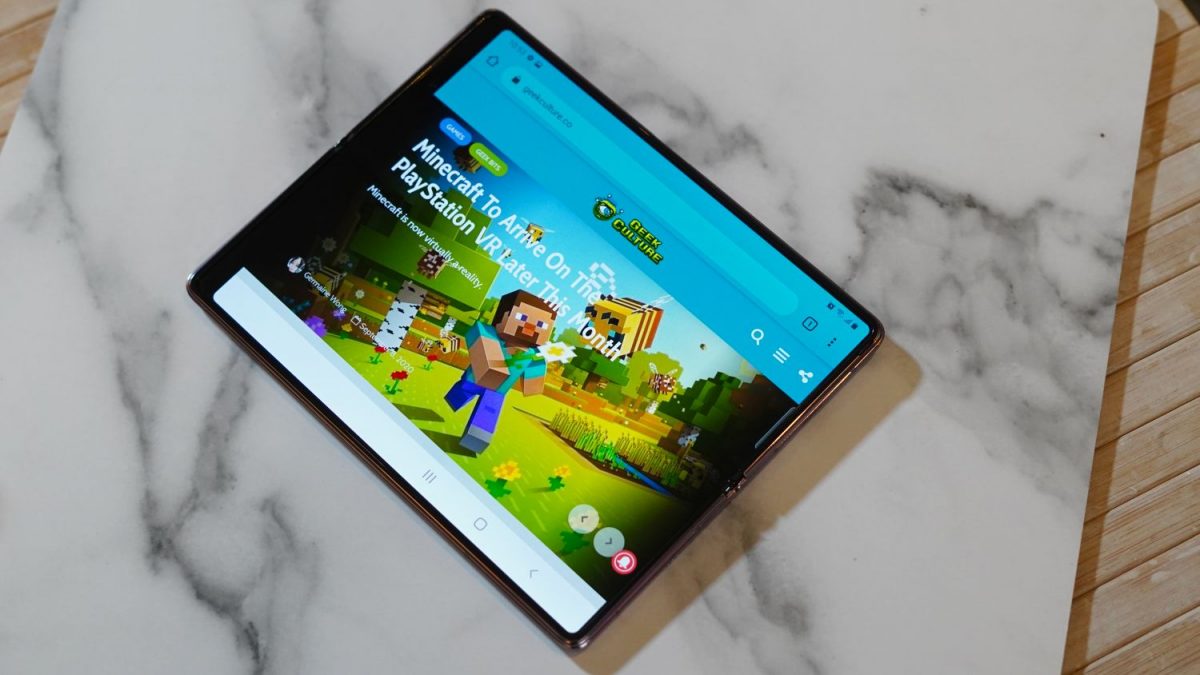 Also, given how Samsung's 2020 lineup of smartphones, including the S20 series and Note 20 series, all feature 120Hz displays, it is only natural that the Galaxy Z Fold 2 follows suit with its own (on the main display at least, the cover display is stuck at a constant 60Hz). What this device does a little differently, however, is with the implementation of the new adaptive refresh fate feature, which lets it automatically detect and adjust its refresh rate to as low as 11Hz depending on the app one uses. This ensures that it saves up on battery life when it needs to, because, realistically, who is going to use 120Hz outside of playing games? It's one of the more underrated new features on the Galaxy Z Fold 2 that Samsung has to bring to its other devices, stat.
Another standout feature that we enjoyed during our hands-on session was the new Flex Mode. This really made using the Galaxy Z Fold 2 more enjoyable than expected as it makes the device so much more versatile than being just a smartphone that folds. For the uninitiated, users can fold the Galaxy Z Fold 2 halfway when watching videos or capturing footage so the main display is split into two. This is possible due to a new third-generation sweeper technology combined with a new magnetic support system in the hinge, which lets it lock into place at various angles other than just the full 180 degrees or closed. This is something that the original Fold would never have been able to do, and it's quite a welcome feature to have on any foldable smartphone, if we dare say so ourselves.
When shooting videos or photos, the top half of the screen is the display, while the bottom half turns into the controls such as the shutter and exposure sliders. It also lets one view pictures that were taken instantly, eliminating the need to constantly switch between the camera and gallery apps to look at their shots. Flipping the Fold 2 this way also means one doesn't need to use a tripod or prop it up against another surface for it to stand; it is its own tripod, and will no doubt appeal to content creators, or even casual users who like to do group shots from a distance without having to reluctantly request passers-by to take pictures for them.
On video apps such as YouTube, the content continues to play on the top half of the screen, while the bottom half transforms into something akin to a browser, where you can scroll through other videos to watch, or even input comments in the comments section. This essentially turns it into a mini-laptop, which is great if you're the sort to type comments while watching videos, and doing it on Flex Mode means you don't have to worry about pausing or minimising the video just to type a comment.
One limitation we discovered while watching videos in Flex Mode is that videos, which typically have a 16:9 aspect ratio, don't crop well in this mode. They end up being squeezed into the small half-screen with massive black letterboxes by the sides, making it rather hard to view at times. We imagine videos with a 2.35:1 aspect ratio might fare better here, though they are still very much a rarity even in this day and age.
Additionally, the typing functionality here feels rather unwieldy, as folks normally type on phones while holding them. Since there is no elevation on the Fold 2, and given how small the screen real estate is on our hands compared to standard laptops, it actually is more troublesome to type in this manner in practice as opposed to theory. You'd be better off connecting a bluetooth keyboard to use the Fold 2 in this manner. It's a decent attempt by Samsung, but one not exactly thought through the most thoroughly as compared to its displays.
In all fairness, this is the first time Samsung has attempted something like this, so props to the dev team for even giving us something we never knew we actually needed on a foldable phone.
The new Multi-Active Window feature is also a rather interesting one on paper, but in practice it felt a little clunky for our liking. What this does is essentially run up to three apps consecutively on the main display (up to two on the cover display). In theory, it allows for a much easier time multitasking, but in reality it feels like there's too much going on at times.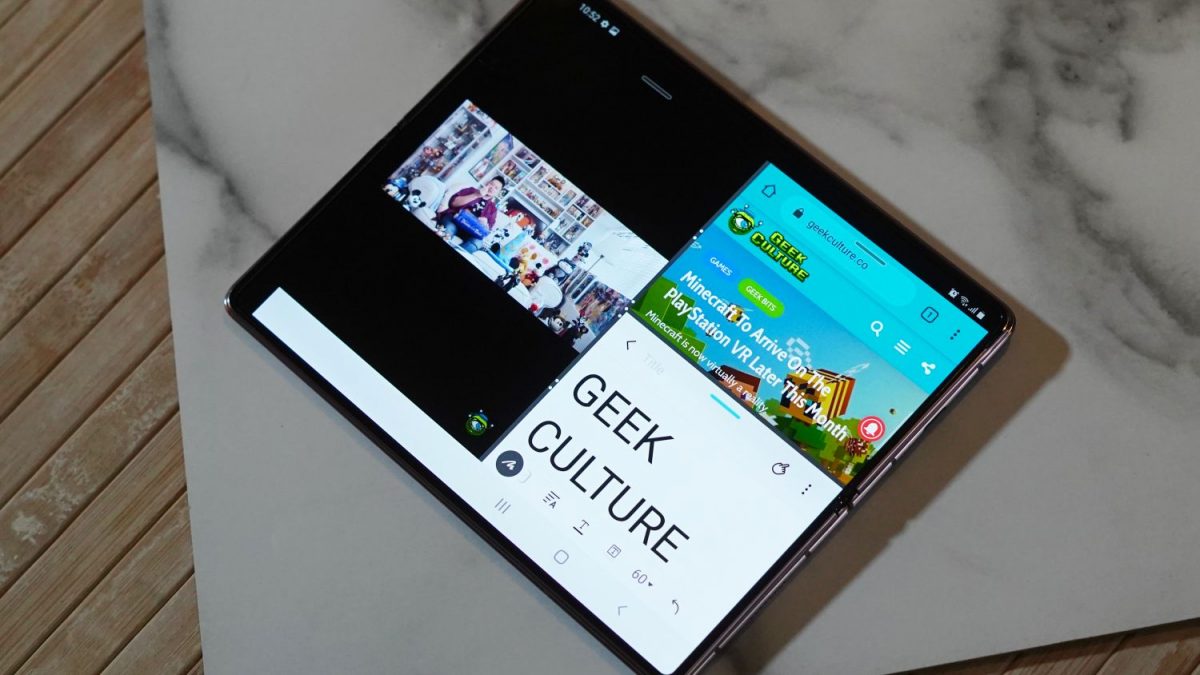 The popular saying "three's a crowd" really applies here; having two panels up is actually still fine, especially if you're using them for reference and watching videos, but bringing up the third and squishing two apps into one half of the display just feels a little too congested and a little hard to go through everything at one go. Maybe if you're running ancillary apps such as Spotify, where you only really need the music controls to cycle through your music, then this feature might suit it better. However, at present, it really is pushing the 7.6-inch screen to its limit. If the Multi-Active Window function feels a little congested even on the Samsung Galaxy Tab S7+, which already has a bigger display, then calling it unwieldy on the Galaxy Z Fold 2 is just about appropriate.
This then brings us to one factor that Samsung hasn't quite considered including in its Z Fold slate of smartphones: a stylus or S Pen. Despite being touted as a smartphone/tablet hybrid, the Galaxy Z Fold 2 is sorely lacking in one, and might actually benefit from a stylus, especially when navigating the likes of Multi-Active Window, where our fingers might actually muddle things due to the lack of precision.
In comparison, the slightly smaller Galaxy Note 20 Ultra comes with a stylus as one of its primary features, and actually shines when one uses it. We imagine it wouldn't hurt to include one for the Galaxy Z Fold 2 too for the same reasons (actually, we think it might be even more appropriate to add it for this device), especially due to the fact that it has a much larger display to take notes and draw on, and it is a shame that Samsung didn't include one. In actual fact, this is where Samsung can take notes from the Huawei Mate X, which sports a retractable stylus on the hinge.
That said, the Samsung Galaxy Z Fold 2 still comes with many much-needed improvements over the first model, and from our first impressions, it holds up well as a decent flagship foldable smartphone in what is still a relatively new market today. However, given the lack of some features that we deem quite essential on a smartphone/tablet hybrid, it's hard to recommend it as the be-all-end-all for foldable phones.
The Samsung Galaxy Z Fold 2 launches in Singapore on 18 September, and will retail for S$2,888. Pre-orders are available now at all major telecommunication operators (M1, Singtel, StarHub), the Samsung Online Store, all Samsung Experience Stores, as well as selected consumer electronics and IT stores islandwide.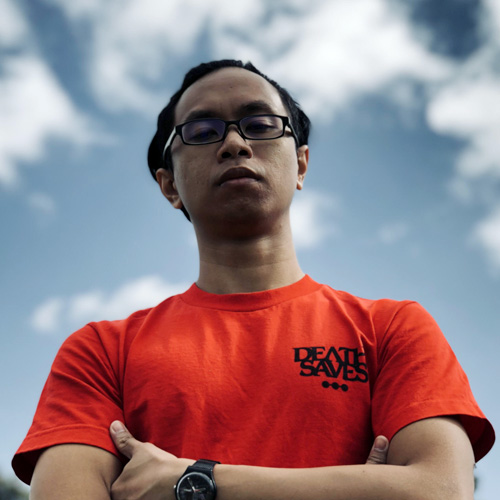 Marion has a serious RPG addiction. Sometimes it bleeds into real life; he forgets to sleep because he thinks he has a Witcher's body clock. Forgive him in advance if he suddenly blurts out terms such as "Mind Flayer" and "Magic Missile", because never once does he stop thinking about his next Dungeons & Dragons game.