As a creative, in particular, a digital artist, it is not uncommon to be required to work on the go, hence most will depend on devices, such as the digital tablet, that can accommodate the hustle lifestyle. And with the tablet becoming highly important in everyday work life, there are certain key features beyond the price that artists will lookout for; such as, the screen, interface, weight and unsurprisingly the tablet's pen.
Samsung attempts to meet the high-expectations for all these features with their newly unveiled Samsung Galaxy Tab S7+. The Tab S7+ is part of Samsung's newest 2020 product lineup and is a productivity device that boasts some impressive features.
Measuring 285mm by 185mm with the thinness of 5.7mm and, this Android tablet, the latest in a long line of fast disappearing Android devices is a sleek device that will fit perfectly into your bag. Weighing a mere 575g, the tablet remains inobtrusive without adding more weight to the burdens you already carry (both literally and metaphorically). The build itself is pretty solid too, unsurprising since it comes from Samsung.
A Mystic Black finishing gives the tablet a sophisticated look, blending nicely into the shiny 12.4 inch screen. The overall curve-edged design and slimness also means that the tablet fits comfortably into our grip, while giving the tablet a chic look which goes well with any crazy outfit pieced together.
The new Tab S7+ features an AMOLED touch-screen panel with ultra-thin bezels and a 16:10 aspect ratio in order to create a more immersive viewing experience. Along with a viewing resolution of 2800 x 1752 pixels, we are able to enjoy our favourite movies on the tablet with a more cinematic touch due to the vibrant colours and enhanced brightness. The screen has a consistent display and allows great viewing from all angles with little to no colour degradation or flicker.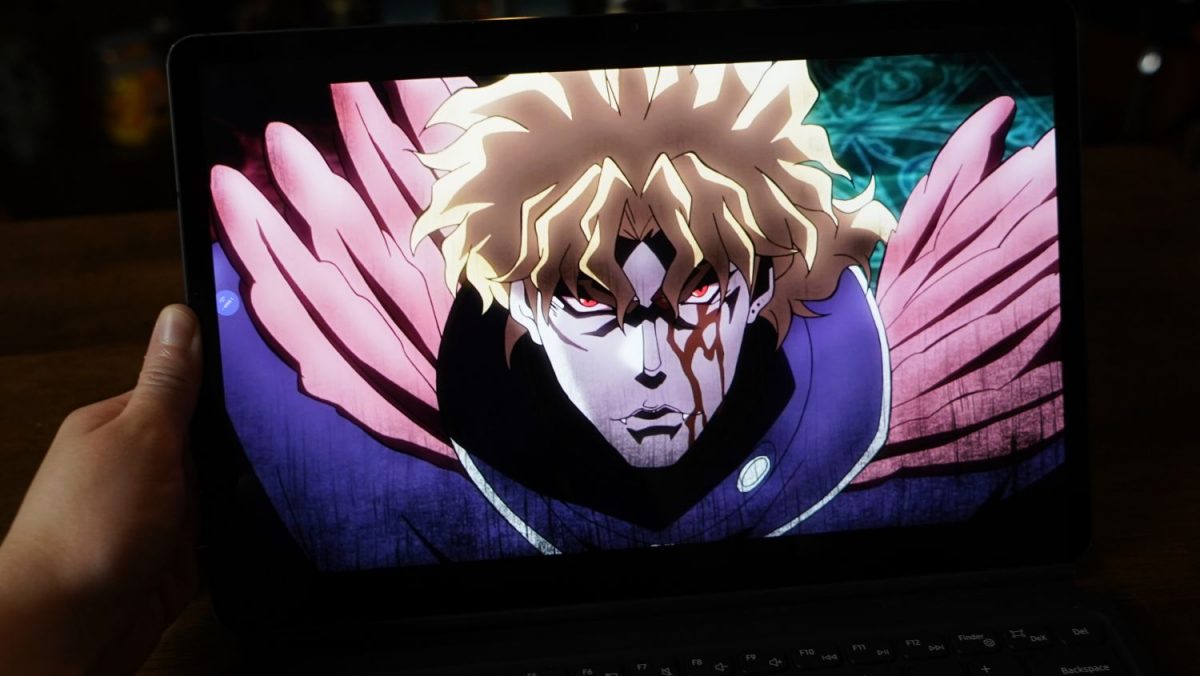 While some artists may prefer having a matte screen to work on, it's no denying that the tablet still has one of the best displays we have ever seen. Artists will surely get a kick out of the crisp colours and details when working on the Samsung Galaxy Tab S7+. It even comes with a refresh rate of 120Hz, creating an improved scrolling experience, with the graphics gliding fluidly across the screen.
The low blue light also helps protect our eyes after long hours of staring at the screen. Also on the screen, an in-display fingerprint sensor ensures that your privacy is well protected. The Fingerprint On Display allows users to sign in quickly with a simple tap of the screen. The biometric set-up is pretty straightforward and can be found under the settings. Unlike most fingerprint scanners which require a few tries, the tablet is surprisingly responsive and works successfully every time we try to unlock the tablet with it.
Running on Android, Samsung's previous tablets have struggled with providing a friendly user interface. But tech giant has once again proved themselves as true innovators in the field by pushing their technology one-step further with the Android v10 operating systems alongside a Qualcomm Snapdragon 865+ processor, which allows us to open apps and games almost instantaneously, with little load time. Even slightly more heavy duty apps like ArtFLow or Autodesk SketchBook run smoothly while in use.
The interface is less of an Android phone and more specialised for the tablet itself, as Samsung has now developed a new One UI Version 2.5, designed to make using larger smartphones and hence tablets easier and become more visually appealing and laptop-like.
There's even a Multi-Active Window function which allows us to open three apps at once. We can stream YouTube while drawing on the Notes app and scrolling through art references in Google Chrome all on the same screen. Not all apps seem to work with this function, but Samsung may provide more updates later on. The tablet does retain the Edge screen feature of the Android smartphones though, to allow for quick access to frequently used apps.
The Samsung Galaxy Tab S7+ even comes bundled with an S Pen, and this means no more having to bust your buck in order to get a separate (and frankly essential) tool to work with! The Tab S7+ truly shines with the S Pen writing accessory, a device that has set the Galaxy Note phones apart from the competition, and adapted for a tablet. Samsung has revamped its S Pen to complement the new tablet, with a redesign that is slightly heavier and longer than the previous S Pen, in order to provide a more realistic feel with a more comfortable grip.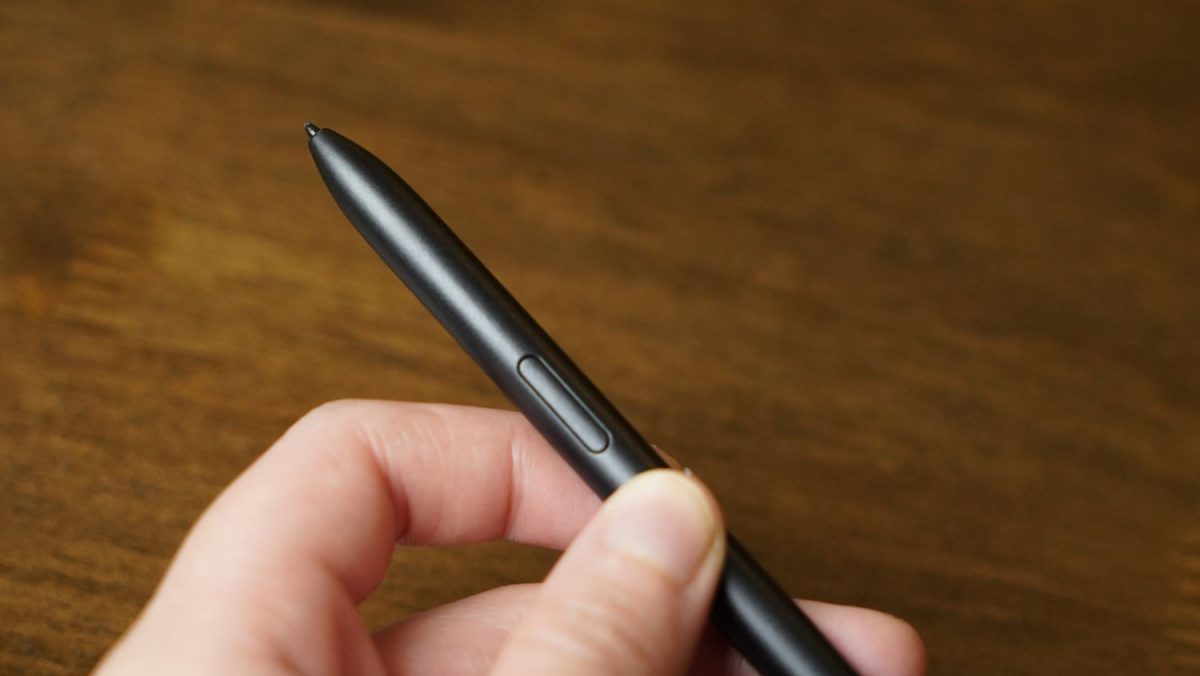 However the S Pen itself still feels lighter than a regular pen and also somewhat shorter. While some may see this as a plus as they are able to use it for long hours without feeling the pressure on their fingers, others may find it disconcerting to use and may wish for something weightier.
That being said, the pen does feature decreased latency and high responsiveness, allowing for a more fluid drawing and writing experience. Artists will love that the S Pen has pressure sensitivity, a rare find in most affordable external pens for tablets. Drawing with the S Pen will be an overall enjoyable experience with virtually no wobble or jitter even when lines are drawn slowly. There is barely any input lag too which some drawing tablets may suffer from.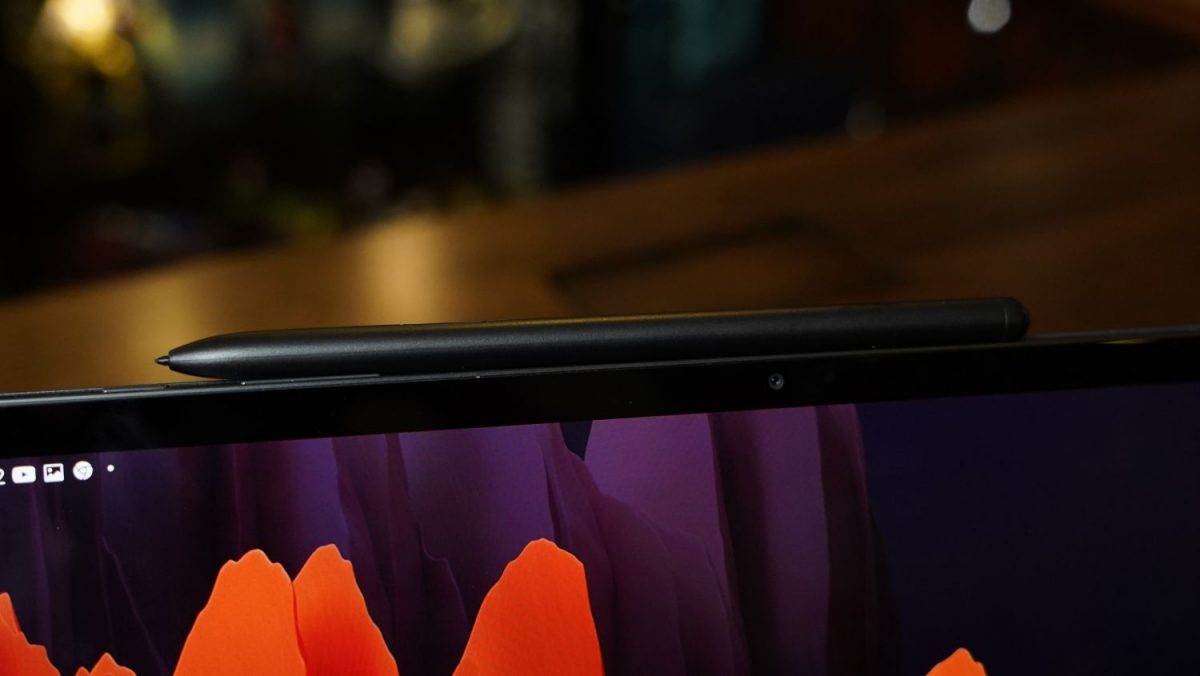 To pair the S Pen with the tablet, just snap the pencil into place on the top and a prompt to pair the pen will appear at the bottom of the screen. The pen can also be easily snapped onto the back of the tablet via a magnetic strip lest you end up misplacing the pen when on the go, the position will also allow the pen to be charged wirelessly.
The S-pen also has Air actions, which lets you control the Tab S7+ remotely for functions such as taking selfies, control presentations, play music and movies without having to touch the screen. However, certain actions do work better than the others.
In the camera mode, with a single click of the pen, you can instantly snap a photo. A double click or pressing down on the button while swiping up or down with your wrist will flip the camera. Holding up your palm towards the front camera will also prompt the tablet to start a countdown timer for you to pose for your selfie.
On normal modes, when you hold down the button and do a zig-zag pattern, the tablet will capture a screenshot of your current screen. Other Air actions like the Back, Home and Smart Select were hard to detect by the tablet and rarely worked as they should.
Unlike the S Pen, the Samsung Keyboard Cover will have to be purchased separately and will be priced at S$358. The Samsung Keyboard Cover accessory serves to protect your device and with this along with the Samsung DeX, you can have a more PC-like experience on the go to increase productivity.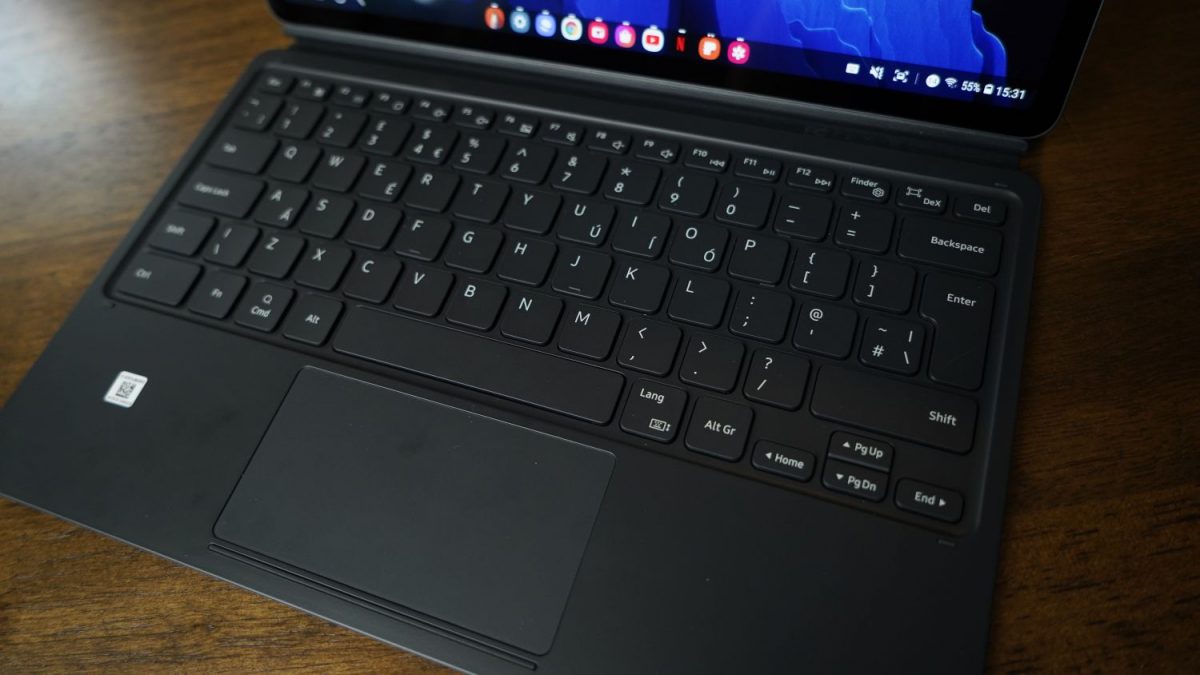 The keyboard has a nice tactile feel and snaps on easily via a magnet and the newly designed toolbar gives you PC-like keyboard shortcuts to take advantage of, allowing you to increase and decrease brightness, volume, take a screenshot, activate the DeX mode and such. It is unfortunately not a backlit keyboard, that while unnecessary will add a nice glow to the overall design. The trackpad has good clickability and multi finger gestures are also supported on the touchpad.
You can now work on the go without being weighed down by the bulk of the actual laptop or an external mouse. The keyboard may give a few heart attacks to the more careless user though as it detaches just as easily and will require a flat surface to be used on. (No lap-top experiences unfortunately.)
Like previous tablets, the Samsung DeX is also available wirelessly. Samsung DeX is compatible with smart TVs that support phone screen mirroring and it is recommended to pair with Samsung TVs released after '19. You can even control the TV screen with Tab S7+, which makes it a handy tool for idea sharing or even simply surfing the web on a larger display.
As for memory and storage, the Galaxy Tab S7+ will come with 6GB of RAM and 128 GB of storage. If you happen to run out of space, there's a MicroSD slot to allow users to expand the tablet's storage space up to an additional 1TB of external memory.
Battery wise the Tab S7+ will come with 10,090 mAh and 45W fast charging capabilities, allowing it to last for a whole work day and beyond while doing regular work. However, a downside is that the tablet can't really be charged while in use, especially when using art apps like Autodesk SketchBook, as the battery takes much much longer to fill up again. It is surprising to note that Samsung does not take advantage of the 45W charging capabilities as the charger in the package only features up to a 15W charge.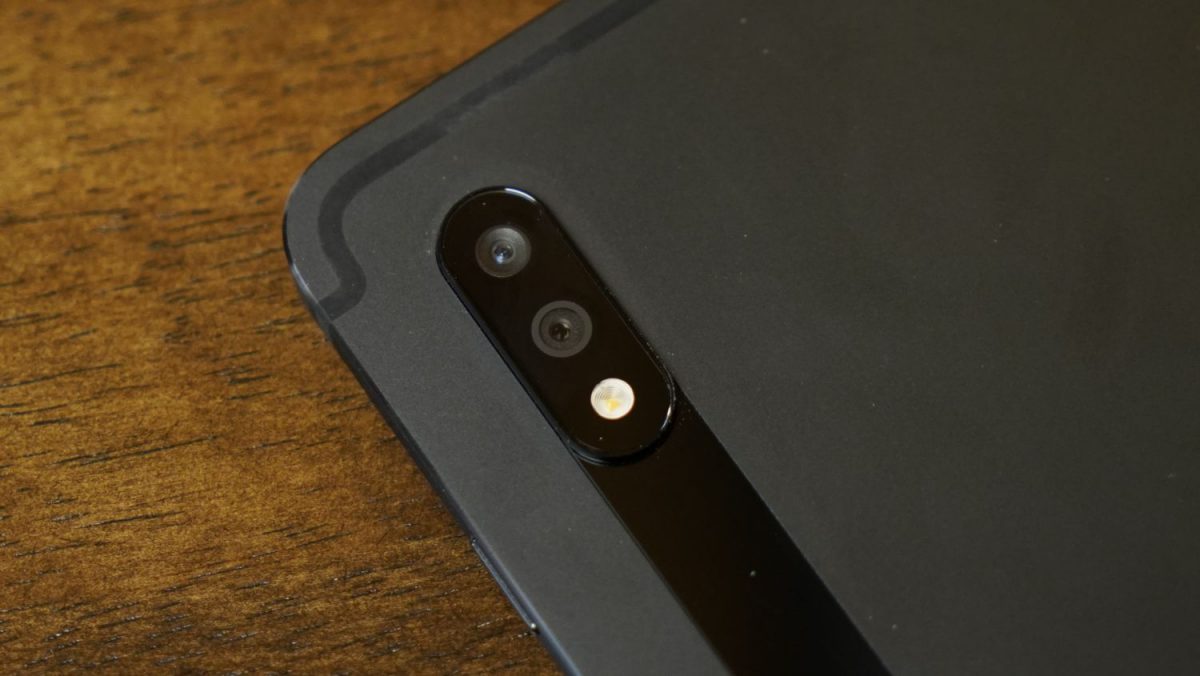 While most tablets are known to have a better rear than front camera, the Tab S7+ seeks a balance with their camera design. The tablet will come with a dual camera setup with a 13MP main camera plus 5MP wide-angle camera on the rear complemented by an 8MP camera in the front. Users will also be able to shoot videos in 4K on the Tab S7+, which is a feature likely to be underutilised but a nice thought to have all the same.
Due to the current global pandemic, there has been a significant increase in the use of online meetings and video conferences. Samsung has observed these workplace changes and made the decision to reposition it's front camera from the topside to the long horizontal side. This will allow users to hold video calls easily, much like using a laptop, without the awkward off-centre angle as the old camera positions are prone to create.
The Tab S7+ also boasts dual Quad speakers on both the shorter edges of the tablet. The audio produced by the speakers is pretty decent and loud enough to be heard even in noisy places. A 3.5mm headphone jack won't be found on the tablet, which may pose as a minor inconvenience to some, but with Bluetooth accessories such as the Google Pixel Buds, becoming the trend nowadays, most will not be missing out on much.
The Tab S7+ will also be 5G ready, but you can only fully utilise that 5G network speed once it's available in your region.
Beyond that, artists will love that the Samsung Galaxy Tab S7+ comes with a whole bunch of juicy software.
For the first time, Clip Studio Paint will be available for Android and will come as a preloaded app in the tablet. (Do note that some markets will require users to download the app from the Galaxy store instead.) You will get to enjoy free subscription to the Clip Studio Paint EX, the expert version of the Clip Studio Paint line-up, for 6 months. EX version offers more features, such as the multi-page management, 3D modeling, which is perfect for animation artists and more.
Next is the Canva app, a great app for quick yet creative graphic designs meant for social posting, marketing materials and even presentations. You will have access to thousands of templates and fonts. Users can even get the Canva Pro for a free 30 day trial which will include 200 exclusive templates and fonts designed just for Galaxy Tab S7+ users.
There is also the Noteshelf app, made to compliment the newly improved S Pen. The app will optimise your drawing, design and note taking experience on the Tablet with the pen. You can add geometric images, sketch over photos, highlight and annotate documents, record audio and more.
The Samsung Galaxy Tab S7+ does indeed prove Samsung's capability as a tech giant to constantly innovate and continuously improve their products all around. Creatives, especially digital artists will appreciate the upgrades to the screen and interface from previous tablet models. And while the price of $1598 may seem scary, it is quite worth it considering how many perks there are in this small yet powerful device.
GEEK REVIEW SCORE
Summary
The Samsung Galaxy Tab S7+ is a solidly built yet lightweight device with a gorgeous display which may gradually worm its way into the hearts of Creatives as their next indispensable art-tool of choice to wield.
Aesthetics -

9.5/10

Build Quality -

8.5/10

Performance -

9/10

Value -

8.5/10

Geek Satisfaction -

8.5/10