There are very few constants left in 2020, as countries, markets, industries and people work hard to regain a semblance of normalcy, and despite the upheaval, it heartening to see companies put their best foot forward as they strive to retain operations and market share. With the release of the Samsung Galaxy Note 20 Ultra, the Korean chaebol is showing that it has a role to play in consumer technology, even as it knows that demand for this product will surely suffer through no fault of its own.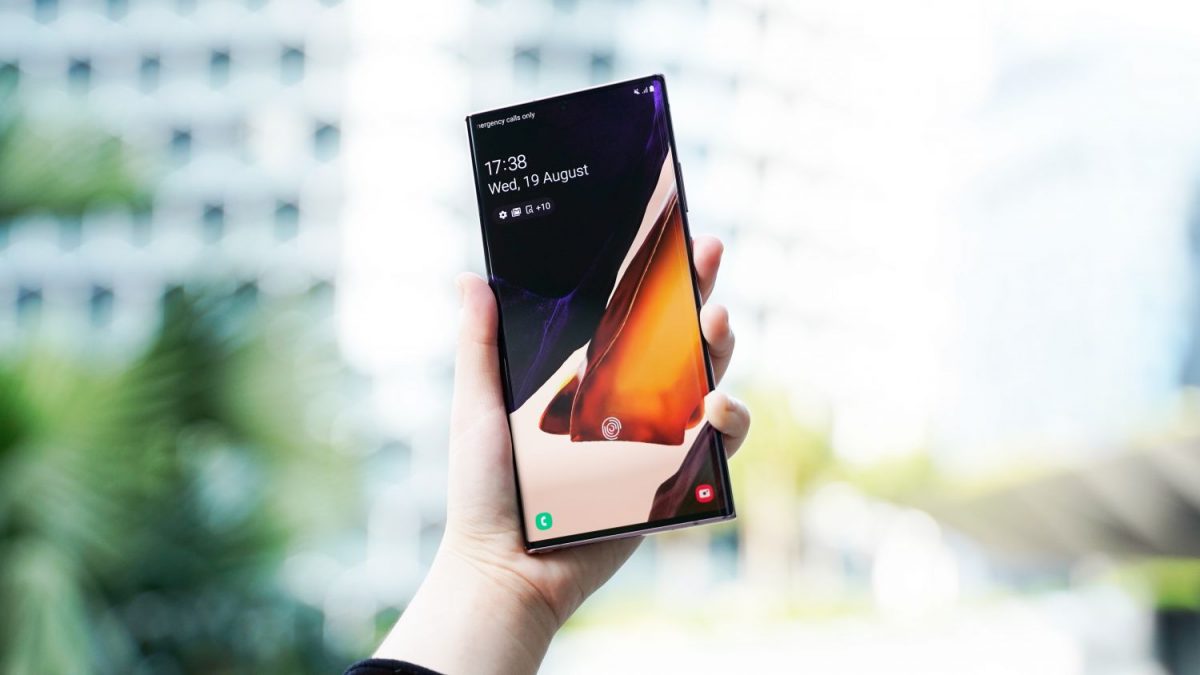 The tech giant has once again pushed the envelope for what makes a smartphone, and has delivered a powerful device with trailblazing specs which pairs PC capabilities with the best of mobile gaming capabilities. On top of improvements to the camera, where it has also added a new AI software that helps process camera images, there's also a gaming focus to the device and on productivity.
A scarcely there bezel makes for a dazzling Infinity-O display, while the 6.9" Quad HD+ Dynamic AMOLED screen offers a 3088 x 1440 pixel resolution, with a 120Hz refresh rate. Samsung delivers yet another of the most gorgeous displays any smartphone owner will ever encounter and beyond the arresting visuals of the outer design, the powerful display allows users to experience ultra-smooth graphics while gaming, and vivid colours while watching our favourite shows.
This review set comes in a Mystic Bronze chassis that gives off a rose gold hue with a matte finish to diminish fingerprint marks, creating a timeless look that matches the aesthetics of its other accessories, including the new Galaxy Watch 3.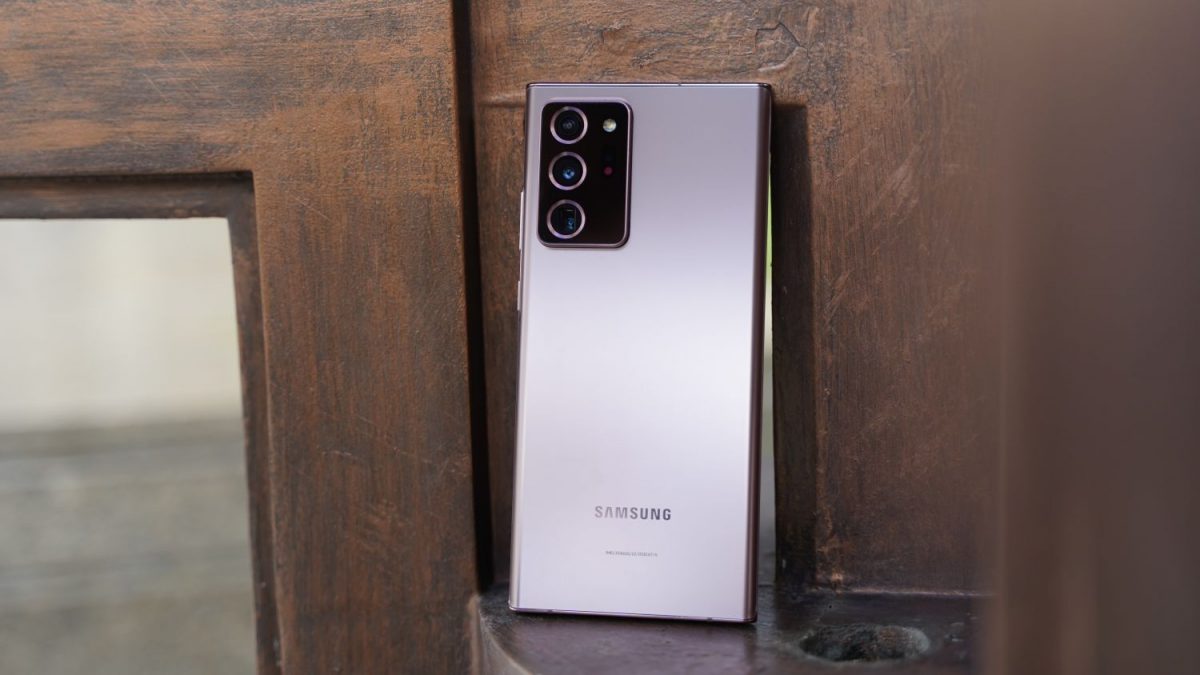 For the more careless user, Samsung says that the Gorilla Glass Victus display comes as a true lifesaver as it enhances the durability of the screen, which will hopefully allow for the phone to survive a few hard knocks. And similar to the Galaxy Tab S7+, fingerprint unlock works exceptionally well, requiring only a light tap to activate and unlock the phone unlike most other scanners which require multiple tries.
With the rise in trend of TikTok, YouTube and Insta-lives, it's no secret that videography has taken a centre stage within people's daily lives. Samsung's answer to these shifting trends is their focus on camera upgrades in their newest flagship device.
Even your love for selfies won't be hindered as Samsung has seamlessly embedded an inconspicuous yet powerful front camera into the top of the screen. The front camera features a 10MP(ƒ/2.2) selfie camera with dual-pixel autofocus. This means crisp and dynamic selfies for your next profile picture. You can even set a selfie tone and use various filters to enhance the experience.
Flipping the phone over, you will encounter a triple threat of lenses with the rear camera. There's a 108MP(ƒ/1.8) main camera with a 50x zoom, a 12MP telephoto with 5x optical zoom (ƒ/3.0) lens, and a 12MP ultra-wide (ƒ/2.2) lens with a laser autofocus sensor.
One thing to note (pun unintended) is that the camera array is unique with a prominent bump, unlike the more minimalist rear camera designs most smartphones go for. Samsung does its best to make it look chipper but the rear camera design is still one of the design aspects that is a downgrade from its predecessor.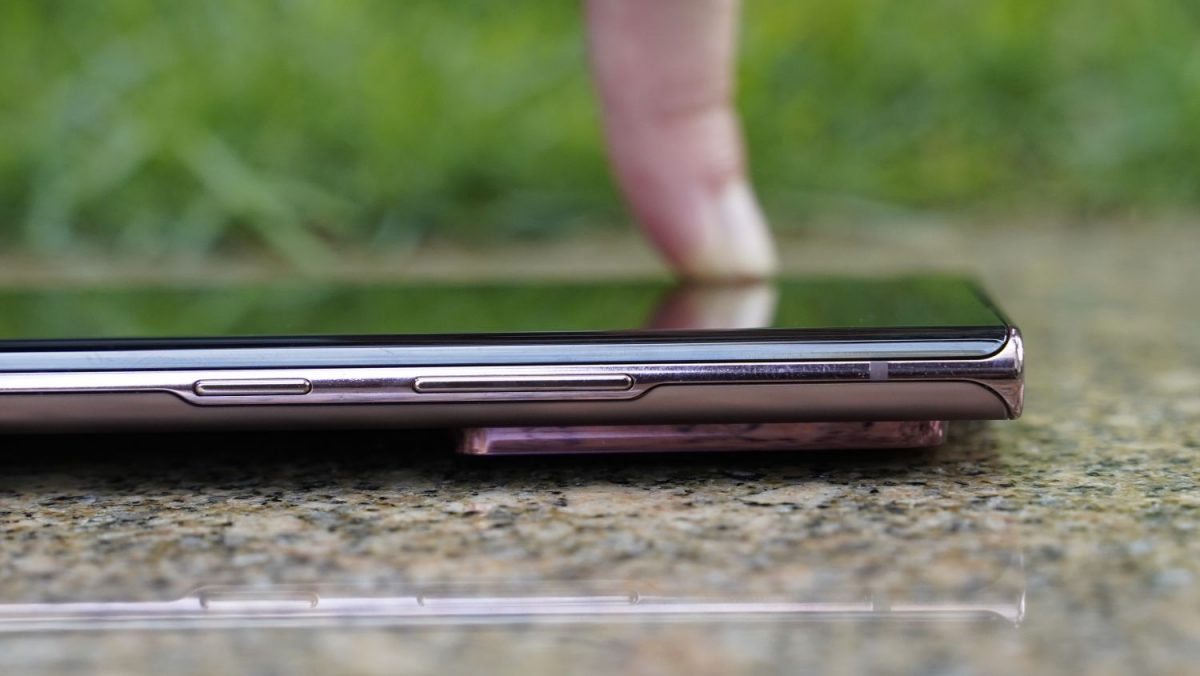 Camera experts would say megapixels aren't everything and that it's the sensor and software that matter, but it's noteworthy that the Galaxy Note 20 Ultra holds an impressive 108MP camera, which is pretty impressive. Of course, MP count goes hand in hand with the camera's sensor and Samsung also hasn't skimped on that, as the camera boasts a larger 1/1.33-inch image sensor that is nearly twice the size of the usual sensors, as most smartphone camera sensors are only 1/2.55-inch.
This means that we can now explore the great outdoors and capture the entire skyline without needing to struggle with the warped horror of bad panoramas. And the image is packed with so much information that even aggressive cropping on the photos will still retain a high amount of details instead of becoming grainy as you zoom in.
The phone also delivers photos with nicely saturated colours, and the function seems to be adaptive as the camera saturates the main colours in the scenery such as the green grass or blue sky. It's the standard Samsung enhancement that users either love or hate and for those who prefer a more natural look, the camera can be switched to the Pro settings whereby you can control the white balance, ISO and more to your liking. The camera also renders a gorgeous bokeh with a low-aperture look, creating a large depth of field for a dynamic photography finish.
Professional videography on a handy smartphone is also another dream made into reality as the Galaxy Note 20 Ultra features some impressive video and audio recording functions. The phone can be set to Video Pro mode whereby you may adjust the camera settings just as you would for a film camera.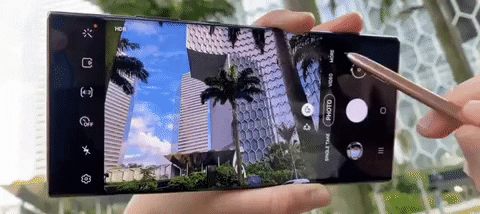 The phone can even record up to 8K videos and is perfect for travel vloggers (when the time is right of course) or anyone who wants to make mini-films on the go. There's a steady mode for the video setting in case you don't have a tripod on hand. Moreover, the Laser Auto-Focus(AF) Sensor ensures smoothness of the AF transition during live shooting so that our subject is well tracked as they move in and out of frame.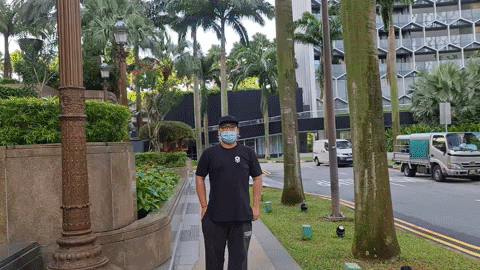 The audio recording is also worthy of mention as Samsung has positioned three microphones on the top, bottom and rear of the body. Coupled with the ability to adjust the path of the mic for the front, rear and Omni and to see and adjust the audio input level in real-time, the phone does deliver a professional filming experience.
There are a few limitations to the hardware though, as the higher megapixel count means that more light information is needed for a good photo. Even with the larger sensor, the phone does suffer somewhat in low-light conditions, as are all other smartphone cameras. Also, when taking slow-motion videos with indoor lighting, there will be a ton of flickers due to the frame rate difference. Despite that, there is not as much grain or noise when shooting in low-light as compared to other smartphones.
But under good lighting, photos will remain crisp and detailed even with 5.0x zoom. Another perk is the shortcuts to zoom from 0.5x to 1.0x to 5.0x.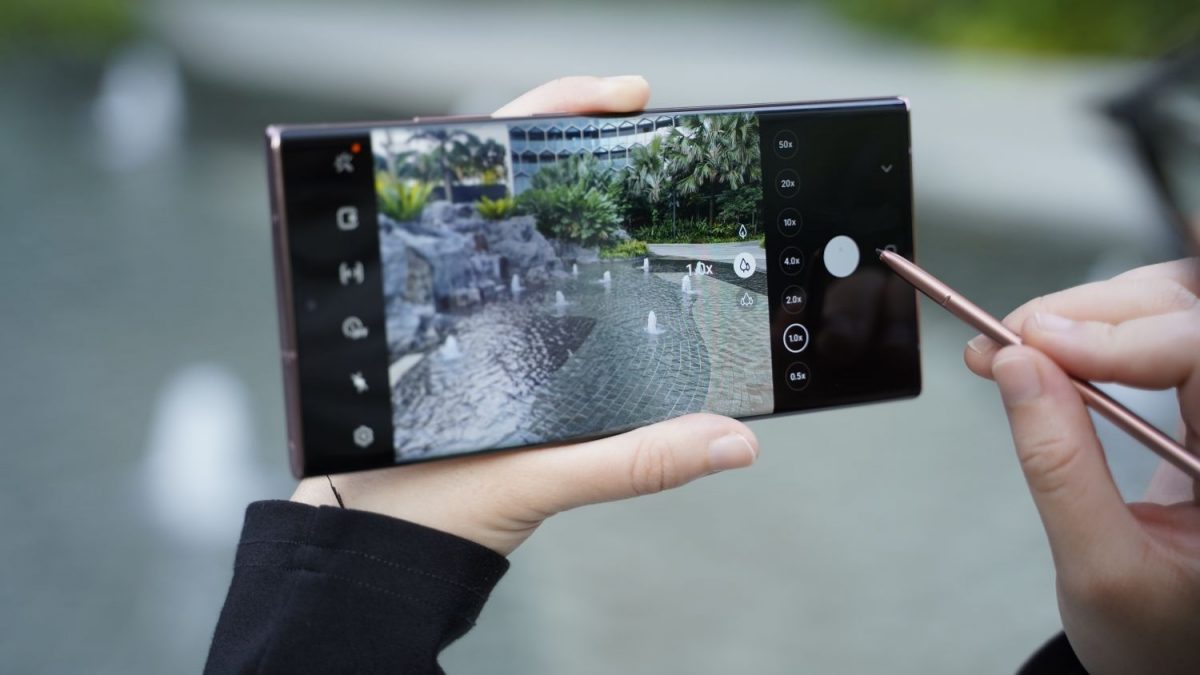 Despite the larger and more powerful cameras and size, it manages to retain its sleek design. The bigger frame may pose as a problem for single-handed gripping but the thin chassis makes up for this.
So why would users choose Galaxy Note 20 Ultra over the Note 20? When compared side-by-side the two phones do have some stark differences. In terms of camera tech, the biggest differences are the 12MP wide-angle camera (ƒ/1.8) lens, 64MP telephoto camera (ƒ/2.0) with a 1/1.76″ image sensor size.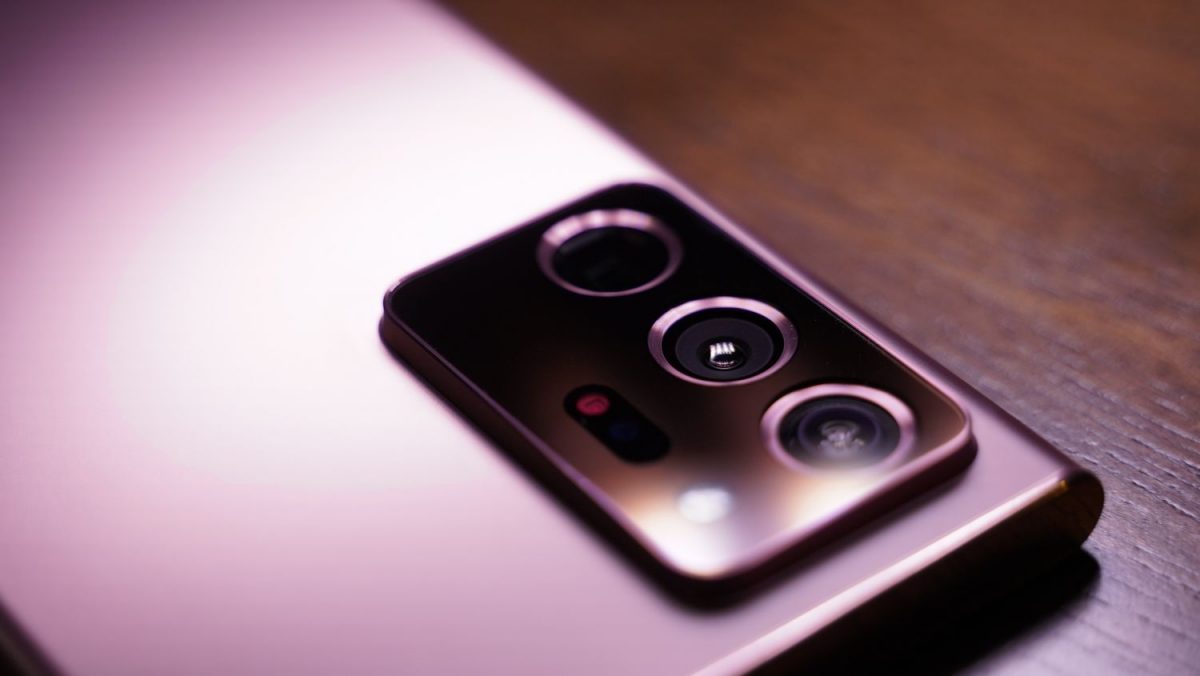 The Note 20 camera noticeably lacks the Laser Af sensor and only has a 3x hybrid optic zoom with 30x super resolution zoom as compared to the Ultra's 5x optical zoom and up to 50x super resolution zoom. That being said, the image sensor and megapixel count is still considerably impressive for a phone camera.
The Note 20's 6.7" FHD+ Super AMOLED Plus Infinity-O Display 2400 x 1080 pixel resolution display is also noticeably smaller as compared to the near-bezel-less screen of the Galaxy Note 20 Ultra. The rounded edges and thicker frame may also make it look clunkier than the sleek Note 20 Ultra design.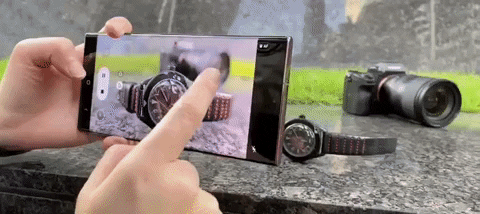 In terms of memory space, the Note 20's 8GB RAM (LPDDR5) with 256GB internal storage is half that of the Galaxy Note 20 Ultra's maximum offering. Despite this, we have to say that the memory still constitutes as one of the top-performing ones in the market. The battery life also has a small difference as 4,300mAh as compared to the Galaxy Note 20 Ultra's 4,500mAh.
Powering the Galaxy Note 20 Ultra is a substantial 4,500mAh battery that can sustain the phone for around 2 days of normal usage without charging. But when used for gaming or video streaming, the battery drains at around 0.153%/min, or in our case, the battery is good enough to stream all 10 episodes of The Umbrella Academy via Netflix.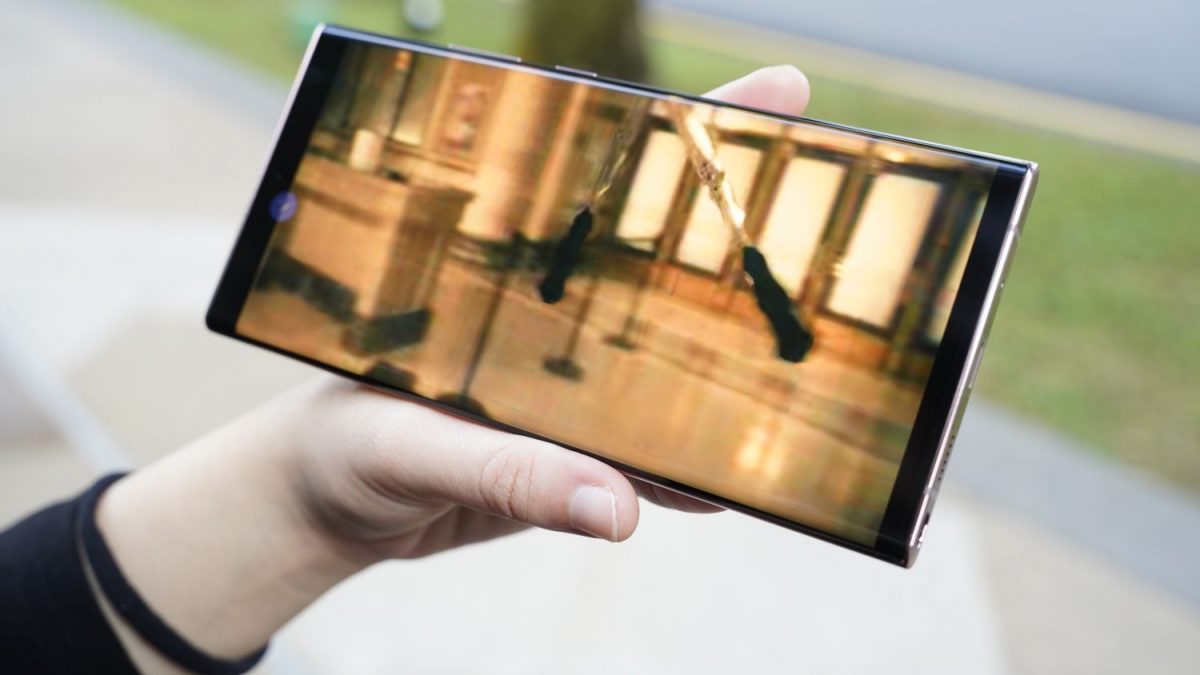 Notably, the phone does not heat up much even after five continuous hours of streaming on full brightness, with almost max audio and two hours of gaming in PUBG. This is probably due to the vapour chamber cooling system which Samsung claims to be the world's slimmest one. After the 40% mark, however, the battery does seem to drop faster. Even then, the battery life still holds up pretty well as the phone is able to last through your night at 32%, and still work as a reliable alarm to wake you with 18% battery in the morning.
Aside from the battery, one thing that users need to know is that like its previous flagship devices, Samsung is using two different processors for its phones. In North America, Samsung powers the Note 20 range with the all-powerful Qualcomm Snapdragon 8cx which was originally designed with PCs in mind. It is a 7nm 64-bit octa-core processor made by one of the world's leading chipmakers. For the rest of the world, we get devices powered by Samsung's very own Exynos 990 processor. Samsung says that both processors work the same way though, in recent years, it has become clear that the Snapdragon processors have a stronger graphical processing edge, delivering better performance and battery life.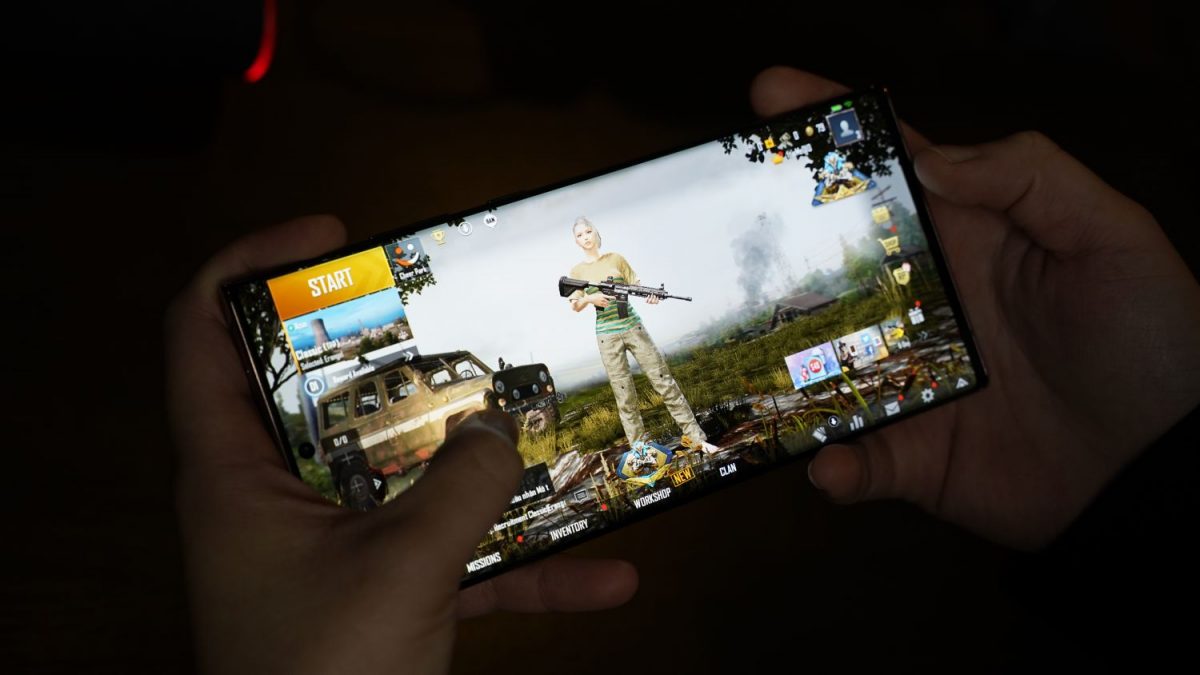 As for gaming, playing PUBG on a 6.9" Quad HD+ 3088 x 1440 resolution display does make for an easier time spotting enemies. An AI-based game booster mode blocks annoying notifications during game time and powered by an Exynos 990 processor with a 240Hz touch latency also means that there is less lag time in-game, which can be a life-and-death situation when having a shoot-out with the enemy. The start-up load time is also pretty fast at 22s. As for memory space, the Galaxy Note 20 Ultra will be available up to 12GB of LPDRR5 RAM with 512GB of internal storage.
Of course, the key selling point of the Galaxy Note series compared to Samsung's Galaxy S is the S Pen. Their bundled stylus has always been impressive and its performance continues to hold up with pressure sensitivity for varied line weight. The stylus has also been improved with added gestures and handwriting recognition so you can now get creative with calligraphy while doing up your notes.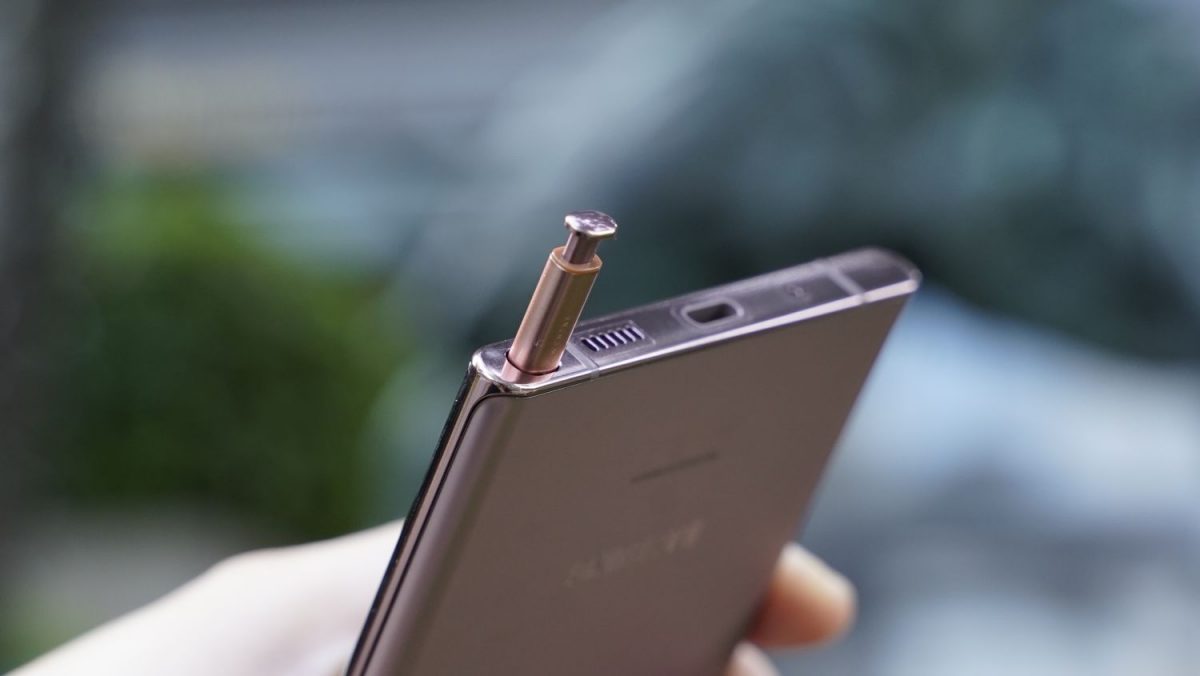 When used with the updated Samsung Notes, the S Pen is touch sensitive, a light tap will leave a "pencil mark" on your canvas. Notes also offers different pens for you to play with but the protruding, bulky rear camera means it's hard to write on a flat surface as the phone keeps rocking. It will be best to choose a phone cover that can balance out the bump and protect that huge camera
And as with any kind of note taking, organisation is key and the enhanced Samsung Notes also introduces a new folder structure for easier filing. The structure follows the PC-like workspace which gives users an easier time keeping track of their various notes.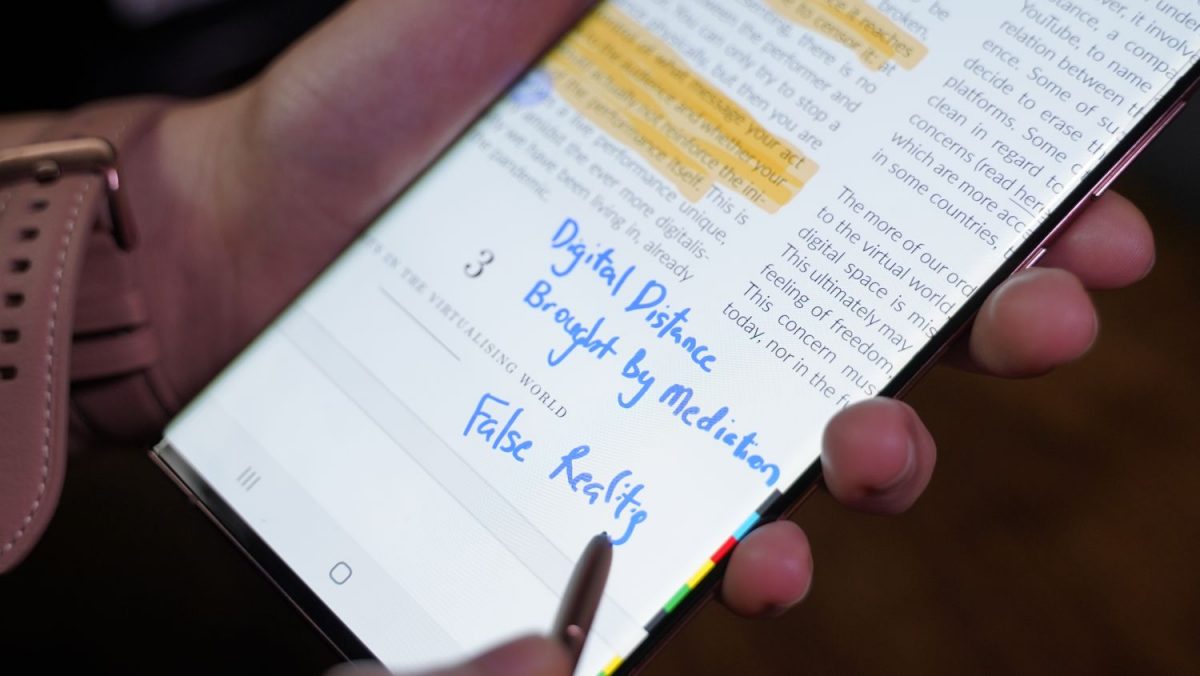 You can even create individual pages for your notes to easily group and divide information and a smart select function in notes allows you to pick out key shapes and words from within a scribbled mess and move them elsewhere. This means you won't have to word about accidentally scribbling directly over your painstakingly written notes as editing can be done in a jiffy.
Other Notes feature users will love is the Audio Bookmark. Whilst attempting to keep up with a meeting or lecture while frantically scribbling down notes is a struggle many will face. Samsung has a solution to that as we can now attach and time sync voice recordings to our notes. If you record and take notes, at the same time, the word you last wrote according to the time of the audio recording will be synced so that you can easily go back and tap the word you jotted down, and it'll playback the audio from the moment that the word was mentioned.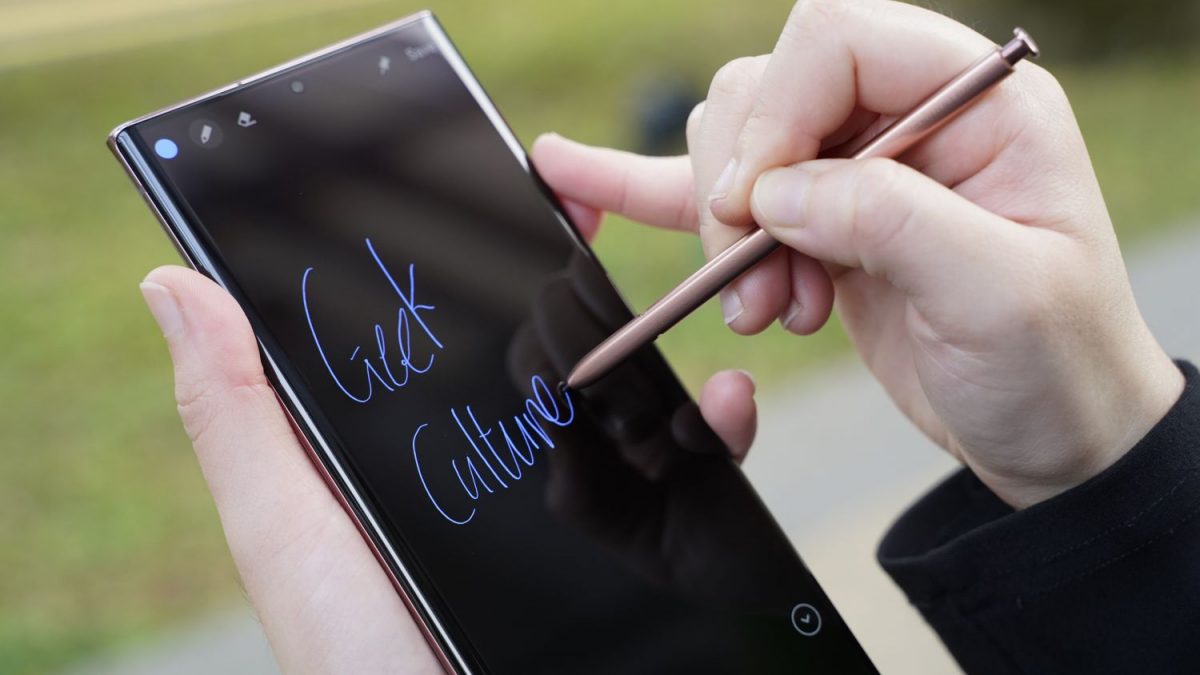 You can even write notes on the locked screen which is a great function for your sudden bursts of inspirations. But while the sensitivity of the S Pen is welcomed, this combined with the smoothness of the screen can cause the device to work a little too well in the fluidity department as it becomes too slippery for the stylus to be used for writing and sketching finer details.
Another cool productivity feature is the ability to import PDFs and Microsoft Office documents directly into the device. You can write and edit on top of PDFs and documents, which means you can expand your productivity time by working on the go. The phone even features a seamless Microsoft integration as you can easily sync your phone to your PC, and drag and drop files in between for easier working.
Recognising the need for a stronger ecosystem across its hardware, the phone now works more seamlessly when paired with other Samsung devices, including the Samsung Galaxy Watch 3 and Galaxy Tab S7+. The upgraded Galaxy Ecosystem taps on an improved Ultra-Wideband technology where syncing devices and files becomes easier than ever. You can even check your emails on Office365 on your Galaxy Watch 3 without having to pull out your phone.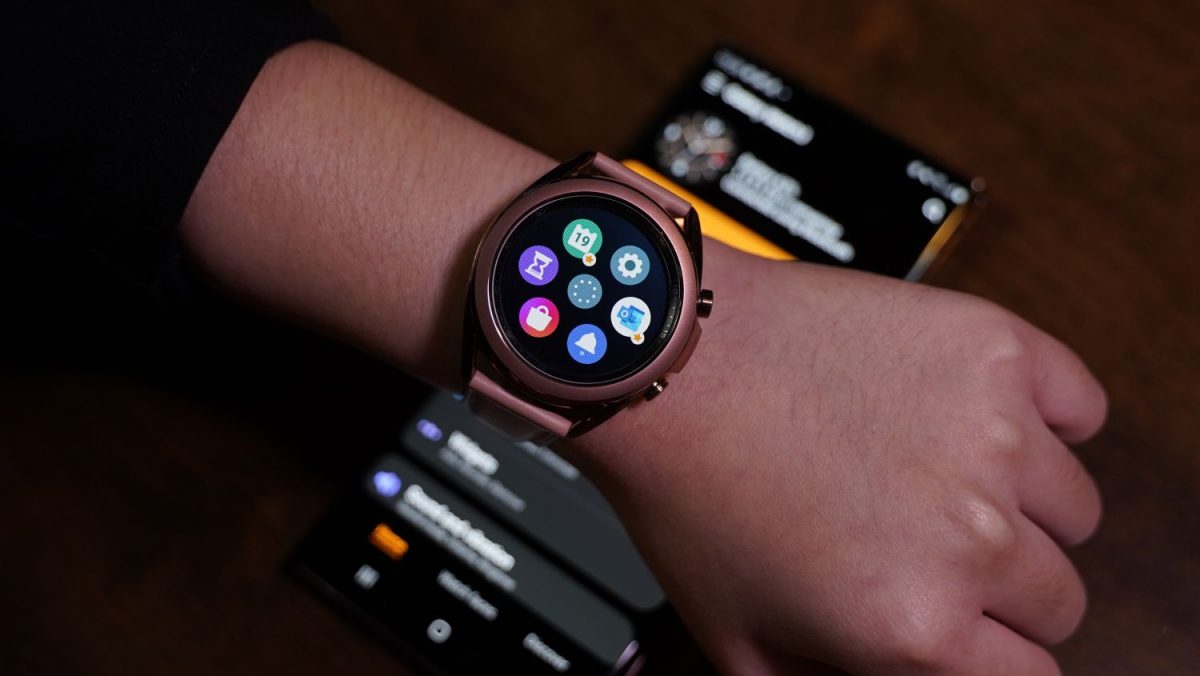 The phone also offers 5G capabilities and though redundant as of now, it's a nice thought to have for when such networks become available. The device also automatically searches for high-speed networks and provides stable Wi-Fi Certified 6 networks. This along with optimised latency will ensure a lag-free time while streaming or online gaming.
Some may take issue with the bloatware on the device as the phone does come with quite a number of pre-loaded apps. It is a rather small set-back though as these apps can be easily cleared.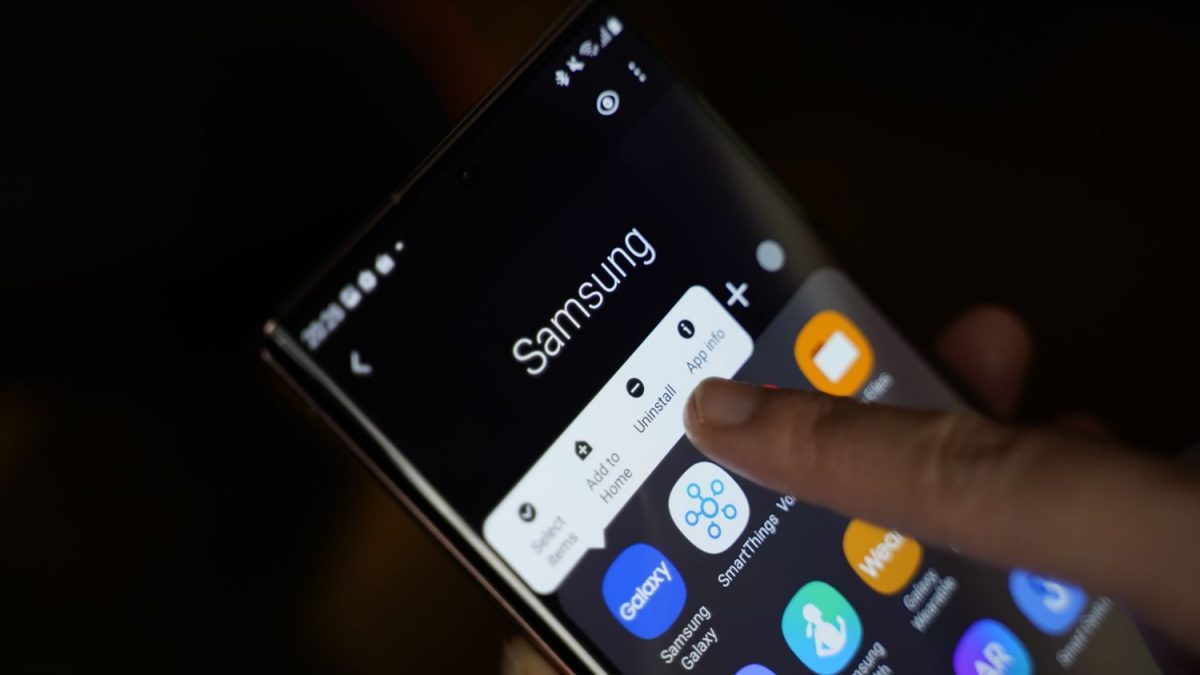 Still, the true blocker here is the steep price. As the top-end device, all of these come at a premium of S$1,898 for 256GB storage and 5G, which is almost double that of a regular smartphone and the price of an ultrabook. Users will also be paying S$1,548 for the regular Note 20, and although the phone is less pricey, users will still be forking out a huge sum.
These prices, however, seem to be the new norm as the newest phones in the market such as the Huawei P40 series have the P40 Pro at S$1,448 and the P40 at S$1,048. And if anything the price is still less than paying S$2,039 for the 6.5" display and 256GB storage iPhone 11 Pro Max (S$2,349 for 512GB storage) or S$1,889 for the 5.8" display and 256GB storage of the iPhone 11 Pro (S$2,199 for 512GB storage).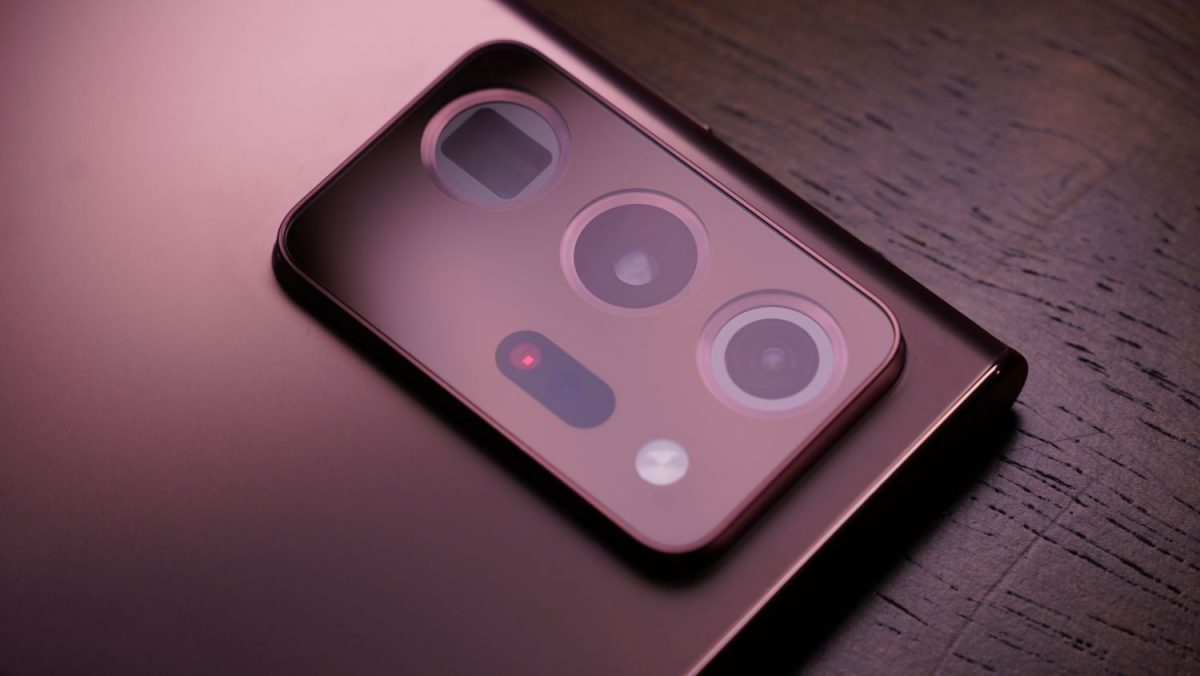 Overall, the Samsung Galaxy Note 20 Ultra is a big step-up from what was an already impressive Note series. The phone is fully equipped for casual and professional photography and videography, yet balances out its functionality for the average user by having strong productivity functionality. Samsung truly embraces the "Work hard, play harder" rhetoric as they optimise multiple features all around to provide a seamless work and play experiences for the users.
GEEK REVIEW SCORE
Summary
Equipped with impressive cameras, gorgeous displays, coupled with a powerful processor improved productivity functions and a timeless design, this sleek device definitely embraces the "Work hard, play harder" rhetoric to its fullest.
Overall
9/10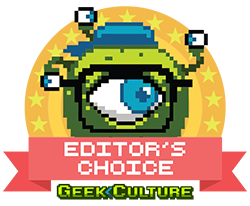 Aesthetics -

9.5/10

Build Quality -

9/10

Performance -

9/10

Value -

8.5/10

Geek Satisfaction -

9/10