[UPDATE 2 September 2016: Winner Announcement! Congratulations to Randall, Sham, Daniel Toh, Andy Tong, and Sri Yusnita bte Rahim! Please check your email for prize redemption details.]
Here is something that might grab some of you.
In seven days if you've read this post.
Eighteen years after the Japanese original, and 13 years after the events of 2005's The Ring Two, which is a sequel to the 2002 American remake, and directed Hideo Nakata, the original director of the Japanese original…. are we running circles in your head yet?
Basically, Sadako Yamamura is coming back.
Or Samara Morgan. Depending on which lore your favour.
Rings, by up and coming Spanish director F. Javier Gutiérrez, serves as the third chapter to the American chapter of The Ring, and we cannot wait to see how he brings about a new version of she-who-loves-crawling-up-a-well-and-out-of-your-TV-to-twist-your-face. Watch the first trailer reveal above, if you dare.
And what we would really like to know is how the curse translates in this new digital age, where even if the VHS tape gets in your hands, how many people actually still own a VCR capable of playing the tape?
Maybe that's why the cursed object now takes on the form of something new… like this notebook?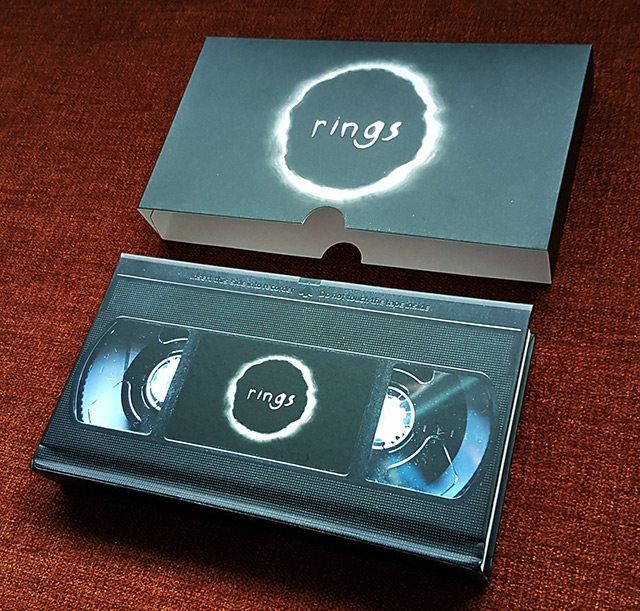 UIP Singapore sent this over, but while we appreciate the gesture, no one here would think of opening the book, much less write on one. So we're going to pass along all five of these one-of-a-kind VHS notebooks to you. Enjoy.
Here's How You Can Win
Simply complete these 2 steps and you can stand to win 1 of 5 one-of-a-kind VHS-style notebooks:
SHARE THIS POST and TAG a friend or more:
Fill in the form below and tell us what new medium should replace the VHS tape in this sequel. Or do you think a VHS tape still matters?
Give us a LIKE below if you haven't done so yet, so you won't miss out of future similar giveaways!
[GIVEAWAY HAS CLOSED]
The giveaway is open to all residents of Singapore, and closes on  31 August 2016 @23:59hrs (GMT+8). 5 lucky winners will be picked at random. The winners will be announced here and be notified via email by 2 September July 2016. Good luck!
And here's a little something from IKEA, just for laughs.
---

Drop a Facebook comment below!