Marvel's Guardians of the Galaxy is a spectacular game and we are excited to share this brilliant piece of the Marvel universe with you. Developed by Square Enix and Eidos Montreal, this is a game for fans of both the characters, the movies, and the comics! It's also a well-written and friendly enough game that newcomers to the franchise can jump right in and find out how Marvel accrued billions of loyal fans.
In other words, Marvel's Guardian of the Galaxy will rock your world.
Get to know the Guardians well, and understand how they coordinate in battle in order to overcome adversaries. Find out how they are able to solve puzzles and explore outer space as an eclectic yet tight team. Star-Lord may be the only character the players can control directly, but that simply makes the player feel like they are assuming the role of leader and commander of a superhero team.
The franchise's silly sense of humour is present too, for example when Star-Lord has to use song lyrics to give the team a boost. This is a game that fans won't want to miss.
Great soundtrack, gameplay, story, and characters. Seriously, what is not to like? The game is available on the PlayStation 4 and PlayStation 5, and Geek Culture is giving away three PS4 physical copies of the game, which can be upgraded to the PS5 version for free. Each winner will also get a Marvel's Guardians of the Galaxy artbook and get a peek at the creative and development process of the game.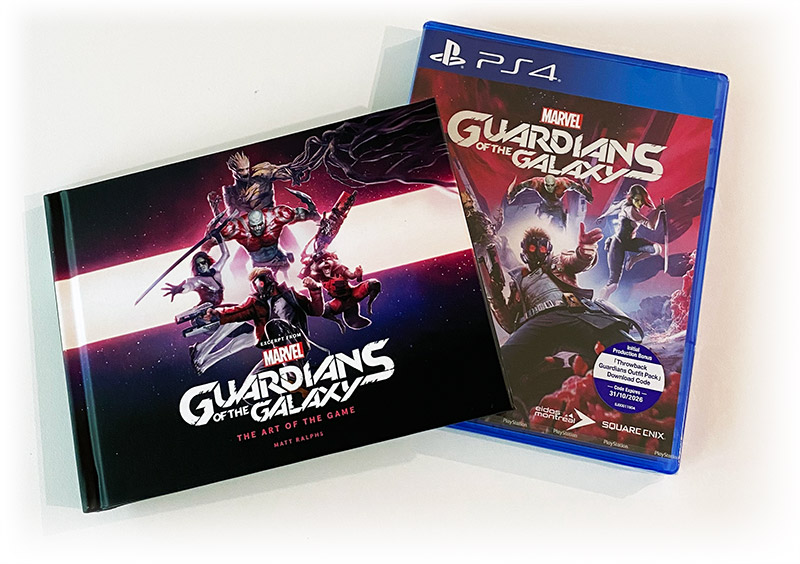 ---
ENTER NOW TO WIN
To stand a chance to win the game and artbook for yourself, simply complete these simple steps:
SHARE THIS POST and TAG a friend or more** you would like to share the giveaway with ->
Fill in the form below and answer a couple of simple questions.
Give us a LIKE below if you haven't done so yet, so you won't miss out on future similar giveaways!
If you are unable to use the form below for some reason, head to the original article on GeekCulture.co here.
The giveaway closes on 6 November 2021 at 23:59hrs (GMT+8) and open only to Singapore residents. Three lucky winners will be picked at random. The winners will be contacted via email by 8 November 2021. Good luck!
**These steps are entirely optional, but we greatly appreciate if you choose to show some support to Geek Culture by sharing and tagging the post so that we may be able to bring more giveaways to you all in the future!