[UPDATE 22 June 2017: Winner Announcement! Congratulations to Huluba Mihai, Leong Wang Yee Rhys, Nelson C Lachica, Clark Kendall Quion and Jeremy Tan! Please check your emails for prize redemption details.]
Superheroes and fighting are never far apart, after all, what good is having super strength if you cannot punch someone through the wall? Thankfully, NetherRealm Studios has that covered with their latest superhero brawler, Injustice 2! With near to 30 fighters and more incoming via DLC, this is the premier fighting game that both DC fans and fighting games enthusiasts can learn and master. We absolutely adored this sequel, with its strategic depth as well as a story that is engaging and interesting, not something you can say for all fighting games.
With each character possessing a unique set of skills and fighting styles, you will most certainly be able to find one you are comfortable with. Mastering combos is easier than before, but if you really want to wipe the floor with your opponents, practice is still key. Injustice 2 is both an accessible yet deep game, rewarding both newcomers and veterans with different but still enriching experiences. Did we mention how beautiful this game looks? The animations are top-notch and coupled with the wonderful voice-acting, you can easily mistake it for a high budget animated production.
Coming in June will be Fighter Pack 1, which will grant players access to three new fighters, namely Red Hood, Starfire, and Sub-Zero of Mortal Kombat fame!
If you were already interested but still have not gotten your hands on a copy of Injustice 2, we want to help you!
---
5 CODES FOR INJUSTICE 2 UP FOR GRABS!
Get into the thick of the action by answering a few questions and win yourself a code for Injustice 2 for the PlayStation 4 (Asia/R3 region)!
To stand a chance to win, simply complete these 2 simple steps:
SHARE THIS POST and TAG a friend you would like to play the game with. ->
Fill in the form below.
Give us a LIKE below if you haven't done so yet, so you won't miss out on future similar giveaways!
[GIVEAWAY HAS CLOSED]
This giveaway is open to all owners of a PlayStation 4! Contest closes on 21 June 2017 @ 23:59hrs (GMT+8). 5 lucky winners will be picked at random. The winners will be announced here and be notified via email by 22 June 2017. Good luck!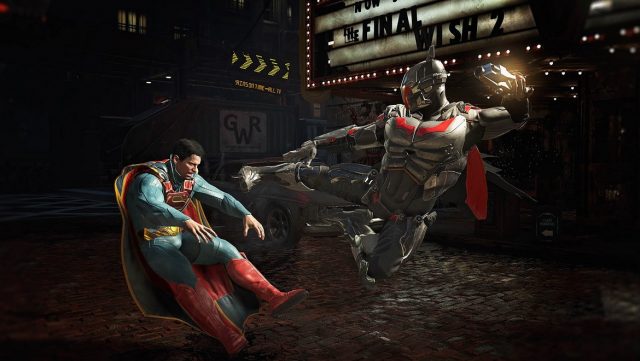 ---

Drop a Facebook comment below!