He's played the painfully charming and handsome lead on Netflix's Bridgerton, and the painfully evil villain in Netflix's The Grey Man, so is it a surprise when Regé-Jean Page plays the painfully righteous and heroic paladin Xenk in Dungeons & Dragons: Honor Among Thieves?
But really, would his army of female, and male fans, really care? Well, the 34-year-old British-Zimbabwean actor doesn't. Not really.
Known as the Duke of Hastings in the Netflix period-romance, Page easily swept viewers off their feet by earning the Diamond of the Season and admittedly, a couple of hot sex scenes but after just one season as a desirable bachelor, he then dived deep into playing a villain in The Gray Man. Having played both ends of the spectrum, Page only slightly prefers playing the knight in shining armour.
"Heroes and villains – they're the same. They're the opposite sides of the same coin. I think the joy of both of them is that they're very uncompromising men, they will do what is necessary to achieve what they want and I think I like plugging into that about both characters," said Page in an exclusive interview with Geek Culture.
"I think that there is a glee to being both that evil and that good. They're not as dissimilar as you might think. I think evil might be slightly more fun, but good might be slightly more satisfying. There's something very, very satisfying about being able to hold your ground as the literal knight in shining armour that Xenk is with his bellowing heroic cape and get to then jump in and literally slay dragons with your sword like that's a real kick."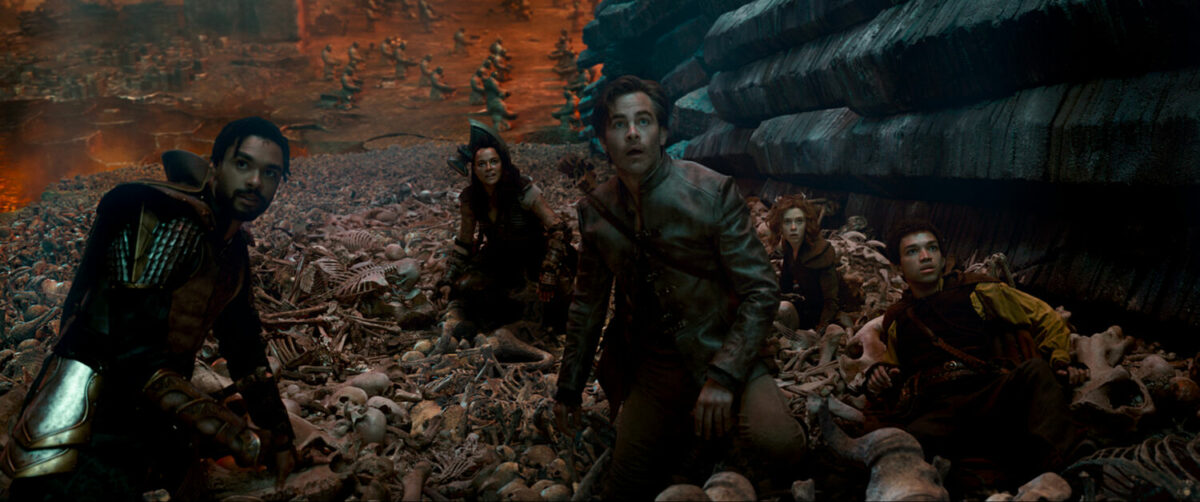 In Honor Among Thieves, the latest big screen adaptation of the highly successful and popular Dungeons & Dragons tabletop role-playing game, Page's Xenk is part of a team of heroes comprising Edgin (Chris Pine), Holga (Michelle Rodriguez), Simon (Justice Smith), and Doric (Sophia Lillis), who are embarking on an epic quest to retrieve a long lost relic, with Forge (Hugh Grant) standing in their way. A smiting hero and an absolute brawn, Xenk can be a bit too serious for his own good. He is virtuous and would slay monsters and save tiny injured creatures while he's at it but – in Page's own words nonetheless – is ridiculously heroic and painfully righteous. Xenk is no life of the party, but the members of the team do respect him. 
And if you are living under a rock and haven't heard of or seen Page in his roles, search up 'tall, dark and handsome' and Page is the very definition. The actor exudes a certain charm and his kind eyes and dashing smile is reminiscent of a fairytale Prince Charming. Simply said, Page is perfect and it's this very perfection that fans love about the star.
So is Page anything like Xenk? Admittedly, more so than he would like to acknowledge, Page confesses.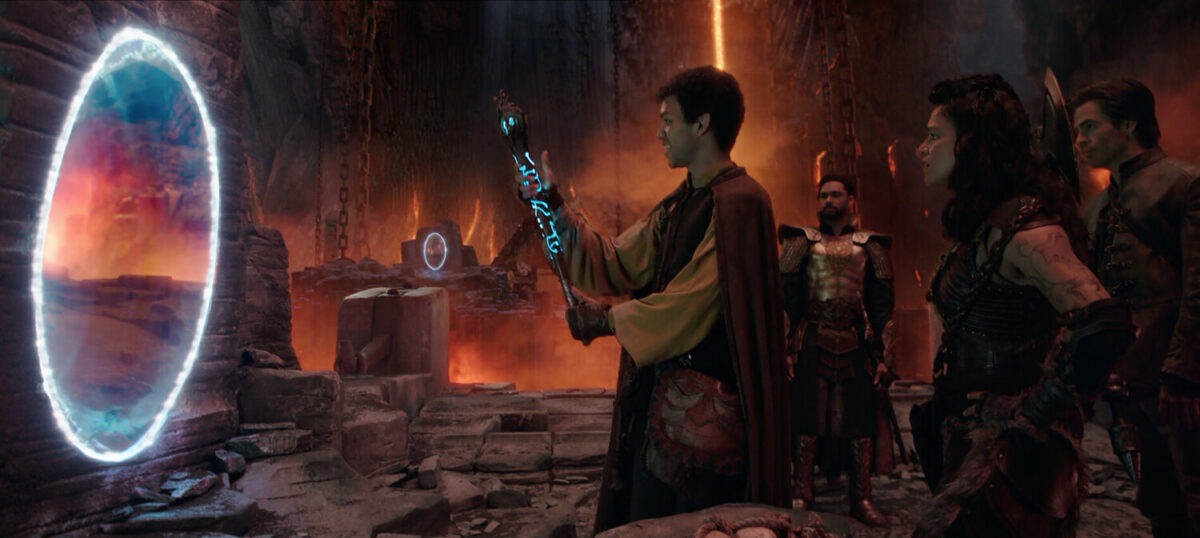 "I wish I could say no. I think unfortunately, John [Francis] Daley's already exposed me on this. We played a big game of Dungeons & Dragons as a group before we started filming and because I'd grown up playing games a little bit similar to Dungeons & Dragons, I was ready like, I knew the mechanics, I knew the rules. They jumped in and John was like, 'Yeah, Regé knew what he was doing and he took it very seriously, which fed directly into the character.'"
"So I'm not sure I can deny that. I think the answer is that yes, I'm a little bit similar to that but I like to think that I have a bit more fun," said the actor.
Paladins may not necessarily be the most fun member to have in your campaign, but they're still an asset. Page would know because that's the same class he plays in the actual D&D campaign all cast members had to play, to get familiar with the source material. It's not something Page is particularly proud of – especially with the seriousness – but he adds that he's at least a little bit more fun than Xenk.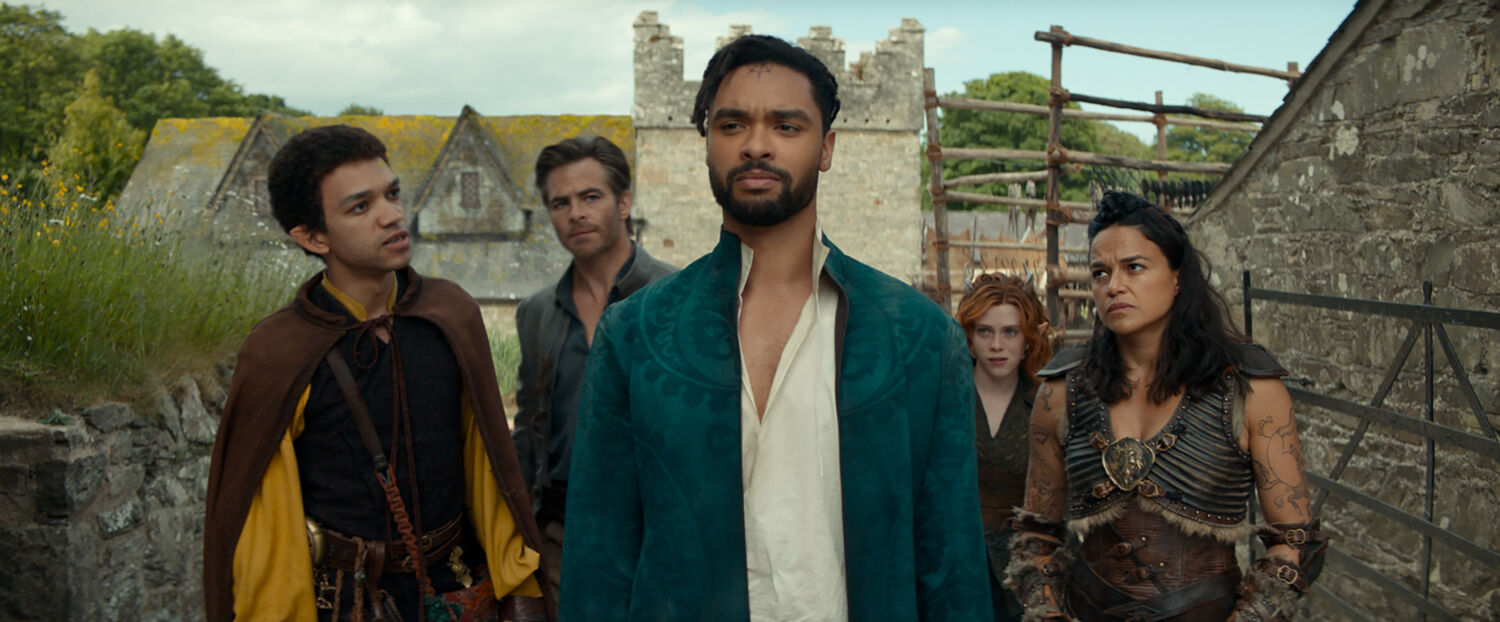 And playing D&D before filming was actually a brilliant idea. Not only did it allow the cast to bond with one another and get to know their characters and classes better, it gave the actors insight on how to bring the fun and freeing aspects of the game into the movie.
"I was able to bounce off the wacky things like Chris was doing on my right, and Michelle's on the other side of the table, and Sophia is turning into an eagle every two seconds doing crazy things so I think that spirit of enjoying the unexpected, wacky things are happening at the table is what we soak into the movie," said Page. "And so we kept working to surprise each other, and bring out things that no one saw coming and if we were laughing, then hopefully you guys would be laughing at home."
The energy and chemistry between Page and his co-stars were definitely reflected on screen, even if their characters don't exactly hit off well. Take Edgin for example. The character has a one-sided dislike for Xenk as Edgin's slippery and joke-like outlook and personality clashes greatly with his serious and virtuous personality. He does grow to admire Xenk eventually, but the admiration was earned.
"It was a joy on set to be able to work with how sharp Chris is. Chris is so quick and so in tune with what the movie needs. He's a great leader on set. He's so good at steering where a scene needs to land and what the energy on set won't be in that scene so it was just being able to kind of lean into that and know that whatever I threw out, Chris would be able to bounce off of. Whatever he threw at me, I'd be able to bounce back at him and so it was just really, really good fun being able to play in the way that actors do at that higher level with Chris," shared an enthusiastic Page.

A character that Xenk perhaps got along with is Holga, though there weren't many scenes of them together, the two characters being the brawns of the group means they are often front and centre when it comes to slaying dragons and saving teammates in need.
When asked who would win in a fight between Xenk and Holga, Page gave it a quick thought and went back and forth on his answer before locking it in.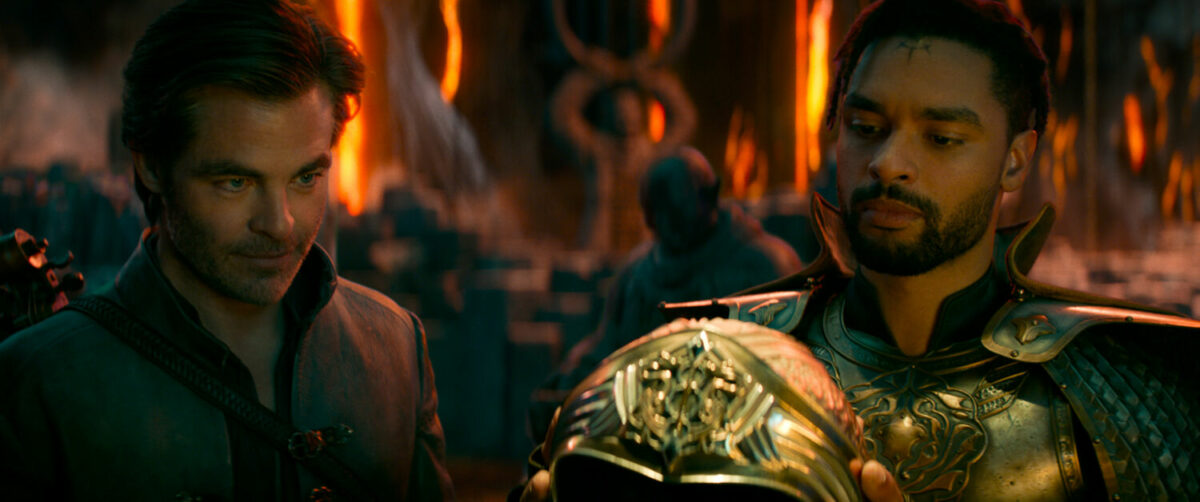 "I think, you know, I gotta back my boy Xenk. I think Xenk could win. I don't think it'd be an easy win. I think that Xenk…" he said before pausing to think even further. "You know what, no, I'm gonna change my answer. Xenk would lose but because he let Holga win in order to be honourable."
Fun fact: his response was exactly the same as Rodriguez's.
"No way. Are you serious? There we go. We know our characters. We know how this works."