No actor has a grip on Hollywood and global audiences quite like Tom Cruise. The man is a gorgeous, butt-kicking action hero who does his own stunts, fights his own battles, and even flies his own planes, so it's no wonder that the 59-year-old continues to charm us even after 40 years and over 40 movies (and counting) in Hollywood.
Cruise is a versatile and entertaining actor who has been nominated thrice for an Academy Award, won 3 Golden Globe Awards and whether you'd like to admit it or not, ages just like fine wine. As Top Gun: Maverick hits cinemas on 25 May 2022, let us reminisce on our top 10 favourite Tom Cruise movies that you need to watch (or re-watch) to understand why we, and Hollywood, will always love him.
---
The Color of Money (1986)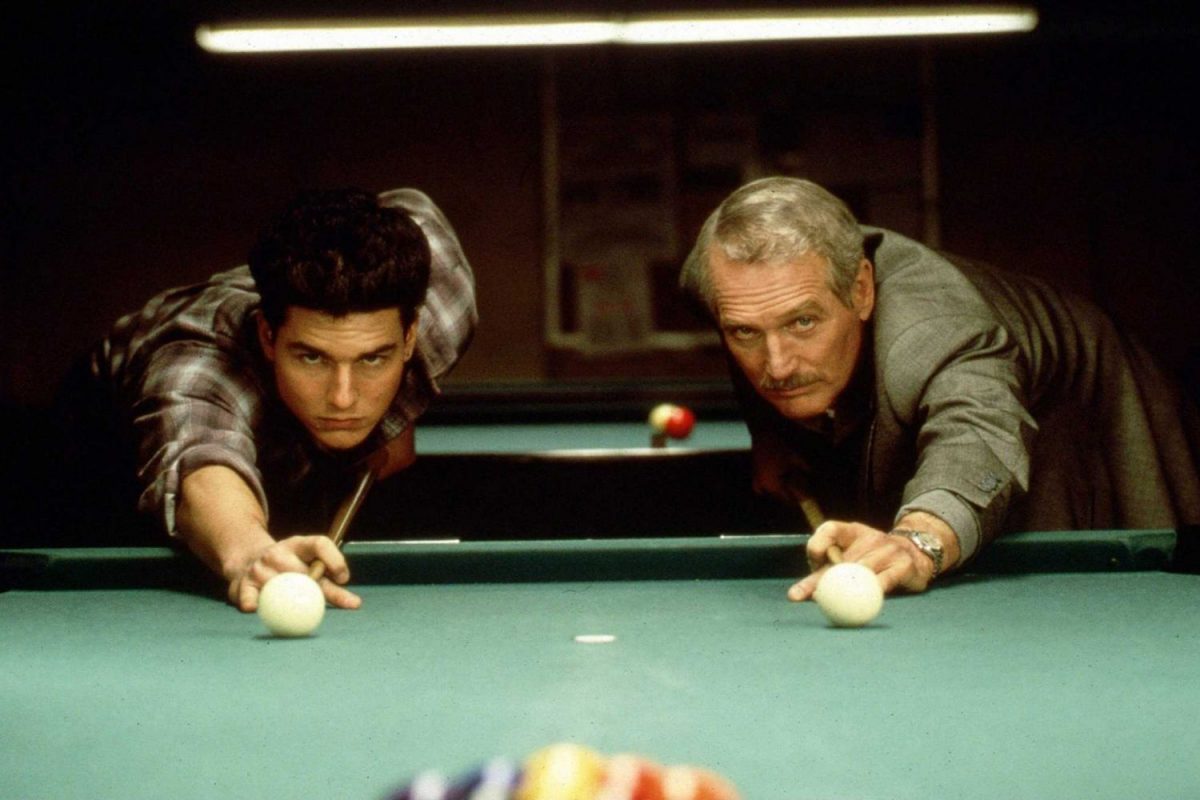 The Color of Money is a sports drama film created from a screenplay by Richard Price, based on the 1984 novel of the same name by Walter Tevis. Directed by Martin Scorsese of Taxi Driver (1976) and After Hours (1985), The Color of Money is also a soft reboot of The Hustler.
In this film, Cruise plays Vincent, a promising pool player who takes the eye of a pool hustler named Edward "Fast Eddie" Felson (Paul Newman). Eddie offers to teach Vincent how to be a hustler and takes him on a tour through the country to work the pool halls. However, Vincent's tendency to show off his talent causes them to lose money and creates even more tension between the two.
The plot is nearly identical to The Hustler, and wrestles with the same theme of the ultimate emptiness of gambling culture but the tone and style are radically different. One of the main reason for the change of energy is due to the cast and characters. Whilst Vincent follows in Fast Eddie's footsteps, they're two completely different people. Fast Eddie has already been beaten down and made personal sacrifices in order to justify his behaviour. Vincent, on the other hand, just enjoys goading veteran players with his youthful overconfidence. Coming straight off the success of Risky Business, The Color of Money saw Cruise at his most charismatic,
---
Rain Man (1988)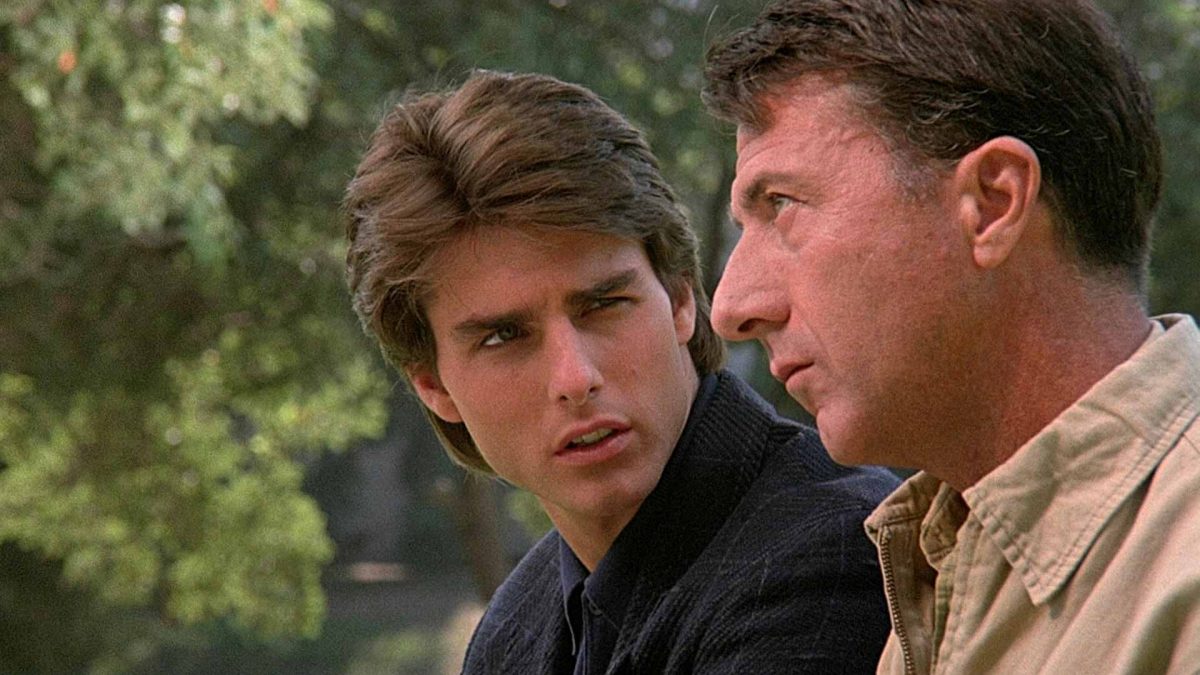 Charles Sanford "Charlie" Babbit is a self-centred Los Angeles-based automobile dealer who is at war with his own life. Charlier later learns that his estranged father died and had left a huge inheritance to be distributed to someone. Charlie seemed pretty angry by this and decides to look into this matter. It seems as if that "someone" is Raymond, Charlie's unknown brother, an autistic savant who lives in a world of his own, resides at the Walbrook Institute. Charlie then kidnaps Raymond and decides to take him on a lust for life trip to the west coast as a threat to get the inheritance.
Directed by Barry Levinson, Rain Man is a completely moving, emotional, funny and unforgettable movie. Dustin Hoffman as Raymond might've stolen the show but Tom Cruise as Charlie is a stand out too.
This tearjerker of a movie is one of the earliest signs that Cruise is a movie star, and his performance as the smarmy yet caring man added to the launch of his career towards stardom.
---
Born on the Fourth of July (1989)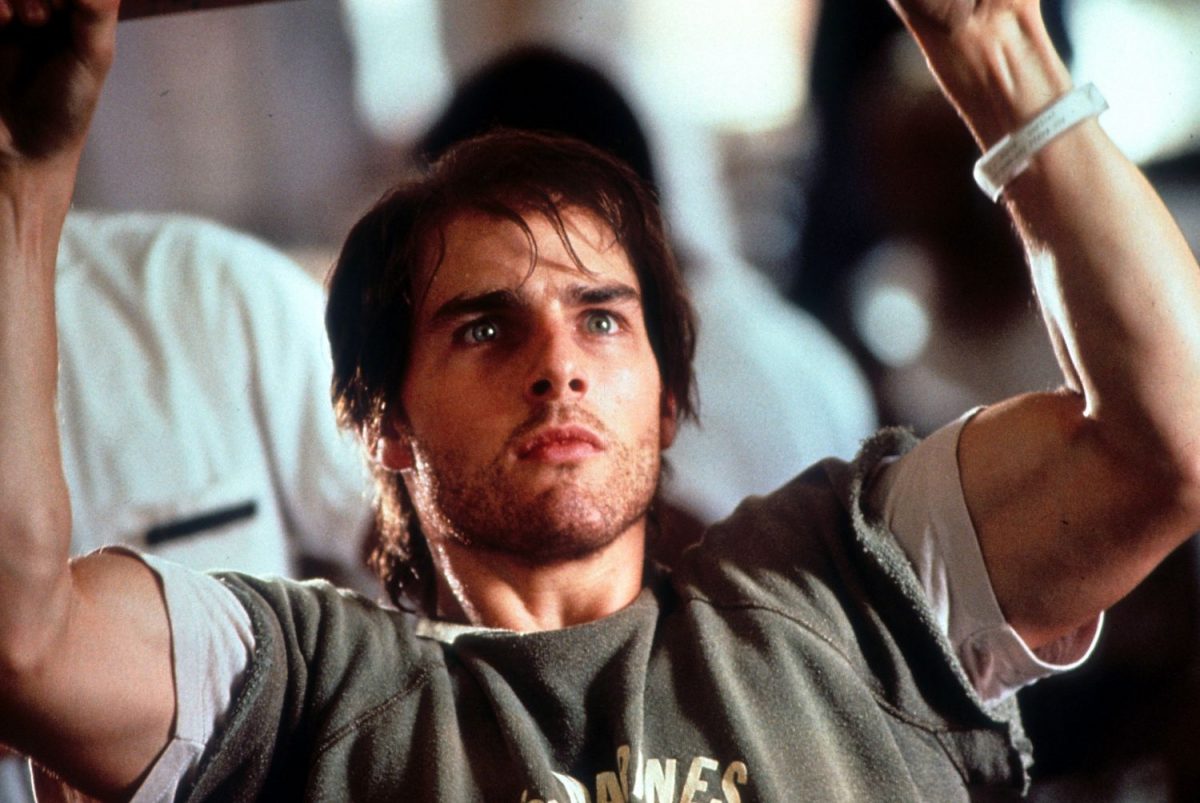 Born on the Fourth of July is the biography of Ron Kovic, a teenager who joined the United States Marine Corps after he attends an Independence Day parade with his family and best friend on his birthday, on the Fourth of July. Paralyzed in the Vietnam war, he becomes an anti-war and pro-human rights political activist after feeling betrayed by the country he fought for.
Cruise plays protagonist Kovic in this true story and his performance as the embittered but resilient Kovic is astounding and is further evidence of his incredible range as an actor. Cruise received an Academy Award nomination for his performance and whilst he didn't get the Oscar, the real Ron Kovic gave the actor his bronze star.
Born on the Fourth of July opened to huge critical and commercial success, and won Oliver Stone the Best Director Oscar, but it has not received the same place in film history as Stone's other Vietnam picture, Platoon, or the other great war movies of the period including The Deer Hunter, Full Metal Jacket, and Apocalypse Now. We think Born on the Fourth of July deserves to be more than just second best because twenty-seven years later, the movie is still a powerful indictment of the way America treats its veterans.
---
A Few Good Men (1992)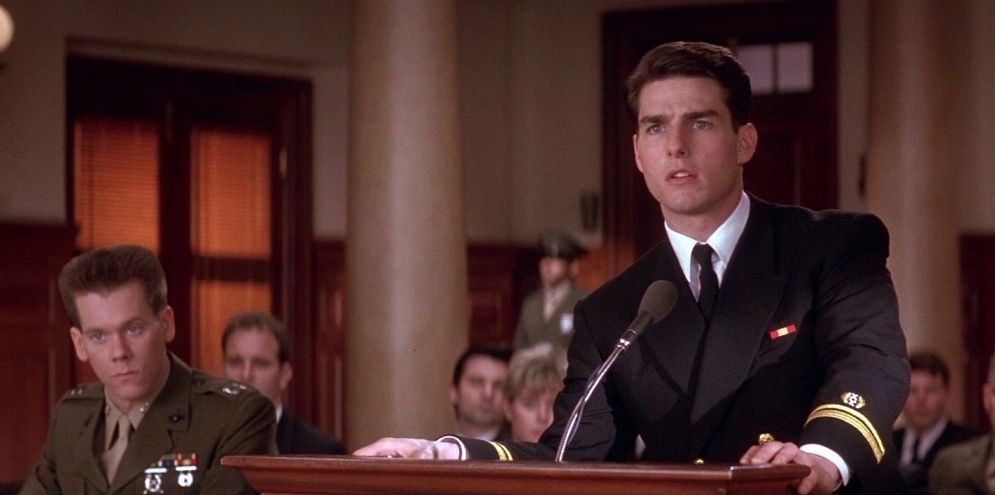 Legal dramas were a huge thing in the 90s and Rob Reiner's A Few Good Men could have been just one of the many that came out then if it wasn't for the brilliant cast that includes Kevin Bacon, Kevin Pollak, J. T. Walsh, Cuba Gooding Jr., and Kiefer Sutherland. Cruise stars as Lt. Daniel Kaffee, a Navy lawyer defending two U.S. Marines charged with killing a fellow Marine at the Guantanamo Bay Naval Base in Cuba.
While Kaffee often uses his charm to haggle his way toward the quickest, easiest solution, this case is different as fellow lawyer, Lt Cdr. JoAnne Galloway (Demi Moore), convinces him that the accused marines were most likely carrying out an order from a commanding officer. Kaffee takes a risk by calling Col. Nathan R. Jessep (Jack Nicholson) to stand in an effort to uncover the conspiracy.
The final courtroom scene, when Cruise and Nicholson go up against one another is electrifying and Cruise holds his own (as both his character and as an actor) against the forcefully aggressive Nicholson.
A Few Good Men is a must-see movie, especially for ex-military or people who are planning to join the military or folks who are planning to join the military. With a talented cast and an impressive performance by Nicholson and Cruise, A Few Good Men makes it to the list. No questions.
---
Jerry Maguire (1996)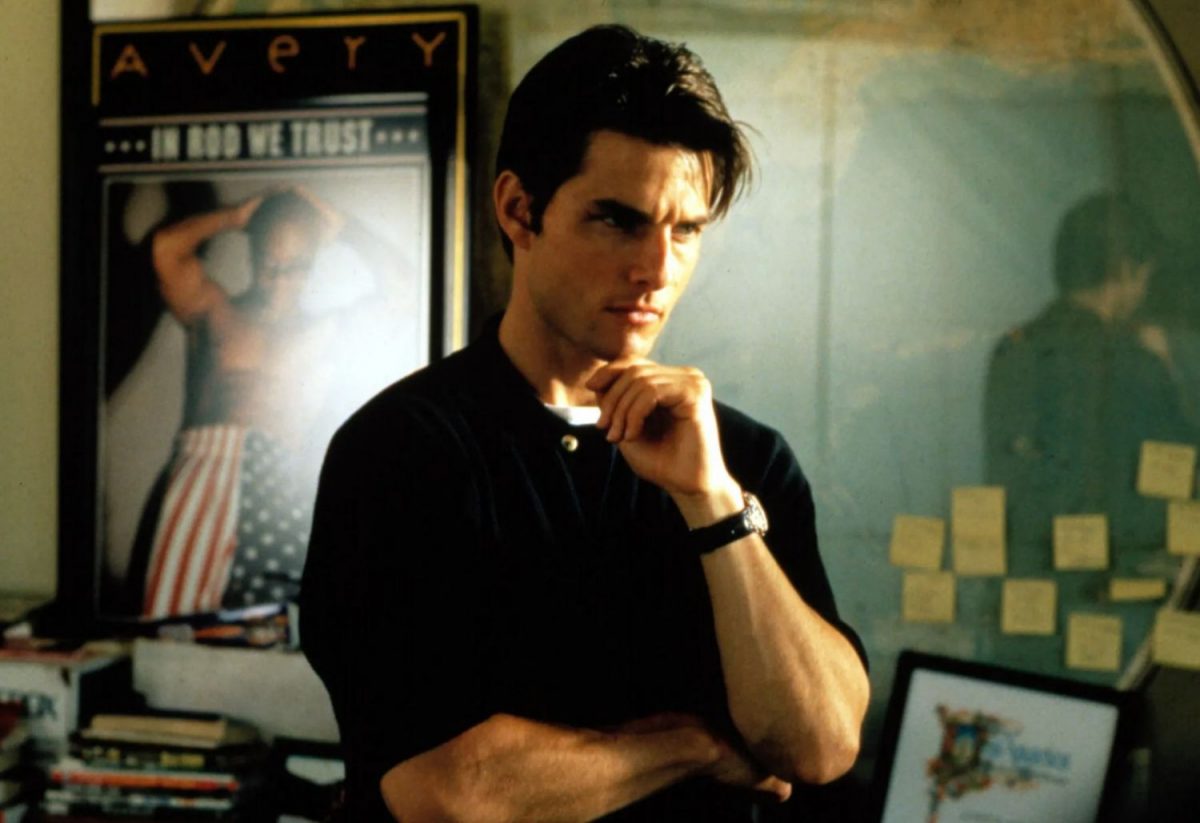 Tom Cruise is a heartthrob, but few would consider Cruise to be the leading man in a romance movie, because that's not a genre Cruise, or his fans, sees himself in. Unless it's a unique romance like Jerry Maguire, directed by Cameron Crowe.
Cruise plays the titular character Jerry, who is a successful sports agent, and not much else. Jerry has it all – the biggest clients, the respect, a beautiful fiance – until one night, he questions his purpose. In an attempt to put his new philosophy to the test, Jerry becomes an independent agent, establishes real relationships with his client and those around him, and discovers himself.
Cruise is funny in this disarmingly sweet movie as he begins to fall in love with his secretary Dorothy (Renee Zelwegger). Jerry Maguire is incredibly quotable too, with lines including, "You had me hello.", and 'Show me the money."
---
Minority Report (2002)
This is what happens when you put the biggest director in Hollywood in the same room with the biggest actor in Tinseltown. In the year 2054 A.D., crime has been virtually eliminated from Washington D.C, thanks to an elite law-enforcing squad Precrime which uses three gifted humans with special powers to see into the future and predict crimes beforehand. Cruise's character John Anderton was a believer in the system until it gets predicted that Anderton will commit a murder himself in the next 36 hours. Worse, Anderton doesn't even know the victim. In hopes of proving his innocence, Anderton sets out to find the 'minority report'.
The movie is one of Cruise's forays into the sci-fi territory and gave him the opportunity to play a hero and action star again as we see him engage in all kinds of chase scenes, artfully combined by auteur, Steven Spielberg.
---
Collateral (2004)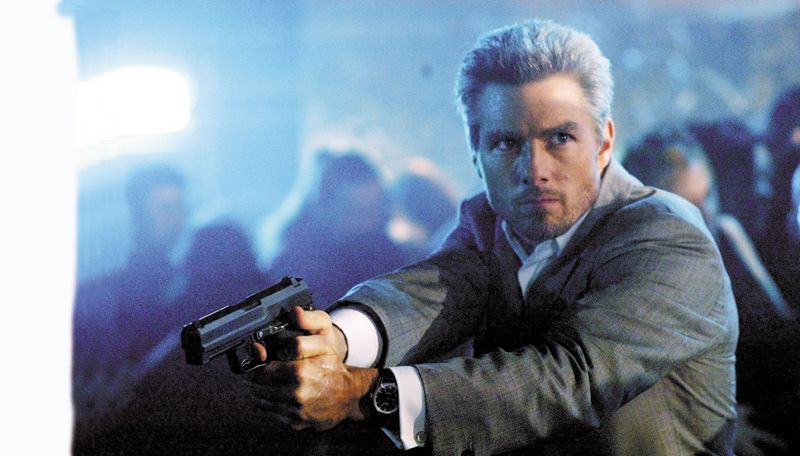 This neo-noir action film, directed and produced by Michael Mann, follows Max, a Los Angeles cab driver and his customer Vincent. When offered a high fare for driving to several locations, Max agrees but soon finds himself taken hostage by Vincent who turns out to be a hitman on a contract killing spree. When Max learns the identity of one of the victims on Vincent's hit list, Max tries slyly at every turn to take back control of his life from Vincent.
What makes this movie stand out is that Cruise plays the role of Vincent, the killer, and Jamie Foxx plays Max. Whilst both actors are commendable, this is one of the rare times viewers get to see Cruise as a villain. How was he, you ask? Frightening. This film further proves how versatile Cruise can be as an actor. He's not just a good guy or a hero, he can play a killer too.
---
Edge of Tomorrow (2014)
Edge of Tomorrow is a science fiction action film that is adapted from the 2004 Japanese novel All You Need Is Kill by Hiroshi Sakurazaka. The film takes place in a future where most of Europe is occupied by an alien race.
Cruise plays Major William Cage, a cowardly public relations officer with limited combat experience who is forced by his superiors to join a landing operation against the aliens, only to find himself experiencing a time loop where he lives out the same brutal combat over and over, fighting and dying again and again.
As he gets to live each day anew, Cage becomes able to engage the adversaries with increasing skill, alongside Special Forces warrior Rita Vrataski (Emily Blunt). As Cage and Vrataski take the fight to the aliens, each repeated encounter gets them one step closer to defeating the enemy. The Groundhog Day element used here is not new, but director Doug Liman, together with Cruise and Blunt, deliver a wonderful sci-fi action-adventure that is worth a rewatch, and then some.
---
Mission: Impossible Trilogy (2011 – 2018)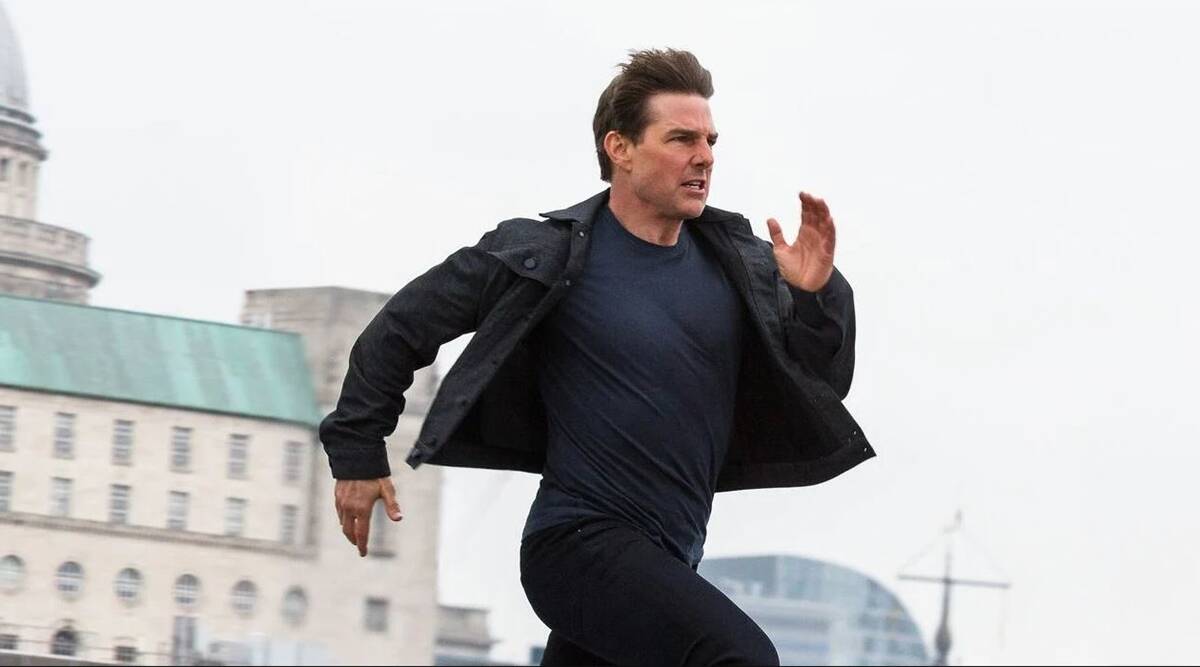 There is no way this list could exist without a Mission: Impossible movie on it. Whilst there are plenty of Mission: Impossible films to choose from, the best ones are the latter films that work best as a loose trilogy – Ghost Protocol (2011), Rogue Nation (2015) and Fallout (2018).
As Ethan Hunt, Cruise has saved the day time and time again, and he has done so while tackling dangerous sequences without the aid of a stunt double. The action spy film franchise has received positive reception from critics and audiences alike and is the 16th highest-grossing film series of all time with a worldwide gross of over US$3.5 billion to date. It's also been cited as one of the best action franchises to date.
Surely, the franchise's success has Cruise to thank as the lead actor and producer. But okay, directors Brad Bird and Christopher McQuarrie had a hand too.
---
Top Gun: Maverick (2022)
Any child of the 80s would be familiar with 1986's Top Gun. Filled with iconic music, dialogue, actors and action, the ultimate Naval aviator movie was responsible for sealing Cruise's reputation as an A-list star, and remains one of the most iconic movies from that era that never received a sequel. Until now.
In director Joseph Kosinski's Top Gun: Maverick, Cruise returns to the role of Pete "Maverick" Mitchell, but not as a cocky student, but rather as a mentor to new students at Top Gun. Early reviews from critics (read ours here) suggest that Top Gun: Maverick may even be better than Top Gun itself. 
Offering closure to one of the most beloved characters in Hollywood, Cruise's return and performance hits all the right emotions and brings nostalgia with such reverence, that we can't think of any other sequel with a story-telling edged this strong.
---
This leads us to our Bonus Film:
Top Gun (1986)
Top Gun wasn't Cruise's first movie, nor is it his best, but it was the first major hit of his career, sealing his reputation as an A-list star.
Under the direction of Tony Scott, Cruise plays Lt Pete "Maverick" Mitchell, a student at the United States Navy's elite fighter weapons school called Top Gun. Impetuous and daring, the impulsive young pilot competes with the best of the best students, including Iceman (Val Kilmer) who is highly competitive.
Top Gun was an adrenaline rush that viewers can feel as they watch Maverick pull dangerous midair stunts in the sky. Cruise was both an action hero and a romantic lead in the film and he delivered both roles successfully.
The movie isn't the strongest film, but it had a massive box office appeal and is still one that is talked about with fondness today, especially with a sequel in tow.
What's your favourite Tom Cruise movie? Let us know!
Top Gun: Maverick takes to the skies on 25 May 2022.