One of the best things about playing with toys is that there are no boundaries – building blocks can mix with action figures, and dolls can interact with miniature cars – and the limits are your imagination. Now imagine having that sort of mash-up creativity, with the aesthetics of a photographer.
Such is the case for Singaporean toy photographer Sunny Ang, a hobbyist toy photographer who has spent five years perfecting his craft. Now, Sunny, along with four other photographers, will be using their skills in toy photography to help give back to society through Geek Culture's very first Charity Auction 2020.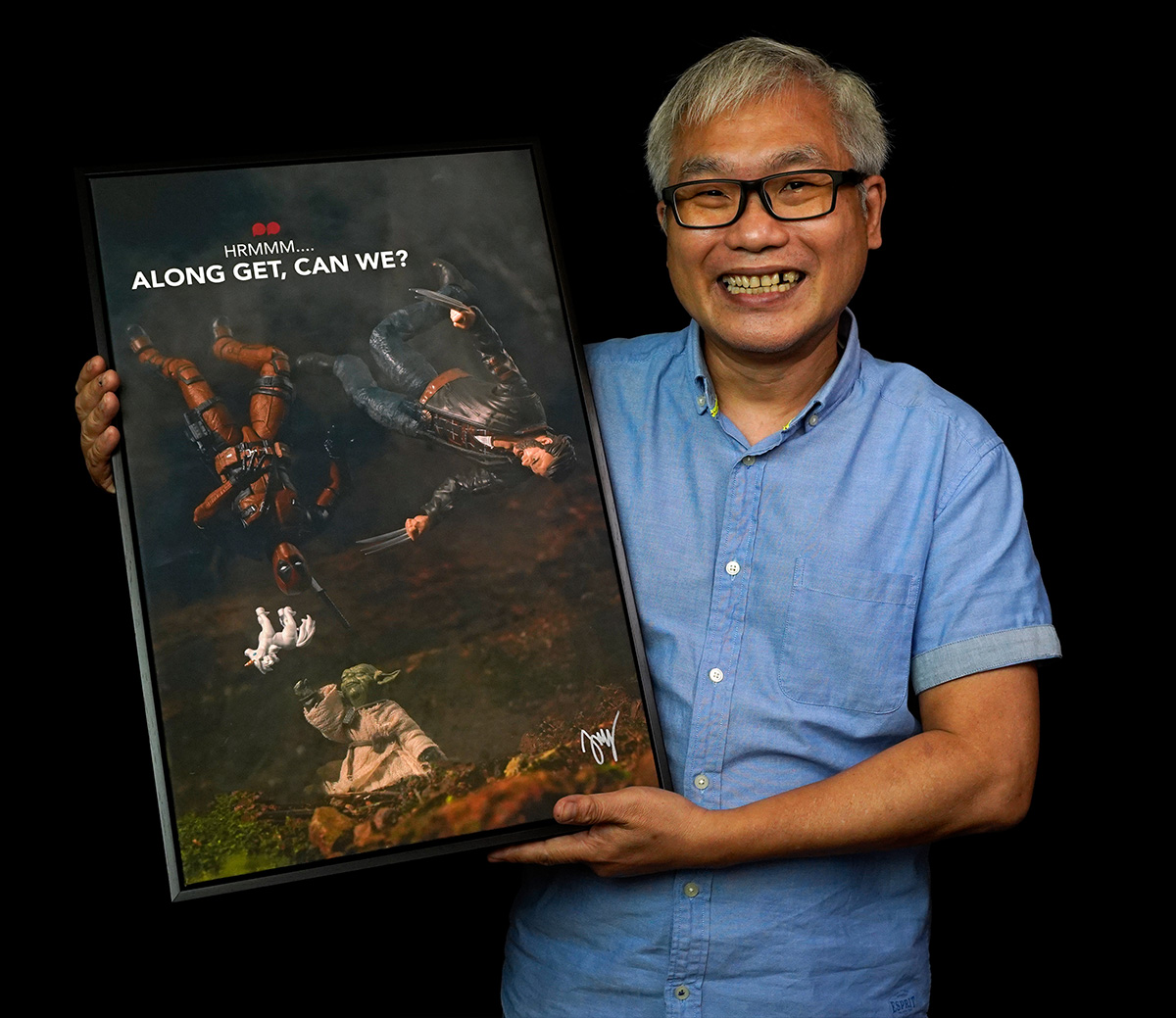 Alongside fellow local toy photographers Joel "Tiger" Magno, James Xie, Ken Loh, and Johnson Foon, Sunny was given the task to showcase their action figure of choice (courtesy of Hasbro Singapore) in as epic a fashion as possible, while sticking to their given theme. Which in Sunny's case, happened to be "Levitation".
Prior to shooting their photos, the photographers were all given a chance to pick their preferred action figures and for Sunny, he immediately took this chance to pick Deadpool, a character he has always wanted to shoot a photo of.
"I have always wanted to do a photo with Deadpool and didn't own that figure yet at the time of the shoot, so this opportunity came at the right time," explained Sunny. Aside from Deadpool, Sunny also decided to pick out a Wolverine and Yoda figurine, since he had the idea of mashing up different characters in one photo for his final piece.
Sunny's final piece ended up being a fun crossover between Star Wars and Marvel, with Jedi Master Yoda trying his best to mediate between Deadpool and Wolverine.
"Along get, can we?" asks Yoda as he levitates both the Marvel superheroes. We have to say Wolverine looks extremely disgruntled to be levitated by Yoda.
"The idea for my shot came almost immediately when the toys given out by Hasbro were shown to the participants. The theme assigned to me was levitation. Whenever I receive a brief, one of the first few things I would do is to google the word and check out existing images as a springboard for ideas," said Sunny, explaining the creative process behind his shoot.
"In this case, when I saw the Yoda figure, I immediately had various possibilities in my mind. As he was the only one I know in the lot of figures to choose from that has magical powers of levitation, the only thing left was to figure out what or who he would levitate."
For those who might be wondering just what argument is Yoda mediating, it turns out Sunny went full meta mash-up, and drew inspiration from Hugh Jackman and Ryan Reynolds' (the actors who played Wolverine and Deadpool in the movies) long-running real-life feud which dates back all the way to 2008. It features a mix of hilarious comments on social media, including one with Jackman calling security on Reynolds, Jackman/Reynolds face masks, and even had fellow actors such as Jake Gyllenhaal joining in the feud.
Aside from the pair, Sunny also wanted to feature Yoda in his photo, so he "made him the mediator and separated the two combatants the only way Yoda would."
Of course, taking a shot as elaborate as Sunny's could not have been a walk in the park and as Sunny shares, he did face some difficulties with getting his photo just the way he wanted it.
"Getting just the right smoky atmosphere and trying to create dramatic lighting was a challenge," said Sunny. As it turns out, the difficulties Sunny faced also happened to be some of the best things he liked about the photo.
"I enjoy the humour of the photo of Yoda levitating Deadpool and Wolverine and also the small details like the sword sliding off halfway from Deadpool and the falling unicorn. The smoky atmosphere is also one of my favourite things about this shot."
Having spent time working with these three toys by Hasbro Singapore, Sunny's advice to others looking to try shooting with such figurines is to "take that extra time and check the [action figure's] poses" before clicking the shutter button.
"Hasbro toys are pretty articulated and getting them into a realistic pose is pretty easy. The challenge is to make use of the great articulation and adjust the figures in such a way that the figures are interacting in a realistic matter. For example, when in a fight scene, to make sure the one throwing the punch and the one receiving it are posed as dynamically and realistically as possible," explained Sunny.
The photos that Sunny and the four other toy photographers took are printed and framed in A2 size, and being auctioned off to the highest bidder by the end of the Charity Auction on Give.Asia's website.
All proceeds will be donated to the local non-profit organisation Blessings in a Bag that is aimed at assisting low opportunity, under-resourced youths, as well as empowering the community to help support one another.
The charity organisation first started as a volunteer-powered community with the goal of providing every child and their families in need of help with the essentials they need to not only survive, but thrive. Blessings in a Bag partners with social-service organisations to help serve communities in need through donations or incentivised programmes to better empower them to take charge of their lives.
They have previously collaborated with companies such as Amazon Singapore whereby the e-commerce cooperation encouraged members of the public to donate to the non-profit organisation by purchasing items that BIAB needs through its wishlist on Amazon.sg.
With regards to the Charity Auction, Sunny shared that he "has never really thought" of using his photos for charity and "this was certainly a great opportunity to showcase my toy photography works and do some good at the same time. Win Win!"
Through the charity, aside from giving back to the community, Sunny ultimately hopes that this will be a good opportunity for people outside of the toy community "to discover this niche genre of photography."
Geek Culture's inaugural Charity Auction is running from 30 October till 30 November 2020, and will be held on the campaign's Give.asia page.