On 20 May 2016, Paramount Pictures beamed up various members of the media and social media influencers from around the world, to the first ever Star Trek Fan Event at Paramount Pictures Studios in Los Angeles. Folks from Turkey, Germany, China, Taiwan, and Malaysia were all here, including yours truly, representing Geek Culture, as the only Singapore representative. I have UIP Singapore to thank for this very special invite.
As expected, Paramount, as the sole steward of the Star Trek movie franchise, focused solely on the upcoming Star Trek Beyond movie, starring the NuTrek stars, Chris Pine, Zachary Quinto, Karl Urban, and directed by newcomer Justin Lin. The movie's release in June is set to mark the 50th Anniversary of the Star Trek franchise that began in 1966 with the original Star Trek TV series, led by William Shatner, Leonard Nimoy and DeForest Kelly.
JJ Abrams & Justin Lin
The event kicked off with the introduction of Adam Savage (of Mythbusters fame) as the host for the night. He then introduced Star Trek reboot movie series producer JJ Abrams and director Justin Lin, to join him for an on-stage interview. JJ Abrams spoke about how Justin Lin was a perfect fit to direct the movie, since he had been an ardent Star Trek fan from the very beginning. Unlike JJ, who has admitted that he wasn't a huge Star Trek fan until he took on the franchise.
One of the key announcements JJ made was on the current lawsuit between Paramount and a fan film, Axanar. Unlike Star Wars, the Star Trek studio has not been too pleased with fan films and it finally started a lawsuit against one such project sometime last year. As a longtime Star Trek fan, Justin was outraged by this, and started talking to JJ about it. Having realized that it was a terribly inappropriate way to deal with the fans, since fans of Star Trek are part of this world. JJ and Justin teamed up and pushed the studio to stop the lawsuit, and within weeks, it will go away promised JJ.
"We started talking about it and realized this wasn't an appropriate way to deal with the fans. The fans of Star Trek are part of this world. We went to the studio and pushed them to stop this lawsuit. Within a few weeks, it'll be announced that this lawsuit is going away," JJ announced at the fan event.
Score one for the fans!
JJ also made an announcement that sent the crowds wild. Not only does everyone present at the invite-only exclusive event get to bring home a fan-exclusive poster, numbered out of 1000 (scroll down to see the swag photo), but everyone has also been invited to the movie's red carpet premiere on 20th July, at the San Diego Comic-Con.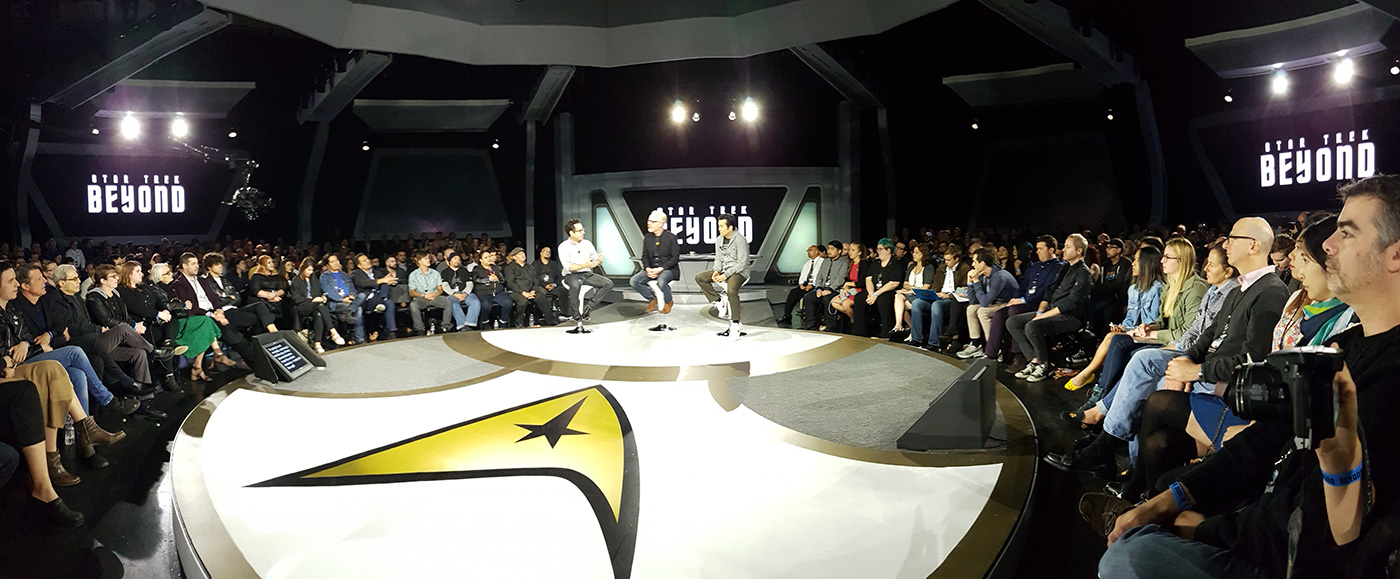 All the cast members are expected to be making appearances at the premiere, and there will also be a live performance of Michael Giacchino's film score by the San Diego Symphony Orchestra. If some of you recall the big Star Wars concert and fireworks show at 2015's SDCC, it will be held at the exact same location at the Embarcadero Marina Park South.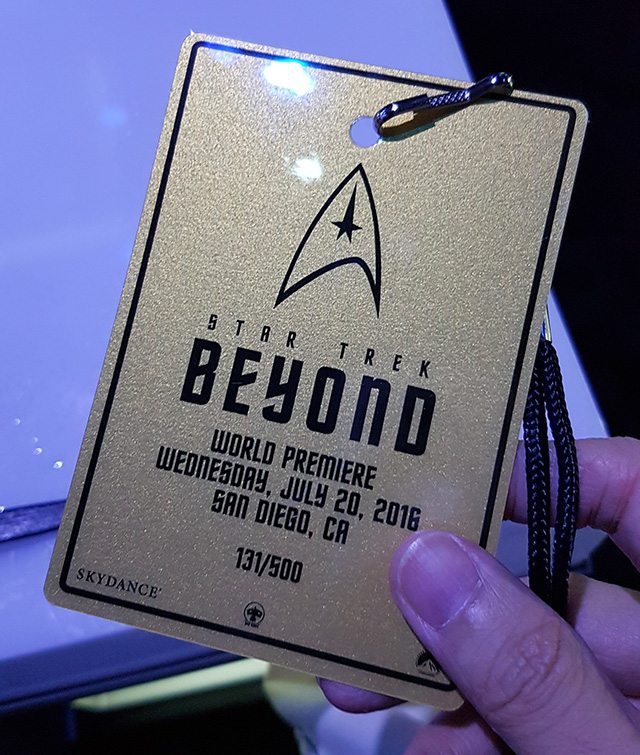 The segment ended with a behind-the-scenes look at making the movie, which you can catch, along with the full interview here:
Chris Pine, Zachary Quinto & Karl Urban
No fan event would be complete without the appearances of key cast members. Chris Pine (James T. Kirk), Zachary Quinto (Spock) and Karl Urban (Leonard "Bones" McCoy) graced the stage to thunderous applause from the fans. After a few rounds of Q&A with the stars, a quiz was run for fans, to win some exclusive Star Trek swag.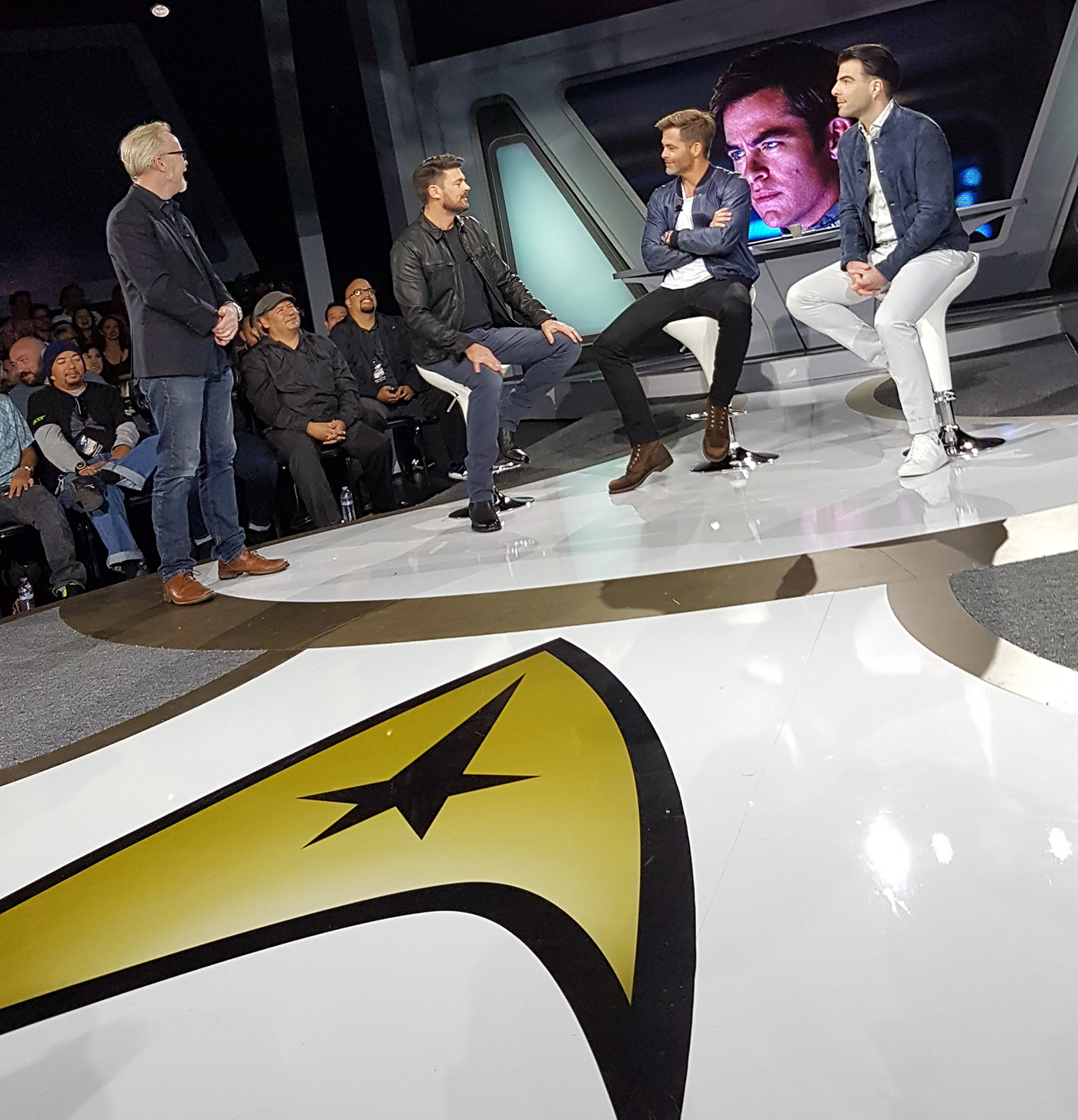 Catch the full video here:
Boldly Going….
The final segment for the night ended with a tribute video to Star Trek star Leonard Nimoy, as we predicted in our previous post. The star has been the only actor from the original series to play an active role in the new Star Trek reboot and all fans would like to think that he would have played a larger role in Star Trek Beyond, if he had not passed away last year. Here's the video, so be sure to have some tissue on standby before you hit play:
"Leonard Nimoy Way" Unveiling
The journey to the stars continue with the first step on a major road, and the tribute to Leonard Nimoy continued outdoors, right outside Stage 32. Current Spock actor Zachary Quinto addressed the fans, and told everyone how much of an impact Leonard Nimoy had been for him and for future generations of actors to come.
Even though Leonard is gone, Quinto explained that he has also become part of Nimoy's family and with that, he unveiled the new "Leonard Nimoy Way", along the wall of Stage 32.
Final Trailer Reveal & Exclusive Footage
As we returned to Stage 32 next, we were treated to catch the second and final trailer of the movie. While we were able to be the first audiences in the world to see it, it has since been released globally via Paramount's YouTube channel, so have a watch below if you have not done so yet. However, we did have an extra special treat to several extended footage from the movie, which included an action-packed scene of the Enterprise getting obliterated. It was brutal, having first lost both warp drives, then the body, and left with just the round dish to crash land on a plant's surface.
After Party and Props Showcase
No fan event is complete without the after party, and right after the footage screening, the curtains parted and revealed another section of the stage, showcasing various props from the movie, photo ops, food & drink. I'll let the pictures do the talking!
Oh, and I managed to grab a selfie with Chris Pine and with Sylar himself, Zachary Quinto.

I could not find Karl Urban though. Dammit. you're an actor sir, not a doctor!
Star Trek Swag!
Geek swag? Yup, I managed to score quite a bit. A 50th Anniversary T-shirt (printed on the spot), a Tribble plush, Star Trek + Star Trek Into Darkness Digital Movie Downloads, Star Trek Beyond Premiere Pass, Spock ears, and a Limited Fan Edition (#391 of 1000) double-sided movie poster!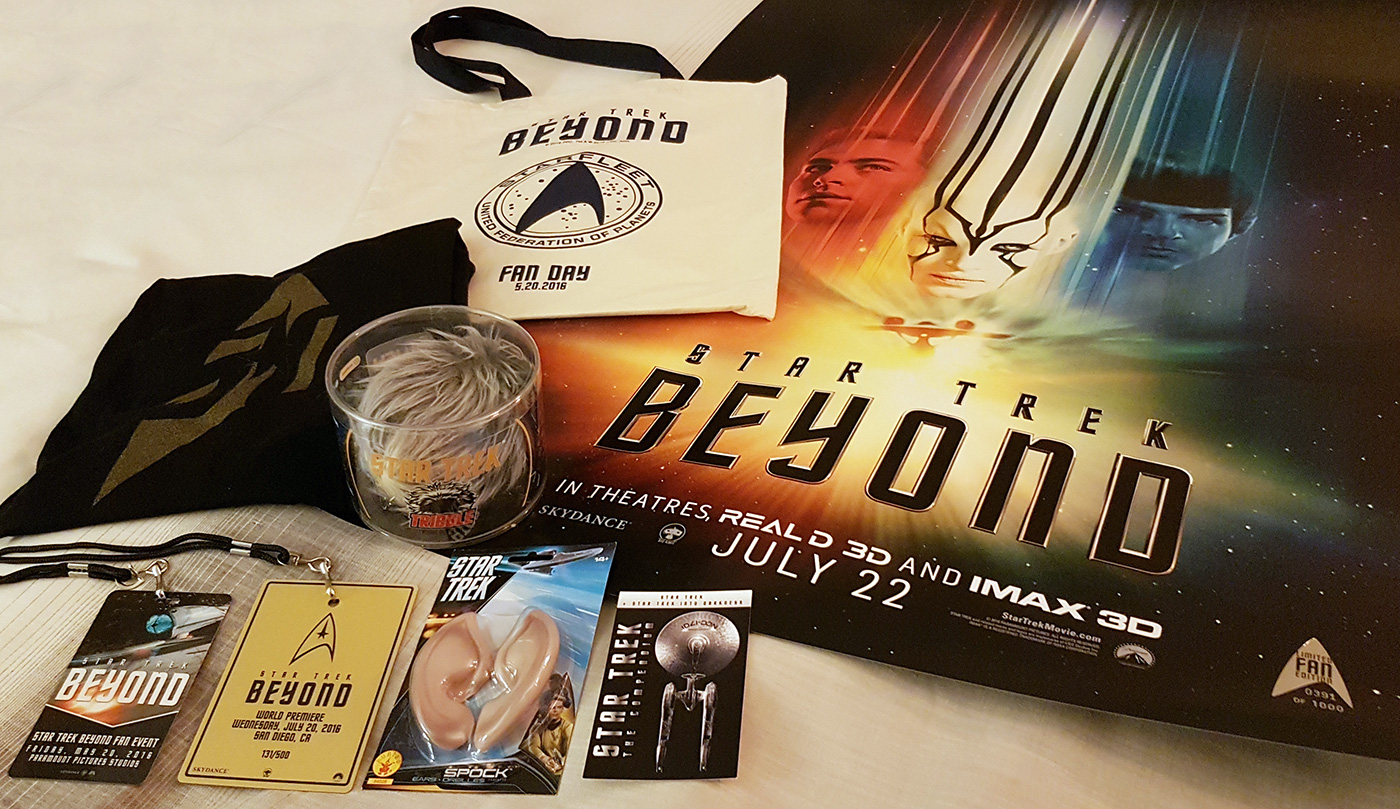 And finally, here's the new teaser poster for the movie, coming to theatres on 22nd July 2016!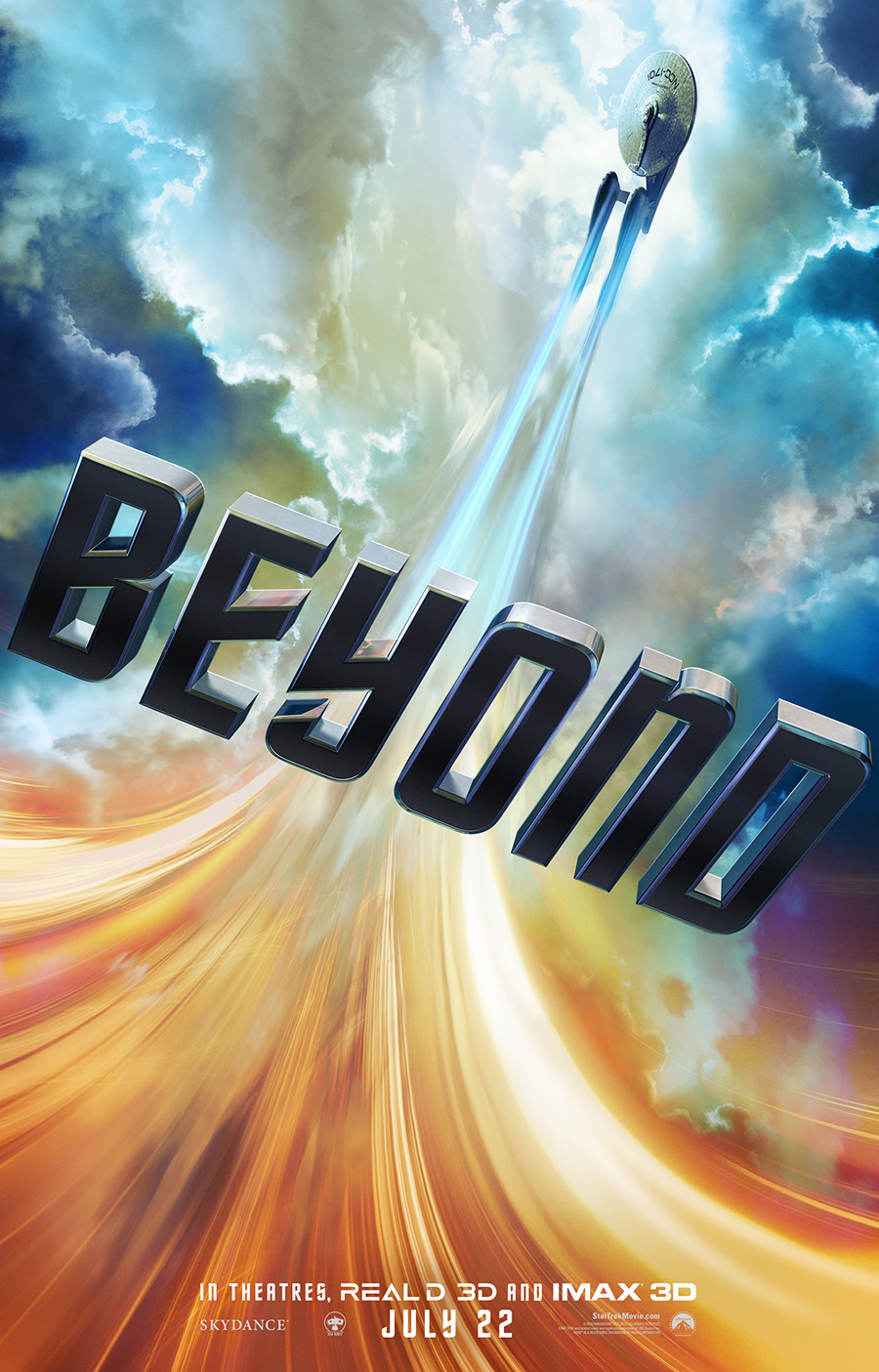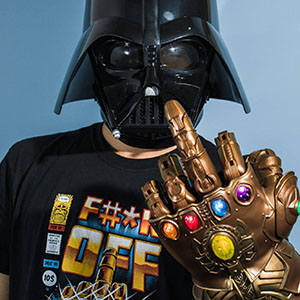 Yonk is a geek who is fortunate enough to have an equally geeky Star Wars fan for a wife, who owns a LEGO Millennium Falcon encased in a glass coffee table as their home's centre-piece.
---

Drop a Facebook comment below!
---