Disney today released a series of exclusive clips, trailers and sneak peeks of its upcoming Disney Studios slate including The Little Mermaid, Mufasa The Lion King and Peter Pan and Wendy amongst many others at the Disney Content Showcase APAC 2022.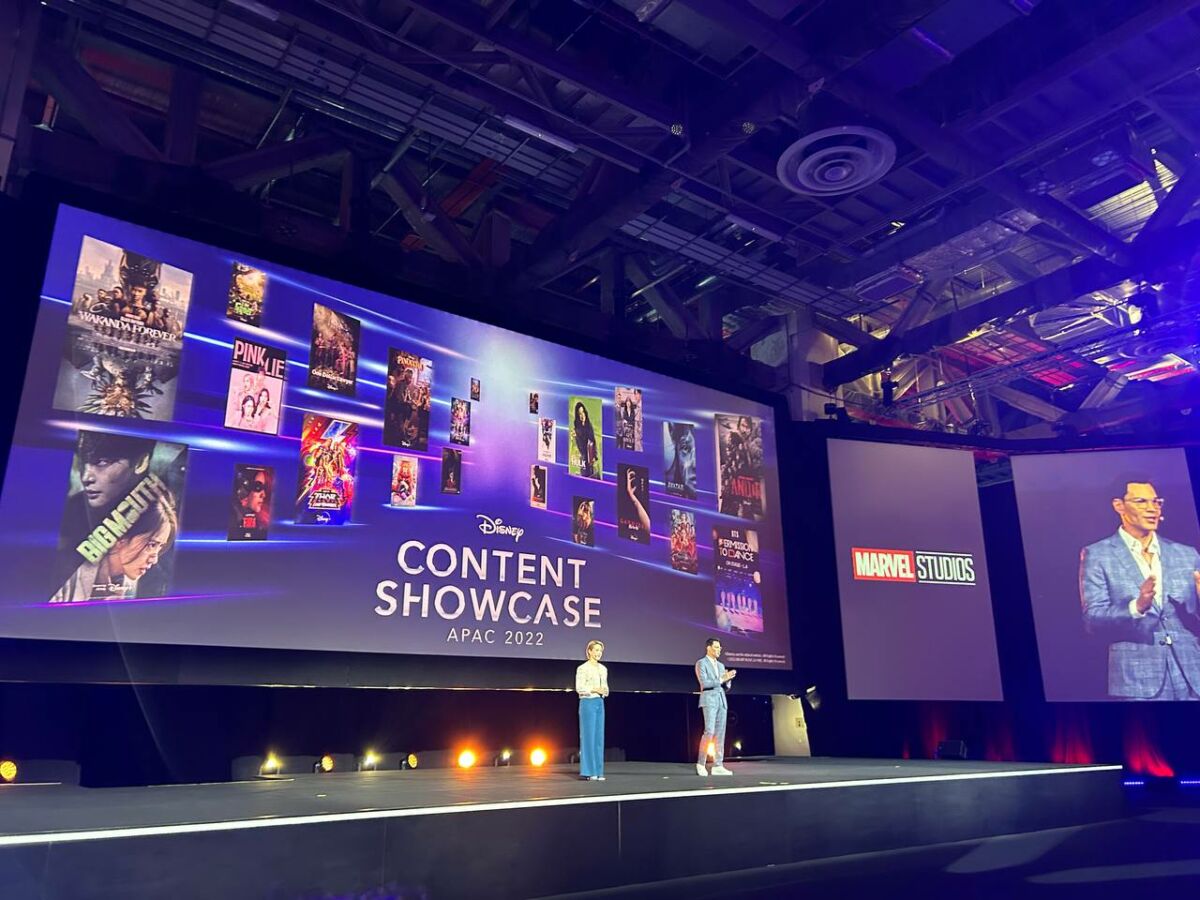 These exclusives were never before seen so no you won't find D23 coverage on it, and no, you won't find them online anytime soon. That said, we've kindly rounded up what we saw at the Disney Content Showcase for keen fans hoping to know more about what's brewing in the House of Mouse.
---
The Little Mermaid at the Disney Content Showcase
Halle Bailey gave audiences a full performance of the iconic Disney song, Part Of Your World. In the Disney Content Showcase clip, we saw Bailey as the mermaid princess Ariel swimming amongst her treasures with a super realistic Flounder (voice by Jacob Tremblay). Showing off her collection of thingamabobs, the one part of singing duo Chloex, Halle begins to sing the beloved classic song, bringing a tear to the audience's eyes.
"Halle is extraordinary. We did a broad search to find who should be Ariel for this generation, and this is a historic story for us," said Sean Bailey, President of Walt Disney Studios Motion Picture Productions who attended the event via a video call. "She did a screen test and she just won the part. It was undeniable that she's Ariel. She's unbelievable."
The Little Mermaid releases on 26 May 2023.
---
Haunted Mansion
The Haunted Mansion is ready to open its doors. First announced and shown at D23, a special look at Haunted Mansion during the Disney Content Showcase reveals a star-studded cast including Rosario Dawson as. a mother who moves her family into a haunted mansion, Owen Wilson as a sarcastic priest, Danny DeVito as a local professor and LaKeith Stanfield as a paranormal investigator. The special look had a lot of looks of the mansion, the ghosts that haunt it and the scares viewers can expect and look forward to.
Haunted Mansion premieres August 2023.
---
Snow White
Speaking of Disney Princesses, the one to start it all was none other than Snow White. At the showcase, an exclusive glimpse of the 2024 movie was shown to audiences. The glimpse revealed Gal Gadot as the Evil Queen, as she struts to her magic mirror, demanding who is the fairest maiden of all and then cuts to a brief look of Rachel Zegler as the princess in her recognisable blue and yellow dress.
Snow White premieres on 22 March 2024.
---
Mufasa The Lion King
After the successful live-action remake of the 1994 The Lion King back in 2019, Disney is releasing Mufasa The Lion King. Although earlier announced at D23, the Disney Content Showcase saw an exclusive clip of Aaron Pierre voicing the lion cub Mufasa perching on top of a rock before being swept away by water. The cub later meets with another lion voiced by Kelvin Harrison Jr. whom we believe to be Scar. The clip also saw familiar faces including Rafiki (John Kani), Timon (Billy Eichner) and Pumbaa (Seth Rogen).
Mufasa The Lion King releases on 5 July 2024.
---
Peter Pan and Wendy
Disney has been on a roll at remaking their classic movies and one of them to recently join the lineup is Peter Pan and Wendy. The studio today unveiled an unreleased trailer of the 2023 movie starring Ever Anderson as Wendy, Alexander Molony as Peter Pan, Yara Shahidi as Tinkerbell, and Jude Law as the villain Captain Cook.
The clip at the Disney Content Showcase sees all the actors debut as their respective characters against a fantastical backdrop full of adventure and magic. We see Shahidi scaled down and wearing a Tinkerbell's sparkly lime dress, Wendy and the lost boys fly in the air and most excitingly, Law in his full Captain Cook get-up, menacingly asking the young girl for Peter Pan.
Peter Pan & Wendy is set to premiere on Disney+ in 2023.