To no one's surprise, we finally have concrete confirmation that the next instalment in Blizzard's action-roleplaying series, Diablo, is in development, and it has the code name "Fenris."
In a massive interview piece done by Kotaku, 11 current and former employees of Blizzard were interviewed about the new entry. This comes after the cancellation of the second expansion to Diablo 3 after Reaper of Souls, as well as another project codenamed Hades, much of the development team then started working on Fenris, which sources claim to be Diablo 4.
No clear reasons were given for the cancellation of the second expansion, although it may have much to do with the lukewarm response the base game received during its less than stellar launch. However, given the general critical and positive response to Reaper of Souls, this came as a surprise to many who worked on the first expansion.
Meanwhile, Hades looked set to bring the franchise in a drastically different direction, more akin to Dark Souls. It was supposed to be Blizzard's take on a gothic, difficult dungeon crawler. While allegedly it was the team's primary project for two years, it was eventually cancelled in 2016 due to a rocky development process and comes after the departure of Josh Mosqueira, Diablo 3's console lead designer.
"Embrace the darkness" seems to be the general direction for both the game and art moving forward since the start of development since 2016 if sources are to be believed, with most who have seen it being optimistic about the direction. Though it is still early days in development, Diablo 4 is expected to be released in 2020 or later. Whether PC will get first dibs or will it be a simultaneous console release remains to be seen.
The team was even considering to move away from the isometric perspective into a third-person over-the-shoulder camera, much like the cancelled Hades, but recent builds seem to have gone back to the traditional camera.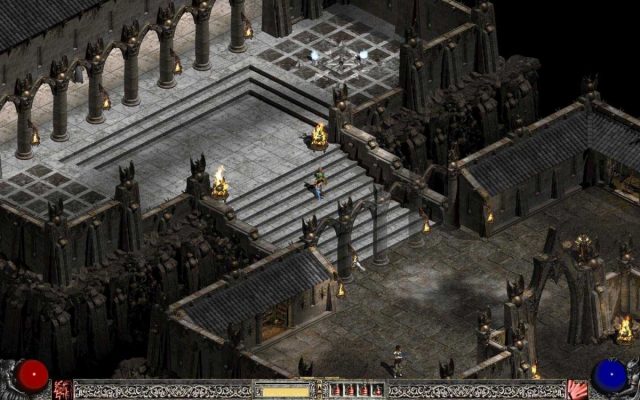 "There's a lot of people who felt like Diablo 3 got away from what made Diablo "Diablo" in terms of art style and spell effects," mentioned a current Blizzard employee, who claimed the new title would be returning to the roots of Diablo 2 than 3. While another said that "they want to make this gross, make it dark, [remove] anything that was considered cartoony in Diablo 3… Make what people were afraid of in Diablo 2, but modern."
Much like the many shared world shooters out there today, a source familiar with the development remarked that "what if we still had a core Diablo game that just happened to have a bunch of people on the map to do other cool stuff?" This addition of "light MMO elements" could bring a new dimension to the storied franchise.
All the revelations seem to point towards a positive development circle, in fact, the game was on course for a 2018 announcement. Alas, the troubles of game development reared its ugly head, "We're going to do this right, we're going to have a playable demo, by the time we'd hit May, that game wasn't far enough along. It's normal problems. Things going slower than they'd like," said one source.
When we will see Fenris is a question many gamers will be asking, considering the furore after BlizzCon 2018 and the announcement of the mobile-only Diablo Immortal. If we know Blizzard, it is definitely going to be a long wait before Diablo 4 is even confirmed.
---

Drop a Facebook comment below!