Where the larger names of the gaming industry are inclined to pull out the big guns, Devolver Digital has always captured the hearts of the community in a different way. Its game showcases are often bizarre and outright absurd, but there's a special brand of charm to it that never fails to leave audiences in delightful confusion.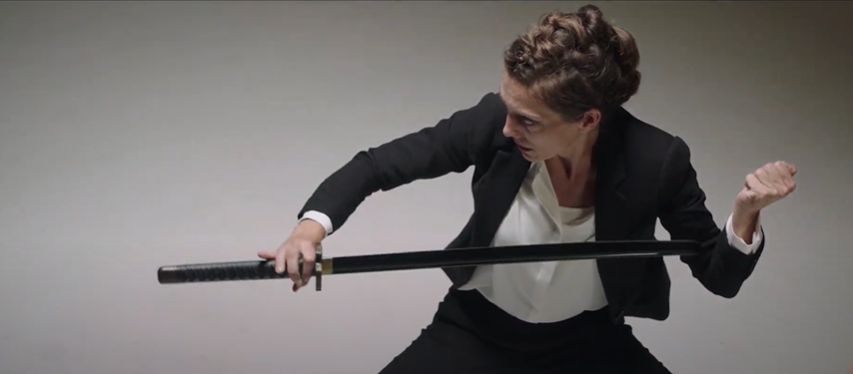 This year is no exception, with the publisher hosting a live stream where the word "future" was repeated too many times, expletives got tossed around, and a prop rifle and katana went into the hands of a presenter (yes, really). Throw into the mix a handful of E3 jokes, and surprise appearances by PlayStation's Shuuhei Yoshida, Xbox's Phil Spencer, SonicFox, Geoff Keighley, and Geralt of Rivia (no, we're not kidding), and it's easy to see how successful the team's presentation was, once again.
In other words, it's business as usual at Devolver Digital town – but even better. From the widely-anticipated Shadow Warrior 3 to the metroidvania titles like Carrion and Olija, here's every game announcement that went down on the flashy showfloor.
---
Shadow Warrior 3
Bullets, blades, and blood…demon blood. The third instalment of the highly-acclaimed Shadow Warrior series is back with all of the three 'b's, plus more classy trademark combat elements, brutal executions, and gorgeous acrobatics. Think Doom in Japan, but with way fewer guns, tons of dry, sarcastic humour, and fluid movements. 2021 is the date to note.
Fall Guys: Ultimate Knockout
Everyone is utterly adorable in this game, but make no mistake – mercy has no place on the battlefield. Fall Guys: Ultimate Knockout pits players against a host of ridiculous challenges and wild obstacle courses, where you'll have to shove through rowdy competitors and overcome the laws of physics to become the final victor. And if you fail? Well, with a snazzy outfit equipped, at least you'll be able fail in style. Look out for it on 4 August on Steam.
Carrion
It's gruesome, it's unconventional, and it's definitely not for the faint of heart. Carrion lets you play as an amorphous creature who terrorises, stalks, and devours humans that have kept you imprisoned. The path to retribution is made easier as you evolve and learn more devastating abilities, spreading fear and panic until you annihilate the entirety of the prison's presence. Revenge is sweet, and you'll soon be able to taste it come 23 July.
Olija
Kill it, fling it, throw it – in Olija, you can do all of that with a simple tool: an ancient harpoon. Trapped in a mysterious and dangerous country, Faraday is on a quest to flee the hostile land and return to his homeland, but that's always easier said than done. A seemingly gorgeous metroidvania inspired by swashbuckling tales and folklore, the game promises adventurous exploration, beautiful soundtracks, and warm camaraderie between fellow castaways. Available now on both PC via Steam and Switch.
Serious Sam 4: Planet Badass
Nothing feels better than watching a firearm shoot to the beat of an angry, heavy metal banger in the background. Serious Sam 4: Planet Badass features tons and tons of gunfire action, mighty explosions, and an endless stream of chaotic mayhem, alongside 100,000 enemies on screen, and a 128km map. Talk about hardcore. Players can expect the game on PS4 and Xbox One in 2021.
Devolverland Expo
Truly, Devolver Digital has reached peak self-awareness and fourth wall-breaking goodness with Devolverland Expo. Set in an abandoned convention centre after the annual Devolver Digital game expo was mysteriously cancelled (looking at you, 2020), it sees players breaking into the location and avoiding security systems to watch and retrieve all gameplay trailers, demo videos, and other hidden secrets. The best part of this? It's free, and available for keeps on Steam now. An utterly brilliant idea, indeed.
---
Apart from the above, the publisher also announced a couple of other titles for future release, including an untitled Team Beans project, a supposedly new Kirby game, and SonicFox's very own game Furry Fighter 4. The Devolver Direct has, as usual, been an extremely entertaining and hilarious affair, delivering in both the humour and game trailer department . Here's to even more shenanigans for the following year!
---

Drop a Facebook comment below!