After days of seeing on set photos of Zachary Levi decked out in full, fire-truck-red, body-padded glory, DC finally released some official news in the form of the title logo for the movie Shazam!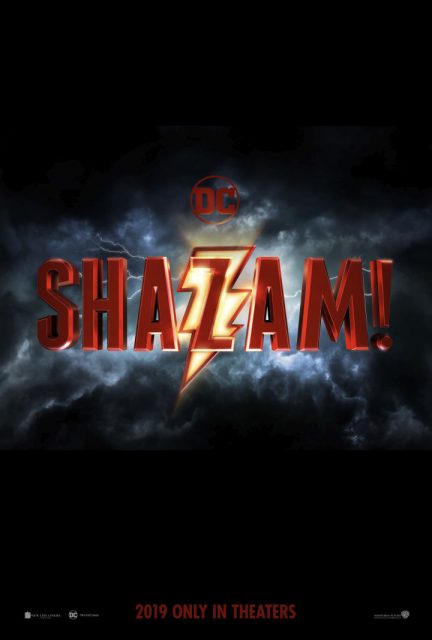 The logo features the iconic lightning bolt worn by the hero Shazam (sometimes known as Captain Marvel). The letters are dark red – slightly darker than what we were expecting, given how bright and cartoony the costume looked in the set pictures. But the centrepiece of the logo appears to be a beam of light against the backdrop of a brewing storm, which perhaps alludes to the lightness that this movie will bring to the DC Cinematic Universe. 
DC has promised that this movie will be tonally lighter than the ones before it, and it's seen very clearly in the official synopsis:
We all have a superhero inside us, it just takes a bit of magic to bring it out. In Billy Batson's (Angel) case, by shouting out one word – SHAZAM! – this streetwise 14-year-old foster kid can turn into the adult Super Hero Sahzam (Levi), courtesy of an ancient wizard. Still a kid at heart – inside a ripped, godlike body – Shazam revels in this adult version of himself by doing what any teen would do with superpowers: have fun with them!

Can he fly? Does he have x-ray vision? Can he shoot lightning out of his hands? Can he skip his Social Studies test? Shazam sets out to test the limits of his abilities with the joyful recklessness of a child. But he'll need to master these powers quickly in order to fight the deadly forces of evil controlled by Dr. Thaddeus Sivana.
Zachary Levi will be playing the adult, superhero version of the character, while Asher Angel plays Billy Batson, the young orphan boy who gains the power to turn into the Earth's mightiest mortal by shouting the titular word, "SHAZAM!"
This tiny piece of news is yet another fragment of information that we've gotten from DC about their numerous upcoming projects. The unofficial pictures we've seen so far of the hero have divided fans, but we hope that DC will somehow manage to keep this upward momentum for this movie leading up to its release.
DC's Shazam! is due for release on April 5, 2019, and also stars Mark Strong and Jack Dylan Grazer.
You could call Jeanne a dabbler – anything she isn't yet a fan of, she will be eventually. The list of things she's into is only rivalled by the things she plans on getting into. Overanalysing makes everything fun.