With each passing year, technology is constantly evolving and advancing forward. Just last year, ASUS released the ZenBook Flip S and Flip 13, portable 2-in-1 convertible laptops that come in sleek displays and pack a punch with its performance.
This time, ASUS is back with its very first 2-in-1 convertible gaming laptop, the ROG Flow X13, and the ROG XG Mobile, an innovative external GPU that helps to increase the Flow X13's gaming capabilities and connectivity. With the XG Mobile, gamers can enjoy desktop-like gaming powers on a gaming laptop.
It is the most versatile gaming laptop in the world, being able to serve as an uncompromised tablet, powerful conventional gaming laptop with its built in GPU, and even provide desktop gaming power with its XG Mobile external GPU," said Peter Chang, General Manager of ASUS APAC.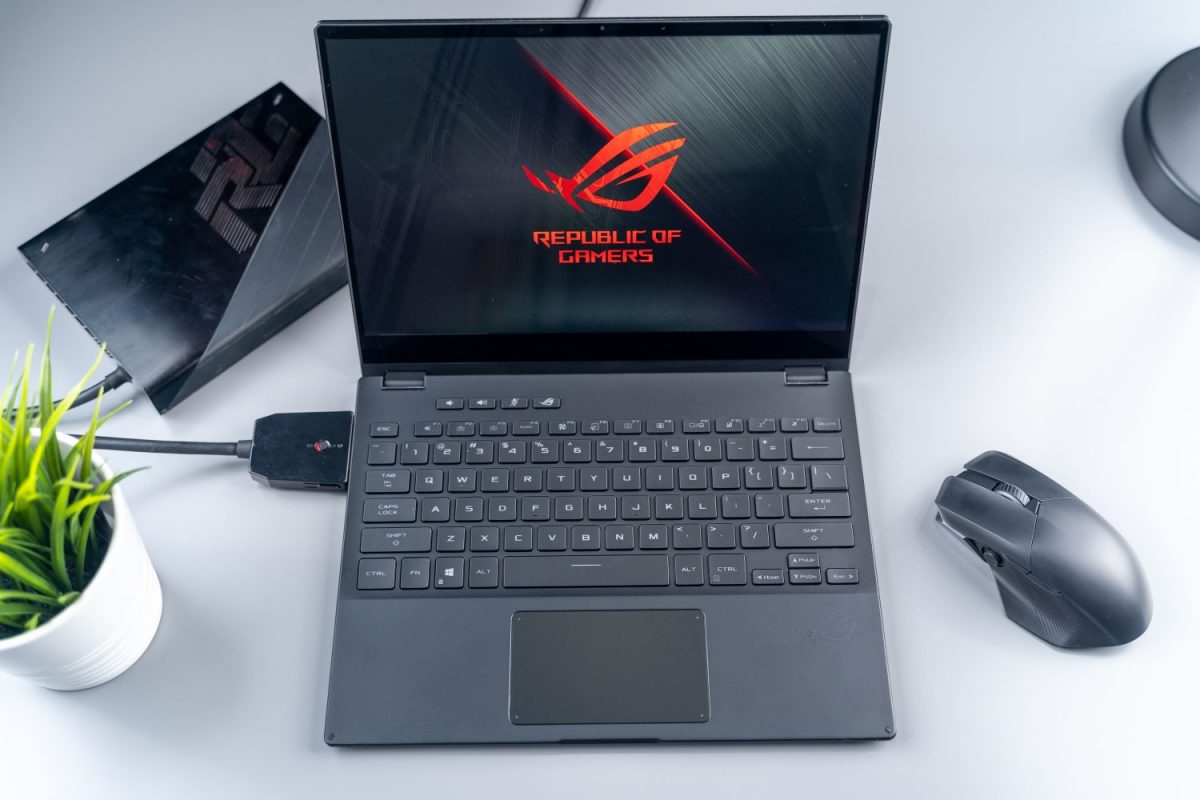 The Flow X13 comes in a 13-inch body with a 360-degree hinge that allows the laptop to be converted into a tablet to maximise the viewing and interactive experience with the Flow X13's touchscreen display. Customers can also choose between either a 120Hz Full HD display for smoother gameplay, or a Ultra HD 4K option better suited for content creators and artists.
Depending on the task at hand, users can choose to either have the laptop in its standard mode for serious gaming and general daily multitasking, or in tablet mode to make it easier to swipe throw content, take down notes, or draw on the screen with the ASUS Pen or other compatible active stylus. The touchscreen display of the Flow X13 uses Corning Gorilla Glass, making it resistant to small scratches from everyday use.
The 360-degree hinge also allows the laptop to be in stand mode which brings the display closer to the user, as well as tent mode which is great for video consumption. These positions also help to provide a better airflow to the Flow X13's fans, thus helping to keep its temperature low even after prolonged use.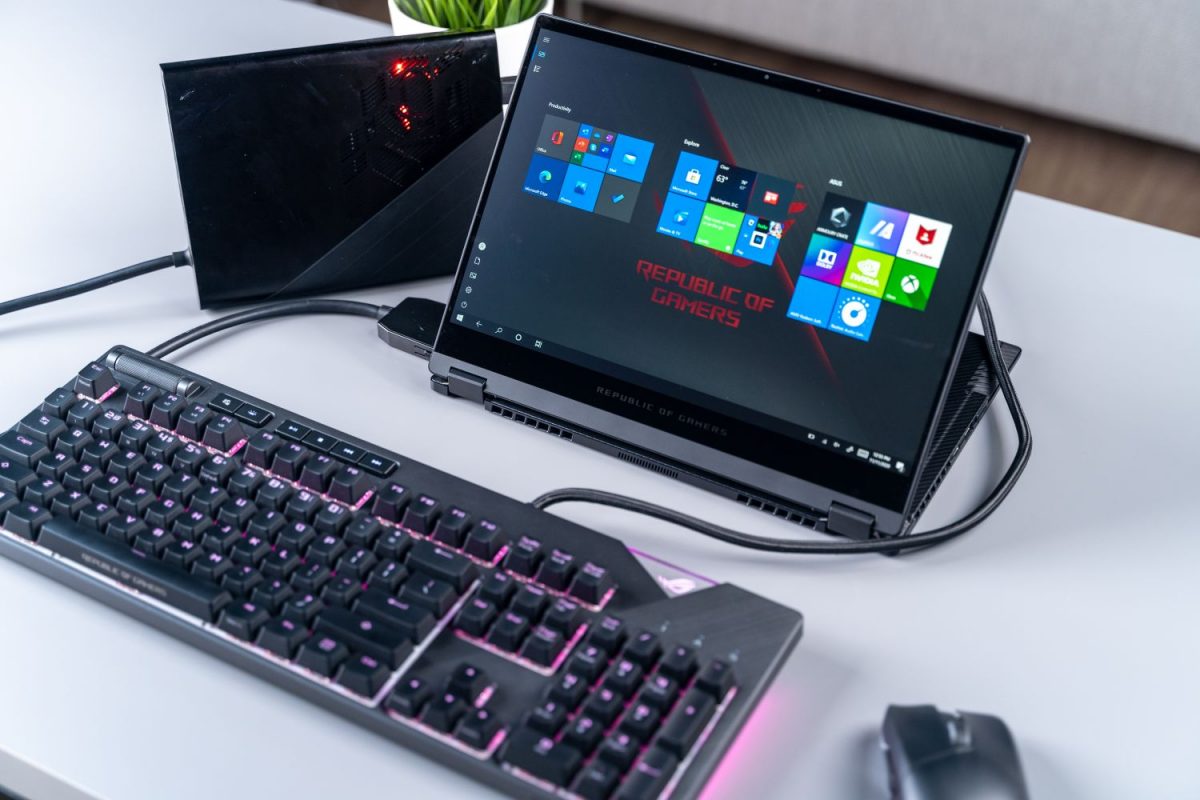 Weighing only 1.3kg and measuring 15.8mm, the Flow X13 is also incredibly slim and lightweight to be brought around and comes with a battery that lets it run for up to 10 hours of video playback. Powering Flow X13 is the AMD Ryzen 9 CPU with 8 cores and 16 threads, to help ensure the laptop is more than capable of powering through demanding workloads, as well as a GeForce GTX 1650 GPU.
As with most other ASUS laptops, the Flow X13 also comes with an ErgoLift hinge to provide users with a more ergonomic typing experience on the laptop's edge-to-edge keyboard.
Since the first external GPU was introduced by ASUS in 2007, the Taiwanese tech giant has constantly improved and is now introducing the XG Mobile with a streamlined design that offers an innovative way to bring desktop-like gaming performances to ultra-portable laptops.
The XG Mobile weighs only 1kg and is 6% the size of other external GPUs on the market despite featuring a top-of-the-line NVIDIA GeForce RTX GPU. It also comes with a vapor chamber cooling system to help maximise thermal transfer to the heatsink fins for rapid heat dissipation.
The XG Mobile is able to connect directly to the Flow X13's CPU through a custom PCIe 3.0 x8 interface that's faster than Thunderbolt 4. This custom interface is able to dedicate bandwidth specifically for graphics, resulting in higher graphics performance than other external GPUs out there.
The XG Mobile can also function as a multi-port hub, with four USB Type A 3.2 Gen 1 ports, a SD card slot, a Gigabit Ethernet port, a DisplayPort 1.4 and a HDMI 2.0a display output. What's more, the XG Mobile comes with an integrated 280W power adaptor that is capable of supplying power to both the XG Mobile and the laptop simultaneously.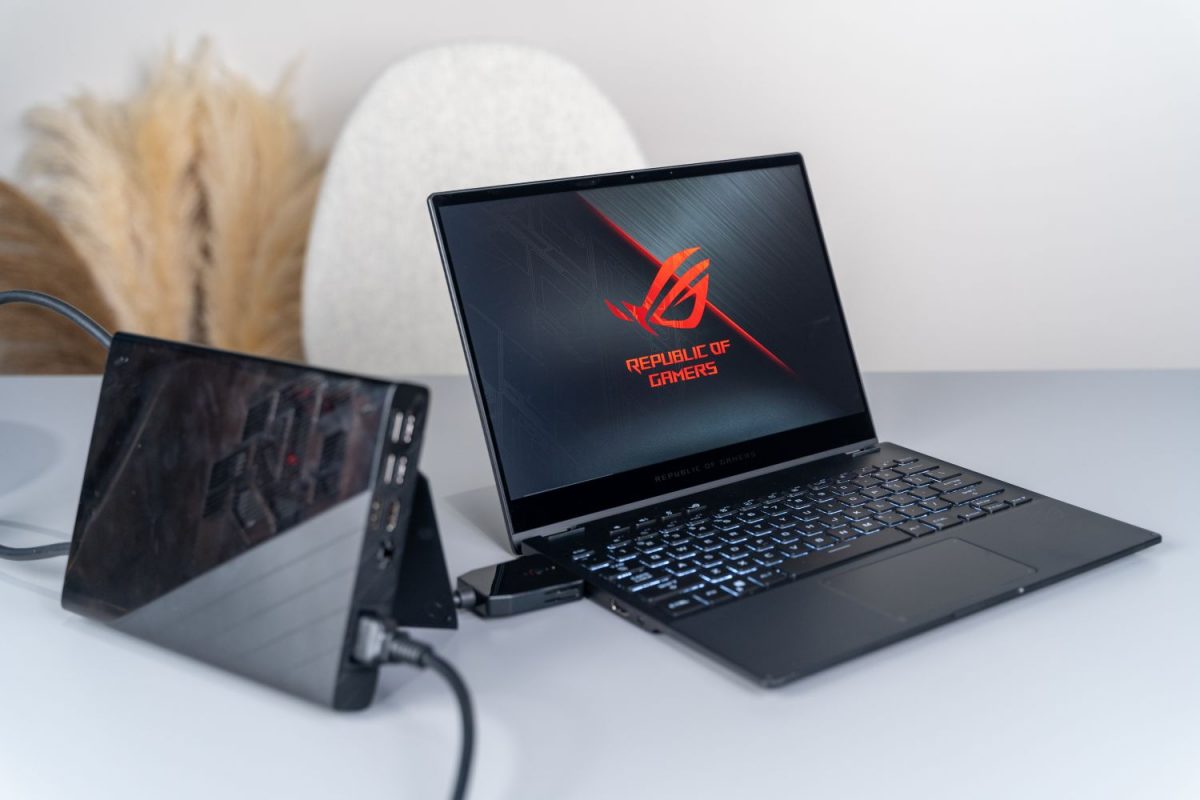 Of course, the Flow X13 is no slouch itself with regards to connectivity. It comes with a USB 3.2 Gen 2 Type-C port that supports both Power Delivery and DisplayPort 1.4. As well as a HDMI 2.0b port to allow for other displays to be connected, a USB 3.2 gen 2 Type-A port and a 3.5mm audio jack.
Details on the ROG Flow X13 and XG Mobile's price and availability will be announced at a later date.