As technology develops, the pursuit of novelty continues to pick up steam and while some are welcome (on-screen biometrics), others don't (curved screens, foldable displays). From introducing the ROG Mothership in all its behemothic glory to the Zephyrus Duo 15's ingenious dual-screen multitasking, ASUS is certainly no stranger to making waves in the industry, and the ZenBook Flip S serves as the latest testament to the team's spirit of innovation and quality assurance. The 2-in-1 convertible concept isn't exactly a novel one, but there's plenty to write home about this one, especially with its status as the pioneer of Intel Evo devices – ASUS' very own branding for products running on Intel's 11th Gen Tiger Lake processors.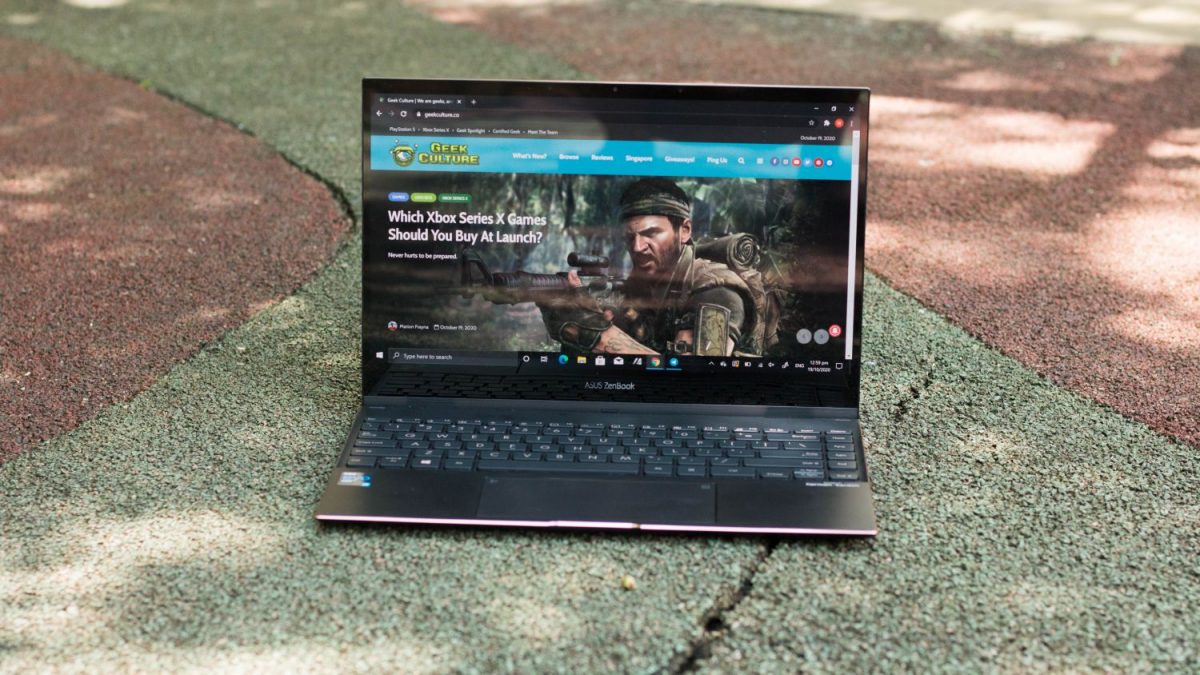 The immediate headstart that the Flip S has over its competitors is its attractive package of value and 4K resolution richness. At S$2,498, the ultraportable offers one of the best 13-inch displays, with the OLED screen bringing more liveliness and colour to visuals that outperforms IPS LCD builds by large. Nestled within small, framed bezels, the gorgeous stunner of a screen does impressively well at delivering deep blacks, bright hues, and vibrant images, which makes watching shows like Spider-Man: Into the Spider-Verse or sci-fi films an enjoyable affair.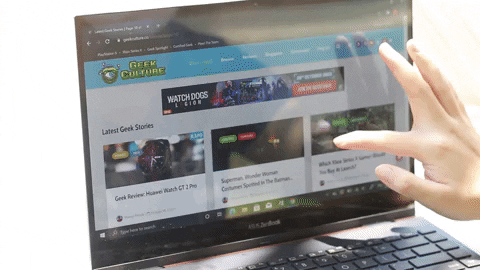 Snapping it into tablet mode further improves the viewing and navigational experience. The screen is pleasantly responsive to touch, and everything can be easily accessed with a lazy glide of the finger. Actions like double-tapping, cursor-dragging, and scrolling showed little to no delay, and despite its glossy surface, the display doesn't carry any glare. That, coupled with its high brightness level, allows users to work well in bright, well-lit environments.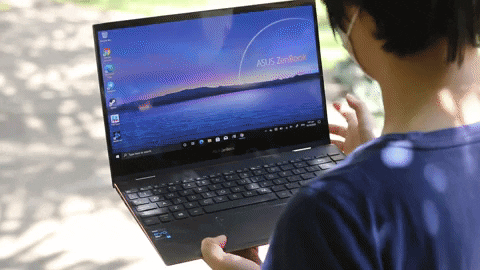 The swivelling process from a 2-in-1 to a tablet proved to be smooth and easy, though it was not always seamless. While the fear of accidentally damaging the device is real, its fold-under hinge negates that concern with a sturdy show of flexibility, where it transitions fluidly between one form to another. Sometimes, the Flip S may assume the tablet layout when it tilts a little to the side (read: laying in bed on your side and watching Netflix shows), which comes across as slightly counterintuitive.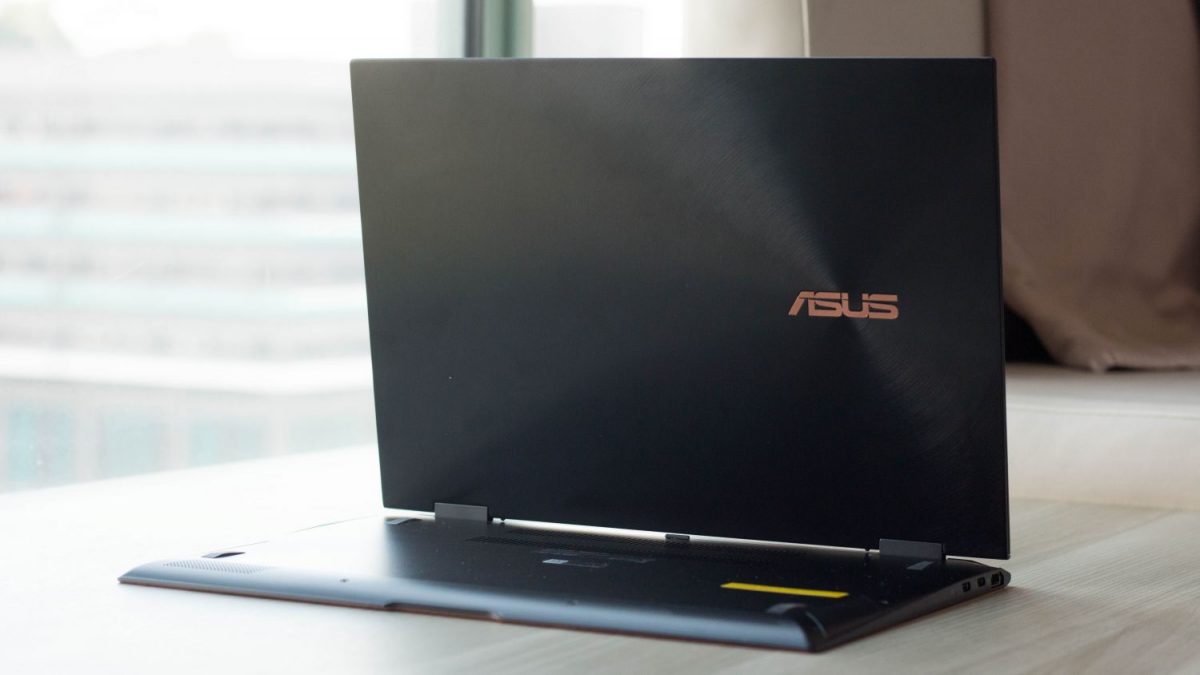 The reverse runs true as well, as per many of the other 2-in-1 builds on the market, where it'll stay in tablet mode despite being flipped back into the original clamshell form. This can be a little bit of a bother, but thankfully, doesn't happen on a regular basis. Because an accompanying stylus isn't included, repeated touchscreen interaction will often result in unsightly fingerprint smudges as well.
On this note, it's worth noting that the laptop lid is a fingerprint magnet – and a very culpable one at that. While smudges are extremely commonplace on most models, the Flip S collects them in abundance to the point that it can become covered in them within a few hours of use and handling. Fingerprints by themselves, fortunately, aren't too difficult to remove, but a more oil-resistant surface would have been welcome.
Remove the coat of smudges, and a gorgeous looker lies underneath. The copper accents at the edge add a touch of luxury and elegance to the overall build, with ASUS' signature concentric ring pattern finely worked into the black hue of the lid. Both of that metallic flair and cover design are able to attract light well, such that a pretty glint appears whenever a beam of light strikes the surface.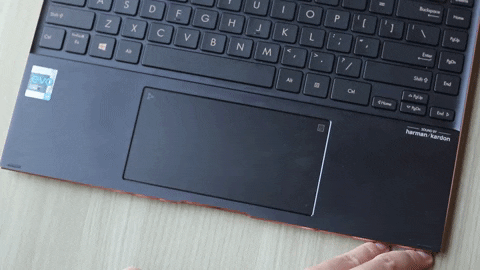 Complementing the outer aesthetics is the more subtle presentation of the keyboard deck that's built out of aluminum and polished off with a matte finish. The lettering sports a faded copper hue, with faint white backlighting shining through. A wide touchpad sits below the spacebar row of keys, where a purple-tinged, touch-based number pad can be pulled up via a logo on the top right corner. The brighter hue throws off the copper-black aesthetic a little, and users may take some time to get used to the sudden contrast, but it's definitely nothing to worry about.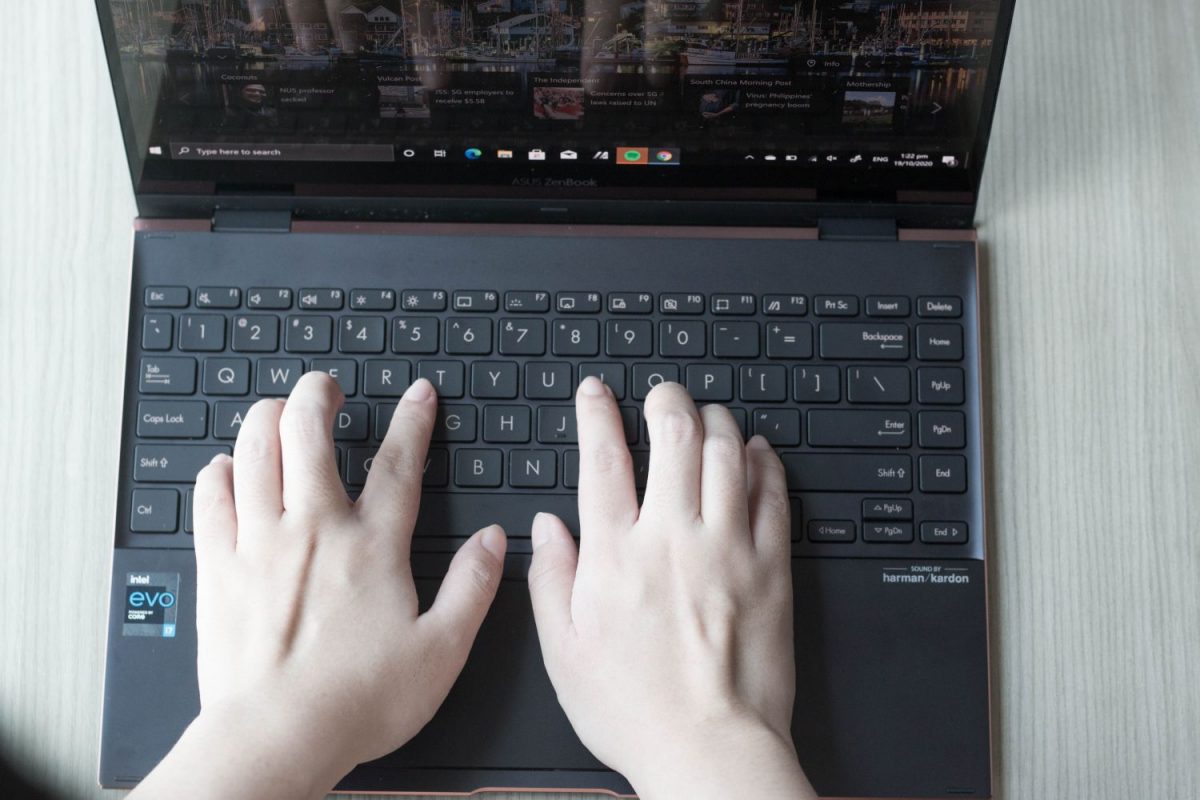 Because ASUS squeezed an extra column of keys (Home, Page Up, Page Down, End) on the right side, the keyboard carries a true edge-to-edge design, which some may find more unnecessary than others. For those with bigger hands, the cramped layout means typing will be a tad more uncomfortable and error-prone; depending on the person, there might not be much use for the keys, either. The experience makes up for it, however – the keyboard is quiet and bouncy, offering a bit more travel than usual.
The touchpad is no slouch, too. With its massive width, there's plenty of room for Windows' finger gestures and smooth, responsive scrolling. A slight gripe about the admittedly smart NumberPad 2.0 set-up is that users will have to look away from the screen to activate and type on it, making it less efficient than typing on an actual numpad. Fortunately, the touchpad does its job well when the situation calls for it, and is able to differentiate between a normal swipe and number input actions.
As is the case for most ultraportables, the Flip S' skinnier cut sees a reduced port selection, offering an HDMI port and two Thunderbolt 4 USB-C ports on the left flank, and one USB Type-A connection on the right. The headphone jack – a regular member on laptops – is missing from the mix, which comes as a rare occurrence. ASUS has packed in a USB-C-to-3.5mm adapter for owners of wired headphones, although the decision to remove the audio port is a little puzzling. Bluetooth users will be unaffected, for the laptop carries Bluetooth support in addition to Wi-Fi 6.
When spurred into action, the Flip S performed fairly well for general productivity. Armed with an Intel 11th Gen Tiger Lake GPU, a quad-core Intel Core i7-1165G7, 16GB of RAM, and 1TB storage space, it's more than capable of multitasking on Google Chrome without any noticeable latency. Watching Netflix, surfing social media sites, doing work, and running Twitch in the background simultaneously took little effort, even if there was a tendency for the laptop to overheat slightly at times. Everyday tasks and Internet browsing is where it impresses.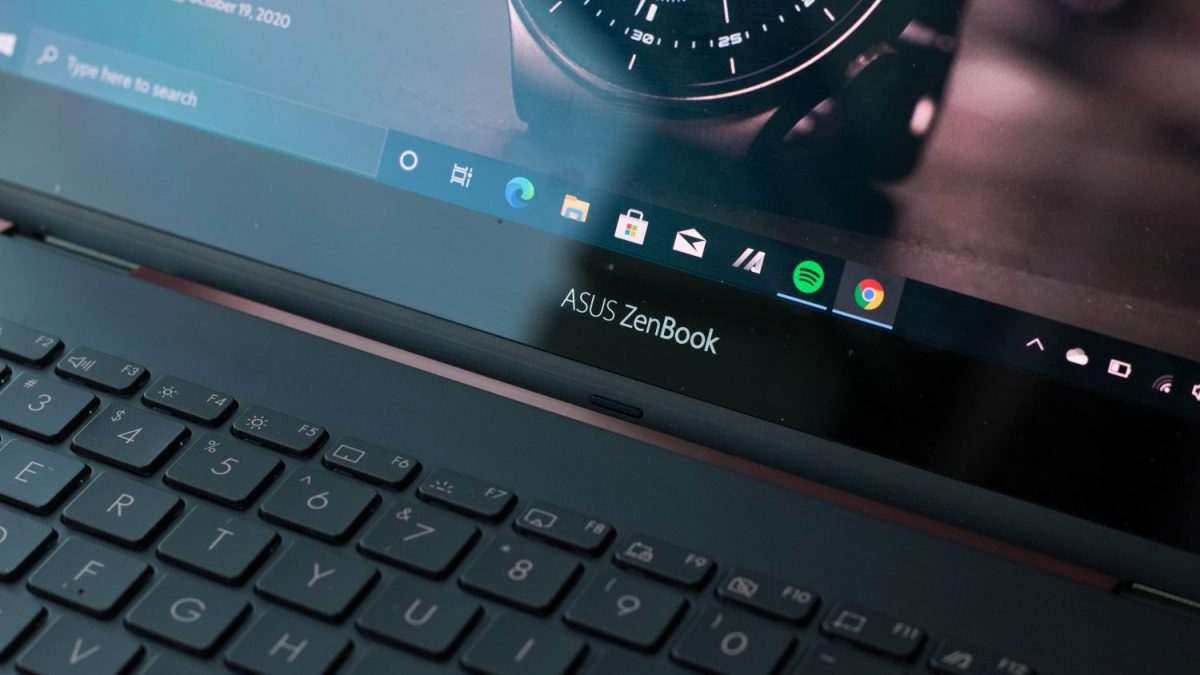 The 2-in-1 convertible, in contrast, struggles to handle the increased strain that comes with heavier app use or light gaming. While capable of running more demanding software like Adobe Lightroom or Premiere Pro, it's clearly not built to do so, with bursts of lag and unresponsiveness – more in the case of the latter – occurring every now and then. Casual gaming yielded similar results, with Overwatch, Hades, and Fall Guys all sporting frequent frame drops when plugged into the power supply. At the lowest setting, the former hovered around 40 to 60 fps with choppy gameplay, while the other two clocked an average of 50 to 60 fps. Suffice to say, the Flip S is a reliable productivity machine, but not the best pick for creative professionals and gaming enthusiasts.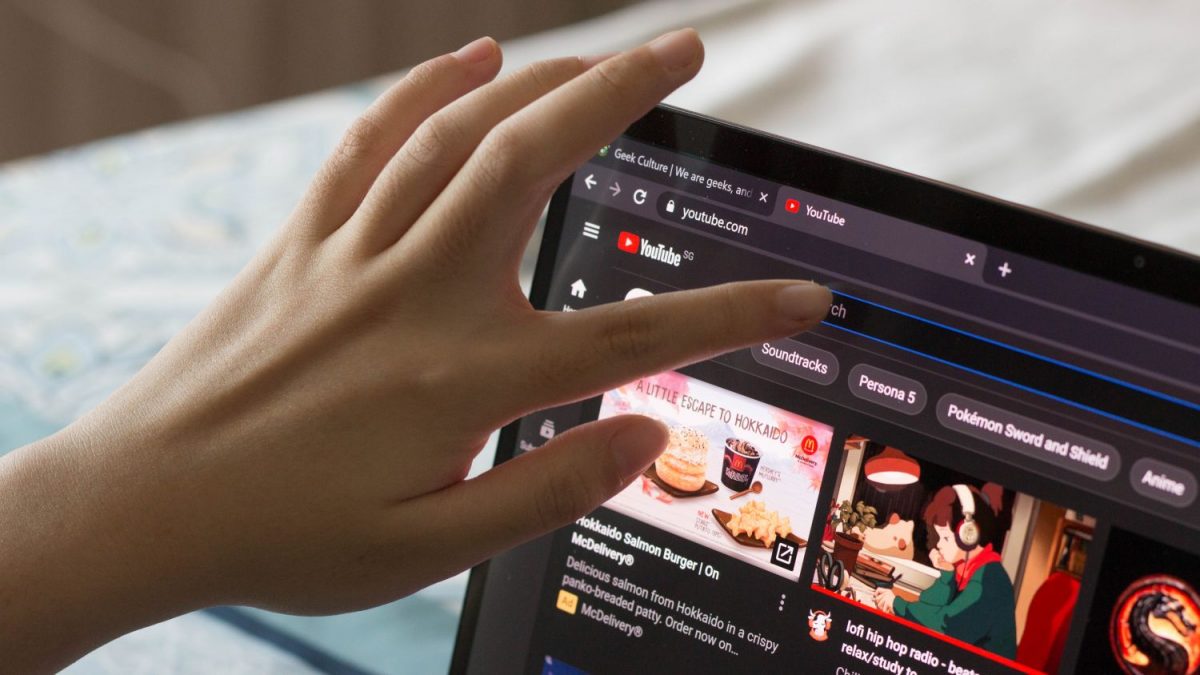 What does come as a welcome surprise is its audio. Unlike its other ultraportable counterparts like the MacBook Pro, the laptop sounds great, loud, and crisp. The bottom-mounted speakers do a good job at retaining detail, from the gentle strum of guitar strings and pulsating, bass-heavy beats to the feisty vocals of singers. Coupled with the excellent display, the Flip S sure makes its mark as a powerful, desirable multimedia tool.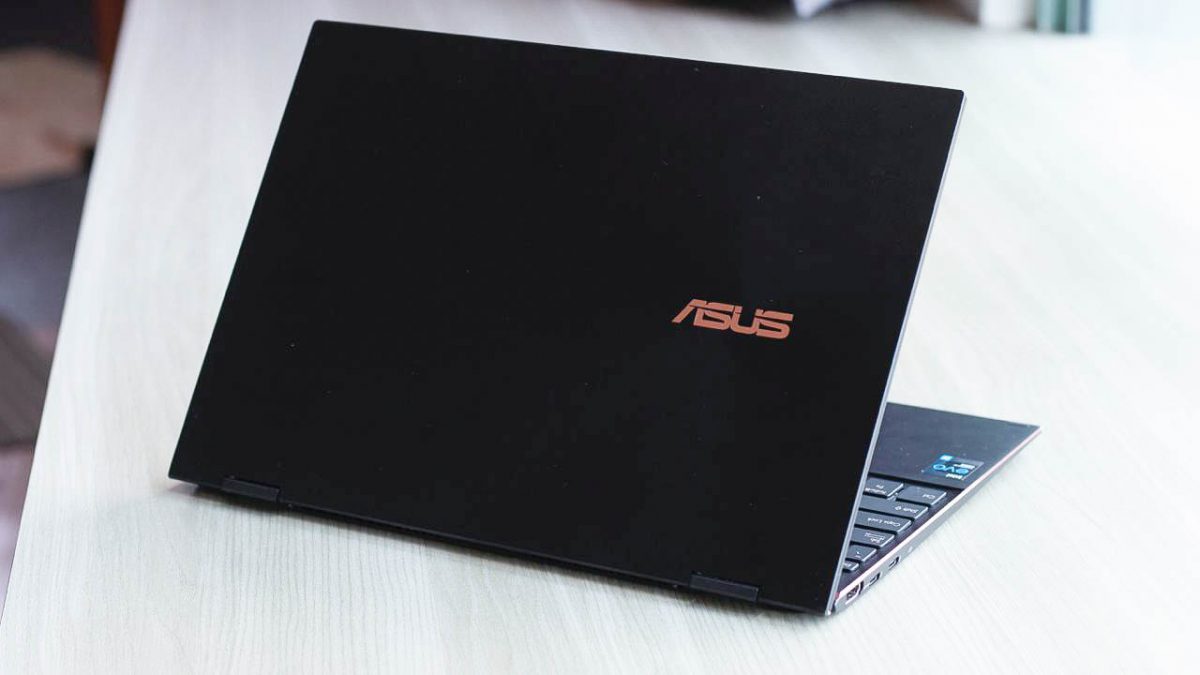 All of the visual and audio richness is not without a compromise, however. Battery life serves as another weakness of ASUS' 2-in-1, with its 4K OLED screen requiring more power to operate when active. The 67Wh battery lasted an average of six hours with medium brightness and on a typical workload (listening to music, watching YouTube videos, surfing the Internet, and writing articles), which falls short of the usual work hours.
Of course, reducing the resolution to 1080p will result in a longer lifespan, though that would defeat the purpose of having 4K resolution in the first place. If anything, at least the Flip S boasts decent charging speeds. It's not quite fast-charging per se, but is able to reach the halfway mark in about 45 minutes from a below-five-per cent state.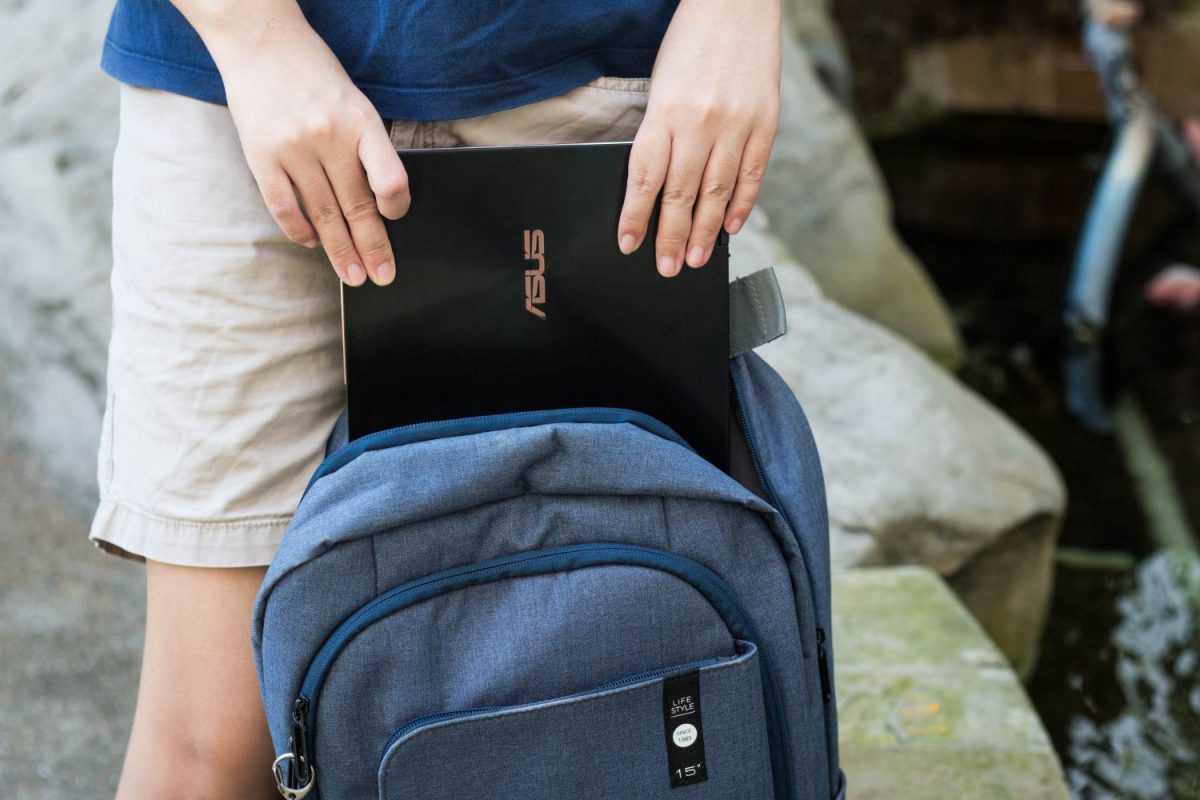 The value of the ZenBook Flip S, ultimately, lies in its portability, 4K OLED display, and office work productivity. It works great, goes light, and certainly doesn't lack in the aesthetics department. For S$2,498, the laptop offers a relatively feature-packed experience, impressing with a handy numpad, excellent audio, and gorgeous visuals. Creative professionals and gaming fans might want to give this a miss due to its underwhelming performance, but those looking for an elegant, simple work machine can consider bringing this more affordable choice into their family of devices.
The ZenBook Flip S is out now and available via the ASUS Singapore Store.
GEEK REVIEW SCORE
Summary
Despite the hit to battery life and performance, the ZenBook Flip S makes a convincing argument with its appealing design, top-quality features, portability, and visual prowess. The fact that it offers excellent 4K OLED display at a solid, affordable price is only a plus.
Aesthetics -

8.5/10

Build Quality -

8.5/10

Performance -

8/10

Value -

8.5/10

Geek Satisfaction -

8.5/10