Why celebrate Valentine's Day with just your partner when you can celebrate it with the stars and directors of Captain Marvel!
That's right, stars Brie Larson (Carol Danvers/Captain Marvel), Samuel L Jackson (Nick Fury), and Gemma Chan (Minn-Erva), along with co-directors Anna Boden, and Ryan Fleck were here in Singapore on Valentine's Day, for the Captain Marvel Fan Event happening in Marina Bay Sands Expo and fans went crazy over the latest hero in the Marvel Cinematic Universe.
Fans from nearby countries, including Malaysia, Indonesia, and Thailand all made their way down to Singapore to attend this event. Some came dressed in their best Marvel gear, such as a couple from Indonesia who came dressed as Captain Marvel and Tony Stark. Most fans that came brought along their own Marvel merchandises, in hopes of getting it signed by the casts themselves.
Larson, who arrived on February 13 (Wednesday), posted a photo on Instagram of her looking ecstatic to be in Singapore for the first time, before posting up several Instagram stories including her meal at the Peranakan restaurant Guan Hoe Soon, her trip to the Art Science Museum, and finally her dinner with co-star Chan.
The stars and directors, who attended a press conference for the movie in the morning, still looked as fresh as they walked down the red carpet in their beautiful, and dashing, outfits and makeup. They took the time to interact with their fans, signing autographs and taking selfies when asked to.
They also stopped by the media to answer some questions posed to them, such as "If you could have a superpower, what would it be?". In case you are curious, Jackson would like to have the power of teleportation, cause it'll be pretty cool to be able to move around quickly.
Geek Culture even got Samuel to go through some pretty iconic lines from the Singapore Armed Forces. Don't worry – it's quite PG.
After the Red Carpet session, the stars were soon introduced on stage to answer a few questions. Chan was asked about the ways she resembled her character in the film, Minn-Erva, to which she candidly replied that they are both feisty, they both have determination, and a healthy dose of sarcasm, because "we Brits definitely get the sarcastic gene", which was met with shouts and laughter from the crowd.
While Jackson was asked what the MCU journey has been like for him, having been involved with the film for as long as he has, to which he said, "It's sort of great to experience a world that I imagined as a child in another kind of way."
Captain Marvel, and Marina Bay Sands, also partnered up with the charity organisation Awwa to pack some Marvel goodie bags for the kids in Awwa, to spread a little more love and joy this season.
Midway through the Event, the lights in the hall dimmed and a touching tribute to Marvel's very own real-life superhero Stan Lee flashed on the screens around the room.
---
Captain Marvel Fan Event ended on a high note, with the walls of the room flashing the trailer for the upcoming Marvel movie, reminding everyone that the movie will be coming out on March 7, 2019. Screams could be heard throughout the hall, especially when the all mighty Captain Marvel appears.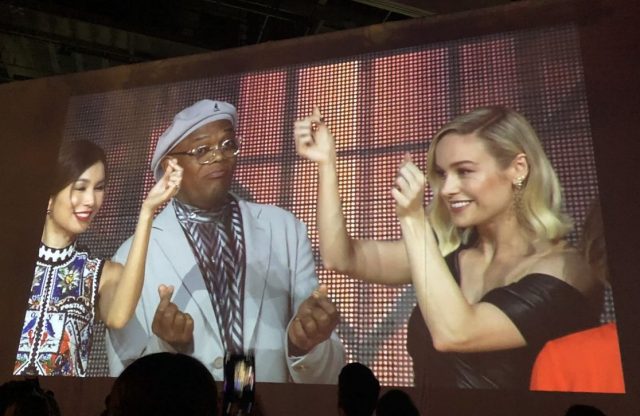 Who else is excited to witness the origin story for one of Marvel's strongest female superhero on the big screen? We know we definitely are.
In case you missed the Captain Marvel Fan Event, you can now watch the whole event here,
AND WE'RE LIVE! Catch Brie Larson, Samuel L. Jackson, Gemma Chan, Ryan Fleck, and Anna Boden at the #CaptainMarvelFanEvent, happening now at Marina Bay Sands.

Posted by Marvel on Thursday, February 14, 2019
---

Drop a Facebook comment below!