The hottest face-off in cinematic comic book history is not between Captain America and Iron Man. That accolade goes to the tension-ridden drama between BVS.
No, not the DC Comics guys. This is Civil War: Bucky (Barnes) Versus Sam (Wilson).
Everyone and their grandmother knows that the stars of #TeamCap were recently in Singapore for the Blue Carpet premiere of Captain America: Civil War, but what many did not realise was that tensions were running high behind the scenes, between the actors.
There were plenty of pouty looks, puppy dog eyes and loving glances thrown at Captain America/Steve Rogers (Chris Evans), as Falcon/Sam Wilson (Anthony Mackie) and Winter Soldier/Bucky Barnes (Sebastian Stan) waged war in Captain America: Battle of the Bromances.
Things seemed fine on the surface during the press conference, with the trio sharing laughs and lighthearted banter with the room.
But things took a dark turn quickly, when Steve was asked to name his superhero paramour of choice. Both Bucky and Sam were eagerly waiting for his reply, and it was like watching Cyclops and Wolverine fight over Jean Grey. One suitor was serious and brooding, while the other was roguishly charming, and Steve was playing the role of the flirty damsel in the middle.
Sam was quick to lay claim to his prize, by making a quick joke about how Captain America liked to get Falcon rides, and that got a good laugh out of Steve.
…who immediately had to turn around to placate a visibly upset Bucky.
In the end, Steve's dodged the question by making a mock-serious remark about Peggy and Sharon. But it was obvious he had some-one/gender else on his mind. Sam 1; Bucky 0.
At the end of the press conference, it seemed that Bucky was still unhappy with Steve's response, but there was nothing he could do about it.
On the Blue Carpet, director Joe Russo decided to squeeze into the action, by sharing tender look with Steve on stage.
That drove team BVS into action, as Sam immediately caught hold of Bucky, and the heroes held an emergency meeting to figure out the best way to split the two.
Bucky was quick to prove his dominant role in his relationship with Steve, with a possessive hug on stage that stoked the flames of passion, much to the delight of the thousands of fangirls (and some boys) there that night. Sam 1: Bucky 1.
But Sam has his eye on the prize and boy did it look fine. #Datass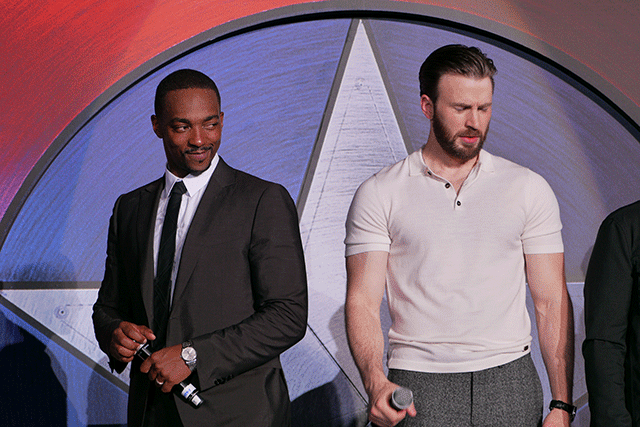 By the end of the night, it didn't appear that Steve had decided who he would be having a sleepover with in his MBS suite (maybe both?), but Sam appeared to be confident of his chances, as Bucky looked as if he was still trying to figure out which room Steve was in.
Meanwhile, Joe Russo sighed, but he also looked inspired. Maybe he was wondering if he would have a chance to film that movie too.
Which ship are you on? #ChooseWisely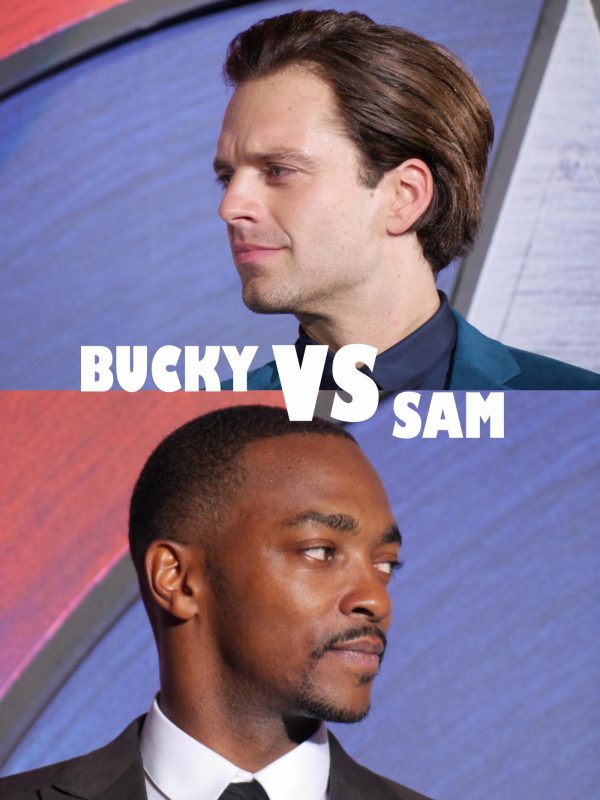 Victoria is a consummate dragon trainer fueled by ice cream and cake. A huge cartoon, tokusatsu, bronze and modern age comics fan, she aims to one day use her cosplay skills to become a spy like Sydney Bistrow.
---

Drop a Facebook comment below!

---