Magic: The Gathering card collectors, you're in for a treat. With the announcement of the MTG Lord of the Rings expansion came whispers of a "serialized ring card", which has now been confirmed as a rare collector's item. The reason why it's so coveted? Only one copy of the '1 Of 1 Ring' card will ever be made, and anyone has the chance to get their hands on it when it drops on 23 June.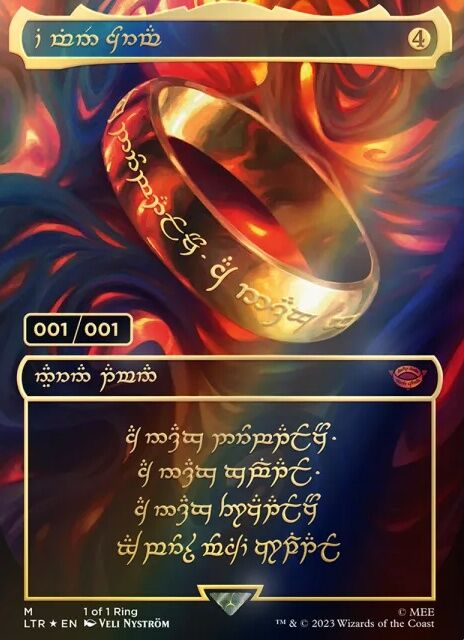 The '1 of 1 Ring Card' is a traditional foil card specially printed in the Black Speech of Sauron using Tengwar letterforms, and is serialised 001, with intricate artwork of the One Ring. Fans eager to try their luck at obtaining the One Ring card will get the chance to own it if they purchase an English-language Collector Booster pack, which goes for slightly more expensive than the usual packs, but you might just win it big.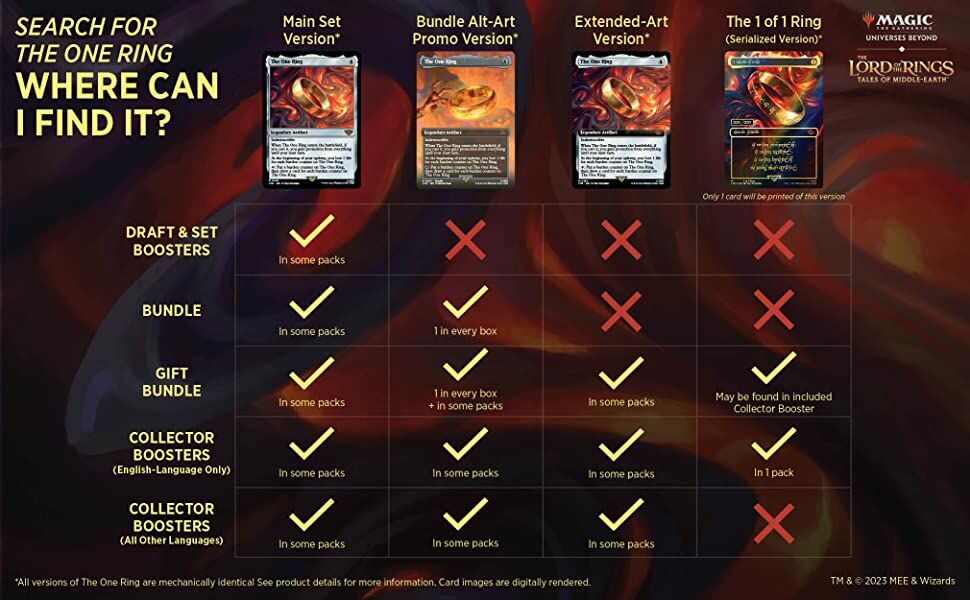 According to the pre-order description on Amazon, "the odds of a Collector Booster including The One Ring (Serialized 1 of 1) card is < 00003%", making the stakes even higher for would-be collectors. 
Even if the exclusive card eludes you, there will be other One Ring cards, like the Main Set version and the Extended Art version, and all the One Ring cards will serve the same purpose in gameplay.
Is this the closest we are getting to having Willy Wonka's Golden Ticket Hunt? The answer is a labored -"yes". We would imagine there will be crazy collectors out there who will be hunting down this specific card and Bitcoin would be involved.
The ultimate Magic: The Gathering The Lord of The Rings: Tales of Middle-Earth Collector Booster Box is available on Amazon for S$440 onwards, and includes 12 booster packs, with 12 chances at the One Ring card.
The search for the One Ring has already begun, and you can join in the hunt by pre-ordering yours today!