Nothing brings a family together like some drama.
And there's nothing more dramatic than being trapped in a ship that's crash landing on a planet.
Which also happened to be the first scene that the Robinson family filmed together in Netflix's reboot of the classic TV show, Lost In Space. Led by parents John (Toby Stephens) and Maureen (Molly Parker), along with their kids Judy (Taylor Russell), Penny (Mina Sundwall), and Will (Max Jenkins), the long crash sequence at the start of the series provided the bonding that the actors needed, to familiarise themselves with their characters, said Sundwall.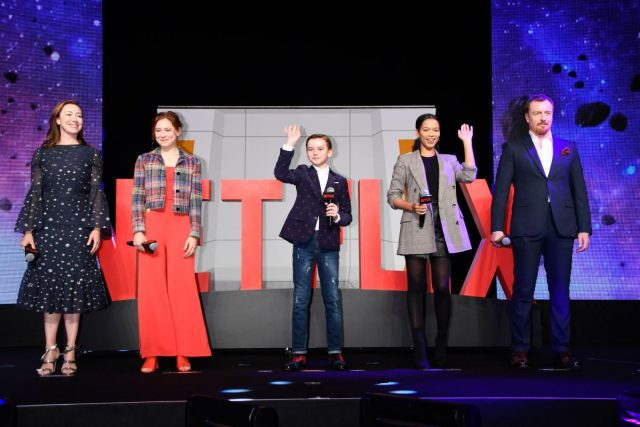 "It was the first time we had ever met each other so that was a bonding experience and even though in the moment it was very hard, and they ended up using take 15 of 20-something, and it was a very long day, seeing how that looks and seeing the world that they'd made from it really moved me a lot," she recalled.
"Everything that looks very dramatic on screen felt very dramatic off screen. I remember we sat in the huge set that's been built as the spaceship, in these chairs that would actually shake and vibrate and move back and forth."
As the five sat (or well, stood) with members of the Asian media at the spacious Space O in Tokyo, Japan, the focus was on the reboot, a long line in a series of reboots that Netflix is known for.
Even if you have not watched the original, or seen the film reboot, the premise is not new. The 1960s sci-fi series followed the Robinson family as they endeavoured to make their way back to Earth, after being marooned in space. The iconic phrase from the show, "Danger, Will Robinson", uttered by the Robot in the series has become a popular pop culture term.
But this is not your parent's TV show, as the new showrunners have taken some liberties. Instead of the perfect family unit as a reflection of the 1960s when the show first aired, this new take eschews much of the family ties.
"There are obviously problems within the family which we realise right at the beginning, and it's whether they can solve those problems as well as survive," observed Stephens, as he introduced the show to a new audience.
But the emphasis on the Robinsons' story is still apparent, and the heart of the show. Parker hoped that characters are in some way relatable for everyone, feeling real due to their flaws. Even though the family struggled with their differences in the show, they looked nothing but a picture-perfect family on stage. When asked to describe working with her young co-stars, Parker had nothing but praise for her "kids".
"I am so lucky to be able to work with these young actors. they are exceptional people and they come from loving, kind, smart families and because of that, I think that Toby and I as the pretend parents on the show were able to really fall in love with these kids, and feel like we had deep connections to them," she enthused.
Lost in Space was filmed in Vancouver, Canada, which must have been especially significant for Russell and Parker, both of whom were born and raised in British Columbia. Russell, who plays the big sister of the Robinson kids, sounded a little nervous as she gushed about the gorgeous filming locations of Vancouver.
"We were lucky enough to shoot in Vancouver, British Columbia, Canada, and it is a beautiful, beautiful place with lots of different landscapes and climates, and because Netflix is so full of resources, we were able to shoot on a lot of these locations. We did battle a little bit of rain, just a little bit!" she chuckles as she says, "But we were able to also shoot in some beautiful places and I think you'll be able to see that throughout the entire series."
The youngest star, Jenkins, stole the show both on-screen and off-screen. Standing in the middle of the stage before a large audience with cameras flashing away would intimidate any 12-year-old, but the well-spoken teenager took everything in stride and responded with astonishing confidence to a question about what the Robot is to him.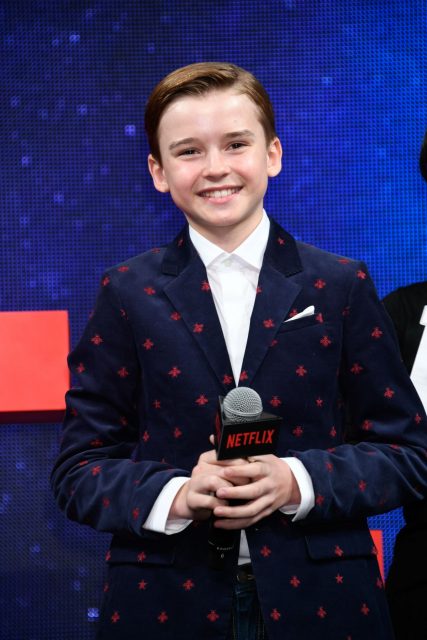 "The Robot to me is a reminder of compassion. I believe that we all need compassion, and Will sees a scary creature when he first meets the Robot. But he manages to look past that, and he sees the good inside of the Robot. I think through that compassion came such a beautiful friendship. They learn from each other, they protect each other, they make mistakes together, so I think that compassion helps them get out of the situation they were in."
The cast went on to share about their time in Tokyo so far with their Japanese audience. Jenkins piped up, "I went to the hedgehog cafe yesterday, and boy was that an experience! I also was incredibly blessed to be able to see all the beautiful history of Japan and I had sashimi for the first time! What better place to try sashimi than Japan. Arigatou gozaimasu!"
Sundwall's favourite part about Japan was simply walking along the streets. Being a huge fan of Studio Ghibli films, every street corner and restaurant was an extra magical experience for her as it felt like a Ghibli film brought to life. Her co-star, Russell, was excited about being just in time for sakura season, and hoped to enjoy some sweet mochi while seated under a cherry blossom tree before leaving Japan.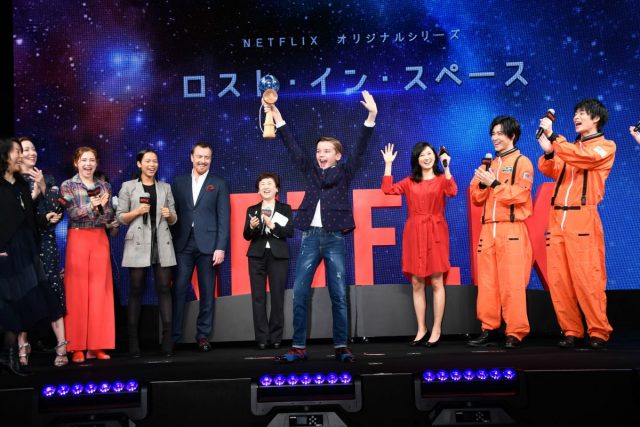 The Lost in Space cast were then joined by a group of Japanese celebrities on stage, including actors Rei Kikukawa, Yuho Murakami, Wataru Kuriyama, and comedian duo Akira Ishida and Yusuke Inoue. After a quick chat, Kikukawa presented Jenkins with a giant kendama – a traditional Japanese toy. Singaporeans surely recognise the toy as well, considering the huge craze for this simple ball-and-stick toy among youths a few years ago!
Ishida first gave a perfect demonstration of playing with the kendama before Jenkins' valiant attempt. When he failed to land the ball on the stick, Jenkins took matters into his own hands instead, to everyone's amusement. If his kendama skills were as fantastic as his sci-fi robot knowledge, he'd be sure to wow the crowd.
As a gift in return, Jenkins gets the crowd to say hello to his not-so-little friend. The cast and celebrities moved aside as the Robot emerged in its full metallic glory.
The massive statue of the Robot is unveiled from a thick cloud of smoke, receiving a chorus of oohs and ahhs from the applauding audience and a flurry of camera clicks from members of the press.
"This is my special friend the Robot, coming with features of light-up head, and gigantic strong body!" Max introduces excitedly.
A modern update on the original Robot B9, the Robot is a menacing figure, towering over the cast with its sleek chrome exterior and circular face with glowing, swirling lights. It would have been amazing if the Robot were able to move and interact with the cast members, but the life-sized statue replica was still a sight to behold nonetheless.
The event ended with the cast gathering for a quick photo and pumping their fists in the air together, shouting "Lost in Space!" before a burst of golden confetti rained down upon the stage to celebrate the show.
Lucky fans in the audience that day were also treated a special screening of Lost in Space episode 1. The rest of us will have to wait until April 13, 2018 to view the full season on Netflix, and based on our review, this is one you're gonna want to binge-watch. Meanwhile, check out our interview with the cast, where they shared more about their characters and had a battle of sci-fi wit in our quiz of who's who in pop culture robots!
Joyce is a language nerd whose idea of a good time includes speed-solving Rubik's cubes and binging Netflix, all fuelled by drinking many, many mugs of tea.
---

Drop a Facebook comment below!

---