If you thought gaming gear had found its limit, ASUS and IKEA has decided to take it to the next level.
And at a glance it does not look like it would break the bank.
The birth of this partnership is IKEA's attempt to better understand the PC gamer's lifestyle. Thus, their collaboration with ASUS ROG.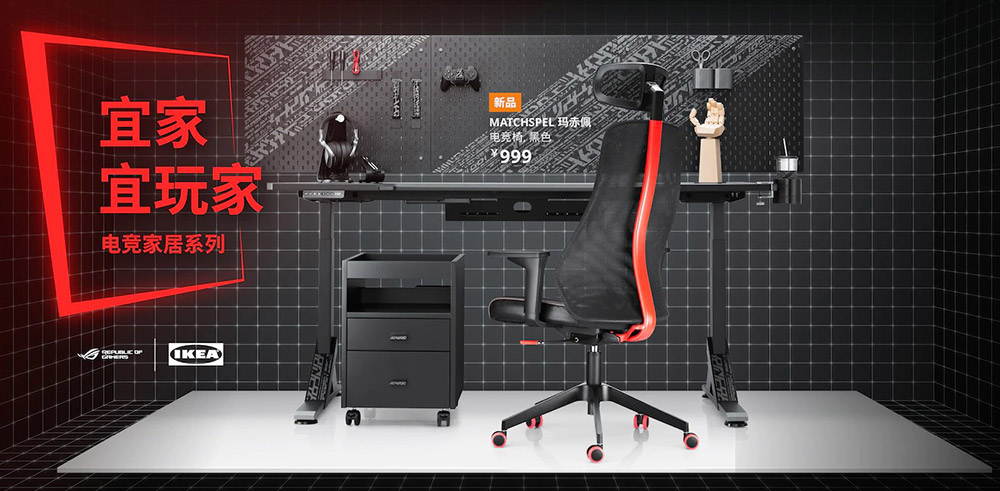 ---
MATCHSPEL esports Chairs
Starting off with their MATCHSPEL esports chair it's priced at RMB¥999 (~US$154.49), things are looking pretty affordable.
The chair looks pretty much like the ergonomic office chairs we see at IKEA with the addition of red accents.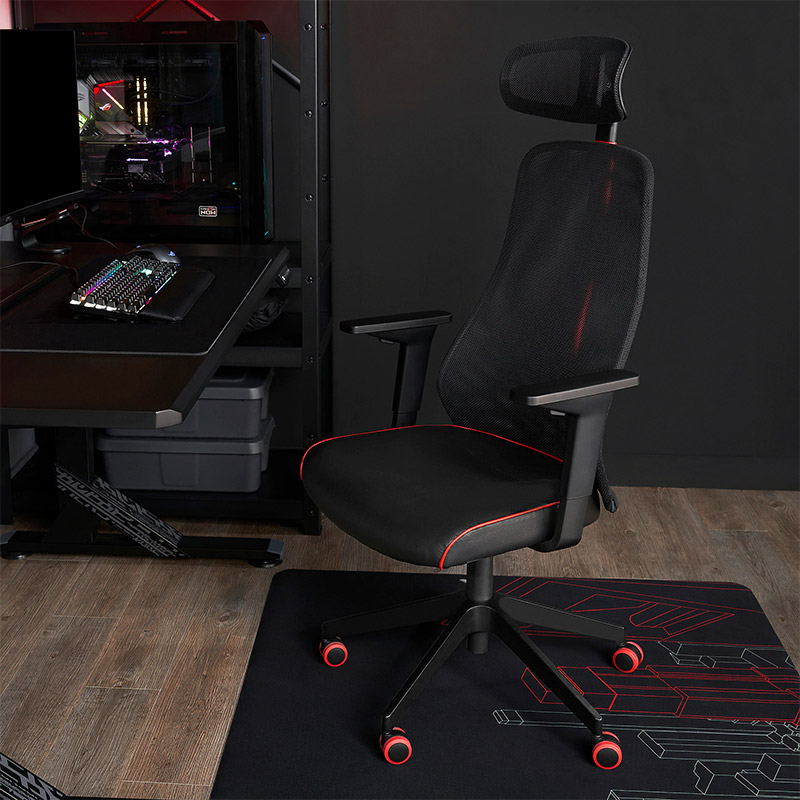 It has all the essentials needed aimed for endurance and comfort with a mesh back, headset, adjustable armrests. The real difference here is the colour as the chair is a reskin of their existing MATCHSPEL chair design.
---
UTESPELARE Height Adjustable Table
Measuring in at 160cm x 80cm, this height adjustable table costs RMB¥599 (~US$99) as the base price and comes with a huge range of customizations. These include table-tops and direct mobile charging capabilities.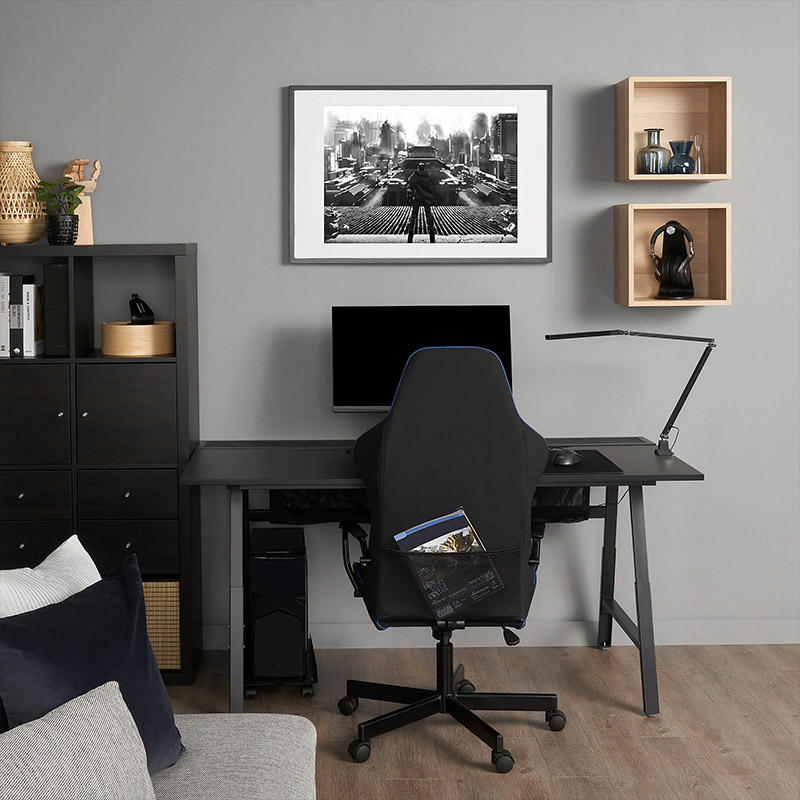 At the rear are grills that help with airflow to dispel heat though we're not quite certain if the placement is quite as ideal.
---
UPPSPEL ASUS ROG IKEA esports Table
While the previous table looks more or less like the one you can find in an office, the top of the line range features ASUS ROG motifs on the table legs and is electronically height adjustable.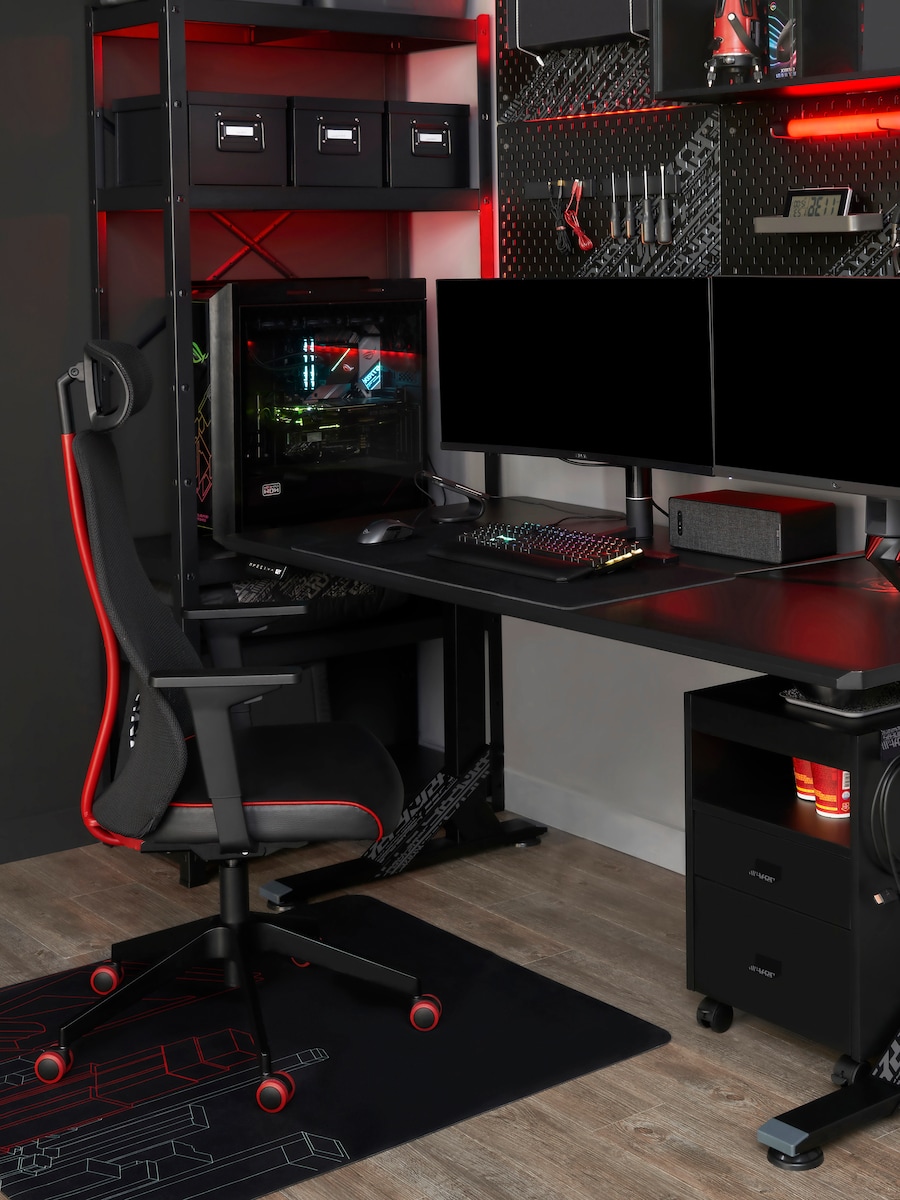 This table is bigger as well (180cm x 80cm) and would cost RMB¥3999 (~US$618) this places is close to the other gaming tables we tend to see in the market.
The table can be positioned in two ways. If positioned with the angled edge towards the user, it forms a rest for the arms. If positioned against the wall, it would serve as cable management. In addition, under the table would be additional trays for cable management.
---
UPPSPEL ASUS ROG IKEA Floor Cabinet
Continuing with the restrained use of ASUS ROG motifs would be a floor cabinet at RMB¥599 (~US$99) to match the table.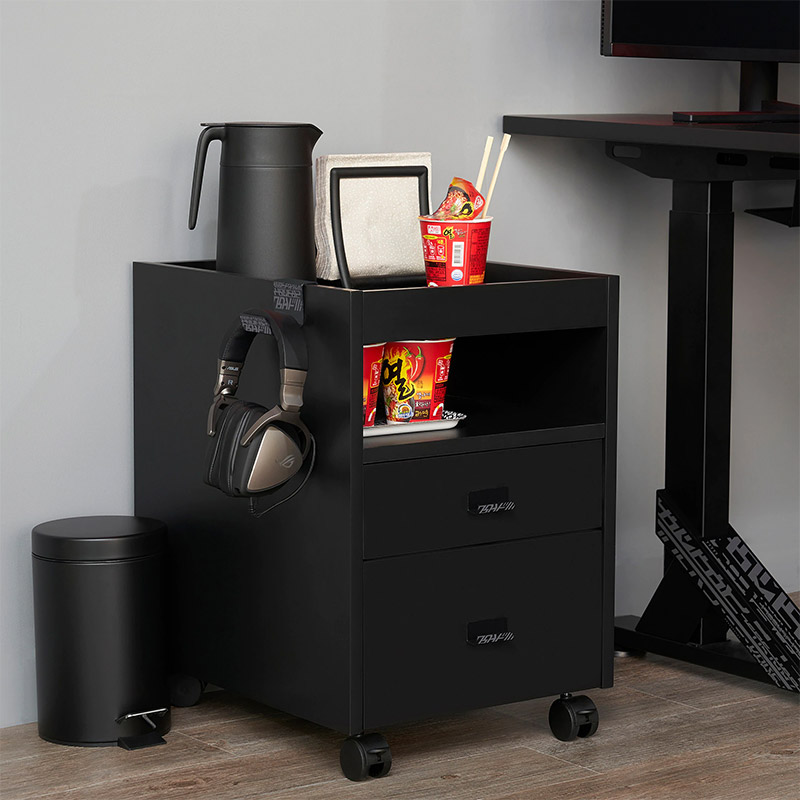 It features a hook for any cables or to place your headphones by the side. Apart from that the drawer handles feature the same ASUS ROG motifs as well.
All in all, it's a simple and functional cabinet which will come in handy in any situation.
Rounding up the UPPSPEL range of accessories there are:
Wall-mounted peg boards – RMB¥198 (~US$30)
Wall-mounted glass shelves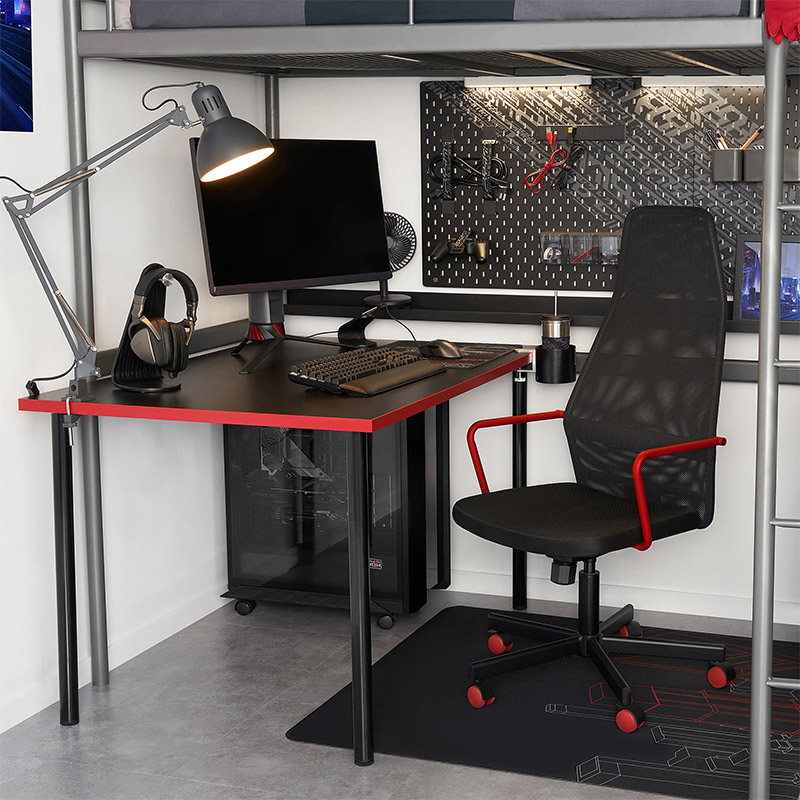 ---
LÅNESPELARE ASUS ROG IKEA Table Accessories
Rounding the entire set to organise your table space would be:
LÅNESPELARE ASUS ROG IKEA headphone holder – RMB¥99 (~US$15.25)
LÅNESPELARE ASUS ROG IKEA mouse bungee – RMB¥99 (~US$15.25)
LÅNESPELARE ASUS ROG IKEA table ring light with mobile phone holder – RMB¥249 (~US$38)
LÅNESPELARE ASUS ROG IKEA cup holder – RMB¥49 (~US$8)
LÅNESPELARE ASUS ROG IKEA metal tumbler – RMB¥49 (~US$6)
LÅNESPELARE ASUS ROG IKEA pillow – RMB¥149 (~US$23)
LÅNESPELARE ASUS ROG IKEA neck cushion – RMB¥29.90 (~US$5)
LÅNESPELARE ASUS ROG IKEA mouse pad – RMB¥49 (~US$8)
LÅNESPELARE ASUS ROG IKEA mouse mat – RMB¥99 (US$15.25)
These accessories allow for gamers to incrementally add gear to the table without busting the bank matching their gaming ambitions as time goes on.
The coolest item of this lot has to be the LÅNESPELARE ASUS ROG IKEA "Random Object Holder" for RMB¥129 (US$19) in the form of a wooden hand with articulation.
---
To ease the buying process, IKEA China is providing a one-stop service to help gamers design ideal home and add in plenty of RGB to achieve their gaming dreams.
When would this collection arrive in the rest of the world? We guess that it would simply be a matter of time considering that many of the elements are based off existing designs. The only thing that differentiates would be the addition of the ASUS ROG pattern motif.
For now, you can browse the IKEA China site here.
Gerald currently straddles between his love of video games and board gaming. There's nothing that interests him more than trying out the newest and fanciest gadget in town as well. He dreams of publishing a board game sometime in the future!
---

Drop a Facebook comment below!