ASUS has constantly been wowing everyone with its impressive lineup of laptops this year. From the ASUS ProArt StudioBook Pro X that is aimed at well, content creating professionals, to the ASUS ZenBook Flip S that is both a tablet and a laptop, ASUS has never ceased to innovate, improve, and release new products that'll help make its customers lives a whole lot more convenient.
This very same philosophy is shown in the ZenBook 14 UX435, which at a quick glance might just look like the ZenBook 14 UX425 released earlier in 2020, until you spot the ScreenPad that's below the keyboard. The UX435 builds on the previous UX425 series, keeping its slim and lightweight form factor and classy design, whilst adding a touchscreen, and glass-covered ScreenPad along with some upgraded specs.
Measuring 319 x 199 x 17.9mm, the UX435 is just a tad bit thicker than the UX425, which is to be expected considering the newly added ScreenPad. What's impressive is that it is not much heavier than the UX425, at only 1.2kg as compared to the UX425's 1.13kg. With how lightweight it is, the UX435 is incredibly portable and great for bringing out to work on, in a cafe or library.
The laptop boasts a 14-inch Full HD (1920 x 1080) touchscreen display with anti-glare properties and 400 nits of brightness, that makes it easier to view the display even when it is bright and sunny outside without having to worry about unnecessary glare from the sun obscuring the screen. Colours are also vibrant on the LED display with 72% NTSC gamut, meaning users will be able to get more vivid and true-to-life colours on the screen.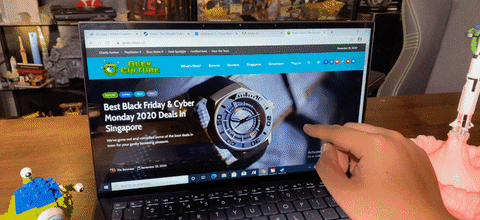 Aesthetically, it goes without saying that ASUS has designed another beautiful laptop, with a spun-metal finish against the Pine Grey lid of the laptop which gives the laptop a more premium and elegant look and feel.
Much like other ASUS laptops, the UX435 comes with an ErgoLight hinge that helps to lift the keyboard at an angle for a more ergonomic typing experience. We particularly liked how smooth sturdy the hinge felt, being able to easily lift the screen up with one finger. Though the ErgoLift hinge does mean that the grills near the keyboard does end up blowing hot air to the bottom of the laptop's display. We did notice the display getting much warmer after prolonged use and with glass being a known absorber of heat, we can't help but wonder if exposure to such heat for too long will have any adverse effects to the laptop in the long run.
The UX435's keyboard comes with white backlighting in three different levels of brightness that you can adjust. To the right of the keyboard deck, ASUS has fitted in an extra column of keys for the Home, Page Up, Page Down, End, and Fn buttons. Depending on the individual, some might find these additions redundant, and only contributes to a more cramped keyboard layout, with the rest of the keyboard moved to the left to accommodate the new keys. However, once you get used to the new layout, typing on the UX435 is an enjoyable one with the keys on the laptop being quiet and quick, with a suitable key travel distance.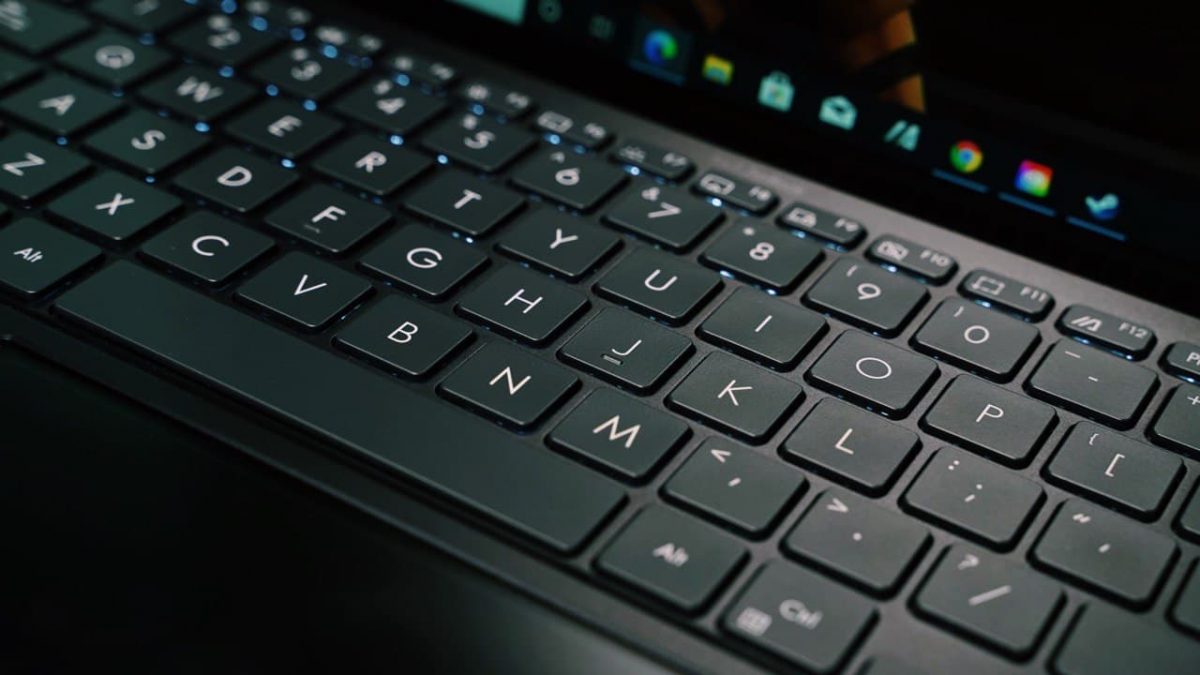 Below the keyboard is the main star of the UX435, the ScreenPad 2.0. Measuring 5.65-inches, you can easily use it as a second screen for holding another webpage when conducting research for work, or use it to hold a video that you can conveniently watch as you do your work on the main screen. It is also big enough that words and images on the ScreenPad 2.0 don't appear too small. You can even set task groups on the ScreenPad 2.0 for different purposes. For example, you can have a task group be a Youtube playlist of you find conducive for working in, a Google Document that you are working on, and your Zoom or Discord for having group meetings in. While another is a task group consisting of your favourite game, your streaming software, and a guide of the game you're playing.
Overall we found the ScreenPad 2.0 great to use, with the only gripe we have with it being that the touchpad mode on the ScreenPad 2.0 is incredibly easy to deactivate. A simple tap on the 'X' on the top right closes it, which can sometimes happen while you are typing. Perhaps having to click and hold on the 'X' instead of a simple tap to close the touchpad might be better for the ScreenPad as having to constantly bring back up the TouchPad mode while typing can be rather troublesome.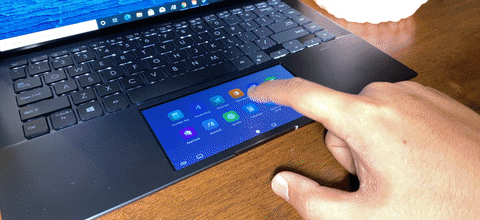 The UX435 is powered by 11th generation Intel Core i7 processors with NVIDIA GeForce MX450 graphics card,16GB of RAM, and 1TB of storage. This makes it more than capable of running multiple tabs on Google Chrome without any noticeable lag, whilst also running videos on YouTube or Netflix, and other social media sites effortlessly. It is also able to run demanding software such as Adobe Photoshop and Lightroom without breaking too much of a sweat. It is certainly a great pick for those looking to get a laptop more for productivity.
As a laptop geared towards productivity, it'll only make sense for the UX435 to be able to last for a long time without needing to be charged, and indeed it does. Though it only comes with a 63Whr battery, smaller than the one offered in the UX425, we found the laptop easily being able to last for roughly seven hours, on medium to low brightness and a typical workload of surfing the internet, working on articles, watching YouTube, and running Photoshop. Charging the laptop is pretty convenient as you can do so using the USB-C port found to the left of the laptop. Hence if you find yourself without the charging cable provided by ASUS, you simply need to get hold of another USB-C cable and it'll do the trick too.
Despite being an ultraportable laptop, the UX435 comes with a surprisingly robust selection of ports, with two Thunderbolt 4 USB-C ports and an HDMI port to the left, and a USB Type-A port, a headphone jack, and a microSD card reader to the right.
All in all, if you are looking for an aesthetic, lightweight, and ultra-portable laptop with double the screen to help boost your productivity, then the ASUS ZenBook 14 UX435 will be the laptop for you. It will be retailing for S$2,198 but if you find yourself not needing an extra screen, then you can consider just getting the ZenBook 14 UX425 which retails for only S$1,398.
GEEK REVIEW SCORE
Summary
For those looking for a productivity machine that's lightweight, ultra=portable, and aesthetic.
Aesthetics -

8.5/10

Build Quality -

8/10

Performance -

8/10

Value -

7.5/10

Geek Satisfaction -

8/10