Japan is HUGE on all things Star Wars. Back in April 2015 when ANA first unveiled their R2-D2 jet at Star Wars Celebration Anaheim, I was already convinced to book a flight when it spreads its wings this October. Now, they are rolling out not one, but three jets! New to the family will be a BB-8 jet (2016), serving North American routes, and a Star Wars jet (end of 2015), serving only Japan routes.
Before the R2-D2 ANA jet starts its regular service in mid-October, there are plans for a Fan Appreciation Flight event on 17 October at Haneda Airport. There will be a total of 89 guests with a flight duration of 2-3 hours. Get this, passengers will be required to wear Star Wars costumes! Looks like the only way to get a spot on the flight is to win tickets via ANA Planet (39 guests) and ANA Mileage Club (50 guests).
Just look at the flight crew prepping for the launch. Now all we need is an R2 unit serving beverages:
If you're travelling to the Narita Airport via ANA this year, don't forget to drop by the ANA Lounge for some free play with the Star Wars Battle Pod first-person arcade shooter machine featuring a dome-shaped screen. More details can be found here.
ANA has done up some pretty badass websites for their Star Wars jets, so be sure to check them out for more info: ANA-SW.com and ANA-Planet.com
They are impressive… most impressive.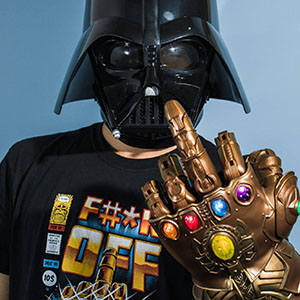 Yonk is a geek who is fortunate enough to have an equally geeky Star Wars fan for a wife, who owns a LEGO Millennium Falcon encased in a glass coffee table as their home's centre-piece.
---

Drop a Facebook comment below!