Sick and tired of standing like a herd of Mareep in Hougang, Yishun or East Coast Beach? Why not head to the Singapore Zoo instead? On 13-14 August, Wildlife Reserve Singapore will be releasing 500 lures across the Singapore Zoo, River Safari and Jurong Bird Park.
Plus, there'll be some awesome prizes to be won; like free annual memberships and plushies. But before you head down here are some things you need to know to be the very best, like no one ever was.
[1] The best time to catch them all is… 
Jurong Bird Park: 10am – 2pm
River Safari: 1pm – 5pm
Singapore Zoo: 10am – 2pm
That's when the 500 lures will be released throughout the parks. But if you're one of the few folk who are there to actually admire the animals at the zoo, either avoid going this particular weekend or just go before or after these timings.
[2] Hop on the Mandai Express
This express bus service runs from Bedok, Tampines and Sengkang and straight to the zoo for just $3. The only catch is that the bus only runs on weekends and selected Public Holidays. Plus, you have to remember to book your tickets beforehand here as you can only board the bus at the date and timing you've booked. You can book the return trip separately.
The rest of you mundanes will have to take the train, bus or cab.
[3] There are over 70 Pokéstops and 8 gyms
Each wildlife reserve has its own map that shows you where the Pokéstops and gyms are. Jurong Bird Park has the most with four gyms within its compound while the Singapore Zoo has one and the River Safari has two.
You can download each of the maps from their respective official sites here:
River Safari | Singapore Zoo | Jurong Bird Park.
[4] Read the Pokémon Trainers Wildlife Survival Guide
There are maps and "survival guides" put up around the parks. These will help to orientate you as well as remind you what to and not to do will in the parks. Remember to pay attention to where you're going, the last thing you'll want is to end up falling into and flopping around an enclosure like a Magikarp.
[5] Take time to check out the Pokéstops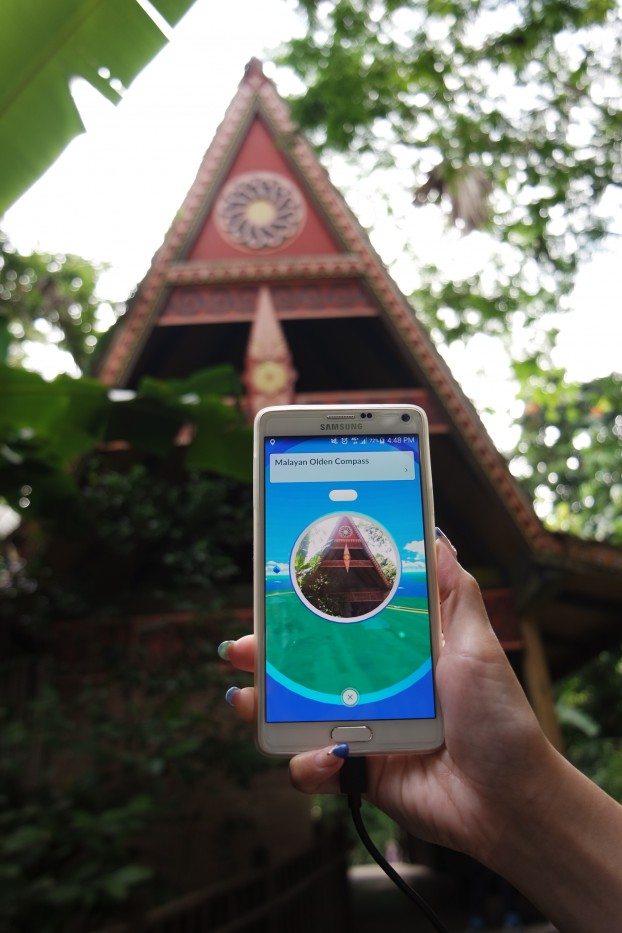 Unlike most Pokéstops around the neighbourhoods or in town, the ones at the Singapore Zoo are unique and informative. So do spend a little while checking out what they are all about. Some of the stops include the Snake House, a tribute to Ah Meng (the beloved Orang Utan) and a mangosteen sculpture.
[6] The best place to chill out is with Inuka 
If the sun's getting to you after a day of wondering around, head to the Tundra exhibit which is the coolest spot in the zoo, literally and figuratively. The exhibit area is cold, dark and has plenty of seats to rest your weary feet. Say hi to Inuka while you're here.
[7] Snap that picture perfect photo
If you are really lucky, you just might be able to snap a photo of Ekans next to a snake or a Pidgey next to a pigeon. But sometimes Pokémon just don't appear where you want them to. The trick to placing them for a proper shot is to aim your phone for the photo before you tap on the Pokémon. Chances are this will cause the Pokémon to appear on screen in front or next to the animal or person you want to take it with. If you tap on the Pokémon before framing your shot, simply "run away" then position your phone and tap on the Pokémon again. It should reappear in a more favourable position.
Don't forget to hashtag your photos with #PokemonGotoWRS. The best photo wins a 42″ Ah Meng plushie.
[8] Take over the gym 
The Singapore Zoo's gym is found near the giraffe enclosure, in the Tropical Plants garden. It's actually a Nutmeg Sculpture. Ownership of the gyms are always changing due to the various visitors constantly streaming through the area. Take over the gym a couple of times for extra exp!
[9] Expect mostly regular Pokémon with some rares
You'll find a lot of candy fodder as you walk around the zoo. Its littered with Ratatas, Pidgeys and Evees, amongst some others. Closer to the edge of the river you will be able to find Seakings, Goldeens, Magikarp and Slowpokes. Pay careful attention as you pass the Girafarigs as you may be able to catch a Dratini near their enclosure. Near the entrance of the zoo you may also be able to spot a Snorlax.
[10] Actually look at the animals

See how many animals you can match to their Pokémon counterparts. We spotted Drowzee, Teddiursa, Oshawott, Mareep, Ponyta and many, many more!
---
Pokéhack #1: Take the Tram
If you're tired from walking around all day, hop on the tram and go a couple rounds around the zoo. It's the fastest and most convenient way to hit a couple of Pokéstops and hatch an egg or two. Walking the entire expanse of the zoo on foot should be enough to hatch a 5km egg or a couple of 2km ones, but the tram is the easiest way to go.
Pokéhack #2: Buy Bundle Passes
If you plan to visit all the parks, best get a bundled pass now as the WRS is currently offering 51% off their Singapore Zoo and River Safari bundled pass and Jurong Bird Park's entry fees for the month of August (to celebrate Singapore's birthday). Or you can get an annual pass to one or all four parks (including the Night Safari).
Victoria is a consummate dragon trainer fueled by ice cream and cake. A huge cartoon, tokusatsu, bronze and modern age comics fan, she aims to one day use her cosplay skills to become a spy like Sydney Bistrow.