Unveiled here just 2 months ago, the ASUS GT51 is a massive gaming rig that is imposing and intimidating. It sports a matte black exterior, with angular lines that provide both a clean and futuristic look, and would easily complement that Lamborghini sitting in your garage.
At the front, light strips run down the sides of the front panel, as well as the ASUS ROG logo. This highlights the front USB ports, headphone and microphone jacks as well, as well as the impossible-to-miss arc reactor-styled front air intake. Hidden in full view is a well concealed slim tray DVD drive. The light strips, as well as the lights at the air intake, can be configured to any color, so naturally, we went for red for the side strips, and blue for the air intake, for that Iron Man look.
On the right side, the chassis comes with a windowed panel for users to admire the guts of the GT51. The review set came with 2 massive reference design Nvidia GTX Titan X, as well as the 120mm liquid CPU cooler. We would like to commend ASUS for including support braces for the Titan X, as both these cards are massive and could have a tendency to sag over time, due to the weight.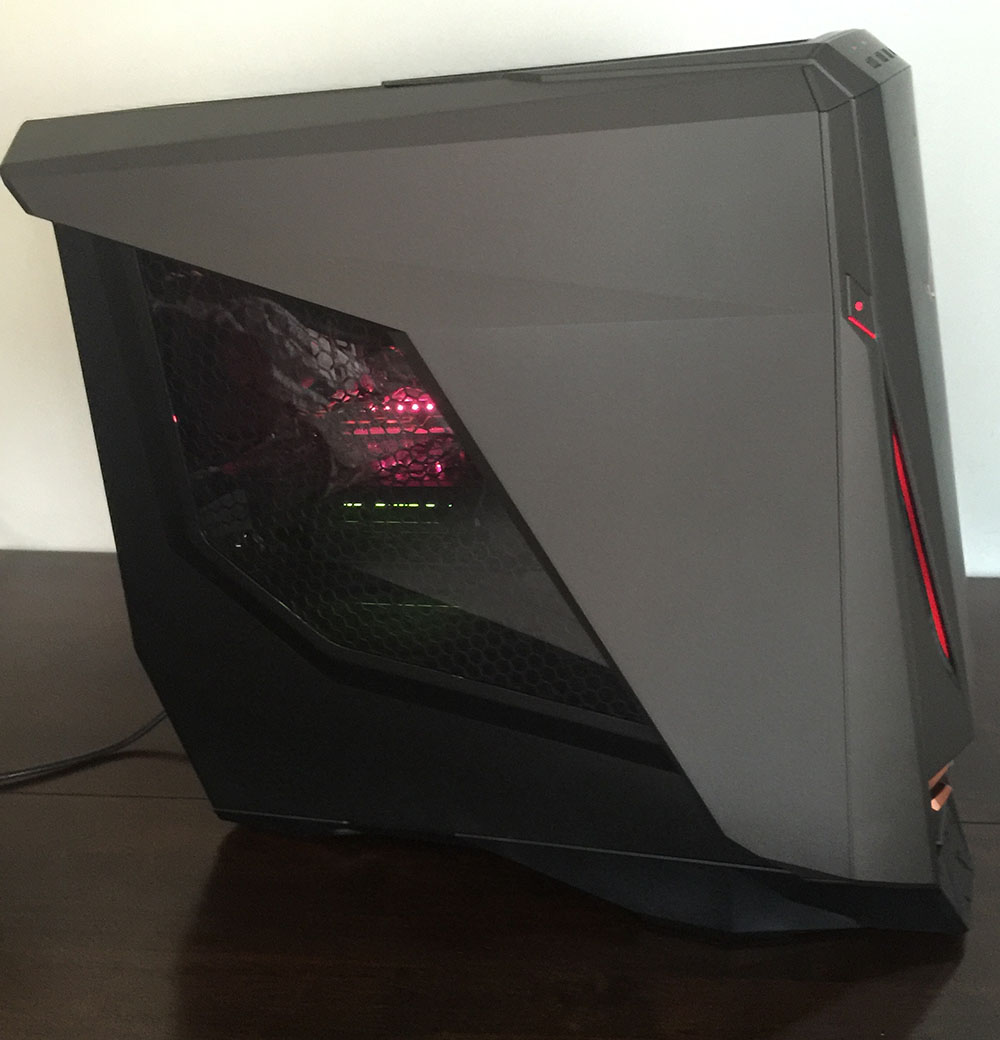 ASUS has also included their ROG Aura lighting on their motherboard, so users can also adjust the color of the lights in the system, as well as tweak the lighting effects, to match their mood or games, using the Aegis II software. Talk about all that endless RGB goodness.
On the top, Asus is using the same Mayan-inspired design elements from some of their latest ROG laptops, as well as their GR8 and GR20 desktops. However one thing missing are the dust filters that prevent dust from being sucked into the case, as the layout of the fan creates a negative air pressure zone, which results in the case being more susceptible to dust build up.
Performance wise, the review unit booted up insanely fast, with timings of under fifteen seconds, all thanks to its NVMe SSD.
The GT51 comes with Aegis II software, which serves as a control station for all things related to the GT51, from the color of the light strips, to Overclock mode. It also serves as a one-stop monitoring station allowing the user to monitor CPU speeds, Ram usages as well as voltages. It also controls the Shadow Drive, a hidden hard drive partition in the machine, for storing private files.
To access this drive, ASUS has crafted the ROG Band, an NFC enabled wristband that is half James Bond and half Tony Stark. What else does the ROG band do? The wearer can simply tap it on the NFC scanner at the front of the case, to access the drive which is hidden under normal conditions.
One of more unique features of the GT51 is how ASUS has made it extremely simple for users to perform a modest overclock. One is simply by pressing o ways to do so either press the OC (Overclock) button on the front left side of the case. The other way is to use the ROG band to enable the overclock in the Aegis II software. Doing so boosts the CPU speeds to 4.6Ghz, which is a fifteen percent jump from stock speeds.
Missed Opportunities?
With all of these features, the ASUS GT51 seems to be the dream PC to own but there are certain areas where Asus seems to have dropped the ball. Firstly, a 700W silver-rated power supply powering this behemoth seems to be cutting it a little bit too close, considering that this system packs 2 Titan X, and an overclockable I7 6700K processor. An 850W power supply would have been a much better fit here, as it offers better allowances.
Secondly, a quieter fan can be used for the liquid cooler, as the included fan tends to be quite loud when operating under load. This can be quite irritating especially when gaming, or even during simple video streaming.
Thirdly, the on-board wireless receiver can be much better, especially for a machine of this price. During our testing, the machine suffered from poor transfer speeds, even though we were using an ASUS AC87U router, which provides very decent coverage and transfer speeds. This could also be attributed to the lack of an external antenna.
Finally, the absence of dust filters is something that shouldn't be left out on such a premium machine, especially since dust is one of the most common killers of computers, due to overheating.
Conclusion
At an eye popping price of S$7,498 for the highest end configuration, this definitely takes the cake as one of the most expensive off the shelf gaming desktops in the market. With the recent introduction of the newer GTX 1080, which offers a much better performance at a lower price than the Titan X, it is currently hard to find a good value proposition for the ASUS GT51. Asus has said that newer models will include the popular GTX 1080 cards, which should take graphics performance up to a whole new level!
Kudos should be given to ASUS, for taking a step in the right direction, to provide gaming computers that have both great processors as well as great graphics cards. This beats what most other brands are doing, who simply build machines with great processors with average graphics card, and slap a "Gaming PC" label on it.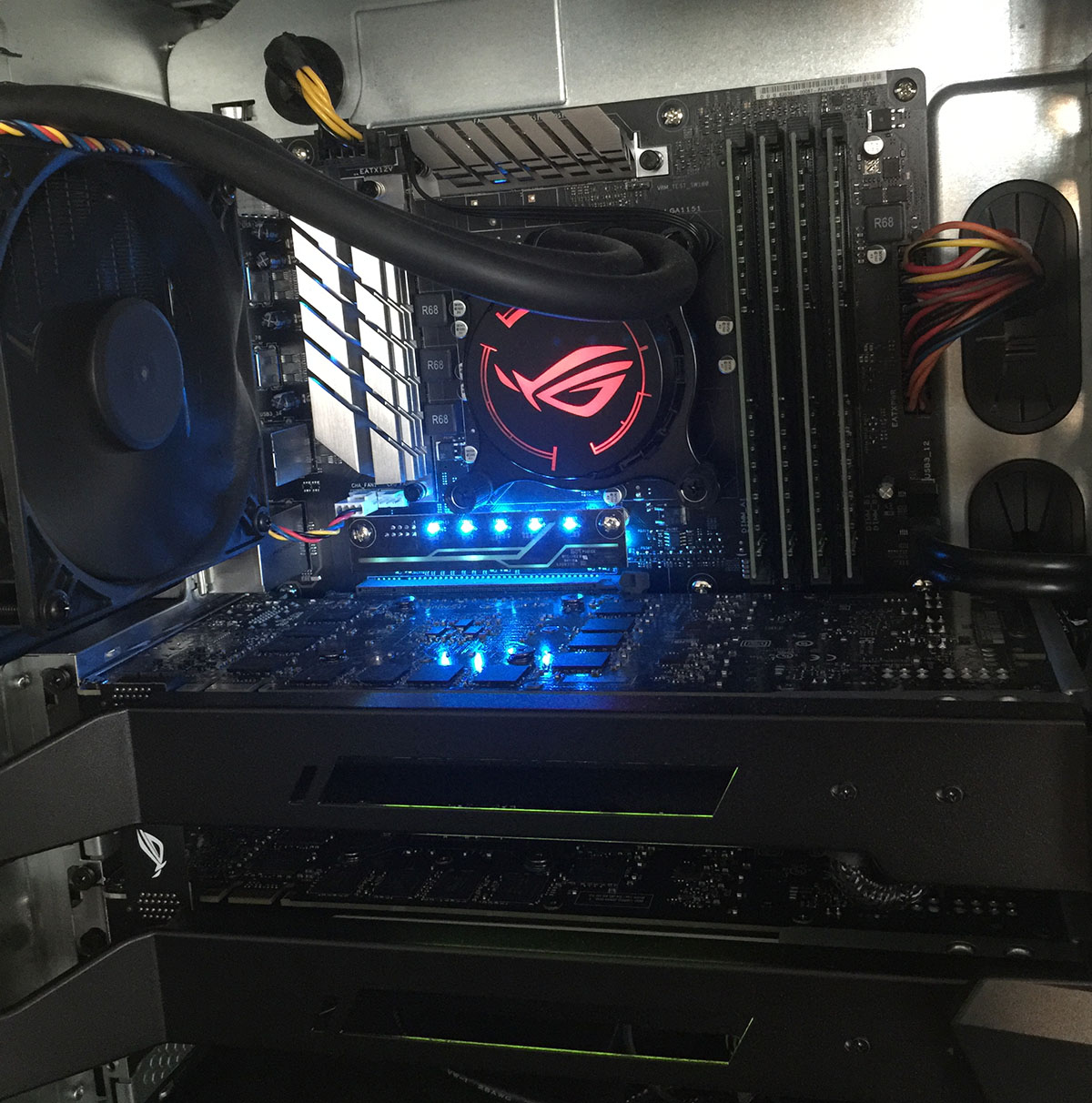 That being said, the ASUS GT51 isn't for everyone due to its steep price tag. While it has an easy to use interface, as well as insane amounts of performance straight out of the box complemented by many features found on a custom-made PC, this looks to be more for buyers who have deep pockets, and who want a great looking machine to complement their epic desk setup.
We have since been informed by ASUS that the new models will include the popular GTX 1080, which would take graphics performance up to a whole new level! These newer configurations would available now at your nearest ASUS authorized vendor, with prices starting at S$3,498 for the single GTX 1080 variant and S$4,498 for the dual GTX 1080 model.
Specifications
A custom-designed ASUS motherboard, which bears similarity to the ASUS Maximus Hero
64GB DDR4 Ram
Intel Core I7 6700K with OEM Liquid cooler
2 x Nvidia Reference GTX Titan Xs in SLI
2 x NVMe SSD mounted on a PCI bracket
3.5" 2TB mechanical hard drive
2 x 2 Intel Dual Band Wireless-AC 7265 wireless module
700W ACBel 80+ silver-rated PSU
Ports:
8 x USB 3.0 (6 Rear, 2 Front)
1 x USB 3.1 Type C with Quick Charge 3A/5V
1 x USB 3.1 Type A
1 x Gigabit Lan Port
2 x USB 2.0 Ports
1 x PS/2 (Keyboard and Mouse)
1 x 7.1 Channel Audio
---

Drop a Facebook comment below!