November and December will be filled with excitement and surprises for Animal Crossing: New Horizons players. With Maple Leaf season just launched on 16 November, followed by yet another update on 19 November, together with a new trailer showcasing Turkey Day and Toy Day (Animal Crossing New Horizons' secular version of Thanksgiving and Christmas).
Let's first take a look at the Maple Leaf season, the 10-day long challenge from 16 to 26 November for those in the Northern Hemisphere islands. For players in the Southern Hemisphere islands, you have to wait till April 2021 for your turn. During this period, as trees on the island strip off their haggard brown coat to put on a vibrant red dress, players will be enthralled by the red maple leaves dancing joyously in the wind. Among these maple leaves, players can find some bigger ones which they can catch with their net. These leaves are the crucial material required to craft all of the nine seasonal items:
Tree's bounty arch
Tree's bounty big tree
Maple-leaf pond stone
Leaf stool
Red-leaf pile
Maple-leaf umbrella
Maple-leaf pochette
Colored-leaves flooring
Autumn wall
While players eagerly craft these beautiful new furniture in all their variations, some may also be troubled by their diminishing storage space. Well, fear not as Tom Nook is here to solve your problem,for a price, as always. With the 19 November update, players can now extend their storage space from 1600 to 2400 for the hefty price of 500,000 bells. Well, nobody says hoarding is cheap.
There are however two items that are thrown into this update for free – a delicious chocolate Yule log for all, and for players who have linked their Animal Crossing Pocket Camp account to Animal Crossing New Horizons, a new phone case.
Two Nook Miles items have also been added for redemption. The Top 6 Stylish Hairstyles item as its name implies, adds 6 new hairstyles to the character customisation, including a bald option, while the Hip Reaction Collection item adds 9 new reactions – "sit down", "wave goodbye", "take a picture", "sniff sniff", "work out", "yoga", "here you go", "excited" and "ta-da".
Players would have seen their villagers doing all of these reactions except for the last three which are totally new. It is fun to say "TA DA!" with sparkling jazz hands but to be able to finally join the villagers in their morning workout sessions? That is priceless.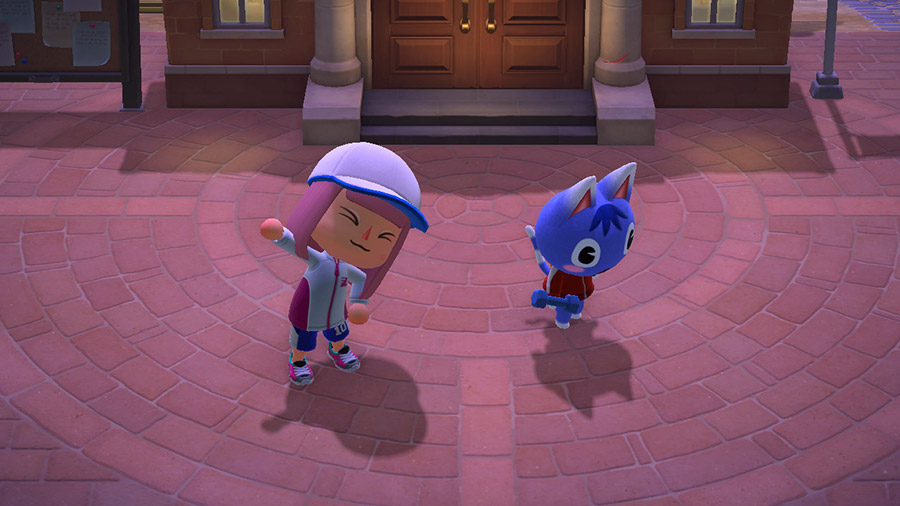 As players spend hours upon hours decorating their island, it is always revitalizing to see what other players have done with their island and learn new terraforming and decoration ideas from them. Through dreaming, players can visit another island anytime without the need for the island owner to be available to fling open their airport gates. All they need is their friend's dream address. With the new update, this feature is expanded to allow players to visit random islands stored in the Nintendo cloud without the need for a dream address. This exponentially increases the number of islands players can dream of, and they can even revisit the same island again!
Another crucial improvement to the game is the option to transfer save data from one Switch console to another. Both save data for the island and individual residents can be transferred. When transferring the whole island, all progress and customizations, villagers and any other residents will be transferred. When transferring an individual resident, the resident, their home, and items in their storage will be transferred to a new island to start a new life. This ability to transfer save data is definitely a lifesaver when players are switching to a new Switch console.
From the new trailer, Nintendo has also given us a sneak preview of what to expect on Turkey Day on 26 November and Toy Day on 24 December. On Turkey Day, first class chef Franklin will be cooking up a feast at the plaza. While we see the player selecting pumpkins when Franklin asks for ingredients, it is not ludicrous to speculate that he might be able to make other dishes with different ingredients like fruits and mushrooms. Perhaps we can finally steam those aggravating sea bass and horse mackerels?
On Toy Day, the player is seen dressed as Santa's helper and helping the black-nosed reindeer Jingle to deliver Santa's presents to villagers. In the background, we could see a variety of festive items, like decorated trees and stacks of presents. There are also lit up reindeers, snowflakes and presents which seem customisable!
Without a doubt, all these events are also a means to lure burnt out players back into Animal Crossing: New Horizons, and to keep all residents busy crafting and customising till the end of the year.
---

Drop a Facebook comment below!