COVID-19 may have sucked the life out of 2020, but Resorts World Sentosa (RWS) is here to make sure the fun stays in 2021. As we usher in the year of the Ox, Universal Studios Singapore (USS) is throwing an exciting Lunar New Year celebration that will reconnect visitors with beloved characters in a safe covid-free manner.
From 7 January to 28 February 2021, visitors of USS can soak in the cheerful atmosphere and watch traditional performances in ways that shouldn't be missed!
Headlining the celebratory event is the Majestic Dragon, a reimagined spectacle inspired by the traditional dragon dance. The brightly-coloured dragon will be stomping the steps of the New York Public Library and will be available for a photo-op. The captivating colours of the dragons are perfect for an eye-popping picture but that's not all, joining the Majestic Dragon are Gru and the adorable Minions from Despicable Me who are decked out in Lunar New Year outfits.
To ensure that photo-taking sessions are conducted in a safe manner, guests have to queue in an orderly manner with a safe distance between each other before coming forward to take photos with their favourite characters. To keep characters safe too, guests will have to stand behind a yellow line a few metres away from the character. It may seem like they're pretty far from you at first, but it's a just enough distance for the perfect wefie! Guests can also take home free souvenirs as dancers will be giving out free festive stickers to those in the queue.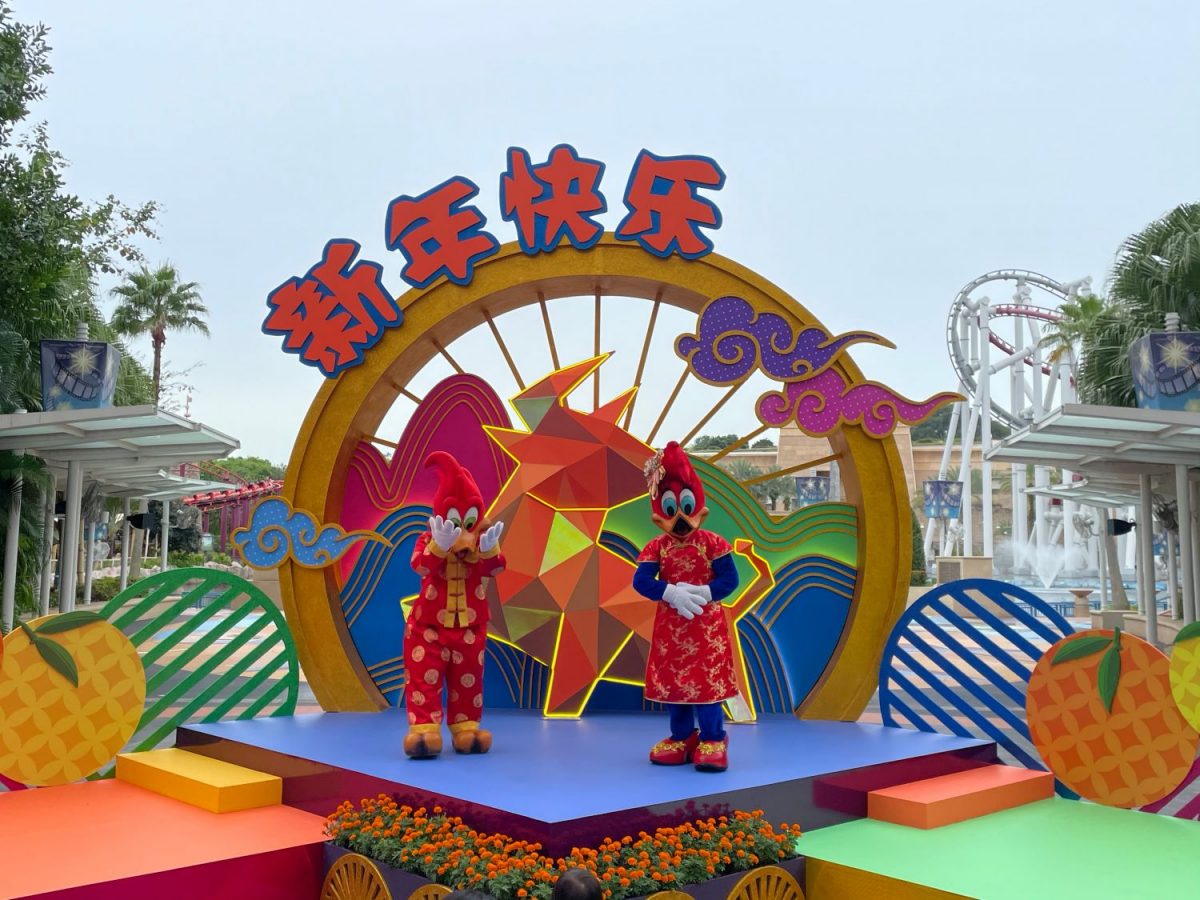 Taking centre stage right after the Majestic Dragon is USS' cutest couple, Woody and Winnie Woodpecker. The lovebirds will be showing off their matchy Lunar New Year outfits, romancing each other like loved-up couples do and will happily invite guests over for photos. We asked Woody and Winnie to do a dance with us for a video, and they happily did so. Safety guidelines may mean you can't snuggle under the wings of the Woodpeckers for a selfie, but it gives you the creative freedom to do whatever you want for your photos and videos.
Nearby the stage, you'll see beloved Po from Kungfu Panda hanging out by hanging lanterns near Hollywood China Arcade where the bun loving panda will be showing off his kickass moves. Wait, Po?! Yes, you read that right. A Lunar New Year special, Po will be roaming Hollywood for this festive season only. If you're a fan of the dragon warrior, this is your chance to see him in the flesh (or costume if we're being real, but you get the point).
That said, fans can also purchase Kungfu Panda merch from the nearby gift store – a rare find here at USS. The exclusive Kungfu Panda merch available includes t-shirts, headbands and of course, plushies.
Speaking of exclusive, visitors can also purchase USS face masks from a gift card. Coming in three designs – the Universal Studios logo in blue, the Universal Studios logo in white and blue and finally, the ever-familiar Jurassic Park movie poster – the masks are tagged with sizes to give you a snug fit and go for only S$9. Since we're still living in the time of Covid, these souvenirs will definitely be of good use.
After shopping, or meeting and greeting with Po, you can head on over to Sci-Fi city to meet with the menacing Megatron from Michael Bay's Transformers.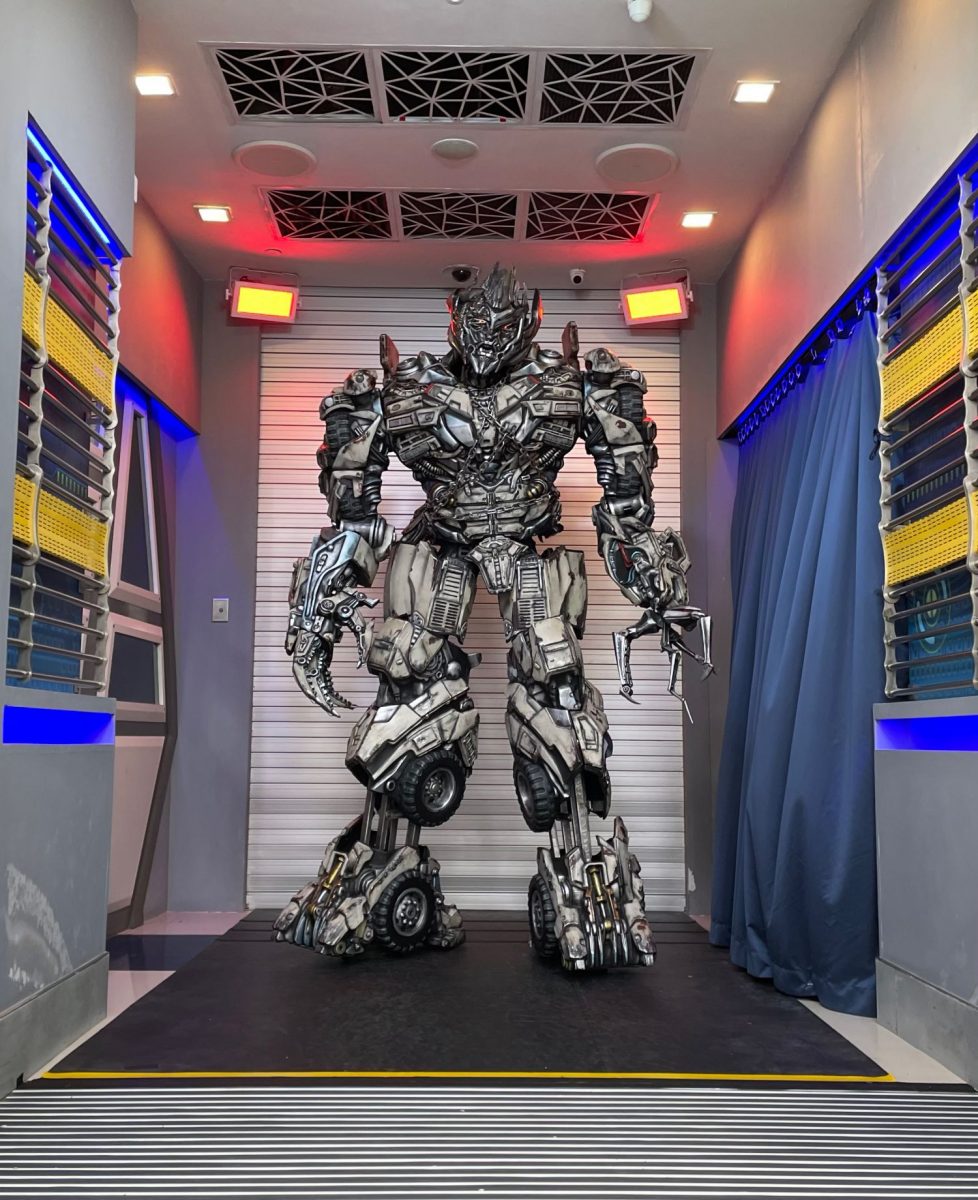 As per usual, Megatron will sass and scare off visitors with his demands for worship, declaration of world domination and condescending comments – all the reasons we love him for. But it seems like Megatron has been taking some Duolingo lessons during the break because this Megatron can speak in both English and Mandarin. Surprise, surprise. Now, this is what we call growth. Though we should add that he speaks Mandarin whenever he wants to and not on queue – it is Megatron after all, no one can tell him what to do.
After you're done shitting your pants and getting roasted by Megatron, you can head back to centre stage and meet with Gru and the Minions again where Kevin will be wearing his specially designed Ox outfit for some photo-ops. So if you missed the Minions in their festive costumes the first time around or are just a really big fan of the tiny yellow beings, then this is the time to circle back and say your hellos and give greetings.
Throughout the day, you'll also get to meet other characters and get your photos taken whether it's with the New York Giants Alex the Lion, Marty the Zebra, Melman the Giraffe and Gloria the Hippo from Madagascar, the comical and friendly bunch from Sesame Street or the characters of Shrek. It's always a fun-filled adventure when you're at USS, so have fun meeting characters and go crazy on the rides.
Entry to USS' Lunar New Year celebration is included with paid park admission (S$66 for adult one-day ticket, free treat + S$5 meal voucher). Singapore residents on the other hand can purchase a dated one-day ticket with free treats from S$43.
More information can be found at RWS official website.