Say goodbye to spotty internet with TP-Link's new Wi-Fi 6E router.
Called Archer AXE200 Omni, the company's new Wi-Fi 6E router features four motorized antennas that independently move and rotate to automatically provide the strongest signal possible to your devices as they move around your home. The router serves as an alternative in needing to implement a mesh network at home – which oftentimes can burn a hole in your pocket if you live in a really big house and require multiple nodes.
Walls, as always, will have something to throw a spanner in the works.
The most impressive feature of this new product is its four external antennas that mechanically rotate and independently adjust their angles. This automatically ensures that signals are being sent to where it's needed the most in the house.
The tri-band router has support for all the modern Wi-Fi bands from 6GHz all the way to 2.4GHz so your older devices will truly benefit from this router. To really enjoy top speeds you'd need to have devices that support Wi-Fi 6E as well, else this benefit will be moot.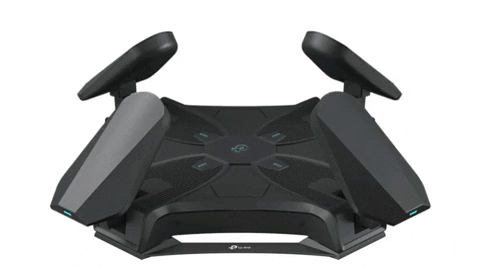 Powered by a 2.0 GHz quad-core processor, the Archer AXE200 Omni includes a 10G and 2.5G ethernet port which allows tethering gaming PCs and video game consoles to the internet.
The Archer AXE200 Omni is definitely an innovative idea, which means it will cost more than a regular router. TP-Link hasn't revealed the pricing of its new router yet.
At the end of the day, it'll be interesting to see how this router is a gimmick or otherwise. Having antennas in a router definitely trumps its aesthetic rivals but we'll know for sure if we can enjoy surfing the Internet while in the toilet.
---

Drop a Facebook comment below!