You've been pounding the Shopee app during their monthly sales, but there really any e-commerce sales event bigger than 11.11! Nothing beats the original, and that applies to Magic: The Gathering as well, and Wizards of the Coast is putting up several mouth-watering bundles that will suit any level of Magic player.
There's up to 24% off on over a dozen items on Wizards' Shopee page, and that's not including other store vouchers up for grabs. You could claim S$8 off S$60 spent, or S$24 off S$180 spent, however each is limited to 150 redemptions, so make sure to get those as early as possible.
Their Magic catalogue can be a little overwhelming, so we've highlighted our top picks to get you started.
---
Secret Lair 30th Anniversary Countdown Kit
This oversized package includes 30 specially curated cards, and will be on an even more limited run than past releases. Think of this Secret Lair as an all-stars version, bringing back the most popular artists from past releases, including Dan Frazier, Uta Natsume, and Rebecca Guay. Check out MagicSecretLair.com for the full list of cards!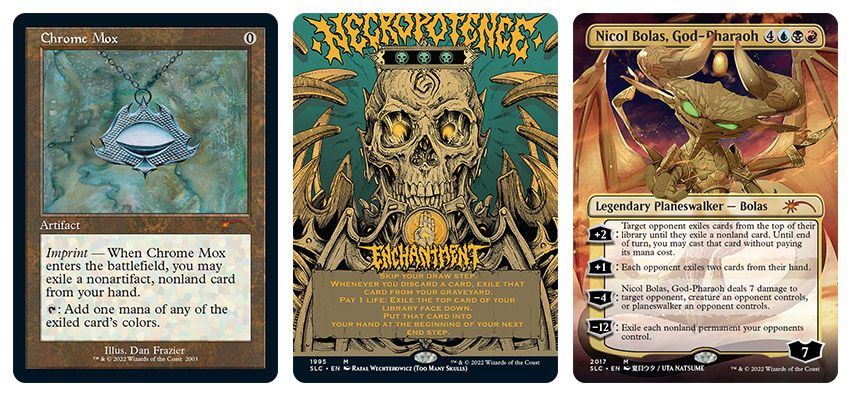 There are some jaw-dropping cards in this special Secret Lair, from the retro-framed Chrome Mox, to Necropotence with the heavy metal art style. Many of these are highly playable in multiple formats, so they're not just going to sit pretty in a binder.
To top it off, each of the 30 cards has a 30% chance of being in foil. Considering you're getting 30 really strong cards (potentially 10 of them in foil) for S$219.88, that's quite a steal with an average price of just S$7.
The set is currently available online for pre-order but do note of the shipping times.
---
The Full Moon Bundle
Halloween may be over, but there will always be a place for werewolves and vampires in Magic. The Full Moon Bundle contains both the Crimson Vow Bundle + Midnight Hunt Bundle from 2021's 2-part Innistrad series.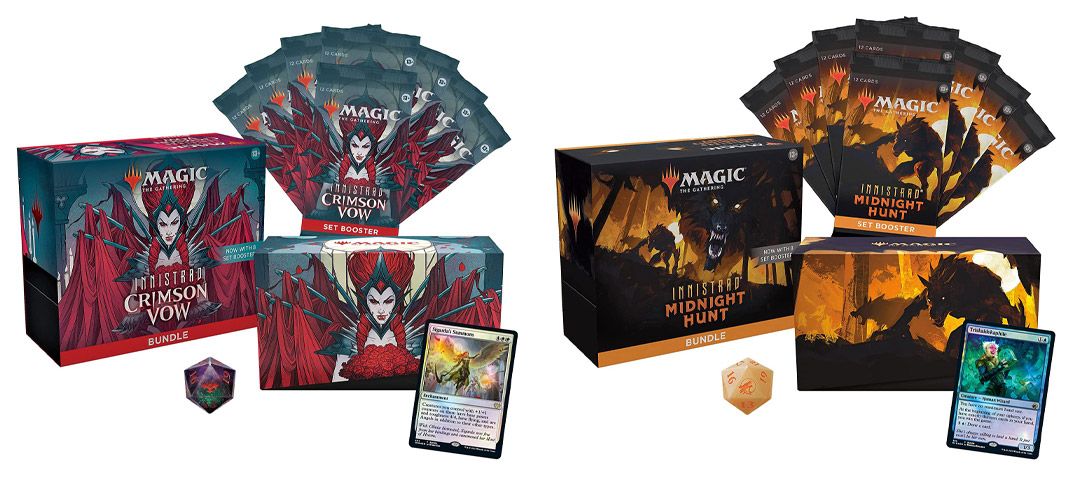 Each bundle contains 8 Set Booster packs, an oversized spindown die, a foil promo card with exclusive art, and 40 basic lands. With both bundles tied into similar themes and mechanics (Daybound/Nightbound), anyone receiving this as a gift can build a decent vampire or werewolves deck.
While a single Bundle would usually go for at least S$50, you can get both on Shopee as a set during the 11.11 sale period for S$95.99.
---
Streets of New Capenna Collector Booster Box + 5 Commander Decks Set
One of the cool new worlds introduced in 2022 is New Capenna, where 5 mob families vie for power against one another. Streets of New Capenna is also historic for the new gilded foil treatment for cards, where gilded foils have embossed, golden borders, and were readily found in the Collector Booster box. With 12 packs in a box, you're guaranteed to open some of the classiest foils you'll ever see on a Magic card.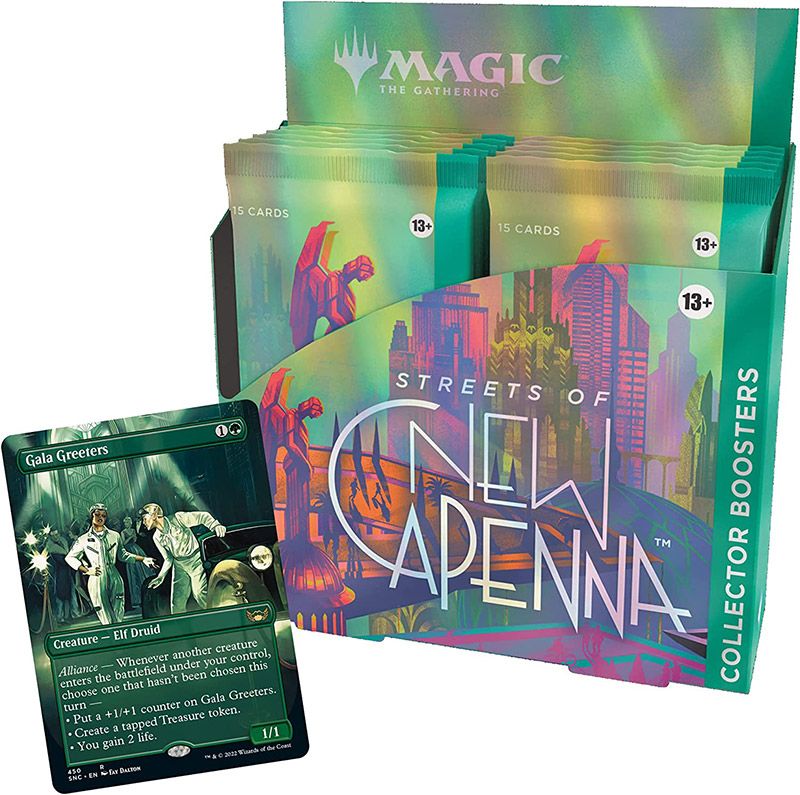 This special also includes the 5 pre-constructed Commander decks, each revolving around 1 of the set's new mechanics. If you've ever felt the need to settle some family disputes, why not take it up on the dinner table over a game of Commander?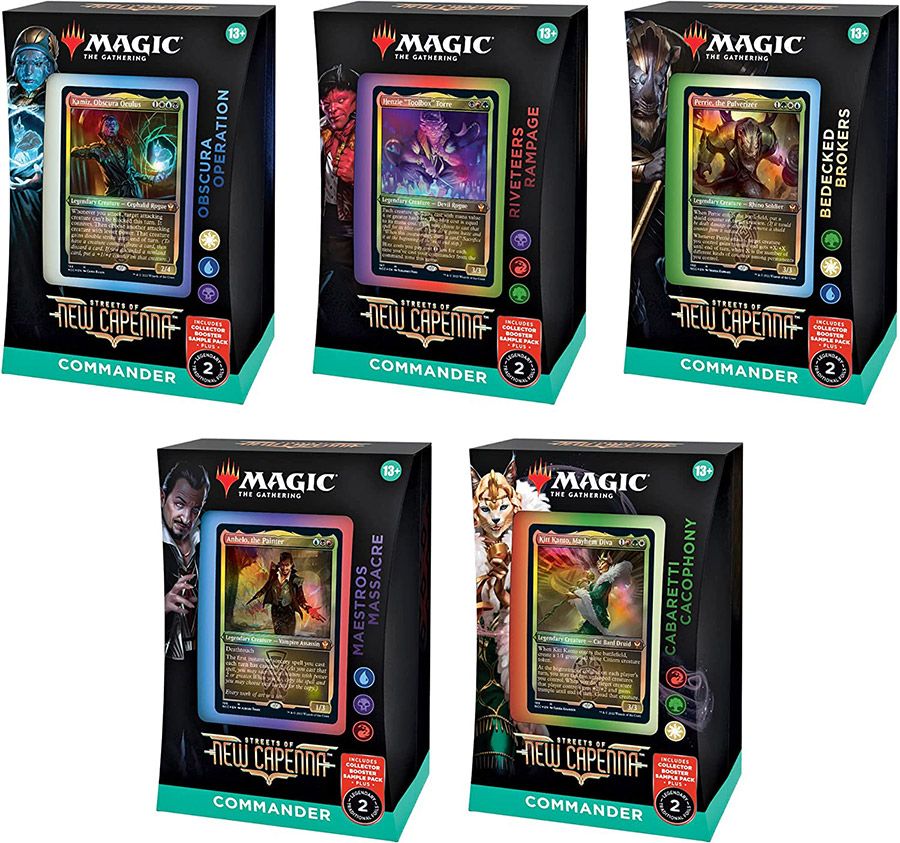 This bundle does come with a hefty price of S$599. But considering you're getting a large number of special foils and the full set of Commander decks that will promise plenty of fun game nights, we'd blow our brains out not getting this one.
---
Commander Legends: Baldur's Gate Set Booster Box + Collector Booster Box
Fans of Dungeons & Dragons will want to pick up their swords for this one. The bundle includes both a Set Booster box and Collector Booster box, perfect for building an extensive card collection set in the D&D world of Baldur's Gate.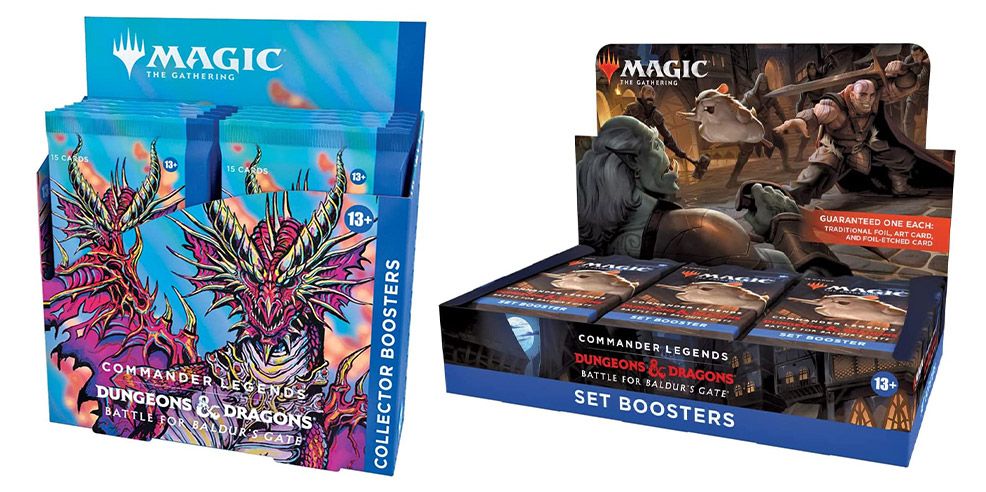 With that many cards, you could build and host your own personal Draft or Sealed pod to play among friends. The foils from the Collector Booster box are sure to draw some envy, especially if you get to pull that Ancient Copper Dragon.
This Baldur's Gate promo bundle comes in a little cheaper than the earlier Capenna bundle at S$499. If you're looking to have the biggest card pool possible for Draft, then sticking to Draft and Set Booster boxes would be the way to go. However, a bundle like this is definitely sufficient and adds a lot more foil cards to provide that wow factor.
Extra Swag for Top 5 Spenders
There are a few extra goodies to take home if you emerge as one of the top 5 spenders in this 11.11 sale period:
Soldier + Angel + Zombie translucent cards
One random Warhammer Secret Lair (Age of Sigmar / Bloodbowl / Orks)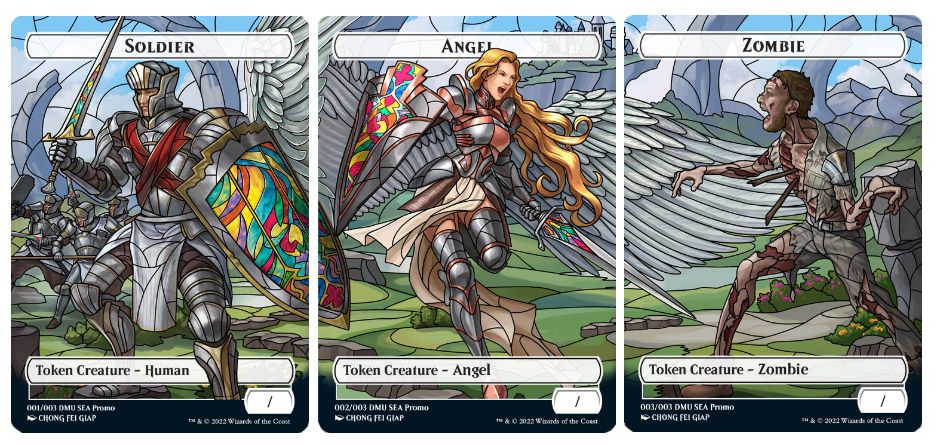 The 3 translucent token cards are exclusive to the Asia Pacific region and were previously available. These were made in very limited quantities so if you've missed them before, now's a good chance to grab them. Also, to participate in the Top Spender campaign, purchases must be transacted only on 11.11 by 2359hrs.
Do note that shoppers will need to include both a Brothers War Collector Booster Box, and Set Booster Box in order to qualify as a top spender. For the latest updates and deals, be sure to follow Magic: The Gathering on Facebook or check out the Wizards of the Coast Official Shopee Store.
---
This article is brought to you together with Wizards of the Coast.