Secretlab's MAGNUS Metal Desk has come together faster and more effective than an IKEA equivalent, and we're thinking that's because of its unique magnetic features that have attracted attention. Less than a week after its release, the table has sold out and is currently out of stock, which says a lot about the consumer expectations for the desk.
If you have purchased one for yourselves or are thinking of adding one soon, there are accessories that are a must-have, from those offering personalisation or cable management. Here are our top 5 accessories that are worth the purchase, along with your MAGNUS Metal Desk.
---
Available as a set of 10 fastening straps, 11mm in length, 15mm in width and 2mm in height, this accessory ensures that all your cables and wires are kept tidy and tangle-free. If you are a neat freak or enjoy a clean and organised table, purchasing this set of straps are a good investment for a clearer mind as well.
Just like the table, it comes in the sleek colour of black with Secretlab's logo found on one end of the strap.
---
If you're a person that tends to misplace their wires around the house or spoil them after tossing them around carelessly, this accessory is a definite must-buy. Available as a set of three red anchors, these have been exclusively designed for the MAGNUS Metal Desk. The magnetic anchors attach securely to the desk surface to make sure that your cables are kept within arm's length.
Seeing as the magnets are small, they will not take up much space on your desk. With such a vibrant colour as well, it gives more characteristic and element to the black design of the desk.
---
In addition to keeping cables organised and tidy, these sheaths help users to keep their wires hidden from plain sight. Just like the cable anchors, these sheaths are designed exclusively for the MAGNUS and will magnetically attach to the desk.
Every purchase comes with two magnetic cable sheaths that are best attached to the desk leg as each matches the leg's width, to allow cables to run down the leg to reach the power point. Each metal sheath is 265mm long, 58.7mm wide and 16.8mm in height. To make it seamless once it's on the desk, the sheath is coated black with the Secretlab logo found on the upper left part of the item.
---
If you're looking to spice your desk up and give more character to the all-black design of the table, having an RGB Strip will certainly guarantee that. With 16 million colours to choose from and four unique lighting presents, it will take your set up to the next level. The strip comes with a built-in magnetic base for seamless integration with the Secretlab MAGNUS.
The RGB Strip comes in 1.5m (59″) length as well as a controller to allow users to toggle between colours. It also comes with two spare magnetic clips for additional strip support.
---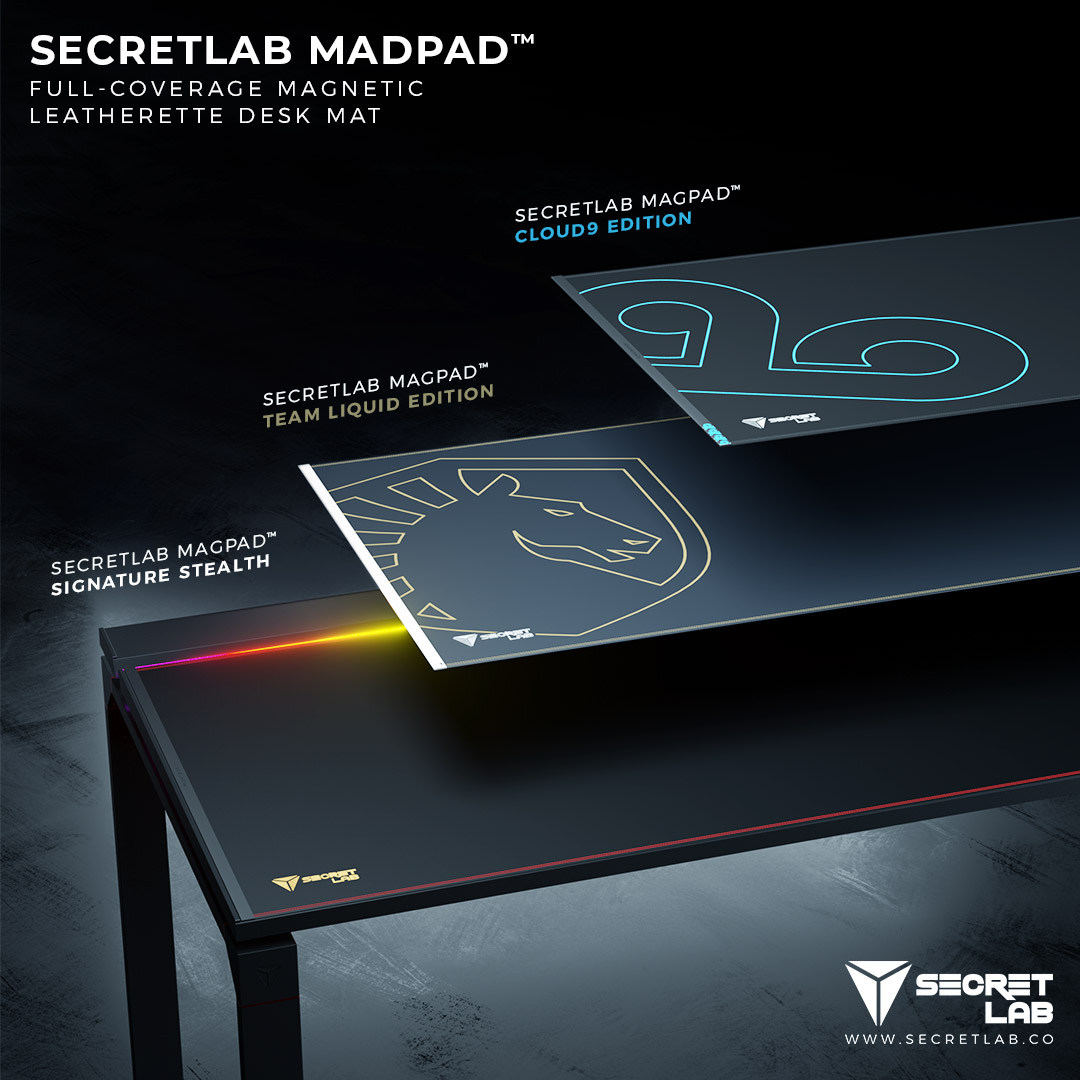 As for the desk itself, it might get boring having just a plain black table but it's also advantageous as then you'll be able to personalise the space yourself. One way to do so is with the MAGPAD desk mat that comes in three different designs – the regular Signature Stealth (S$99), as well as two special edition ones – Cloud9 (S$129) and Team Liquid (S$129).
The 1.5m (59″) length of the desk mats are all magnetic for easy attachment on the desk, and to secure it in place so that it anchors to the desk without worrying about it shifting or moving around. It is also made of durable leather that is designed to ensure comfort when in use.
---
Currently, the Secretlab MAGNUS Metal Desk is only available for pre-order, and restocks will arrive from 17 May 2021 (in Singapore). It is currently out of stock in the U.S. but you can register your interest via Secretlab's official website.