Ergonomic keyboards have been an odd pairing since the early days of the PC era, where the oddly shaped split keyboards have been a sight that stirs enquiring eyes, even as not many can grow accustomed to typing on them Over time, this particular form of keyboard has come in and out of flavour several times, even as fans swear by their use.
While the trend is to have keyboards sporting RGB, wireless, ten-keyless designs these days, the Logitech K680 Wireless Split Keyboard eschews all of that and sticks with offering comfort, without all the flash that dominates the PC accessory industry.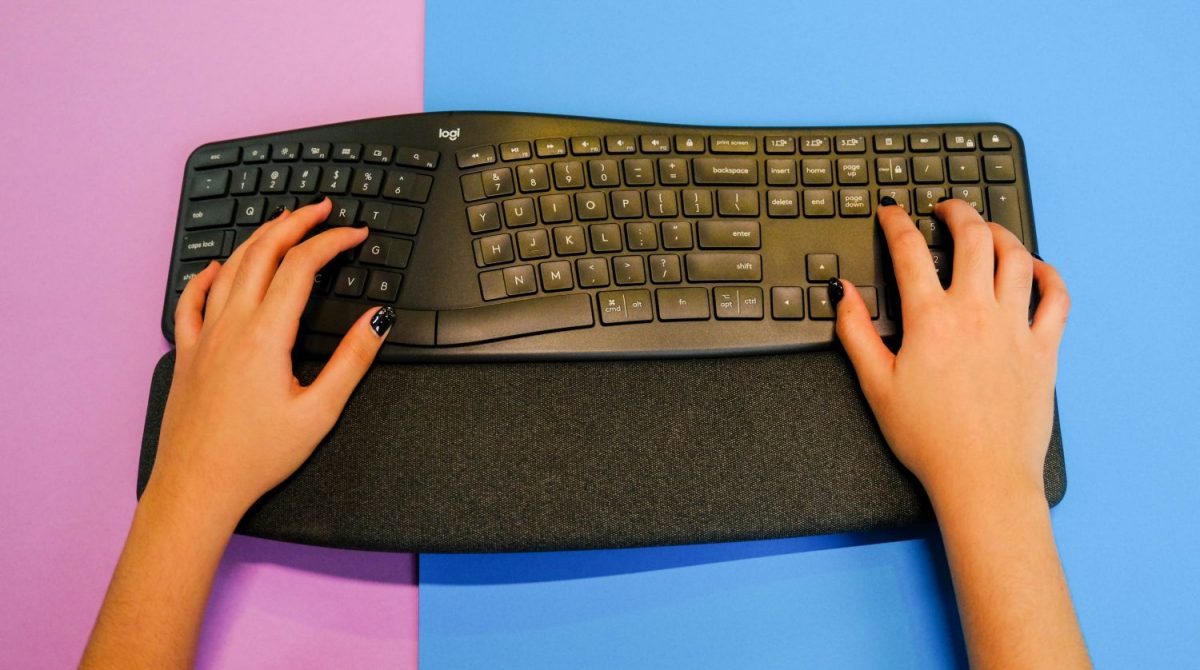 Measuring 45 cm, the Logitech K680 is a full-sized keyboard that is split in the middle, separating the "TGB" keys from the "YHN" keys. It's not a radical re-design of such split ergonomic keyboards, but this beast is defined by its "A" split in the middle, which allows users to rest their hands in a comfortable position with hands overhanging downwards.
If you've ever had a manicure, this is exactly how it feels like.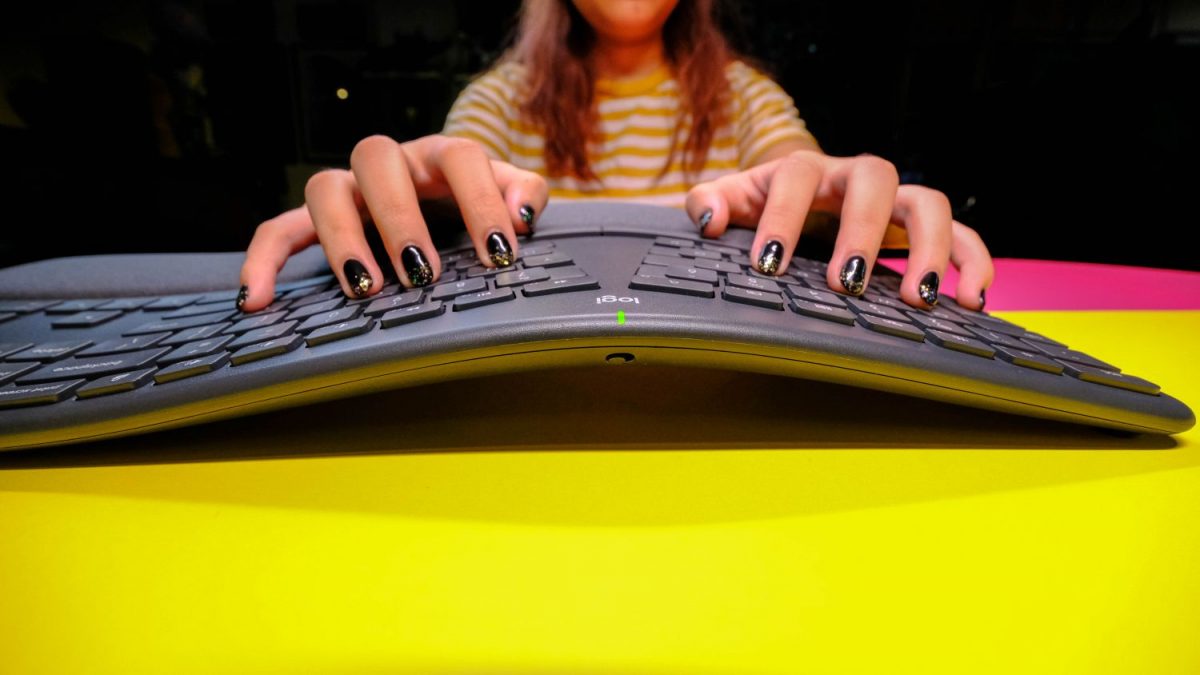 Letting gravity do all the work, there's actually little fatigue when typing on this keyboard over long hours. Instead of having the keyboard slope upwards as with many keyboards and stands, the K680 has angled feet that elevate a user's wrist and have them sloping downwards. While it may differ from user to user, it's a typing position that is definitely easier to adapt to.
After long hours of intense typing, there's little noticeable fatigue after using it for a full day. Going back to the Logitech TKL G915 for gaming, the contrast is immediately apparent since the default wrist position is now angled upwards. For most users, you'd think that this might be the most natural position for most due to muscle memory over time, but having the wrist hang downwards certainly makes it more enjoyable to type on the Logitech K680. The keyboard can be raised at either 4° or 7°, to suit one's preferred angle.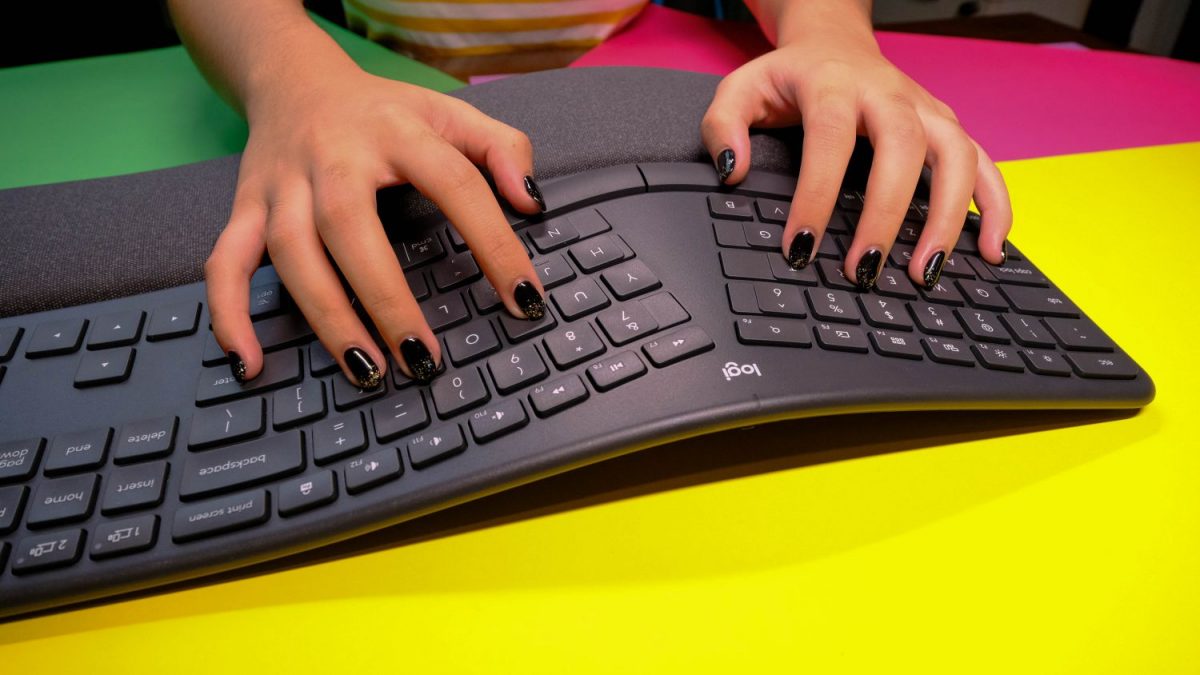 Having reviewed Logitech's other ergonomic offerings, including the Logitech MX Ergo Wireless Trackball Mouse and Logitech MX Vertical, this keyboard is an easier sell as it takes a far shorter time to get used to. The only thing that most people might need to adjust to would definitely be hitting the "TGB" and "YHN" keys where there's a split in the keyboard. For gamers, especially those who play a great deal of MMOs, it might not be uncommon to hit keybinds as far as the "Y" key as it allows for a natural stretch for the index finger. However, if you were to try this on the Logitech K680, it's gonna be, well, a stretch.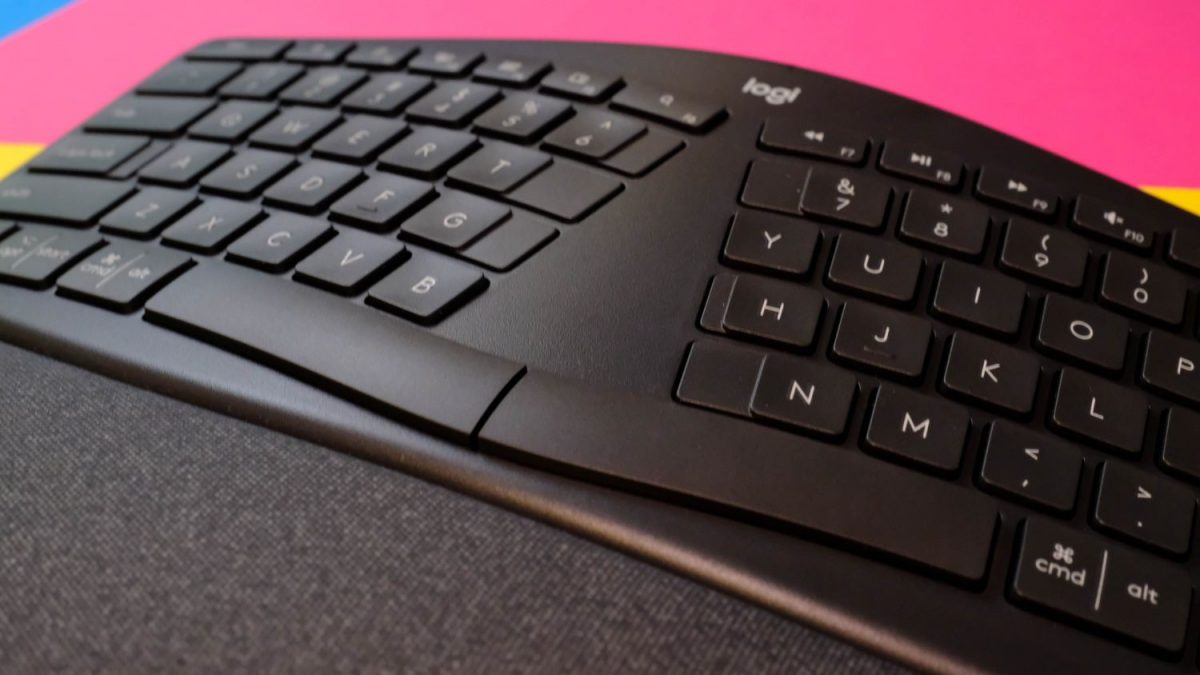 After all, based on the design of the keyboard, it would seem that Logitech expects that the left hand or right hand will be likely to stretch the strike the "T" key often. We see a similar extension for the "G", "N", and "H" keys but with the keys being less pronounced.
Within the first hour of typing on the Logitech K680, touch typists will easily get accustomed to the keyboard layout. After a few hours of use, there's actually little chance of mistakes happening. Having started the keyboard at about 35 words per minute on the first day, I found myself typing at a rate of about 90 words per minute by the third day which is the norm personally.
Typing on the keys itself is a dream, the chiclet keys are sensitive and do not require heavy striking for the key to depress. Considering that this keyboard will see much use in the office, it will save your neighbour's sanity by reducing a great deal of typing noise often associated with the mechanical keyboards. Even for users who particularly type with a great deal of force, this keyboard remains silent given the amount of abuse.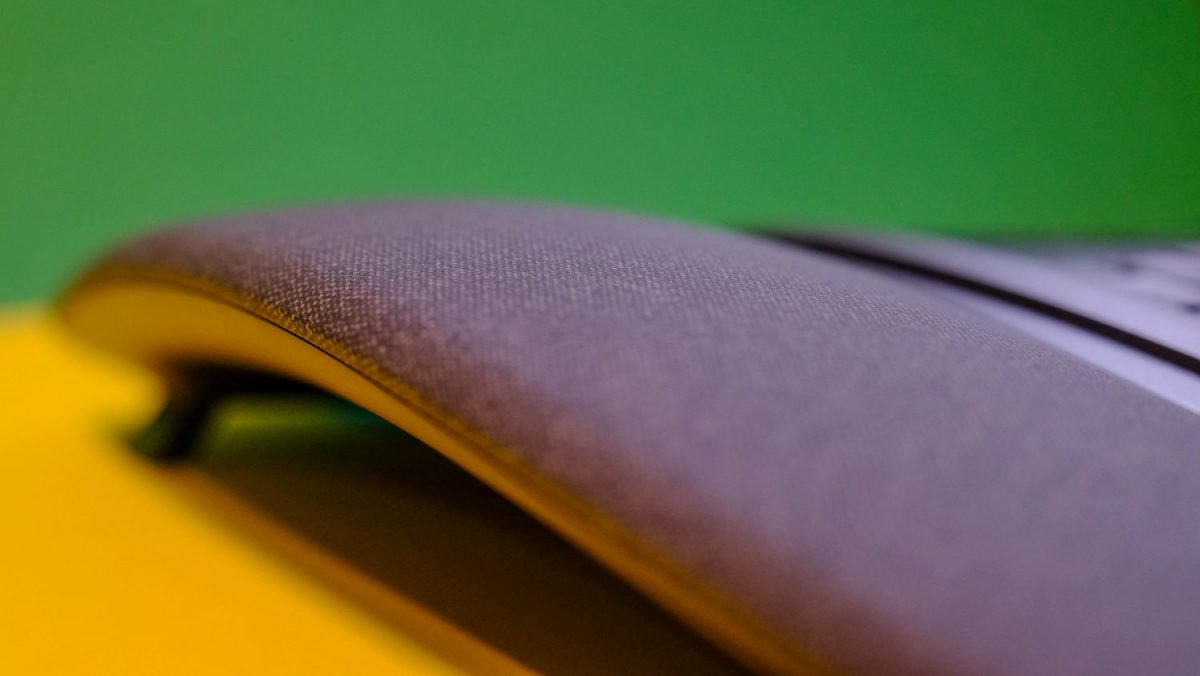 As with most split keyboards of this nature, a wrist pad is pretty much standard issue. However, while most come in the form of hard plastic, Logitech goes the extra mile and includes a multi-material and layer wrist pad. On the surface, we have a knitted fabric which is smooth to the touch and is easy to wipe off any perspiration and grime. Underneath the fabric is a combination of high density and memory foam, which is quite unlike other third party wrist pads found in the market. If possible, Logitech should really consider selling this wrist pad combination standalone. But alas, the wrist pad is attached to the rest of the keyboard and in the event the wrist pad might be damaged, the whole keyboard would need to be replaced entirely.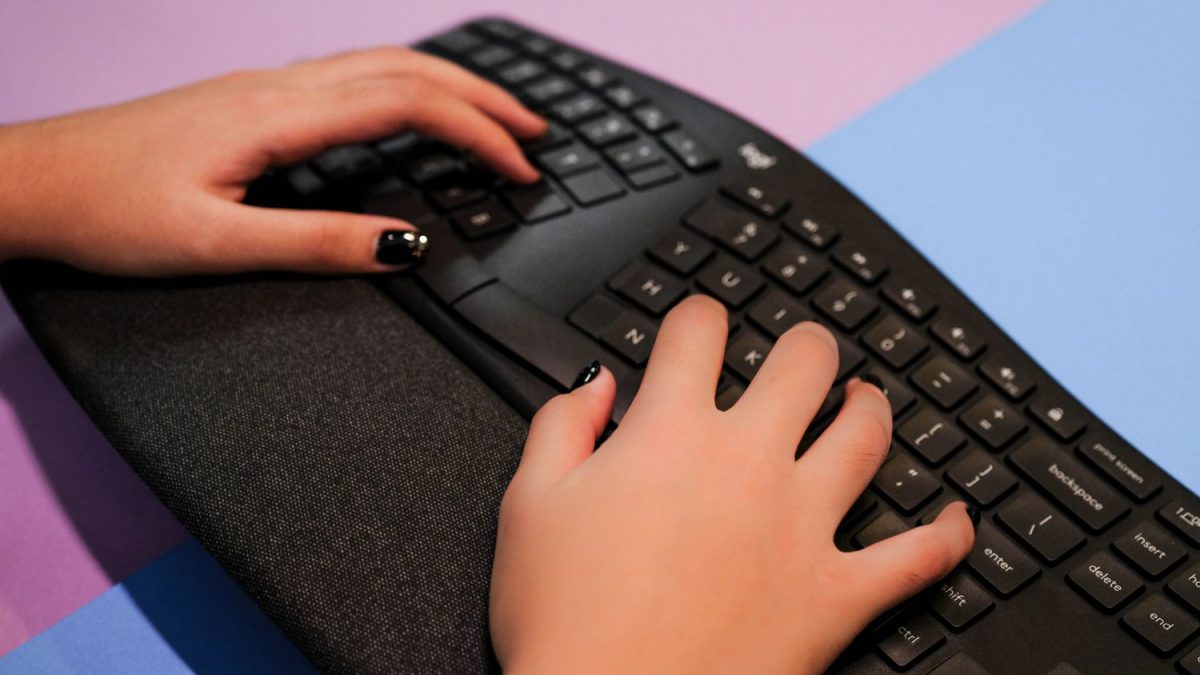 Making full use of it's large desk footprint, the Logitech K680 wastes no time adding in plenty of frills to pack in plenty of features into the keyboard. We have a full row of function keys and even a dedicated calculator shortcut which brings up the application instantly. It's definitely a welcome addition, and screams business when using this keyboard.
Powered with 2 AAA batteries, Logitech claims that this keyboard will be able to go the distance of up to 24 months of use. Having used Logitech's battery-powered mice in the past, this is the claim which the keyboard is certain to deliver. Connecting this keyboard would be through Logitech's unifying receiver or via Bluetooth so one can free up an extra USB port if you're looking to pair this ergonomic wonder with Logitech's mice.
Ultimately, the real downside to this keyboard is sadly its price. At a premium of S$199 (US$109), it's a tricky sell especially if you're not quite sure if an ergonomic keyboard like the Logitech K680 is the right one for you. While the cost might be a prohibitive factor, it's definitely not a jarring change as compared to adopting Logitech's ergonomic mice. Thus, it would be a safe recommendation to say that if this keyboard is not the one for you, there's definitely someone out there who will love this to bits.
GEEK REVIEW SCORE
Summary
Logitech K680 Wireless Split Keyboard gets it right in so many areas. In a world where looks trumps performance, it's nice to see Logitech continue to churn out such devices to save office folks from carpal tunnel. The wristpad in this keyboard is the MVP and allows the user to go the distance for those long days in the office.
Aesthetics -

7/10

Build Quality -

9.5/10

Performance -

9/10

Value -

7/10

Geek Satisfaction -

9/10
Gerald currently straddles between his love of video games and board gaming. There's nothing that interests him more than trying out the newest and fanciest gadget in town as well. He dreams of publishing a board game sometime in the future!