Despite the availability of many wonderfully unhealthy sugary alternatives, nothing satisfies a thirst as well as water. That life giving liquid which many in the world take for granted is actually safe to drink from Singapore taps, but for the safety of most homes and offices, old pipes and all, it's always better to drink properly filtered water to ensure your regular dose of H2O is all you get.
And in an especially humid country like Singapore, folks are always encouraged to stay hydrated. As such, the best way to start living a more healthy lifestyle begins with a good water filtration system at home, or in the office.
Surprisingly, there are several options available for everyone, so we're here to provide you with options to consider in Singapore.
---
ENTRY LEVEL FILTERS
Price: S$6.90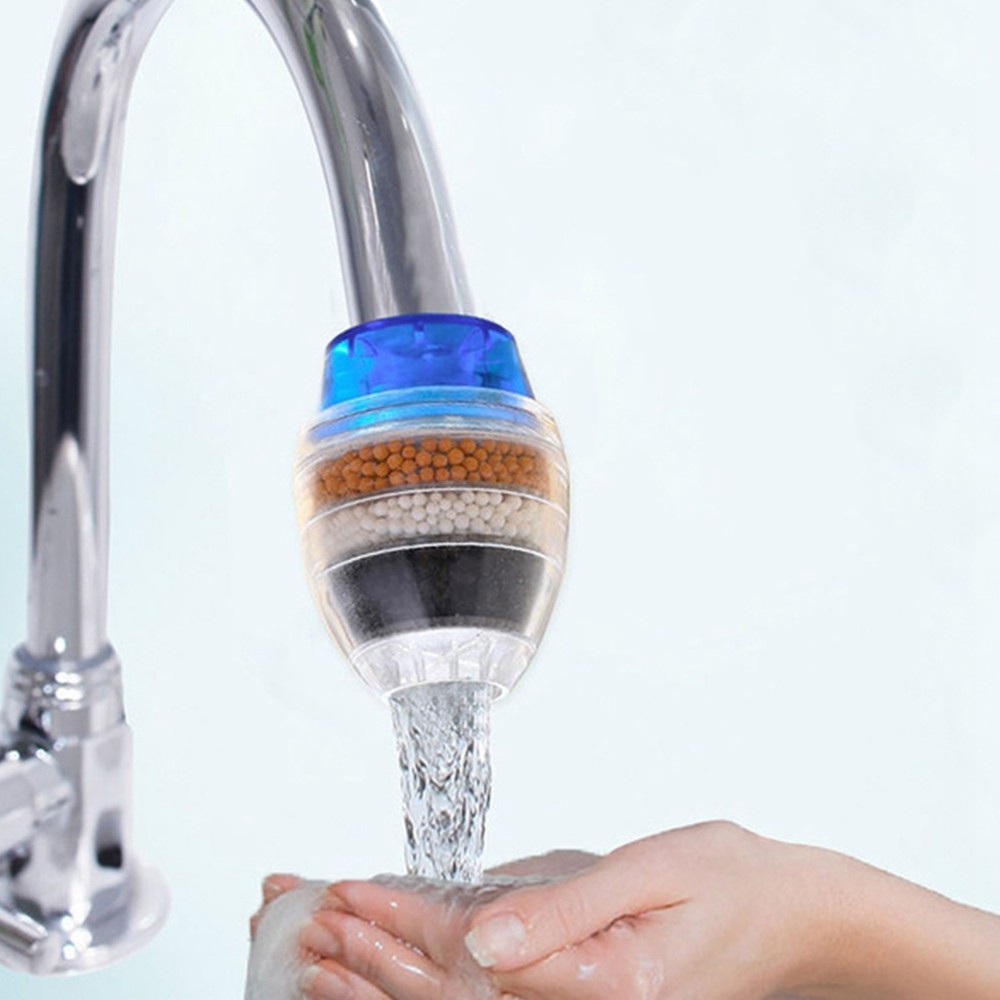 Of course, the simplest way to purify water is to let it run through a series of natural filtration layers to sift out all the impurities there, without the aid of any electricity. The Flexus Tap Water Filter Purifier does just that, being a 5-layer water filter that can simply be installed onto any water tap. Complete with food-grade rubber, a PVC non-woven filter, zeolite ore, calcium filtrate, and an activated carbon layer, this filter is actually pretty effective at absorbing harmful bacteria, as well as unwanted chemical compounds such as chlorine, and makes the water you drink pretty tasty too.
---
Price: S$79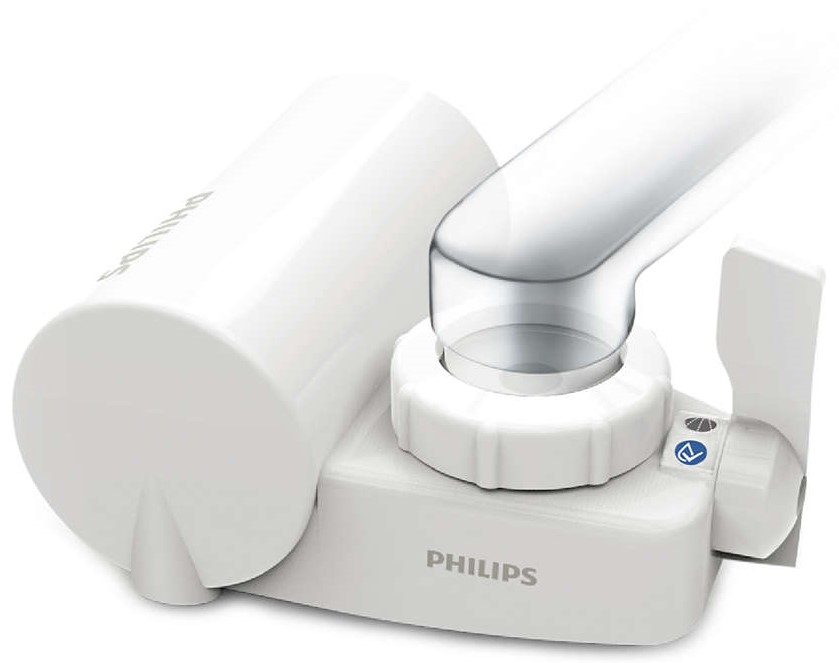 When it comes to always-reliable drinking water, Philips is another brand that can assure you of that. This on-tap water purifier is easy to install, and fits like a glove on just about any water faucet, thanks to its Quick Fit tap adapter. It comes with a water selection lever that lets you change between unfiltered tap water (if you're just doing the dishes) and filtered water (for when you're in need of a drink), making it quite versatile to that end.
---
Price: S$138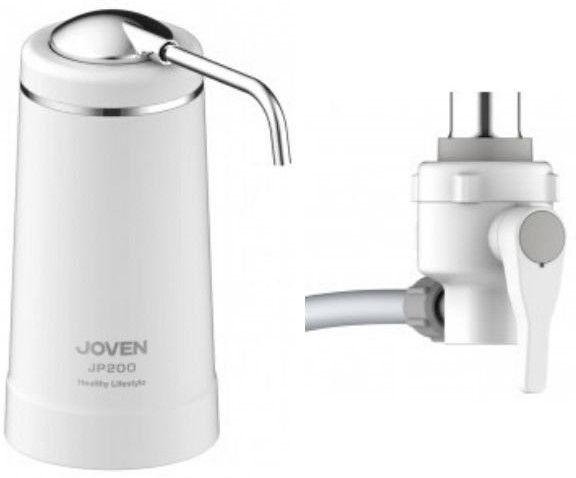 This water purifier from Joven is another easy-to-install piece that can ease your water filtration woes in a snap. Equipped with a 3-layer non-woven fabric filter and a powdered activated carbon stainless steel outlet pipe, you can rest assured that no bacteria is getting in your water with this thing. Of course, it also has a 2-function selector, that lets you pick between filtered and unfiltered tap water in a breeze.
---
Price: S$139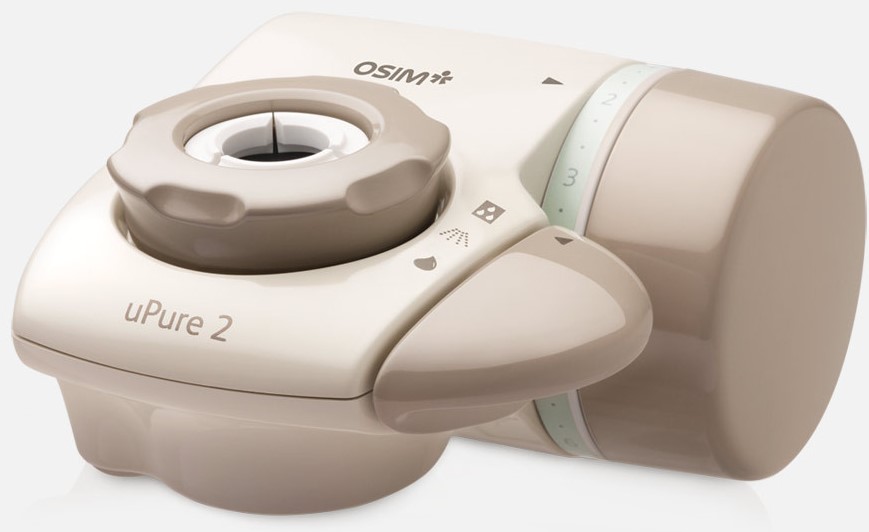 The OSIM uPure 2 really takes the word "pure" seriously, as it comes with a host of filtration systems that will ensure that the water you drink is as, well, pure as it gets. It has a 4-step purification process, with unfiltered water passing through two non-woven filters, a layer of high-grade granular activated carbon, as well as a hollow filament membrane, all through a double filtration cartridge. For water dispensing options, it has a three-way selector, including a filtered/unfiltered water stream and an unfiltered water shower, depending on your needs. And it also has eight different adapters to accommodate to all sorts of water faucet dimensions, so you're more than assured to get a good fit for this water filter.
---
MID-RANGE FILTERS
Price: S$180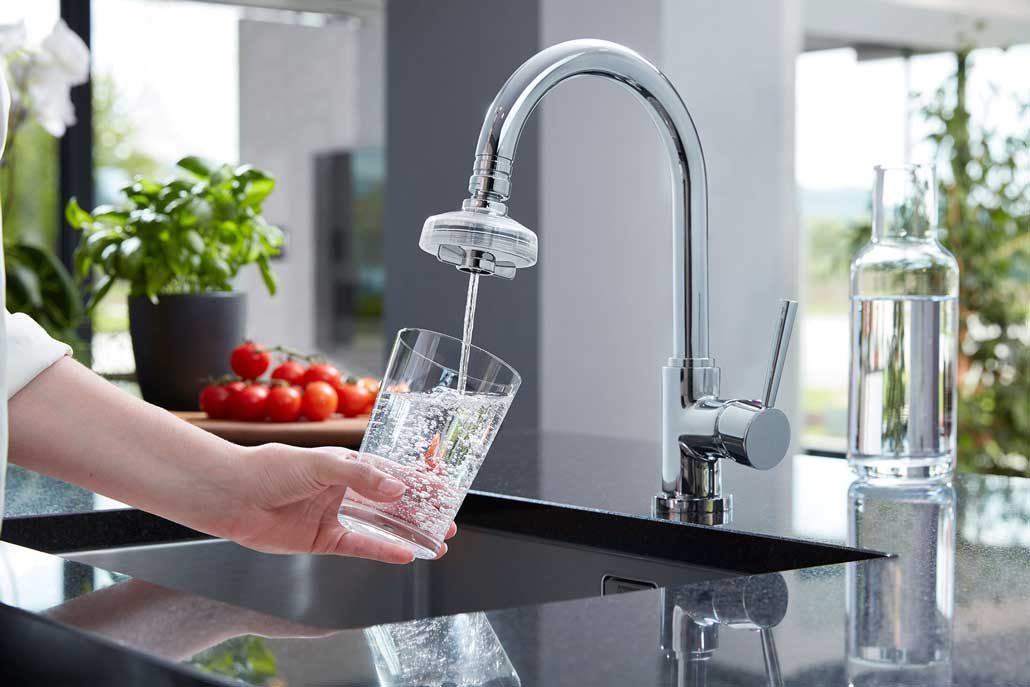 Swiss-made DrinkPure is among the best when it comes to tasty, filtered water. This water filter uses a patented polymer membrane technology that filters sediments, rust, chlorine, odors, and other harmful bacteria, making it even more pure than bottled mineral water. Each filter filters only up to 500 litres of water, but replacing the filters is also a relatively easy task anyway, as it can be disassembled as easily as it is set up (the set above comes with three additional filters, which is a pretty good deal already in our books!).
You can buy more DrinkPure water filters here.
---
Price: S$198
Now we've truly entered the higher tiers of this list, with the addition of digital filter trackers. The Novita NP200 is another solid filtration system that can be easily installed onto your water tap. This particular model comes with a 2-step purification system, using granular activated carbon, and a membrane filter that removes up to 99.99% bacteria and other harmful substances that removes up to 99% of free residual chlorine and improves the water's taste to boot.
Unlike the previous entries on this list, the NP200 boasts a digital filter lifespan indicator, which allows you to track its filter usage (up to 1,500 litres of filtered water, which amounts up to 5 months of usage) before the filter needs to be replaced. It's quite handy, as it offsets the worry about having to constantly manually check whether the filter needs to be replaced, as it does so automatically.
---
Price: S$215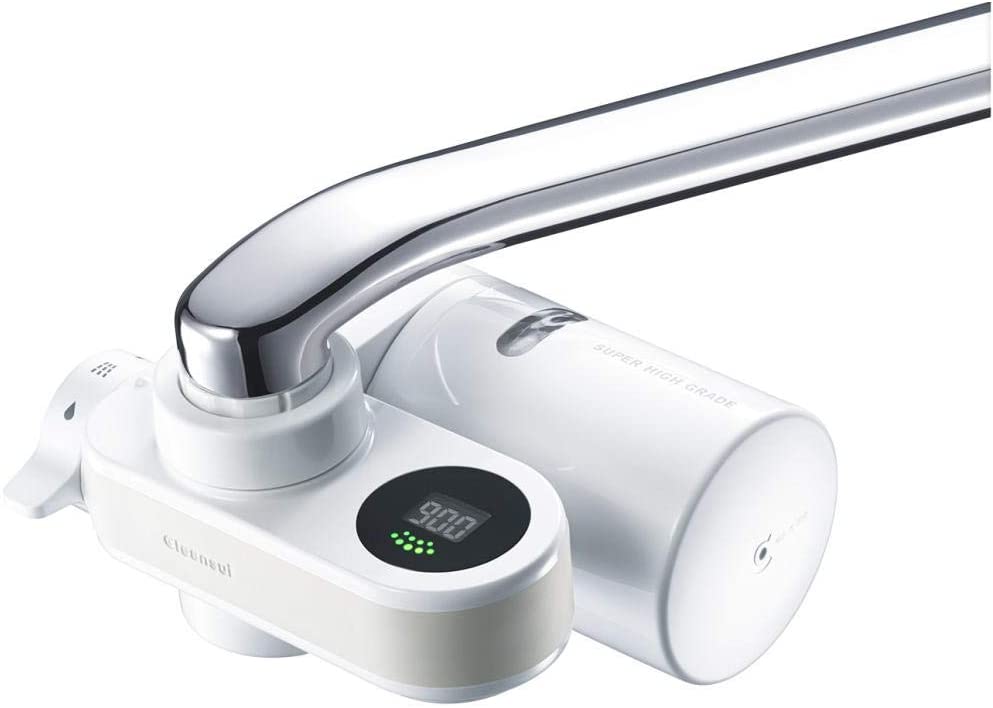 The highly popular Mitsubishi Chemical Cleansui range is well known, and the CSP801-WT sports what you might find in a $200 water filter: solid hollow membrane filter system with active carbon to kill bacteria easily, ease of set-up with multiple adapters to suit different-sized faucets, a 3-function system to accommodate different needs, and a digital filter tracker to easily check whether the 900-litre filter needs to be replaced. Additionally, it also has a handy flow rate indicator, which lets you see how well the water is flowing through the filter.
---
COUNTERTOP FILTERS
Price: S$499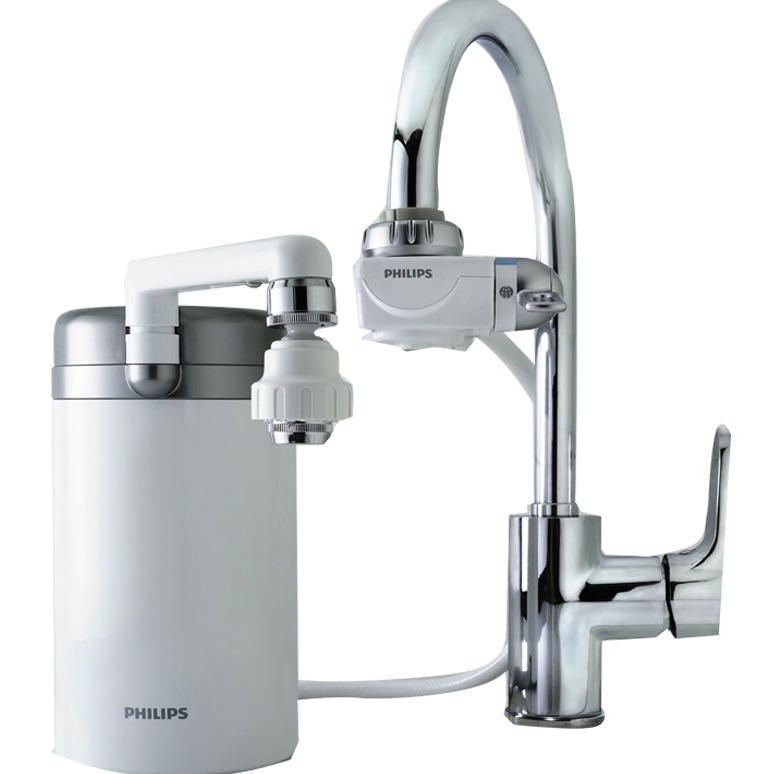 This countertop water purifier by Philips is similar to the others in that it needs to be installed over a traditional faucet, and has all the other nifty features that makes the water bacteria-free and tasty. The main difference is that it comes with an additional jug-like unit that the running tap water flows into, where the 5-step multi-filtration system kicks into place. A dispenser is present for the purified water to be collected. Its filter has a capacity of up to 15,000 litres of water at a time, which amounts to about 6 years of use, without the constant need to change out filters. At S$500, that's quite the long-term and low-maintenance investment.
---
Price: S$1,299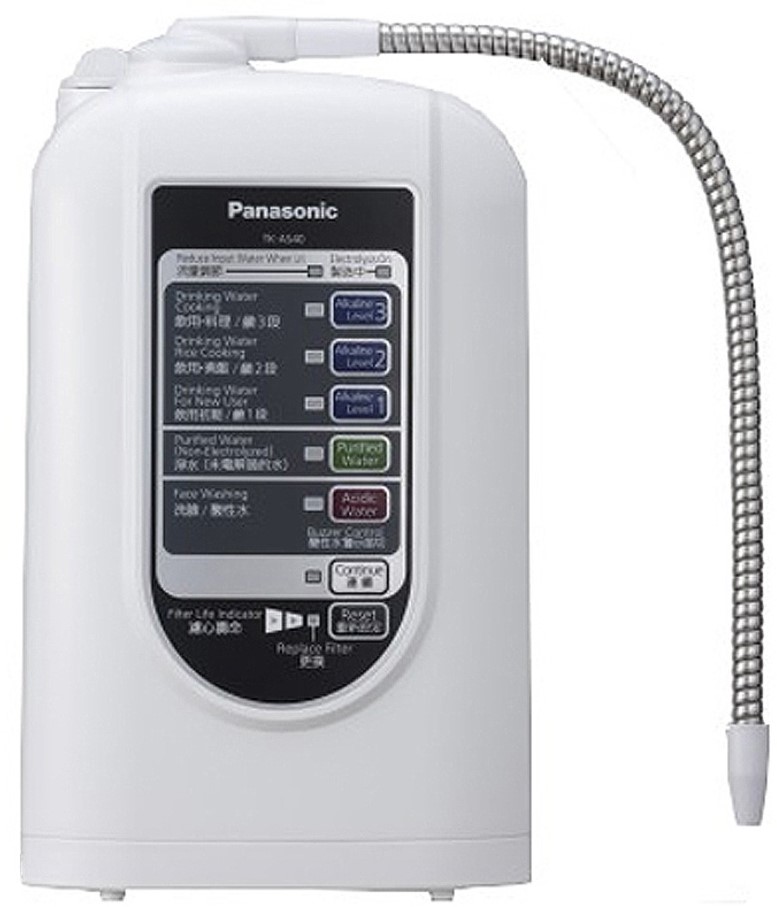 The last two entries here are for the freshest water one can ask for, and then some. The Panasonic TK-AS40 is the first of two alkaline ionizers in this list, which not only produces bacteria-free and tasty water with the help of electrolysis, but water that also improves your digestive system and bowel movements. Its water purification is top-notch, and, aside from purified water, produces 5 types of water at various pH levels for different needs, such as cooking, doing the dishes or cleaning fruit and vegetables (3 levels of alkaline water, and 2 levels of acidic water). Also, its filter has a capacity of 12,000 litres, which means it doesn't need a change of filters for the next couple of years.
---
Price: S$2,399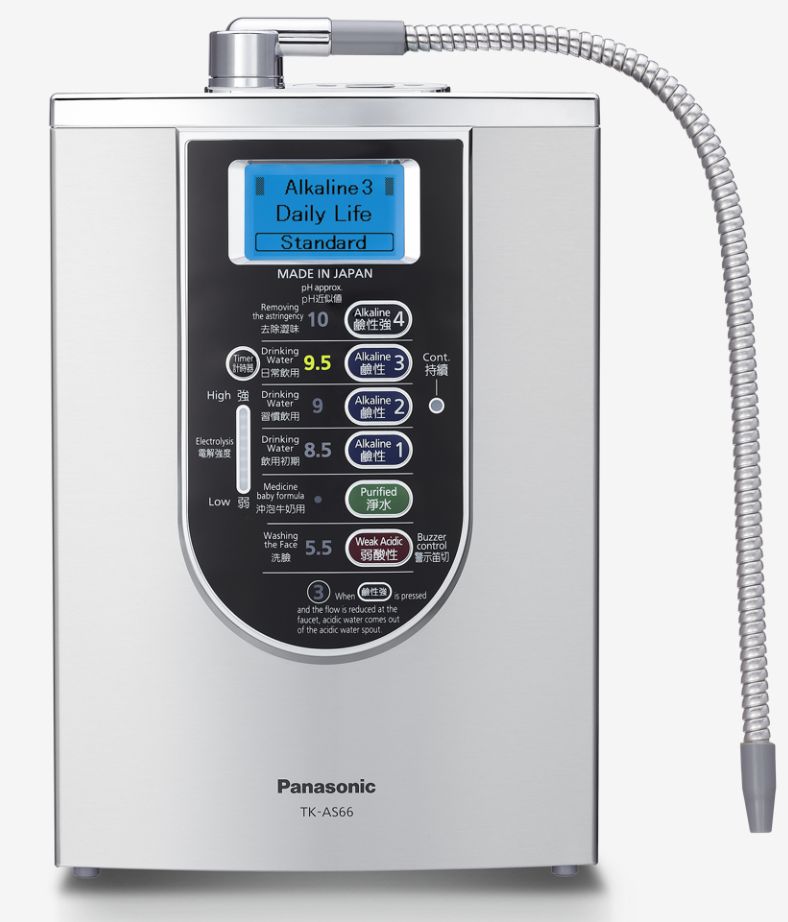 Rounding off this list is the apex alkaline ionizer from Panasonic. The TK-AS66-ZEX can do everything that the TK-AS40 can, but it possesses several upgrades that might make it the more worthwhile choice (if you can afford it). Firstly, it produces up to 7 types of potable water at varying pH levels (4 levels of alkaline, puricied, 2 levels of acidic) for even more purposes at the press of a button. Similar to the TK-AS40, it has a capacity of up to 12,000 litres, so you're definitely assured of top tier purified water for yourself and the family for quite some time.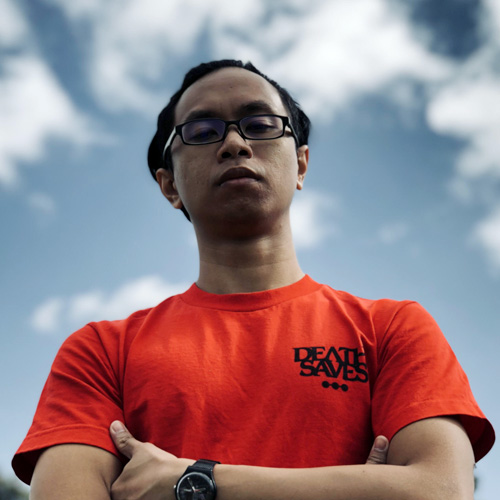 Marion has a serious RPG addiction. Sometimes it bleeds into real life; he forgets to sleep because he thinks he has a Witcher's body clock. Forgive him in advance if he suddenly blurts out terms such as "Mind Flayer" and "Magic Missile", because never once does he stop thinking about his next Dungeons & Dragons game.