With E3 2016 (check out our extensive coverage) happening right now, gamers (including myself) are going gaga over which games to pre-order. And since we all have limitations with our wallets, we have to choose wisely when it comes to those enticing Collector's Editions that come with some of our favourite games.
Here are our top 10 hottest Collector's Edition game titles that you won't want to miss, including tips on how to get them at the best deal during the pre-order phase. You'd have to choose wisely and act fast before the rules change, or when stocks run out!
Luckily, some games, such as the upcoming God of War, have not been given a proper release window, so there are no pre-orders for what will definitely launch with a HUGE Collector's Edition.
Here are 3 important ProTips before you make your orders:
Geek ProTip #1
Singapore gamers (and we suspect, to many others across South-East Asia), please consolidate your orders. When you order via Amazon right now, you can enjoy the AmazonGlobal Standard Shipping rate of just US$4.99! And knowing just how huge the packages of Collector's Editions can get, this makes the deal extra juicy. You have to choose wisely though, as you can only order up to 3 sets of each edition, but no matter how many you orders you place at one go, the shipping rate still hangs at $4.99. The great thing about Amazon is that the company honours the shipping prices (and retail price) at the point of purchase, so even if shipping goes up at a later date, you will still pay just US$4.99 per order.
Geek ProTip #2
Here's another important one. If you live in Singapore, be sure to split up your orders to keep the total well below S$400 (US$295), so you don't end up having to foot an extra 7% GST when the items arrive. One way is to group an order that has games on different release dates, and not lump them together. Amazon will split up your shipments accordingly when they are released, and send the first game being released first. You still only pay one shipment fee for the combined order that might exceed S$400, but the game that arrives separately will be priced at less than that. If you want to split orders to hit below the S$400 mark, make sure that you use different addresses as well. Two separate orders of under S$400 each, but sent to the same address at the same time, can be tied together. To be safe, why not ship one order to your office/In-Laws/neighbour.
Geek ProTip #3
Would you like an additional 20% off  each of the Collector's Editions? If you are an Amazon Prime member, you already know you'll be getting 20% off the pre-order price! If not, then now might be the best time to sign up for the FREE 30-day trial, and enjoy 20% off your pre-orders instantly.
Ready? Now let's get down to the goods. Happy shopping!
---
Due for release on 21 October 2016, the Battlefield 1 Amazon Exclusive CE includes the Deluxe Edition Base Game, Collector's Edition Statue (14″ Tall), Exclusive Steel book, Exclusive cloth poster, Deck of playing cards, Messenger pigeon tube with exclusive DLC content, Exclusive patch, and Premium packaging.
Available for PC, PlayStation 4 and Xbox One.
---
Due for release on 23 August 2016, the Deus Ex: Mankind Divided CE includes Day 1 Edition Game with: Classic, Enforcer and Intruder In-Game DLC Packs, Digital Novella, Digital Comic Book, Extra in-game mission, Digital Artbook and Digital OST Sampler plus 9″ Adam Jensen Figurine, 48 pg Titan Art Book and LE Steel book.
Available for PlayStation 4 and Xbox One.
---
Due for release on 11 November 2016, the Dishonored 2 Premium CE includes Corvo Attano's Mask Replica and Stand, Emily Kaldwin's Ring Replica and Display Box, a Collectible 'Legacy' Metal Case, the Digital Imperial Assassin's Pack, a Full Colour Propaganda Poster and a Digital Copy of Dishonored: Definitive Edition.
Available for PC, PlayStation 4 and Xbox One.
---
Due for release on 7 October 2016, the Gears of War 4 CE includes the GOW 4 Ultimate Edition SteelBook (Physical Disc) + Season Pass, a JD Fenix on COG Bike Premium Statue by TriForce (19 Inches in Length, 11 Inches in Height), a Frag Grenade Keychain (6 Inches in Length) & Exclusive Lithograph by TriForce, In-Game Bonus Content: Includes 3 Gears Crates, all in a Premium Packaging Box.
There's even an Amazon Exclusive "Outsider Variant" of the set if you're interested. Both are available only for Xbox One.
---
Due for release on 28 February 2017, the Horizon Zero Dawn CE includes the game, a Special Steelbook case, a 9″ ALOY Statue by Gentle Giant, a 48 Page Art Book, a Voucher for exclusive PS4 Dynamic Theme and In-Game DLC Items: Carja Storm Ranger Armor, Carja Striker Bow, Carja Trader Pack, Banuk Trailblazer Armor, Banuk Culling Bow, Banuk Traveler Pack, Nora Keeper Pack, Nora Machine Trapper Pack.
Available only for PlayStation 4.
---
Due for release on 7 October 2016, the Mafia III CE includes the game and all bonus digital content found in the Mafia III: Deluxe Edition, plus The Art of Mafia III Collectible Art Book by Insight Edition, Lincoln Clay Replica Dog Tags, Faux Leather Establishment Drink Coasters, Exclusive Collectible Art Prints, Original Game Score in 180 gram audiophile pressing, Official Soundtrack of New Bordeaux in 180 gram audiophile pressing.
Available for PC, PlayStation 4 and Xbox One.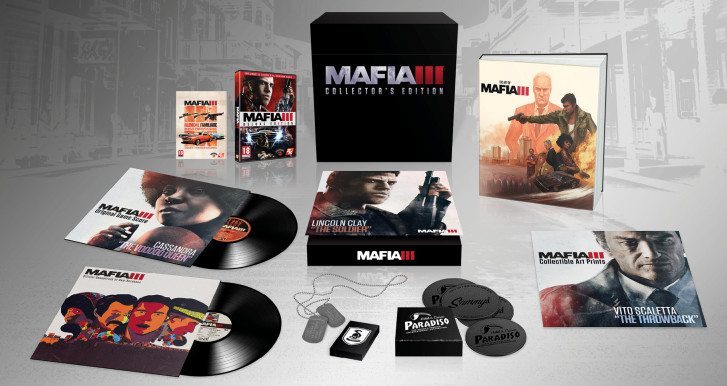 ---
Due for release on 14 February 2017, the "Take Your Heart" Premium Edition comes with the game, SteelBook collectible case, soundtrack CD, 4″ Morgana Plush, 64-page hardcover art book, school bag & collectible outer box.
Available for PlayStation 4 and PlayStation 3.
---
Due for release on 13 September 2016, the ReCore Collector's Editon includes the game, a hand painted and finished Joule and Mack Premium Statue (14 inches Tall, 6 lbs heavy), an exclusive metal case, an exclusive Lithograph and Corebot Alphatbet Decoder Dial.
Available only for Xbox One.
---
Due for release on 25 October 2016, The Last Guardian CE includes the game in a Premium Steelbook case, a Premium Statue, a 72-page Art Book, a Digital Soundtrack (10 tracks), a sticker sheet and a collector's box.
Available only for PlayStation 4.
---
Due for release on 28 October 2016, the Titanfall 2 CE includes the Deluxe Edition game, a Dog Tag Flash Drive (8GB with an 18″ metallic ball chain), a Pilot SRS Field Journal (3″ x 4.5″ and features an aluminum case, pen and Vanguard Squad logo), Titanfall 2 Vanguard Pilot Helmet Replica (1:1 full scale replica) – Featuring mixed material elements, the helmet includes a battery operated blue light-up translucent faceplate, blue status/task light, functional tactical ARC rail system/an adjustable interior head strap and display stand, Tactical Helmet Accessories: A tactical spotlight and targeting laser sight, Squad Morale Patches and Vanguard Shemagh Scarf (measures at 42″ x 42″ and features an original custom designed Titanfall pattern).
Available for PlayStation 4 and Xbox One.
---
Made your decisions yet? Remember to act fast, otherwise the only way to get them would be via eBay at heavily inflated prices, such as these two highly sought after sets:
Final Fantasy XV Ultimate Collector's Edition
Only 30,000 in the world! [ SOLD OUT ]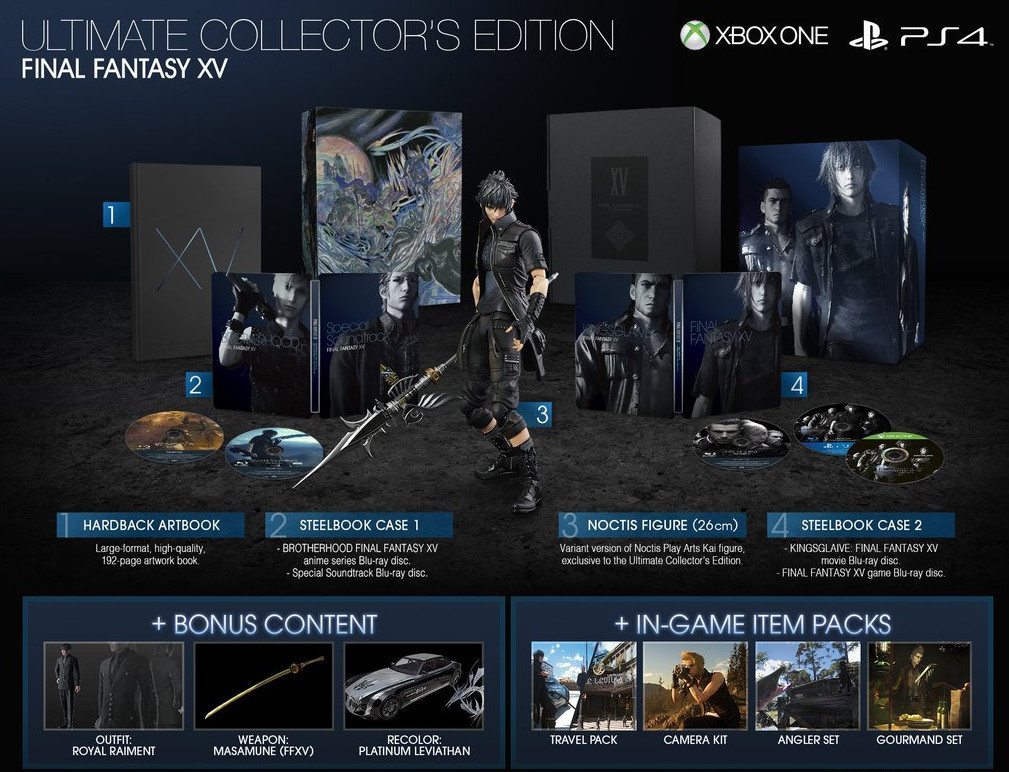 No Man's Sky Explorer's Edition
Only 10,000 in the world! [ SOLD OUT ]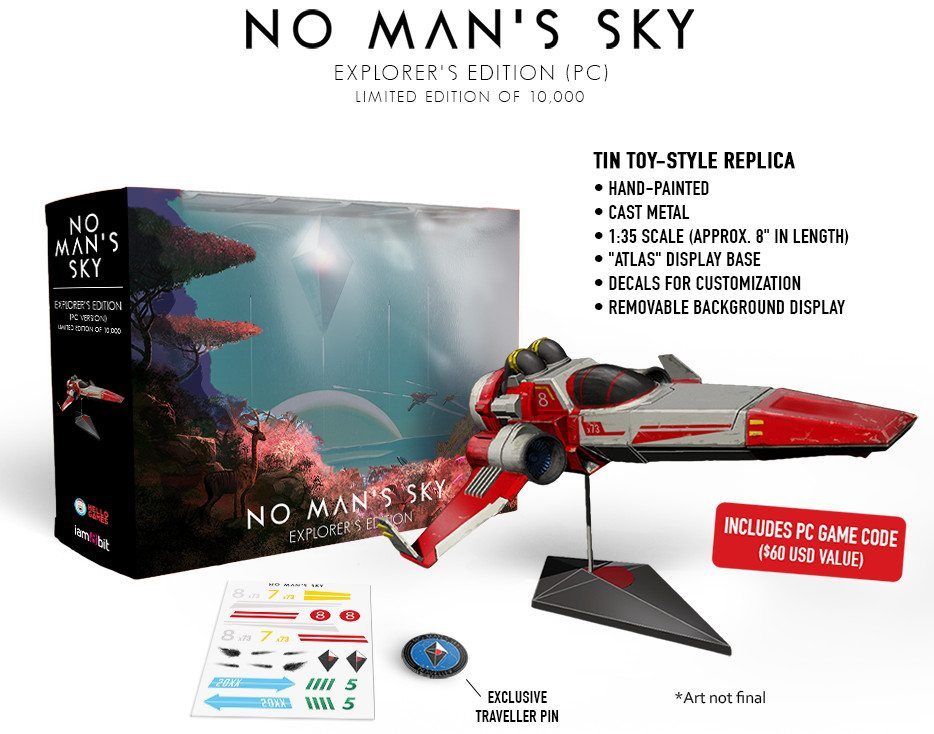 ---

Drop a Facebook comment below!