If you're planning to tie the knot with a geeky significant other soon, US-based Larson Jewelers might just have what you need. We recently received three engraved tungsten carbide rings from their Star Wars collection, and the level of detail in the engraving is astounding. I'm now seriously contemplating on replacing my current plain wedding bangs with one of these geeky renditions!
First up, is this Tatooine landscape inspired design, which spans all the way from Jabba's Palace to the Sarlacc Pit, and from our favourite pair of droids to Jawas, Sand People and Rancor. Here's an interesting fact, according to Larson Jewelers, tungsten rings are the most scratch resistant rings known to man. It's even 4 times harder than Titanium! Scroll down for photos and videos from our Instagram.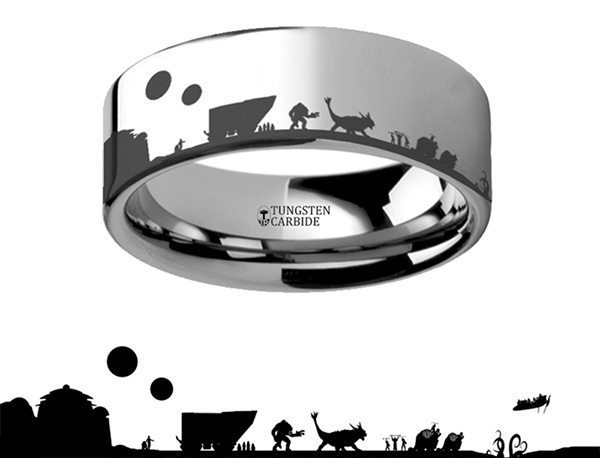 The second one, is none other than the iconic Battle of Hoth! This design spans from the rebel turrets, ion cannon, snowspeeders and mountain ranges to AT-ATs, AT-STs and Snowtroopers. Both rings are "comfort fit", making the inside of the band slightly domed, resulting in a very comfortable fit.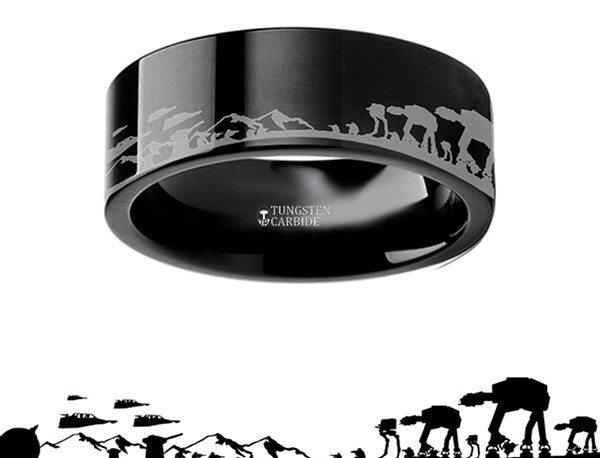 The third ring is every geek's favourite Death Star Space Battle from A New Hope. This design features a bevy of iconic spaceships – Imperial Star Destroyers, TIE Fighters, X-Wing Fighters, the Millennium Falcon, Slave 1, and of course, the Death Star. My only small gripe here is that I'd have preferred for the Millennium Falcon be of the same silhouette look as the rest, to keep in line with the style. But this was probably the best approach to make recognizable.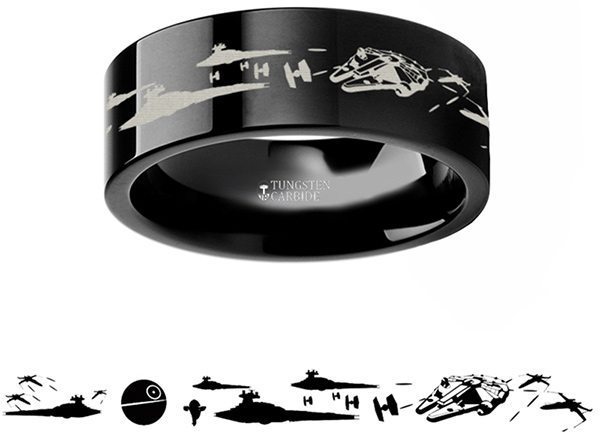 Custom engraving is available too, and comes in various forms. You get to choose between text, handwritten, fingerprint, and even custom engraving, from US$25 onwards. To make the deal even sweeter, the folks at Larson Jewelers even offer FREE lifetime sizing and lifetime warranty all all tungsten rings! International shipping starts at US$30 via FedEx, which should arrive within 2 – 3 days, so its not a bad option if you're rushing to get those wedding bands settled.
Star Wars isn't quite your thing? They also have a wide range of Marvel, DC Comics, Transformers, Lord of the Rings, video games and even Harry Potter inspired designs to choose from. Hit this link to browse the collection.
Tatooine Ring in motion
Battle of Hoth Ring in motion
---

Drop a Facebook comment below!