Are all phones that are made from China made equal? Having used the OPPO R7 Plus, I've found that when it comes to the top tier devices, pretty much everything that you'd love to see in a phone is here. Chinese design philosophy gives me the impression is to focus on making a mobile phone look, feel and perform great and worrying about the rest later. Do note my sample size has been only two so far.
Getting back to topic, considering that you might be paying a premium of software additions from other phone manufacturers, the OPPO R7 Plus reminds us of what a high end Nexus device could be without the sub par screen and battery life.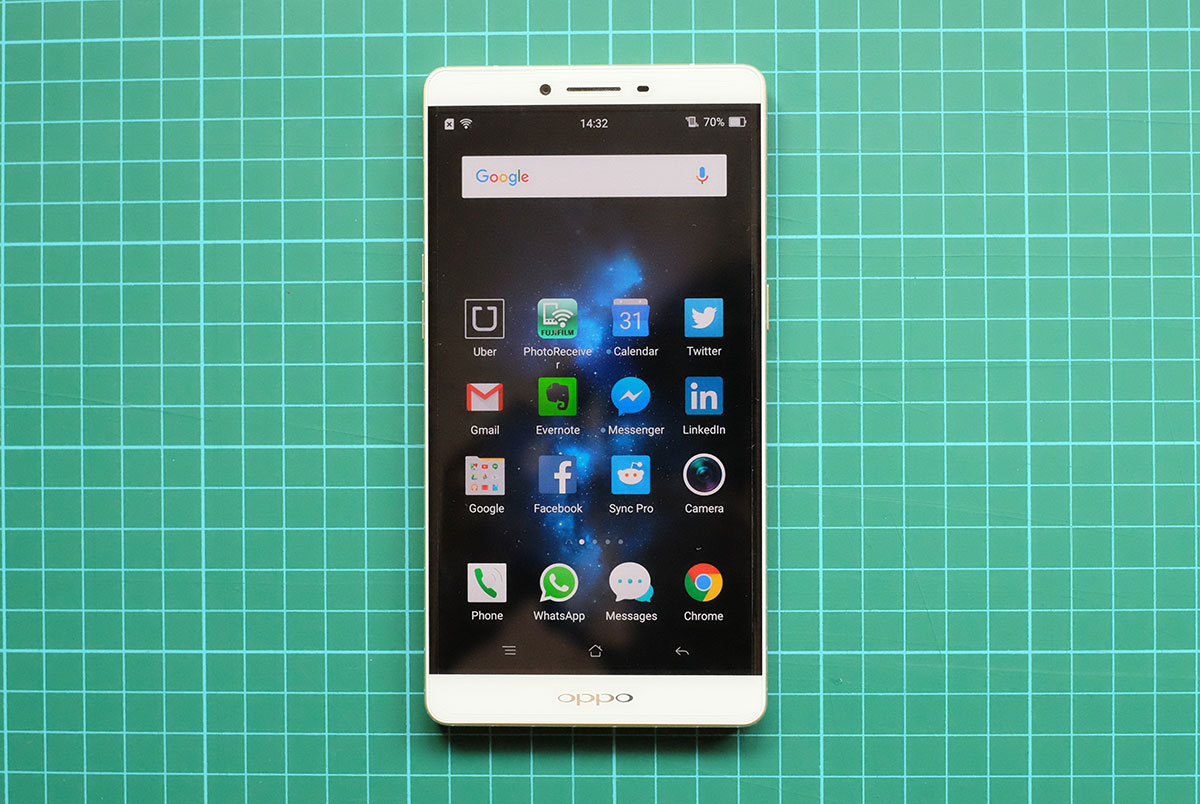 Cool to the touch
Upon unboxing the OPPO R7 Plus, I found that there was a screen protector already applied on the screen. As a fan of using my phones without a screen protector, I soon realized that the while the phone is supplied with gorilla glass, OPPO looks to be playing it safe here as well. Within the box itself would be a protective case for the phone as well.
Coated in a single piece of aircraft-grade magnesium aluminium alloy, the OPPO R7 Plus is a dream to hold in your hands. The biggest upside of the coating would be the absence of fingerprints! Something that I've missed much from mobile phones of late. The phone does still suffer the some drawback as with all metal unibodies; it gets extremely uncomfortable to use especially when you are in the hot sun. Looking good does come with a cost. Non slippery to hold and with buttons placed at just the right height, the OPPO R7 Plus scores full marks when it comes to hardware design.
Here's the sweetener; even with great placement of buttons the OPPO R7 Plus comes equipped with a fingerprint scanner that is lightning fast and accurate at the rear of the device. In most phones in the market right now, unlocking with your finger print feels almost like a norm. The OPPO R7 Plus takes the most common bugbear out of the equation. I've never had to struggle with unlocking the phone my repeatedly scanning my finger. While some might find this issue trivial and totally a first world problem (which I agree!) a sub par fingerprint scanner adds to the frustration of unlocking your phone and gets you wondering why was it even included in the first place.
The debate of how most modern mobile phones lack a microSD slot does not exist with the OPPO R7 Plus, you may either use the phone with two sim cards or choose to use it with microSD card if you wish to do so. The phone combines them all in a single tray, so there's little messing around to figure out which card goes where. Depending on how much a power user you are, this could be a boon or bane.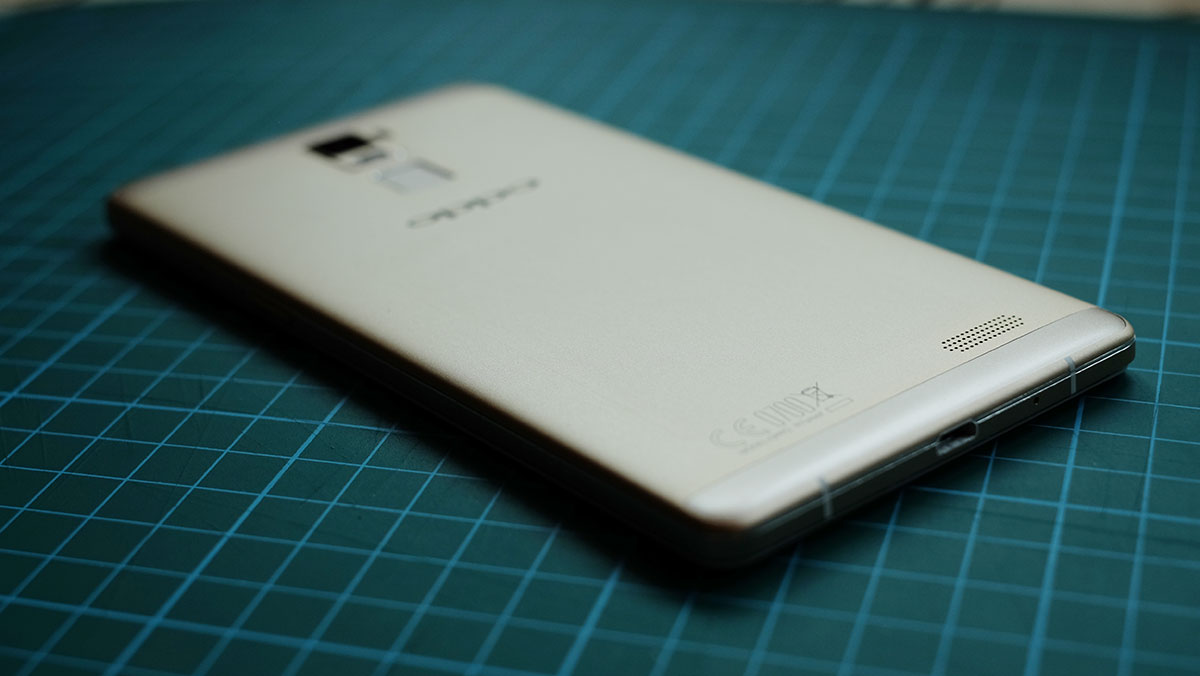 With all it's greatness in design, OPPO missed out one major detail when it placed its speaker of the R7 Plus right at the bottom of the phone itself. This results in muffled sound when placing the phone on the table or when operating it with your left hand on speaker.
Big screen, even bigger battery
My experience with phones with huge screens is that the hardware usually is poorly optimized to continually power the device. Once again, I'm amazed that a phone with a 6″ screen can last throughout the entire day and more. OPPO seemed to have foreseen battery drain as a major issue and slapped a 4100 mAh battery into the phone. If I recall correctly, this is by far the largest battery that I've ever used before in a mobile phone device and yet it phone does not feel too unwieldy in hand or pocket. Does bigger screen with bigger battery translate into a fully operational phone for an entire day? In my hands the OPPO R7 Plus seems to perform well under my use.
It seems has though the phone's battery life is very much on par with most modern phones and it does not seem the least bit hindered by the large screen. The OPPO R7 Plus is more than competent to carry you through an entire day without it running out of juice.
Plenty more under the hood
OPPO's ColourOS is once again reminiscent of iOS and I like how the OS gives you an idea how much desktop real estate you might have on screen screen before moving the app over. Once again, there's no app drawer here so some tidying up is essential. Apart from that, ColourOS appears to handle certain applications in a different way than other Android phones, I seemed to have lost the ability to open multiple tabs at the same time within Chrome. Perhaps this contributes to the phone's stellar battery life?
An interesting addition to the phone be most outstanding feature from OPPO would be an in built eye safety function. While the lengthy explanation tells you the basic gist of what it does, the real world health benefits are hard to quantify, which is why we have LCD monitor eyewear being sold in the market right now. One thing is for certain, once eye protection mode is activated, it does make reading in the dark more enjoyable a tad little. I do wish that there would be a proper night mode implemented for phones in the future.
When it comes to full featured camera, the OPPO R7 Plus has everything that you could possibly imagine and more. However, you'd be honestly hard pressed to seek an opportunity to use each and every one of them. The most welcomed feature would be the laser autofocus system which I've always loved. Just point and your subjects will be shot in focus in no time.
Do check out the gallery of test shots below –
Super Macro mode to me was the most interesting inclusion of all the features, perhaps somewhere out there is an OPPO engineer who equally loves taking plenty of close up shots of toys as well..
Retailing at S$699 the OPPO R7 Plus is a premium offering that has a rather fair asking price for its build. This places the phone between one of the many lower end choices and the top tiers phones in the market with a variance of about S$100 between each tier. It does feel that the OPPO R7 Plus might have found itself in a very sweet spot. With all things considered and with the absence of price, the phone is a great starting point for anyone who would like to give OPPO a shot for the very first time.
---

Drop a Facebook comment below!