Episode 5 of The Falcon and the Winter Soldier was an emotional whirlwind. Whilst the scenes between Sam and Bucky continue to warm our hearts, a new character was brought to screen and has caught our attention.
* Spoiler Warning for episode 5, 'Truth', of The Falcon and the Winter Soldier.
After Sam and Bucky got the shield back, we see John Walker in court being stripped of his official title as Captain America (hip hip hooray!). After angrily leaving the court room, Walker was approached by a certain fashionable woman dressed in all black with a little coloured streak going down the centre of her head. Said character was none other than Julia Louis-Dreyfus as Contessa Valentina Allegra de la Fontaine.
Contessa gives Walker a swift introduction, and even a pat on the back for killing one of the Flag Smashers. Before leaving she gives Walker a blank business card and tells him that she'll be in touch.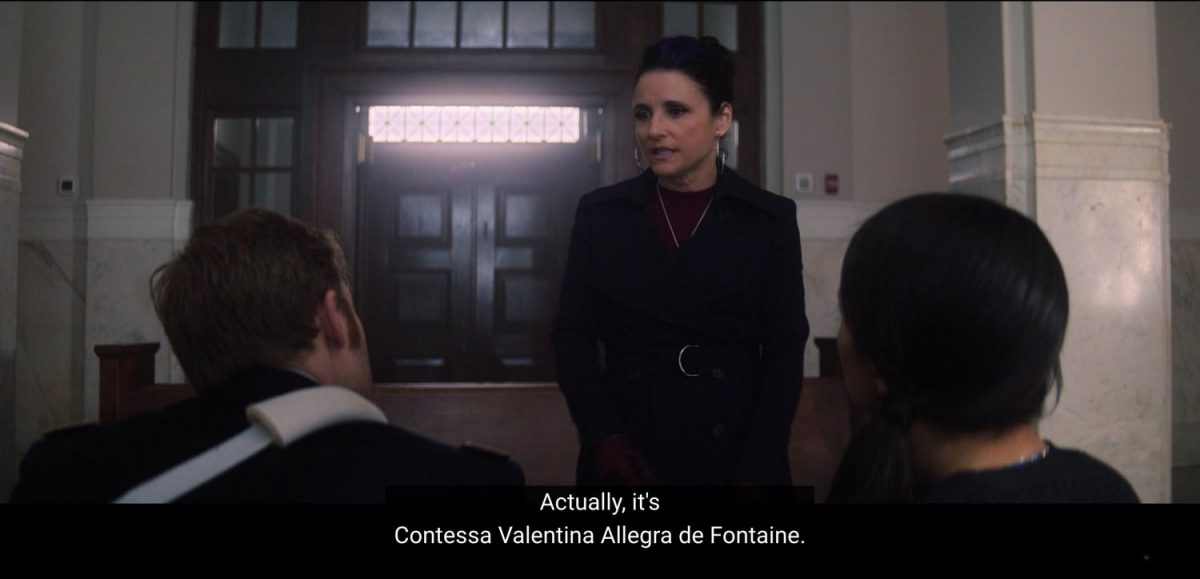 For those unfamiliar to Contessa, here's a little breakdown.
Contessa Valentina Allegra de Fontaine is an important character from Marvel Comics lore. Created by Jim Steranko and first appearing in Strange Tales #159, Contessa is commonly associated with S.H.I.E.L.D, super-spies and espionage agents in the world of Marvel. At one point, she even dates Nick Fury. Their relationship was on and off and like many sordid love histories, it ends with some Skrull subterfuge.
At her core, Contessa is a Russian spy and espionage agent who is a strategic and brilliant femme fatale. It is unclear what version of Contessa is being played on screen – is she already Madame Hydra here? Is she a Skrull? We've so many questions! Seeing how she buddies up with Walker in the series, Contessa definitely has something up her fashionable sleeve.
With The Falcon and the Winter Soldier slowly building up Walker to be the U.S. Agent and preparing Sam to take on the mantle as Captain America, there's no telling if Contessa will be making another appearance in the series finale next Friday.
We're keeping our fingers crossed that we'll see her again, but if not, we might just see her in the upcoming Black Widow film. Meanwhile, if you didn't know already, stick around till the end of episode 5 for a mid-credits scene that you don't want to miss.

The Falcon and the Winter Soldier is streaming only on Disney+ and make sure to catch the final episode which drops on 23 April.